A statistical snapshot of the week that was in college football…
2 — Yards of offense allowed by Michigan in the last three quarters of a win over Oregon State. The Beavers had posted 136 yards of offense in the first quarter.
2 — 300-yard passing games to start the 2015 season for Northern Illinois' Drew Hare. He came into the year with zero such games to his credit, with 285 yards last September serving as his previous career-high.
4 — Touchdown receptions for Corey Coleman in Baylor's win over Lamar, setting a single-game school record.
4.5 — Miles between the campuses of Duke and North Carolina Central, which met Saturday for the fourth time since 2009.
5 — FBS programs with a Graduation Success Rate (GSR) above 80 percent and have averaged 10 or more wins a season from 2012-14: Northern Illinois, Notre Dame, Stanford, UCF and Utah State.
5 — Consecutive 300-yard passing game for Texas Tech quarterback Patrick Mahomes, the longest such current streak in the FBS. During the streak, Mahomes has passed for 2,105 yards.
7 — ESPN College Gameday appearances each for Alabama and Florida State, the most of any team in the country since 2013. Oregon and Michigan State are next with six and five, respectively.
11 — Total yards of offense for Howard in a 76-0 loss to Boston College. The margin of victory was BC's widest since 1949, with it getting so bad in the first half — a 62-0 BC lead — that both coaches agreed to shorten the third and fourth quarters to 10 minutes apiece.
13 — Number of Georgia Tech players credited with at least one carry as the Yellow Jackets ran for 439 yards in a 65-10 win over Tulane.
14 — Number of USC players to catch passes in the Trojans' 50-point romp over Idaho, led by JuJu Smith-Schuster's 10 for 192 yards. Additionally, nine players recorded at least one carry in the contest.
11:30 — Kickoff time for the Florida State-USF game Saturday morning, the earliest the Seminoles have kicked off a football game in the program's history.
17 — Consecutive home wins for Alabama and Baylor after dropping Middle Tennessee State and Lamar, respectively, this weekend to extend the nation's longest such streak.
18 — Former ACC quarterbacks on NFL rosters opening weekend, the top total for any FBS conference.
20 — With the defeat at the hands of No. 14 Ole Miss, Fresno State has now lost 20 straight games against ranked opponents. Their last win against such a team came in the 2004 MPC Computers Bowl against No. 18 Virginia. The Bulldogs are also now 0-6 all-time against teams from the SEC.
27 — Freshmen, redshirt included, who played for Clemson in Week 1, easily the most of any FBS team. In fact, the ACC had the top five totals in that category: Clemson's 27, followed by Florida State and North Carolina State with 23 each, Syracuse with 21 and Wake Forest with 20. The first non-ACC school was Texas with 20, while the first non-Power Five team was Rice with 19.
27 — Consecutive games in which TCU has forced a turnover, the longest streak at this level.
31 — Consecutive games in which Ohio State has scored at least three touchdowns. The next closest to OSU's nation's-best streak is Baylor at 17 straight.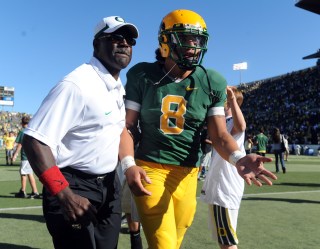 33 — Seasons running backs coach Gary Campbell has been an assistant coach at Oregon. Brown's served on the coaching staffs of four different head coaches: Rich Brooks (1983-94), Mike Bellotti (1995-2008), Chip Kelly (2009-12) and Mark Helfrich (2013-14).
36 — With its game against Virginia in Charlottesville, the number of states in which Notre Dame has played football games in its history. The Irish have also played games in Ireland (1996, 2012) and Japan (1979).
43 — Consecutive non-conference home games won by LSU, the longest such streak in the country. Miami (Fla.) holds the all-time record of 48 straight, which began Oct. 12, 1985, with a 38-0 win over Cincinnati and ended Sept. 24, 1994, with an 18-point loss to Washington.
58 — Consecutive games Iowa has played without missing an extra point, the longest in the nation.
70 — With a late fourth-quarter toss, consecutive games in which Oregon has thrown at least one touchdown pass, breaking the FBS record of 69 previously held by Texas Tech (2006-11).
74 — Career wins for Frank Solich at Ohio, moving him past Gary Pinkel (Toledo) and into fifth place on the all-time win list for MAC head coaches. Next up is Bowling Green's Doyt Perry (77), while he has a long way to go to catch record holder Herb Deromedi of Central Michigan (110).
149 — Points scored by Ole Miss the first two games, the most in school history to open a season. Ole Miss beat Fresno State Saturday 73-21, one week after dropping UT-Martin 76-3.
193 — Career-high rushing yards for Temple's Jahad Thomas in the win over Cincinnati. It was his second straight 100-yard game after coming into the season with just one career such effort.
194 — Rushing yards for Nick Wilson in Arizona's win over Nevada.
390 — Team rushing yards for Colorado as it ended its 10-game losing streak with a 48-14 win over UMass.
410 — Career-high passing yards for USC quarterback Cody Kessler in a 59-9 win over Idaho. His previous career-high was 400 against Washington State last November.
413 — Team rushing yards for Georgia Southern in a win over Western Michigan. Two Eagles topped the 100-yard mark: Matt Breida (176) and quarterback Favian Upshaw (103).
427 — Passing yards for Cincinnati's Gunner Kiel in a loss to Temple. It's the third 400-yard performance in his 14 starts with the Bearcats.
441 — Passing yards for Brandon Doughty in Western Kentucky's Thursday night win over Louisiana Tech. The sixth-year senior now has 13 career games of 300 or more yards passing, including three 400-yard games and two 500-yard games.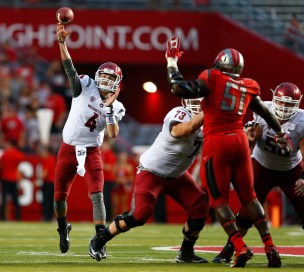 468 — Passing yards for Washington State's Luke Falk in the three-point road win over Rutgers. It's Falk's third 400 yard-plus passing effort in his last six games.
651 — Yards of total offense for Memphis in a 55-23 embarrassment of Kansas in Lawrence. That total was the Tigers' most-ever against a Power Five opponent.
1916 — The last year prior to this one that Notre Dame did not have a team from the Big Ten on its football schedule. This is also the first time in the program's history they will not play a fellow football independent as Navy is in its first year as a member of the AAC.
1922 — Until this year, the last time Penn State played five consecutive games at home. They began this current streak Saturday against Buffalo, and will follow it up with home dates against Rutgers, San Diego State, Army and Indiana over the next four weekends.
1931 — Prior to Thursday's game against Western Kentucky, the last time Louisiana Tech had played a conference opener east of the Mississippi River.
1966 — The year of the last meeting between Associated Press Top 10 teams at Spartan Stadium in East Lansing before Saturday's non-conference clash between No.5 Michigan State and No. 7 Oregon. In 1966, No.2 MSU and No. 1 Notre Dame played to a 10-10 tie in the "Game of the Century."
1988 — Last year Eastern Michigan had won a non-conference road game prior to a 48-29 win over Wyoming in Laramie.
18,040 — Distance in round-trip miles Hawaii traveled for its game against Ohio State in Columbus, the longest road trip any FBS team will take this season. It was the first-ever meeting between the two football programs, and the second time the Rainbow Warriors had played in the state of Ohio — the first was in 1951 vs. Cincinnati.
311,371 — As of approximately 3:30 ET Sunday morning, the number of Twitter followers for Ohio State's Urban Meyer, the most of any head coach at the FBS level. Michigan's Jim Harbaugh is next with 307,565.
For this week's Fifth Quarter, please click HERE.