As is the case each and every season, each and every week, any omission below is not on purpose, it's merely intentional.
SHUT. YOUR. HOLE.
In the week leading up to the Auburn-LSU game, at least one AU defender seemed to think "it shouldn't be difficult" containing Leonard Fournette. Yeah, that didn't exactly work out as planned. At all.
In the first half alone, Fournette, further embedding himself in the Heisman race, rushed for a career-high 169 yards. His first carry of the game set the tone as he raced 71 yards for a touchdown on the opening play from scrimmage. The super sophomore running back would finish the day with 228 yards (on 19 carries) and three touchdowns, but not before a display of speed and power that showed just how gifted an athlete he truly is.
If Fournette can continue at or near this level… if the Tigers can get just average play from the quarterback position… if the defense stays stout… if all three of those things happen, LSU will be a season-long challenger to Ole Miss (?) for SEC West supremacy. Well, at least until a Nov.21 showdown in Oxford that could very well be for more than just the edge in the division.
FIRST. TIME. EVER?
While generally speaking the BYU-UCLA game was a late-night matchup of ranked teams, it was the young-gun specifics that dominated the run-up to the game.
Both teams are led by true freshman quarterbacks, the 10th-ranked Bruins with The Rosen One, Josh Rosen, and the 19th-ranked Cougars with The Miracle Maker, Tanner Mangum. Based on multiple conversations with several different individuals, it's believed this was the first game in FBS history involving ranked teams in which both started true freshmen under center. For quite awhile, though, it appeared that the ongoing coming out party of Mangum was going to continue at the expense of the top quarterback in the Class of 2015.
Trailing 20-10 early in the fourth quarter and struggling mightily — three first-half interceptions — Rosen impressively got up off the mat, dusted himself off and tossed a touchdown pass and directed a lengthy drive that lead to another score, the latter of which came with 3:21 remaining to give the Bruins a 24-23 lead. Mangum had a shot at his third straight game-winning drive to open the season, but was intercepted by Myles Jack to ice the game and keep the Bruins unbeaten on the season.
Statistically, Mangum won the head-to-head matchup, going 30-47 for 244 yards, one touchdown and one interception while Rosen went 11-23 for a paltry 106 yards, one touchdowns and the trio of aforementioned picks. Here's to guessing, though, that Rosen will take winning on the scoreboard over the stat sheet any day of the week and twice on Saturdays.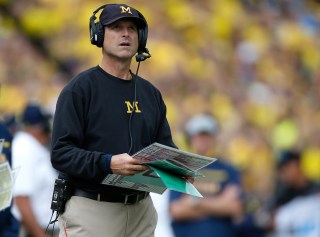 FIRST. TIME. EVER.
There may have been some doubt regarding the above, but there's none on this one.
Last year at this time, Jim Harbaugh was the head coach of the San Francisco 49ers, while Tony Sanchez was the head coach at national powerhouse Las Vegas Bishop Gorman High School. Saturday, those two were on the opposite sidelines with Harbaugh as Michigan's head coach and Sanchez UNLV's.
Based on my research — and thanks to a subsequent confirmation from the crack sports information department in the Mountain West Conference — that's the first time such a thing has ever happened in the history of college football, that an NFL head coach the year before had squared off against a head coach a year removed from high school.
Unfortunately for Sanchez and his Rebels, they were taken to school by the Wolverines in the Big House, dropping to 0-3 on the year courtesy of a 28-7 loss to UM.
BAKER HAS A (MAY)FIELD DAY
If Baker Mayfield wasn't in the Heisman discussion before, he is now.
In a Saturday afternoon blitzkrieg of Tulsa, the Oklahoma quarterback accounted for 572 yards of total offense in the Sooners' 52-31 win over the Golden Hurricane. Of that, 487 yards came through the air and 85 came on the ground. Both of those totals are career-highs for the transfer quarterback from Texas Tech.
The total offense also set a school record, breaking the old mark of 554 yards set by Landry Jones. For good measure, Mayfield added six touchdowns — four passing, two rushing.
STATE OF THE U
It was fair to say that Al Golden was on the hottest seat in America entering the 2015 season. Three games in, and not much has changed on that front. In fact, after today's events, his ass is en fuego.
With less than nine minutes remaining, Miami held a seemingly insurmountable 33-10 lead on Nebraska. Less than 480 seconds later, the Cornhuskers had tied it up and sent it into overtime. Forget the fact that the 'Canes were able to win in that first extra session; the meltdown at the end of the game was hauntingly reminiscent of the late-game meltdowns last season that put Golden on the hot seat in the first place.
Yes, the Hurricanes are 3-0 for the second time in Golden's tenure and the second time since 2004, but fan unrest might be at an all-time high.
SATURDAY RESET
Below is a list of links for all of the Week 2 gamers posted by the CFT crew, placed in one handy and convenient space for you, our beloved and dear readers.
CFT TOP FIVE
A snapshot look at how my ballot would look Sunday if I, ya know, had a real vote.
1. Michigan State — Take the totality of their three-game résumé, especially the Week 2 win over Oregon, and MSU is the best team in the country and have earned the right to move into the top spot this week. I doubt they do the same in the "real" polls, but it certainly wouldn't shock me if they did. (Last week: No. 2)
Next up: vs. Central Michigan, Sept. 26
2. Ole Miss — You beat the No. 2 team in the country, on the road, after surviving a pair of comebacks and showing some serious stones in doing so, you go from the ranks of the unranked and right into the No. 2 hole. (Last week: unranked)
Next up: vs. Vanderbilt, Sept. 26
3. TCU — Minnesota's struggles in a close call with Kent State takes some of the shine off TCU's 3-0 start, as did Week 3's close call with SMU, but there's little doubt the Horned Frogs are one of the top three or four teams in the country. With non-conference play in the books, TCU's competition level will decidedly increase most of the next nine games. (Last week: No. 3)
Next up: at Texas Tech, Sept. 26
4. Ohio State — Defensively, OSU is playing like the defending national champs. Offensively, they're playing like the defending national chumps. Until they get the quarterback situation untangled… and the offensive line squared away… and the play-calling in line, the Buckeyes aren't even remotely deserving of the top spot in any poll. (Last week: 1)
Next up: vs. Western Michigan, Sept. 26
5. Oregon — Up until the loss to Stanford, I was ready to put USC in this spot. Almost pulled the trigger on Georgia, then LSU, then Alabama even with the loss, but just couldn't. Even as they've already gone down in defeat, I just don't believe there are five better teams in the country right now than the Ducks, especially as I happen to think their one loss came to the best team in football right now. (Last week: No. 5)
Next up: vs. Georgia State, Sept. 19
(Dropped out: No. 4 Alabama)
KARMA
BACK FAT TATS OF THE MILLENNIUM
This Miami fan, apparently a card-carrying member of the plumber's union, is indeed all in when it comes to his Hurricanes.
I guess you could say The U is back?
EDWIN MOSES MEMORIAL AWARD
Ezekiel Elliott's as dangerous a man in college football with both feet on the ground. With both feet in the air? The Ohio State running back's equally as dangerous.
JAMEIS'D
Jeremy Johnson hasn't exactly lit the college football world on fire as Auburn's starting quarterback, and he was at his dumpster-fire best again against LSU Saturday — much to the dismay and/or chagrin of his head coach.
CO-CATCHES OF THE DAY
I couldn't pick just one, so up first is Nevada's Hasaan Henderson…
… followed by Michigan State's Aaron Burbridge…
DIRTY PLAY OF THE DAY
There's playing hard, and then there's what Central Michigan defensive lineman Mitch Stanitzek did to Syracuse quarterback Eric Dungey in the first half of the Orange's overtime win.
Stanitzek was flagged for targeting and ejected from the game. Dungey left the game with what was described as an upper-body injury and did not return.
PHOTOSHOPPED TWEET OF THE DAY
If you're on Twitter and not following @celebrityhottub, you're doing Twitter wrong. Case in point?
AN URBAN STATE OF MIND
It's been five years since Urban Meyer coached in the SEC but he's obviously not been forgotten, at least by a certain segment of the Alabama fan base.
MIZZERY, THY NAME IS MIZZOU
As back-to-back SEC East champions, Missouri has yet to garner the national respect you'd think they would; Saturday, they offered a glimpse as to why. Trailing 6-2 at halftime, Mizzou "bounced back" in the second half to outlast 14-point underdog UConn 9-6. That said, it was a squalid performance for the Tigers, which this fan encapsulates in nail-on-the-head fashion.
Adding insult to the fan's mental injury, Mizzou may have a quarterback controversy on its hand. Starter Maty Mauk was benched and replaced by freshman Drew Lock, although the latter wasn't much more effective than the former.
MIFFED?
It doesn't appear that Cardale Jones is very happy with what was, at least for the moment, a one-game demotion as Ohio State's starting quarterback. Or he's having a little fun with his in-game move behind J.T. Barrett. One of the two.
Shortly after Ohio State's win over Northern Illinois, Jones changed his Twitter profile to the following: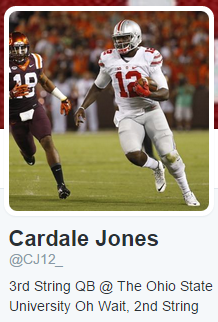 A short time later, after that had gotten quite a bit of attention, Jones changed it to the following: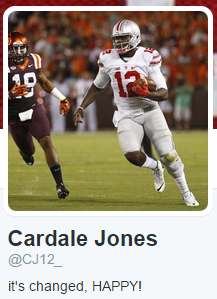 HE SAID IT
"Good question. And I don't know that right now. I haven't had time to think about it." — Urban Meyer, when asked if he knew who his starting quarterback is after both Cardale Jones and J.T. Barrett struggled in the closer-than-expected win over Northern Illinois.
HE SAID IT, THE SEQUEL
"We're going to evaluate everything after today. Every position. We got to get better. It ain't just him, it's all positions and that's the way we're going to operate." — Gus Malzahn, when asked if Jeremy Johnson is still Auburn's starting quarterback.
HE SAID IT, THE THREEQUEL
"He got ejected out of the game, so that answers that right there. I don't know why he did that. I don't condone that to any team, let alone to my team. I feel like it's excessive and unnecessary, but it happened." — Syracuse offensive lineman Omari Palmer, when asked if he thought the hit on his quarterback shown above was a cheap shot.
HE SAID IT, BONUS EDITION
"Even you all can see that." — Gary Pinkel, to the media when asked about Missouri's offensive struggles in the win over UConn.
HE SAID IT, THE FINAL ONE
"Offensively, we're a mess right now." — A succinct Jerry Kill stated following Minnesota's 10-7 win over Kent State in which the Gophers produced just 288 yards of offense.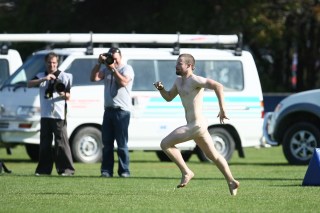 STREAKING
Three wins to start the 2015 season have pushed Ohio State's nation's best winning streak to 15 straight. Up next are TCU (11), Memphis (10), Michigan State (seven) and Navy (six).
On the other side of the won-loss ledger, New Mexico State owns the nation's longest losing streak at 13 straight. UNLV is next at nine in a row, followed by FAU (eight) and Wyoming (six). Kansas, on a bye this weekend, is the not-so-proud owner of the longest losing streak amongst Power Five conference members at five straight.
MY ANNUAL REMINDER THAT…
… this remains one of the greatest notes ever from a sports information department: On Dec. 5, 2010, TCU became the only team in college football history to receive an invitation to the Rose Bowl and implode its stadium on the same day.
S.I.D NOTE OF THE WEEK
Saturday marked the first time an unranked Stanford team met a ranked USC squad since 2008, and the first such matchup at the Coliseum since 2007. It was the 14th consecutive meeting in which at least one team has been ranked.
S.I.D. NOTE OF THE WEEK II
Georgia Tech's 134 points in the first two games set an ACC record for most points scored through the first two games of a season. The previous mark was held by Florida State in 2012 (124). The 134 points are also the most for Tech in back-to-back games since scoring 139 in 1921 wins over Davidson and Furman.
S.I.D. NOTE OF THE WEEK III
Minnesota is the only team scheduled to play both No. 1 Ohio State and No. 2 TCU (L, 23-17 on Sept. 3) in the regular season (TCU ranking at time of game). The last time Minnesota played the No. 1 and No. 2 teams in the same year was 1986. Minnesota lost 63-0 at No. 1 Oklahoma, but then won 20-17 at No. 2 Michigan.
S.I.D. NOTE OF THE WEEK IV
Toledo's Week 2 win over Arkansas marked the first MAC win against an opponent from the SEC since 2004 (Ohio 28-16 win at Kentucky on Oct. 2, 2004).
S.I.D NOTE OF THE WEEK V
Winning on the road is always special for college football teams, but for Eastern Michigan the Week 2 48-29 victory at Wyoming was even sweeter. No player on EMU's roster was even born the last time the squad returned to Ypsilanti with a non-conference road victory – a streak of 57 games. In 1988, the then-Hurons led by Jim Harkema posted a 17-12 non-league triumph at Football Championship Subdivision foe Youngstown State University, Sept. 10. EMU, though, has never beaten a team that was an FBS member at the time in a regular season non-conference road game.
OFF THE CHARTS
Courtesy of the Mountain West Conference sports information department

OFF THE CHARTS, PART II
Courtesy of the MWC sports information department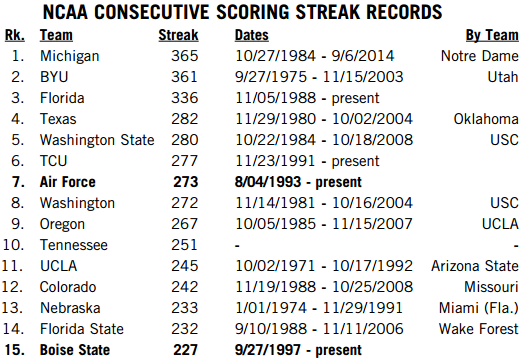 OFF THE CHARTS, PART III
Courtesy of the Cincinnati sports information department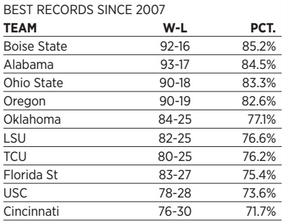 OFF THE CHARTS, PART IV
Courtesy of the Georgia Tech sports information department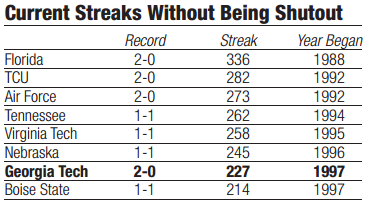 OFF THE CHARTS, PART IV
Courtesy of the Georgia Tech sports information department
OFF THE CHARTS, PART V
Courtesy of the Alabama sports information department

SAY WHAT?
Georgia Tech (69, 65) and Ole Miss (76, 73) are only the fifth and sixth Power Five teams since World War II to score 65 or more points the first two games of the season. The others are Baylor (2013), Kansas State (1998), Ohio State (1996) and Florida (1994). Baylor actually hit or exceeded that mark the first four weeks of 2013 season before being "held" to 35 in a 10-point road win over K-State.
DULY NOTED
Minnesota's first two opponents this year (TCU and Colorado State) combined for a 22-4 record last season. That mark for wins is the most that any team faced in its first two games of the 2015 season. Only five other schools (Arkansas State, BYU, Michigan State, Oregon and Tulane) opened their season against two opponents who combined for 20 wins last year.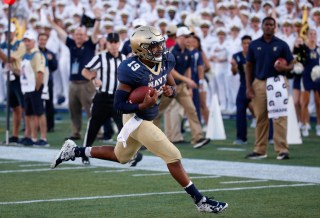 DID YOU KNOW THAT…
… with five rushing touchdowns today, Navy quarterback Keenan Reynolds now has 70 for his career, which is fourth on the FBS' all-time list? With 10 games plus a likely bowl to go in his career, Reynolds trails Wisconsin's Montee Ball (77), Miami of Ohio's Travis Prentice (73) and Texas' Ricky Williams (72).
… Bowling Green's Matt Johnson has thrown for more than 400 yards in all three games this year? He totaled 424 in the opener against Tennessee, a career-high 491 in a win over Maryland and 443 in yesterday's loss to Memphis.
… true freshman Jake Browning has thrown for 300-plus yards in back-to-back Washington wins, including a school-record 368 in Saturday's win over Utah State?
… Jeremy Johnson has as many interceptions this season through three games (six) as Nick Marshall had in Auburn's 14-game run to the BCS title game in 2013?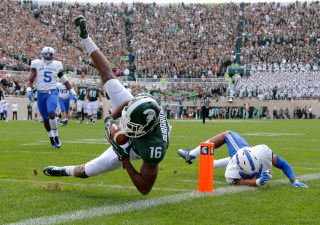 … the three touchdown receptions for Michigan State's Aaron Burbridge in the Week 3 win over Air Force matched his career total entering the 2015 season? The wide receiver now has four touchdown catches on the year.
… Michigan's Jake Rudock has thrown five interceptions in 91 attempts this season, the same number he had in 345 attempts all of last season as Iowa's starting quarterback?
… Kansas State's Joe Hubener made his first career start at quarterback at either the collegiate or varsity high school level last weekend in a win over UT-San Antonio? Hubener's last start came when he was playing junior varsity football.
… last season, North Carolina did not make a field goal longer than 30 yards? This season, kicker Nick Weiler has made all five attempts from 32, 38, 47 and 48 yards (twice) in the first three games.
… Stanford wide receiver Christian McCaffrey's parents were both student-athletes on The Farm? Ed McCaffrey was a star wide receiver for the Cardinal who went on to star in the NFL, while Lisa McCaffrey played soccer for the Cardinal.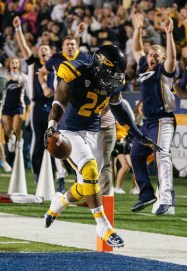 … with a win over Arkansas last week and one over Iowa State this week, Toledo has defeated two teams from one of the Power Five conferences in the same season for the first time in the program's history?
… Tennessee had not scored a touchdown on both a kickoff and punt return in the same game since 1950 before doing it today against Western Carolina?
… Nebraska is the only FBS program to have at least two players selected in every NFL Draft of the Common Draft Era (since 1967)? There has also been at least one former Cornhusker on a Super Bowl roster each of the last 22 years, the most of any team in the nation.
… LSU has played its first two games this season against SEC teams for the first time in school history? The opener against McNeese State was cancelled due to weather, leaving LSU with games against SEC West rivals Mississippi State (Week 2) and Auburn (Week 3) to open the year.
… the MAC has now won a regular-season game against the Big Ten for 10 straight seasons — the longest streak in MAC history — and has 21 wins over 10 different Big Ten teams in that period?
… the 459 wins Georgia Tech has accumulated at Bobby Dodd Stadium makes it the winningest active venue in college football?
… a Minnesota quarterback has rushed for 150-plus yards eight times in the program's history, and five of those games have happened since Jerry Kill took over in 2011? MarQueis Gray was responsible for three of those, while Chris Streveler and current starter Mitch Leidner had the other two.
… the Mountain West Conference officially refers to the Power Five conferences (ACC, Big 12, Big Ten, Pac-12, SEC) as the autonomous 5 in its press releases? And, yes, the "a" in autonomous is not capitalized in said releases and, yes, that's just spectacular.
… Cincinnati-Miami (Ohio) is the second-oldest rivalry in the FBS, starting in 1888? The Michigan-Notre Dame rivalry predates that series by one year (1887).
… San Diego State's Rocky Long is the only head coach serving as his own defensive coordinator, and has done so for each of his five years heading the Aztecs? On the flip side, there are five FBS head coaches who also serve as their own offensive coordinators.
… Ohio University is the only team in the FBS to have kept the same head coach (Frank Solich), offensive coordinator (Tim Albin) and defensive coordinator (Jimmy Burrow) for at least the last 10 seasons? In fact, Albin has been a part of a Solich-led staff for 15 seasons (11 at Ohio, four at Nebraska) and Burrow 13 (11 Ohio, two Nebraska).