A statistical snapshot of the week that was in college football…
.960 — Completion percentage for Georgia's Grayson Lambert (24-25) in the blowout win over South Carolina, setting an FBS single-game record for a minimum of 20 attempts. The record of 95.8 percent was previously held by Tennessee's Tee Martin (1998) and West Virginia's Geno Smith (2012).
.977 — Percentage of kicks (field goals and extra points) made by Florida State's Robert Aguayo, the highest of any FBS kicker ever.  The most accurate kicker in the history of college football has been successful on 51-56 field goals and all 163 extra point attempts.
2 — Home losses for Boise State since 2010, the fewest of any FBS program.  Baylor, LSU, Northern Illinois, Ohio State, Oregon, Stanford and Wisconsin have all lost three home games in that stretch.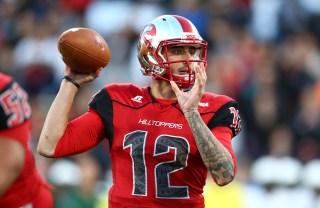 6 — 400-plus passing yard games for Western Kentucky's Brandon Doughty following a 484-yard performance in a three-point loss to Indiana.  It was also the 14th 300-yard game of his career.
7 — Non-conference wins over Power Five teams since 2012 for Northwestern, the most of any P5 program.
10 — Number of players who recorded at least one carry as Boise State ran for 344 yards in a 52-0 rout of Idaho State Friday night.
10 — Total points by which Army has lost its first three games: 37-35 to Fordham, 22-17 to UConn, 17-14 to Wake Forest.
11 — Consecutive seasons Kansas State has returned a kickoff for a touchdown, the longest such streak in the nation.  Auburn is next at six straight, followed by Florida and Northern Illinois with five straight each.
12 — Number of Oklahoma State players who caught at least one of the Cowboys' 19 completions in a win over UT-San Antonio.  None of the players caught more than three passes.
12 — Active FBS head coaches with at least 150 wins: Frank Beamer (Virginia Tech), Steve Spurrier (South Carolina), Brian Kelly (Notre Dame), Dennis Franchione (Texas State), Bill Snyder (Kansas State), Gary Pinkel (Missouri), Nick Saban (Alabama), Bob Stoops (Oklahoma), Paul Johnson (Georgia Tech), Jerry Kill (Minnesota), Tommy Tuberville (Cincinnati) and Terry Bowden (Akron).  Tuberville joined that club yesterday thanks to UC's win over archrival Miami of Ohio.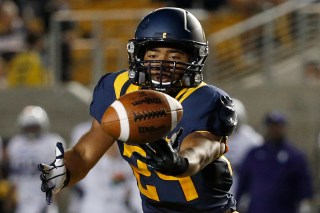 16.4 — Yards per carry Cal's Khalfani Muhammad averaged in rushing for 164 yards and helping the Bears to a wild 45-44 win over Texas.
17 — Consecutive games in which USC has scored a first-quarter touchdown, the longest in the country.  TCU is next at 16 straight.
17 — Home winning streak for Baylor, the longest active streak in the country.  Florida State and Boise State are next at 16 straight, while Alabama saw its streak of 17 in a row come to an end.
26 — Career wins for Michigan State's Connor Cook and Stanford's Kevin Hogan as starting quarterbacks, tying Ohio State's Braxton Miller for the most amongst active players.  Miller, of course, is no longer an active quarterback as he moved to H-back this past offseason.
29 — Consecutive wins for Florida over Kentucky, the longest current winning streak against a single opponent.  The Wildcats' last win over the Gators came in 1986.  UK's last win in Gainesville back in 1979.
40 — Former LSU players on NFL rosters opening weekend, the most of any FBS program.  Miami was next with 37, followed by USC's 35, 34 each for Alabama and Georgia, 31 apiece for Florida and Florida State and 30 for Ohio State.  With four, the Trojans had the most quarterbacks on opening-day rosters.
40 — Years since the Georgia Tech-Notre Dame matchup that spawned both the legend of Rudy Ruettiger and, ultimately, the much-beloved movie "Rudy."
56 — Wins by Stanford this decade, the most of any FBS private school.  Behind that is Baylor at 49 and USC at 46.
58 — Years since Nebraska lost to two unranked teams in September before pulling that trick this season in losses to Miami and BYU.  They have also started a season 1-2 for the first time since 1981.
137 — All-time record for consecutive weeks in the Associated Press Top 10, set by Miami (Fla.) from 1985-93.  Alabama, at 69 straight, owns the longest current streak.
141 — Years Jerry Kill's current Minnesota coaching staff, including his strength & conditioning coach, have served under him at various stops, the most of any staff in the nation.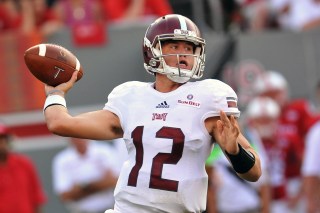 189 — Pass attempts for Troy's Brandon Silvers without an interception, the longest such streak in the nation.  West Virginia's Skyler Howard has yet to throw a pick in his 161 career attempts.
203 — Rushing yards for Indiana's Jordan Howard, his seventh straight 100-yard rushing effort.  The first four of those games came as a member of the UAB football program.
219 — Rushing yards for UCLA's Paul Perkins in the one-point win over BYU.  It was the junior's first career 200-yard game.
230 — Career-high rushing yards for Southern Miss' Jalen Richard against Texas State, the first time he's topped the century mark.  His previous high was 94 in September of 2013.
246 — Sacks by Stanford since 2007, the most of any FBS team.  Virginia Tech is next with 237 in that span.
261 — Receiving yards, on seven catches, for Roger Lewis in Bowling Green's 44-41 loss to Memphis.  Included in that total was a school-record 94-yard touchdown catch among his three touchdown receptions.
379 — Career-high passing yards for Brad Kaaya in Miami's roller coaster win over Nebraska.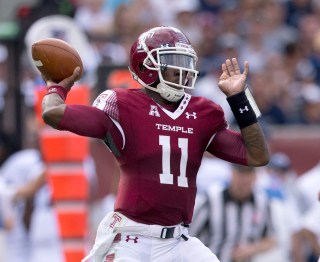 391 — Career-high passing yards for P.J. Walker in Temple's win over UMass.
427 — Yards passing for Dane Evans in Tulsa's shootout loss to Oklahoma.
499 — Rushing yards for Arizona in a 77-13 romp over FCS Northern Arizona, averaging 12.2 yards per carry.  The Wildcats' leading rusher, quarterback Jerrard Randall, gained his 149 yards on just three carries.
505 — Total yards of offense for Trevone Boykin — 454 passing, 50 rushing — as TCU rolled its way past SMU 56-37.  As a team, the Horned Frogs posted 720 yards of offense.
695 — Total yards for Middle Tennessee State in a 73-14 win over Charlotte, setting a school record.  The 73 points were also second in school history.
917 — Wins in the history of the Michigan football program, the most of any FBS school.  Notre Dame is next at 885, followed by Texas (882), Nebraska (875) and Ohio State (866).  Winning percentage, though, is a slightly different story.
1950 — The last, and only, time Texas A&M and Nevada had met on the gridiron prior to Saturday afternoon's game in College Station.  It was also the Wolf Pack's first-ever against a current member of the SEC as the Aggies were SWC members at the time of the first meeting in San Antonio.  Nevada also played Missouri in 2008-09 when Mizzou was part of the Big 12.
1951 — The last time Nebraska played a regular season game in South Florida prior to its matchup with the Miami Hurricanes.  The Cornhuskers, of course, played in 17 Orange Bowls from 1954-1997, including six in seven years from 1991-97.
1968 — The last time a team (Houston) scored 73-plus points in back-to-back games prior to Ole Miss opening the season with scoring outbursts of 76 (UT Martin, Week 1) and 73 points (Fresno State, Week 2).  In its Week 3 game against Alabama, Ole Miss was "held" to 43 in a six-point win.
1978 — The last time Missouri won a game in which it didn't hit double digits prior to Saturday's 9-6 win over UConn.  That year, Mizzou beat Notre Dame 3-0 in the season opener in South Bend.
1984 — Michigan State's last game against a service academy prior to Saturday's win over Air Force.  That '84 game was a 10-6 loss to Army, incidentally.
1991 — Last year Syracuse began a season 3-0 before opening 2015 with wins over Rhode Island, Wake Forest and Central Michigan.  In order to match that '91 team's 4-0 start, though, they'll need to beat unbeaten LSU in Week 4.
30,294 — Rushing yards for Georgia Tech since Paul Johnson took over the football program beginning with the 2008 season, far and away the most of any FBS team in that span.The next-closest are Navy at 27,264 and Air Force at 27,146.