As is the case each and every season, each and every week, any omission below is not on purpose, it's merely intentional.
NO.1? LET THE BRONCOS BE YOUR GUIDE
Since the beginning of the season, Ohio State has seen its unanimous hold on the Associated Press No. 1 spot erode.  From a 105-point lead on No. 2 Alabama after Week 1 to a 100-point lead on the same team after Week 2, OSU then watched Big Ten East rival Michigan State jump into the No. 2 hole and just 85 points behind.  What's more, the first-place voting bloc had been whittled down to 42 for OSU and seven for MSU, with the other 11 belonging to Ole Miss.
If voters are looking for a way to compare the two B1G teams and their No. 1 worthiness when it comes to this week's poll — kind of like what some enjoyed doing last season when it came to Ohio State/TCU in relation to Minnesota, come to think of it — the scheduling gods have offered up a comparison.
It just so happens that MSU played Western Michigan in the opener, the same team OSU faced off against in Week 4.  OSU won their matchup with the MAC school 38-12, while MSU's encounter was slightly closer at 37-24.  The Spartans, though, played on the road while the Buckeyes were at home.
Statistically, OSU rolled up 511 yards of total offense, MSU 452.  On the defensive side of the ledger, the Buckeyes allowed 338 to the Spartans' 383.  WMU was able to muster just .8 yards per carry in the opener, while they were at 4.1 ypc against the defending national champs.  Conversely, MSU's vaunted "No-Fly Zone" was shredded for 365 yards, while OSU limited the same passing attack to just 169 yards.
What does it mean?  Not much, other than both teams handled their business reasonably well against a team they should.  In the broader picture, though, it's emblematic of just how wild and wide-open this 2015 college football season projects to be, that such a comparison could even be considered as part of the thought process.
STATE OF TEXAS
The performance of Jerrod Heard last week was a much-needed shot in the arm for the Texas football program.  Apparently, though, it wasn't enough for a still-suspicious fan base.
As if portending the impending doom, there were plenty of good seats still available shortly before the kickoff of the Oklahoma State-UT game at DKR-Texas Memorial Stadium in Austin.  In fact, it was downright Miami Hurricane-ish in its barren, desolate look.
Those fans who decided to stay away seemed prescient as there was a second consecutive week of utter, kick-you-in-the-tentacles heartbreak in store.  More specifically, it appears as if Steve Patterson's buyout clause included him getting custody of UT's special teams.
Be that as it may, it's one thing for a fan base to be pissed off; at least that emotion shows they still care.  When apathy sets in?  Right or wrong, that's an absolute coach-killer.
And, judging by the butts not in seats, apathy is quickly enveloping a program that's doing nothing but spiraling downward — despite the best intentions of a very good football coach whose rope is getting shorter and shorter by the minute.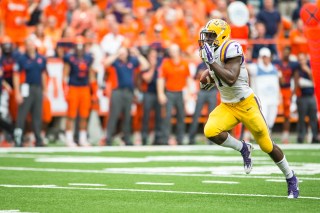 LEONARD THE GREAT
Let's get this out of the way right up front: through the first four weeks of the 2015 season, Leonard Fournette is the best player in college football.  There will be no discussion, there is no debate because any other answer is wrong.  That said, can the LSU running back win the Heisman, as everyone is seemingly already handing him?
Statistically, and thus far, there's no reason why he can't and every reason why he can.  Through three games, all of which have come against Power Five teams, Fournette is leading the country averaging 208.3 yards per game; next closest is Indiana's Jordan Howard at just under 169 ypg.  Fournette has posted back-to-back 200-yard plus games, the first time in LSU history that's been accomplished.
Hell, he had an 87-yard touchdown run called back against Syracuse yesterday because of an illegal formation penalty that had no impact on the play.
History, though, suggests Fournette's Heisman march could be an uphill slog.
Essentially, the Heisman Trophy has become a quarterback award.  Just one time in the last 15 years — Mark Ingram in 2009 — has a running back wrested the stiff-armed trophy away from a quarterback.  As much as defenses stacking the line to slow him down moving forward, Fournette's biggest obstacle in his race to the Heisman could very well be the signal-calling mentality of a significant segment of the voters.
Well, that and a player named Trevone Boykin.  Who's a quarterback, it just so happens, and a very productive one on one of the top teams in the country.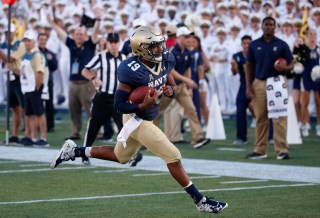 RUNNING DOWN HISTORY
For those who haven't been paying attention, a member of one of our nation's service academies is quickly creeping up on making some FBS history.
With a pair of rushing touchdowns in a Week 4 win over UConn, Navy quarterback Keenan Reynolds now has 72 in his career.  That total ties him for third all-time with former Texas Heisman Trophy winner Ricky Williams.
It also pulls him to within one of tying Miami of Ohio's Travis Prentice at 73 rushing touchdowns, and within six of surpassing Wisconsin's Montee Ball (77) as the FBS' all-time leader in rushing touchdowns.
Reynolds, a senior, has played in 39 games in his career, meaning the Midshipman has averaged 1.85 touchdowns per game.  However, he's averaged nearly 3.5 touchdowns per game over his last 18 contests.  Regardless, and provided he remains healthy, Reynolds should set the all-time standard at some point in October… and then set the bar much higher in November as well as on into December/January.
With nine regular season games remaining as well as at least one postseason matchup — could be two if the Middies qualify for the AAC championship game — there's a realistic chance that, when his career is all said and done, Reynolds breaks the century mark and sets the bar so high that it's be nearly impossible to reach in this day and age of pass-happy offenses.  Then again, with the likes of Navy and Georgia Tech and others running the option for the foreseeable future, I guess you never say never.
SATURDAY RESET
Below is a list of links for all of the Week 4 gamers posted by the CFT crew, placed in one handy and convenient space for you, our beloved and dear readers.
CFT TOP FIVE
A snapshot look at how my ballot would look Sunday if I, ya know, had a real vote.
1. Michigan State — For the second time this season, the Spartans somewhat struggled with a directional Michigan school. Still, not a single team in the country has, week-in, week-out played like the best team in the country, so I'm going to leave the Spartans right here at the top until forced to do otherwise. (Last week: No. 1)
Next up: vs. Purdue, Oct. 3
2. Ole Miss — As if right on cue with the intimation above with every top team struggling at some point this season, Ole Miss was tied late in the third, and at home no less, with a not-so-good Vanderbilt team that came in just 1-2.  The Rebels may have exposed their warts, but they're merely the latest top team to do so. (Last week: No. 2)
Next up: at Florida, Oct. 3
3. TCU — They survived a huge scare, but the big thing is they survived.  The Horned Frogs are a wounded bunch, especially on the defensive side of the ball, but they have the kind of offense that can keep them deep in contention in the wide-open Big 12.  Whether that injury-ravaged defense could compete on the national stage is to be determined. (Last week: No. 3)
Next up: vs. Texas, Oct. 3
4. Ohio State — After a couple of shaky weeks, the Buckeyes showed glimpses of the team that rolled through the postseason to the national championship.  There are still many bugs to work out, but there are still multiple weeks before the Buckeyes' first real on-paper test — unless 4-0 Indiana is more than the paper unbeaten they seem. (Last week: 4)
Next up: at Indiana, Oct. 3
5. UCLA — After considering Baylor, Georgia and LSU as well, I pulled the trigger on UCLA.  Why?  The win over Arizona on the road last night mainly, and the win over BYU still holds a little weight with me. This spot, though, will likely be a revolving door throughout the season.  As will the other spots, for that matter. (Last week: NR)
Next up: vs. Arizona State, Oct. 3
(Dropped out: No. 5 Oregon)
CHEAPSHOT OF THE DAY
This Bowling Green player, who is a graduate transfer from Notre Dame, was ejected for targeting, and he's lucky he's not being brought up on charges. Or getting slapped around by some Falcons. Or both.
As an aside, those are the most god-awful helmets Purdue is wearing. Now, you kids, get the hell off my lawn…
KICKER HURDLE!!!
It doesn't happen often, the ever-elusive punter-posing-as-a-kicker hurdling another football player, but there was a sighting in the LSU-Syracuse game late in the first half — with a bonus fist-pump/punch thrown in for good measure.
ELEAPIEL ELLIOTT
It's not just kickers/punters channeling their inner Edwin Moses, as evidenced — again — by Ohio State's Ezekiel Elliott.
HARBAUGH GETS ONIONED
I am an unabashed fan of The Onion. I think Jim Harbaugh is one of the best things to happen to college football in years. When those two worlds collide? Pure Internet gold.
MOST. BRO-FFSIDES. EVER.
If you wanted one picture to encapsulate the futility that was the Kansas-Rutgers matchup, this is it.
And I can guarantee you that, given the rancid nature of this tilt, I wasn't the only one that read that as "defecating" at first glance.
WE GOT MORE KETTLEBELL
One of the more bizarre storylines of the offseason involved Sean "Puffy" "Diddy" "P-Diddy" Combs, a member of the UCLA coaching staff and a kettlebell. With ESPN's College GameDay traveling road show on-site for the UCLA-Arizona game Saturday night, the fans in attendance unsurprisingly called back to that infamous incident in hilarious fashion.
NO KIDDING
One of the most famous rants in history belonged to the father of UCLA head coach Jim Mora. With the Bruins on the road for GameDay, well, you just knew something like the following would be in the offing.
NICE, BUTTS
Jake Butt of Michigan is one of the most talented tight ends in the country, but he's also self-aware enough to realize that some people have a little fun with his surname. As it turns out, so does his own family, who showed up en masse to the Big House Saturday with some rather unique and self-deprecating t-shirts.
I LOVE THE NINETIES
Not that I would ever make fun of him to his face, or even in his general vicinity, but [chuckle] NBA Hall of Famer Karl Malone still has a flip phone.
Malone's son, K.J. Malone, incidentally, is an offensive lineman for the LSU Tigers, and the former Louisiana Tech hoops star was in attendance at the Carrier Dome for the Game against Syracuse.  Where he was again caught on camera with his [/giggle] flip phone.
SNAG IT LIKE BECKHAM
OK, it's not exactly Odell Beckham-level difficult, but it was a nice catch for Michigan's Amara Darboh, who celebrated his swearing-in as a US citizen earlier this week with this one-handed wonder.
HE SAID IT
"The significance of this day was as a team our football team won in a sloppy manner." — LSU's Les Miles, molding the English language in a way that only he can.
HE SAID IT, THE SEQUEL
"I really wanted to kick his ass to be honest with you, and I know he'd appreciate that. You get a chance to play a Heisman Trophy candidate, you want to knock him backward. You want to get after him and you want him to no longer be in the Heisman race after you play him." — Syracuse head coach Scott Shafer, on facing the force that is Leonard Fournette.
HE SAID IT, THE THREEQUEL
"I'm not sure we deserved to win.  If nothing else, maybe we sold some more popcorn." — Jim McElwain, following Florida's heart-stopping win over Tennessee, the Gators' 11th straight over the Vols.
HE SAID IT, BONUS EDITION
"I definitely felt more comfortable. We're starting to get on the same page as not just receivers or offensive line or things like that. I think everyone felt way more comfortable today." — Ohio State quarterback Cardale Jones, after passing for a career-high 288 yards in a win over Western Michigan.
HE SAID IT, THE FINAL ONE
"A lot of times when you're in the position you're in, you have done it to yourselves, and that's what happened to us. We did it to ourselves." — Charlie Strong, after watching his Texas not-so-special teams literally cost the 1-3 Longhorns two wins already this season.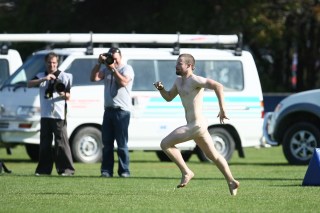 STREAKING
Four wins to start the 2015 season have pushed Ohio State's nation's best winning streak to 17 straight, tied for the fifth-longest in school history (1915-17).  Up next are TCU (12), Memphis (11), Michigan State (eight), Navy (seven), North Carolina State (seven) and Clemson (six).
On the other side of the won-loss ledger, New Mexico State, on a bye in Week 4, still owns the nation's longest losing streak at 13 straight.  With UNLV (nine in a row) and FAU (eight) both winning, the second-longest negative streak falls to Wyoming (seven), followed by UCF and UMass at five in a row, then North Texas and UT-San Antonio at four in a row. Kansas deserves its own special sentence as the Jayhawks are the not-so-proud owners of the longest losing streak amongst Power Five conference members at six straight.
MY ANNUAL REMINDER THAT…
… Duke football was really bad prior to the arrival of David Cutcliffe. Saturday's game against Georgia Tech was Cutcliffe's 92nd as Duke's head coach, and he has guided the Blue Devils to a 43-49 overall record.  In the 92 games (2000-08) prior to Cutcliffe's arrival, Duke managed an overall mark of 10-82.
S.I.D NOTE OF THE WEEK
Dating back to 1996, only Kansas State (113) has more combined defensive and special teams touchdowns than Virginia Tech (108).
S.I.D. NOTE OF THE WEEK II
Ole Miss' current streak of 21 straight weeks in the national rankings is the Rebels' longest since appearing in 69 straight from 1957-62.
S.I.D. NOTE OF THE WEEK III
Washington and Cal, who played each other Saturday, are the only two teams that have played in what is now the Pac-12 Conference in every season, all 100 of them, since the league was founded in 1916.
S.I.D. NOTE OF THE WEEK IV
Central Michigan's Ben McCord and Devon Spalding accomplished something against Syracuse that has never happened in program history. Both McCord and Spalding caught 10 passes versus the Orange, the first time CMU has had two players with at least 10 receptions in a single game. McCord is also the first CMU tight end to catch 10 passes in a game while Spalding is the first running back to have 10 receptions in a contest.
S.I.D NOTE OF THE WEEK V
Georgia Tech has finished .500 or better in ACC play for 20 consecutive years. That's the longest active streak by any team in any Power Five conference.
OFF THE CHARTS
Courtesy of the Wyoming sports information department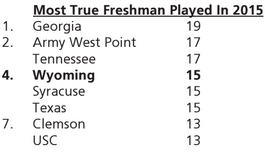 OFF THE CHARTS, PART II
Top active head coaches in terms of winning percentage (minimum five years at the FBS level), courtesy of the Washington sports information department
OFF THE CHARTS, PART III
Courtesy of the Nevada sports information department

SAY WHAT?
All Pac-12 members posted two or more wins through the first three games this season, a feat that has been achieved just twice in the history of the conference — 1919 and 1921.
DULY NOTED
Minnesota, Navy and Northwestern are the only three schools in the country that have had the same offensive staff (all coaches) for the last five seasons.
DID YOU KNOW THAT…
… quarterback Josh Dobbs led Tennessee in passing (83) rushing (136) and receiving yards (58) in the heartbreaking loss to Florida?  That's the first time that's happened since James Kilian did it in 2003.
… Bowling Green quarterback Matt Johnson has thrown for 400 or more yards in all four games of the 2015 season?  In addition to the 402 he put up against Purdue in a Week 4 win (a little more on that below), Johnson threw for 491 against Maryland, 443 against Memphis and 424 against Tennessee as BGSU has gotten off to a 2-2 start despite three games against Power Five teams.
… Arizona's Anu Solomon is the only FBS quarterback this season to have thrown 10 or more touchdown passes and no interceptions?  USC's Cody Kessler had been in that club before throwing a pick in the Trojans' rout of Arizona State.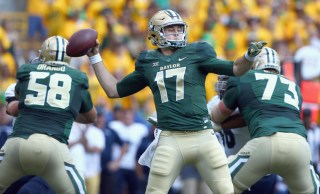 … Seth Russell threw more touchdown passes (six) than incompletions (four) in Baylor's rout of Rice?  A full half of Russell's 12 completions went for scores, with the six touchdown tosses setting a school record.
… Kenneth Dixon's three rushing touchdowns in Louisiana Tech's win over FIU gave him 11 games of three or more in his career, tying him with Wisconsin's Montee Ball for the most such games in NCAA history?
… Arizona's D.J. Foster became just the fourth player in FBS history to reach 2,000-plus rushing AND receiving yards, joining Stanford's Darrin Nelson, Tulane's Mewelde Moore and Texas Tech's Taurean Henderson? The running back-turned-wide receiver has also caught a pass in 44 straight games; that ties the school record (John Jefferson) and is the longest current streak in the FBS.
… Storm Barrs-Woods in Week 4 became the second Oregon State Beaver in the program's history to accumulate 2,000 yards rushing and 1,000 yards receiving in his career?  The first was Jacquizz Rodgers from 2008-10.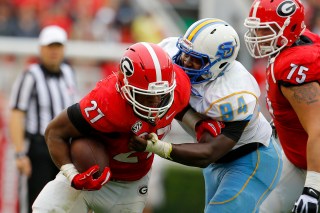 … Nick Chubb has rushed for 100-plus yards in 12 straight games, one off the Georgia record of 13 straight held by the great Herschel Walker?
… Lorenzo Nunez became the first true freshman quarterback to start for Steve Spurrier since Jesse Palmer did so for Florida at Auburn in 1997? The last true freshman to start at quarterback for South Carolina was Mikal Goodman during the 1999 season, and the last true freshman quarterback to win a game for the Gamecocks was Steve Taneyhill in 1992.
… Texas Tech's Jakeem Grant is the only FBS player who has thrown a touchdown pass, rushed for a touchdown, caught a touchdown and returned a kickoff for a touchdown this season?
… the offensive coordinators in Saturday's Tennessee-Florida game — Mike DeBord (UT) and Doug Nussmeier (UF) — were each at Michigan during the 2014 season? Nussmeier was the Wolverines' coordinator and quarterbacks coach while DeBord was a sport administrator.
… the last time Indiana started a season 4-0 was 1990?  IU is now 4-0 on the season thanks to Saturday's win over Wake Forest.  It's also the Hoosiers first four-game winning streak since 1993.
… Duke has started 3-1 in back-to-back seasons for the first time since 1986-88 and just the sixth time in program history? The other five came in 1920-21, 1932-41, 1949-53 and 1960-66.
… Baylor has started a season 3-0 for the fifth straight year, the first time that's ever happened in the football program's history?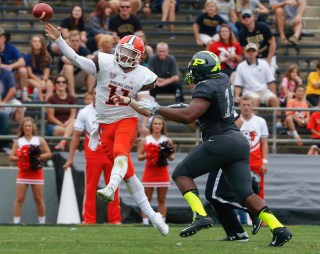 … with wins over Arkansas/Iowa State and Maryland/Purdue, Toledo and Bowling Green, respectively, joined Northern Illinois (Iowa and Purdue, 2013) as the only MAC schools to beat two Power Five teams in the same season?
… the 2015 season is the only time in at least the past 35 seasons Nebraska has lost a pair of games on the final play?
… the 56 points allowed by Virgina in its beatdown loss to Boise State Friday night was more than its men's basketball counterparts gave up in 22 of 34 games last hoops season?
… North Carolina has allowed 14 points in each of the last three games? This is the first time the opponents have scored the same number of points in three consecutive games since 1950 when Maryland, South Carolina and Duke each scored seven points.
… the Big 12 and Big Ten were the only Power Five conferences to win at least one game each of the first three weeks of the season against another P5 league?
… the Mountain West's .574 winning percentage in bowl games since 2004 is second only to the SEC's .649 in that span?  The other Power Five winning percentages are .567 for the Pac-12, .506 for the Big 12, .435 for the ACC and .400 for the Big Ten.
… only Stanford, Western Kentucky and Wisconsin have produced three different 1,500-yard rushers since 2009?
… Memphis' streak of six straight games scoring 40 or more points is not only the longest such streak, but it's twice as long as the next-longest run?
… Tennessee has played the most overtime games (17) since it was instituted in 1996, and is tied with Missouri (16 OT games played) for most wins in extra sessions at 11 each?
… USC is the only FBS school never to have had surnames on the backs of its jerseys?
… instead of the Power Five moniker, Boise State goes with Resource Five in all of its press releases?  BSU is simply following the lead of its conference, with the Mountain West referring to the P5 as the autonomous 5 — no capitalization intentional.
… Nevada's game against Buffalo marked that football program's first-ever to be played in the Northeast?  And, no, I have no clue if the dearth of games in that area of the country makes them a viable candidate if/when the SEC decides to expand.