A statistical snapshot of the week that was in college football…
.900 — Career winning percentage (27-3) of Michigan State's Connor Cook, the best of any active FBS quarterback.  Next in line are Stanford's Kevin Hogan at .750 (27-9) and Wisconsin's Joel Stave at .750 (24-8).
5 — Field goals in the first two quarters for Nebraska's Drew Brown, tying the NCAA record for a half last set by Nebraska's Dale Klein (1985 at Missouri) and New Mexico State's Dat Ly (1988 at Kansas). He also tied the record for most field goals in a quarter with four set previously by five players, the last of which was Oregon State's Jose Cortez in 1998.  Brown failed to connect on a field goal in the second half.
6 — FBS teams that have won 10 or more games in a season since 2000: Boise State and Oklahoma (12); Ohio State (11); Oregon, TCU and Virginia Tech (10).
8 — Number of Power Five programs that have won at least 100 games since the start of the 2005 season: Ohio State (114), Alabama (110), Oregon (108), LSU (106), Oklahoma (104), TCU (104), USC (102) and Wisconsin (101).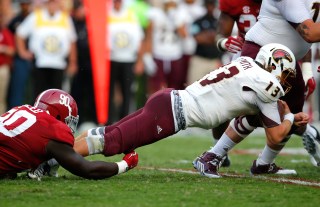 13 — Shutouts for Alabama since 2010, nearly double of the next-best total of seven by both Florida and Ohio State.  Stanford is just behind those two with six.
13 — Graduate students on Virginia's roster, the most of any FBS team.  Right behind UVa. is South Carolina with 11, followed by Illinois, Louisiana-Monroe, Missouri and USC with 10 apiece.
13 — Games in which Navy quarterback Keenan Reynolds has scored three or more rushing touchdowns, the most of any player in NCAA history.
13.1 — Yards per carry UT-San Antonio's Jarveon Williams averaged in gaining 170 yards on Colorado State.  The junior came into the game averaging 4.2 ypc this season, and had averaged more than five yards a carry in just three of the 22 games in which he had played previously.
16 — Games scoring 60 points or more since 2009 for Baylor, the most of any FBS team.  Oregon is next with 12.
19 — Consecutive games in which Baylor and Michigan State have scored three-plus touchdowns in a game, the longest streak in the country.  Nebraska has pulled that trick in 18 straight.
31 — The number of first downs for Tulsa has earned in each of its three games this season.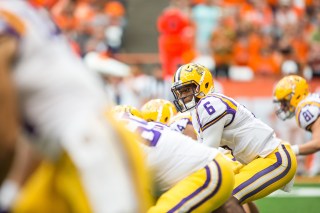 50 — Consecutive non-conference wins for LSU, extending the all-time best streak with a win on the road at Syracuse. LSU hasn't lost a non-conference regular season game since a 26-8 defeat at Virginia Tech to open the 2002 season.
64 — Percentage of the TCU student body that's female, a statistic that is likely mentioned prominently on the recruiting trail.
134 — Points SMU has scored through four games this season, after scoring 133 points in 12 games last season.
148 — Wins for Oregon this century, easily the most of any school in the Pac-12.  The next closest is USC with 122, although the Trojans' number would climb to 146 if vacated wins were counted.
163 — Consecutive made extra points for Florida State's Robert Aguayo, by far the longest streak in the nation.  Next closest is Duke's Ross Martin, who has made 124 straight, while Middle Tennessee State's Cody Clark has connected on 115 in a row.
173 — Passing yards combined for Boston College (92) and Northern Illinois (81) in BC's 17-14 win.  A total of 19 quarterbacks threw for more than that combined total in one half in Week 4.
184 — Rushing yards for Louisville's Lamar Jackson, setting a single-game school record for a quarterback.
193 — Points Ole Miss scored in 12 games in 2011, the year prior to Hugh Freeze's arrival in Oxford.  In four games this season, the Rebels have scored a total of 219 points.
267 — Receiving yards for TCU's Josh Doctson
, breaking the school's single-game record of 226 by Jimmy Young in 2008.
300 — Rushing yards on 42 carries for San Jose State's Tyler Evans against Fresno State, the most for any player in the FBS this season.  His previous career high was 146 set last season.
316 — Combined receiving yards for Middle Tennessee State's Ed'Marques Batties and Richie James; their Blue Raider teammates combined for a total of 14 yards.
350 — Players from the SEC on NFL rosters, the most of any Power Five conference.  Behind that league are the ACC (269), Big Ten (248), Pac-12 (246) and Big 12 (151).
447 — Yards passing for Southern Miss' Nick Mullens in the loss to Nebraska, the second time he's gone over the 400-yard mark in his career.  Not surprisingly, both of those games were losses for the Golden Eagles.
457 — Rushing yards for Notre Dame in a 62-27 win over UMass.  The Irish averaged nine yards on its 51 carries, with C.J. Prosise going over 100 yards (149) for the third straight game.
457 — Passing yards for Western Kentucky's Brandon Doughty vs. Miami of Ohio, his third straight game of 400-plus yards and fifth time in the last six he's gone over that mark.
485 — Career-high passing yards for Trevone Boykin in TCU's wild win over Texas Tech.
517 — Yards rushing for UNLV in an 80-8 win over FCS Idaho State.  That romp snapped a nine-game losing streak.
620 — Team passing yards for Cincinnati in its Thursday night loss to Memphis.  While it's an impressive total, it's far off the single-game record of 771 yards put up by Houston in a 1989 game vs. SMU.
1956 — The last time Texas was 1-3 to start a season prior to this year.  It's also the first time in program history the Longhorns have lost three games before the end of September.
1956 — The last time prior to facing No. 23 Northwestern and No. 20 Georgia Tech the last two weeks that Duke had played consecutive home games against ranked teams the same season.
1961 — The last time Memphis started a season 4-0 prior to this year.
1974 — Last five-game road winning streak for North Carolina State prior to the current one, tied for longest in school history.  The Wolfpack also won five straight away from home in 1962-63.
1977 — Last meeting with a Mountain West school for Penn State prior to its game against San Diego State.
2004 — Before this year, the last season UCF started a season 0-4, when the Knights finished 0-11 in George O'Leary's first season.
2008 — Last season Colorado had a three-game winning streak prior to their run to start the 2015 season.  The Buffaloes last won four straight in the same season in 2002 when they peeled off five in a row.
7,220 — Feet above sea level the University of Wyoming sits in Laramie, the highest elevation of any FBS program.
425,000 — Dollars FCS James Madison for beating SMU Saturday.
25,989,854 – Number of fans who have watched Nebraska play football during its record streak of 344 straight sellouts at Memorial Stadium, which began back on Nov. 3, 1962.