As is the case each and every season, each and every week, any omission below is not on purpose, it's merely intentional.
B1G PROBLEMS… FOR EVERYONE
The Big Ten entered Week 5 with the nation's No. 1 and No. 2 teams.  That conference could, and likely should, exit the weekend without a team in either slot.
There is one thing I can type with a great degree of certainty: there will be a new No. 1 come Sunday afternoon.  Ohio State's performance, albeit on the road and against a much-improved — and unbeaten — Indiana squad, is not in and of itself enough to knock the Buckeyes out of the top spot.  However, when you add in the struggles at home against a MAC school last week… and their struggles at home the week before that against another MAC school… and their struggles the week before that against a school not even located on the United States' mainland, and OSU simply isn't the best team in the country.  I realized that a couple of weeks ago; here's to guessing the voters catch up later on today.
And, while we're kicking B1G teams down the poll food chain, give the boot to No. 2 MSU as well.  The Spartans, at home no less, had to hold off a Boilermakers team whose only win this season  came against an FCS team and has lost 10 straight to FBS foes.  The 24-21 win shows that I, and many others, had long overvalued the Week 2 win over Oregon and perhaps their reputation off that win far surpassed their actual on-field worthiness.
This isn't to pick on the Big Ten, though.  Rather, that conference is merely the biggest symptom of a season in which there is simply not a No. 1 team in the truest sense of the words.  Not a single team seems to either want or, more importantly, deserves that top-dog ranking.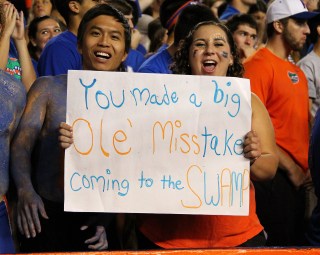 No. 3 Ole Miss beat Alabama in Tuscaloosa, then loses badly to No. 25 Florida two weeks later.  No. 7 UCLA looked to have a case entering Week 5 before struggling with and finally losing to unranked Arizona State, while No. 8 Georgia was taken to the woodshed between the hedges by 'Bama.  No. 4 TCU's win over Minnesota loses luster with each passing week, and they have yet to face any real competition — Texas included.  No. 5 Baylor's track-meet win over Texas Tech may wow some, but it's still style over substance and will remain that way until they face their initial test (West Virginia in two weeks?).  No. 6 Notre Dame looked early on like it was ranked way too high, then showed some serious stones in its comeback in the eventual road loss to No. 12 Clemson.
So, if you're keeping score at home, that's four of the Top Eight teams in the country who saw their perfect seasons go down in flames in Week 5, with most of the remaining unbeatens looking disheveled and not ready for the primetime of the College Football Playoff stage.
Out of all the teams in the top dozen or so, No. 10 Utah may have gained the most in Week 5 simply by being the lone Top 10 team on a bye weekend.  No. 9 LSU, meanwhile, is lurking in the background undefeated, with Les Miles' charges, which consists of a stout defense, the best running back in the country and a quarterback who plays within himself, seemingly awaiting to pounce and take full advantage of all of the tumult and uncertainty ahead of them.
Let's simplify the current situation: take any of the teams mentioned above, and pit them against 2014 postseason Ohio State or 2014 regular season Alabama and Oregon or 2013 Florida State or 2012 Alabama; is there a single one of those 2015 teams that would be favored against any of those past teams?  Nope, they'd all likely be at least double-digit underdogs, even on a neutral field.
Through five games, there's simply no clearcut No. 1 or no obvious 1-2 as in the past few years.  And, for the life of me, I can't figure out whether that's good or bad — although I am leaning toward the former as this could be the most wild and unpredictable season since, what, two-loss LSU won the whole thing in 2007?
All I do know is my personal Top Five below will have a decidedly different look than the week before, and I have the feeling the real polls will too.
SIGHTLESS, BUT NOT SPIRITLESS
Before getting on to more of the stuff y'all really care about, please allow me very quickly to touch on something truly inspirational.
While much has been made of late of the blind long-snapper at USC — and rightly so, incidentally — there's another player at the same position with a similar disability at Tulane.  While Steve Sarkisian has talked of getting Jake Olson in a game with the Trojans, Curtis Johnson has acted on that notion.
In the fourth quarter of Tulane's 45-31 win over UCF, Aaron Golub was the long-snapper on the Green Wave's final extra point of the game.  Golub, who can't see out of his right eye at all and has very limited vision in his left, thus became the first legally-blind player ever to appear in an NCAA football game.
"It was a great opportunity," Golub said. "I'm happy they gave me a shot. It just felt great."
And, for those who will no doubt whine and/or cry and/or bitch and/or moan about Johnson making Golub a charity case, just listen to the coach's own postgame words.
"Every morning I'm up, he's up in the weight room and he's working and working and working," Johnson said. "I would like to play him as much as I can because that's what you do, you reward kids who work. I don't care what they are or how they look. This kid works and he's just like everybody else. I'm going to play him as much as I can."
Kudos to Golub, and kudos to Johnson for doing what's right for a young man who's obviously worked hard at his craft and deserves to be rewarded for it.
FAT GUY IN LITTLE PADS
Chris Farley struck comedic gold with his "Fat Guy in a Little Coat" ditty in the cinematic classic "Tommy Boy."  Two decades later, the largest man in college football has brought a similar predicament to the gridiron.
LaQuan McGowan is a Baylor tight end who's listed at 6-7, 410 pounds on the official Bears roster. Prior to today's basketball-game-masquerading-as-a-football-game against Texas Tech, McGowan did what most players do on game day: don their jerseys and shoulder pads.
When it comes to a man of McGowan's size, nothing ever comes easy. Unlike most everybody else, his clothing struggles were caught on camera.
Somewhere, the much-beloved Mr. Farley is smiling. And laughing his ass off.
SATURDAY RESET
Below is a list of links for all of the Week 5 gamers posted by the CFT crew, placed in one handy and convenient space for you, our beloved and dear readers.
CFT TOP FIVE
A snapshot look at how my ballot would look Sunday if I, ya know, had a real vote.  Also, note that my previous rankings had Michigan State, Ole Miss, TCU, Ohio State and UCLA at Nos. 1-5, in that order, prior to me tweaking the hell out of them this weekend as I just erased everything and started everyone with a blank slate.
1. TCU — Somebody's gotta fill the spot, and it might as well be the Horned Frogs.  The wins over Minnesota and Texas Tech are solid-ish, while they've won their other three games (Stephen F. Austin, SMU, Texas) by a combined 125 points. (Last week: No. 3)
Next up: at Kansas State, Oct. 10
2. Utah — The win over Michigan in Week 1 looks more impressive as time goes by, although the win over Oregon last weekend is looking less and less impressive the more the Ducks are exposed.  The next three weeks, against Cal, Arizona State and USC, will likely tell whether the Utes will have a spot on the national stage going into the last month of the season. (Last week: unranked)
Next up: vs. No. 24 Cal, Oct. 10
3. Baylor — BU beat SMU by 35 and Texas Tech by 28; TCU beats those same teams by 19 and three, respectively.  The Horned Frogs' win over the Gophers on the road, though, trumps the Bears' other two wins (Lamar, Rice). (Last week: unranked)
Next up: at Kansas, Oct. 10
4. LSU — One of just five unbeaten teams that have three wins against fellow Power Five schools, with the others being Cal, Florida, Northwestern and Texas A&M.  Two of those P5 teams the Tigers beat were ranked at the time, and the third, 3-1 Syracuse, they beat on the road.  And that's my justification and I'm sticking to it. (Last week: unranked)
Next up: at South Carolina, Oct. 10
5. Northwestern — Since losing to NU in Week 1, Stanford has won four straight and had moved back up to No. 18 in the Associated Press poll prior to Week 5.  Duke, which NU beat on the road in Week 3, is currently 4-1.  Finally, the Wildcats beat by 27 the same Gophers team that the Horned Frogs beat by six.  So there. (Last week: unranked)
Next up: at Michigan, Oct. 10
(Dropped out: No. 1 Michigan State, No. 2 Ole Miss, No. 4 Ohio State, No. 5 UCLA)
THE STATE OF TEXAS FOOTBALL
The whole "picture is worth a thousand words" thing is in play here.
HOOPS COACH OF THE DAY
Many individuals were excited for the Alabama-Georgia game.  One of those individuals was UGA basketball coach Mark Fox, who went very public in his support for the football Bulldogs.
SCARIEST. MAN. ALIVE.
Shawn Oakman is one of the most intimidating physical presences in college football today.  When the Baylor defensive lineman starts quoting a foreboding Edgar Allen Poe classic on Twitter prior to a game?  Get the hell out of his way, especially if you're standing between him and a quarterback.  Or a good sandwich, even.
TAKING A BITE OUT OF THE OPPOSITION
If you were playing West Virginia or Notre Dame or Wake Forest or myriad other teams Saturday, you couldn't eat your opponents in the days leading up to a game, at least not the way current laws are structured.  If you're Ole Miss, and you're playing Florida?  Yeah, you could.  And the Rebels did.
Apparently, though, that meal turned on the Rebels.
F TO THE U
Even with a huge game against Notre Dame on tap, Miami is still not far from the minds of Clemson fans.
CARL THE WEATHERMAN
You include a timely and relevant quote from one of the greatest movies ever, you deserve a nod.
YEP, THAT SUMS IT UP
Parents with kids at college right now, here's a visual summary of what your money is getting you.
HE SAID IT
"Oh yes." — Charlie Strong, asked if Texas' woodshedding at the hands of TCU was his worst day as a head coach.
HE SAID IT, THE SEQUEL
"I love our players, I love our school, love our colors, love Penn State, love Happy Valley, love the community. … Love our guys, love our staff, love the opportunity that we have here. … Love our players. Love our coaches. Love our media. Love everybody." — A mash-up of James Franklin's lengthy response to a question that essentially asked if fans should be disappointed with Penn State's six-point home win over 1-4 Army.
HE SAID IT, THE THREEQUEL
"The dam broke and unfortunately we just didn't have enough counterpunches to get back in it. … We got whipped, we all know it and we've got to do something about it." — Mark Richt, following Georgia's shellacking at the hands of Alabama.
HE SAID IT, BONUS EDITION
"It's an insane game, that's how it's been. You can't breathe for a half-second. If you have any hair, it's blowing backwards and the game is screaming the whole time." — Art Briles, following a game in which Baylor and Texas Tech nearly put a combined 100 points on the scoreboard.
HE SAID IT, THE FINAL ONE
"We're turning the ball over at an alarming rate. That's obviously a difference in the game. And at some point, that's going to bite you. We have to fix that." — Urban Meyer, portending future doom for his Ohio State Buckeyes if they don't start cleaning things up.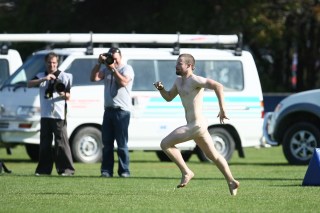 STREAKING
Five wins to start the 2015 season have pushed Ohio State's nation's best winning streak to 18 straight.  Up next are TCU (13), Memphis (12, a school record), Michigan State (nine), Navy (eight), Clemson (seven) and Toledo (seven).
On the other side of the won-loss ledger, New Mexico State still owns the nation's longest losing streak, which is now at 14 straight.  The second-longest negative streak falls to Wyoming (eight), followed by UCF at six in a row and North Texas at five in a row. Kansas deserves its own special sentence as the Jayhawks are the not-so-proud owners of the longest losing streak amongst Power Five conference members at seven straight.
MY ANNUAL REMINDER THAT…
… Kansas State was historically abysmal before the arrival of the Wizard of Manhattan: Bill Snyder currently has 190 career victories as Wildcats' head coach, which are 151 more than any other coach in the football program's history.
S.I.D NOTE OF THE WEEK
Matt Johnson in Week 4 became the first player in Bowling Green history to have four 400-yard passing games in a career. He accomplished that feat in the first four games this season as he had 400-plus yards in each.  Johnson had "just" 324 in Week 5.
S.I.D. NOTE OF THE WEEK II
Since 1980, TCU's Gary Patterson leads all college football coaches with six winning streaks of 12 games or more. The 55-52 victory at Texas Tech in Week 4 enabled Patterson to break a tie with Florida State legend Bobby Bowden.
S.I.D. NOTE OF THE WEEK III
Entering Week 5, eleven FBS players have a run of 80 yards or longer this year, but Georgia Southern's Matt Breida was the only one with two. He also led the FBS in 70-yard runs (three) and 60-yard runs (four).
S.I.D. NOTE OF THE WEEK IV
Duke is 4-4 in its last eight games against ranked foes after losing 47 straight to ranked opponents (November 6, 1994 to October 25, 2013).
S.I.D NOTE OF THE WEEK V
Cal's victories in consecutive weeks at Texas and Washington marked the first time the Bears had won back-to-back road games in consecutive weeks since 1993 at Stanford (Nov. 20) and Hawai'i (Nov. 27). The Bears played back-to-back road games in consecutive weeks 27 times in between.
OFF THE CHARTS
Courtesy of the Georgia Tech sports information department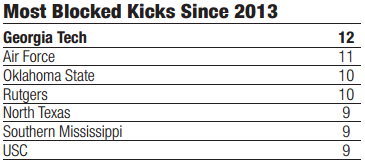 OFF THE CHARTS, PART II
Courtesy of the Wyoming sports information department

OFF THE CHARTS, PART III
Most shutouts since 2010, courtesy of the Stanford sports information department

SAY WHAT?
Georgia Tech hasn't been shutout at home in 361 games, tying BYU (1975-2003) for the longest such streak in NCAA history.  Tech was last blanked at Bobby Dodd Stadium on Nov. 30, 1957, a 7-0 loss to in-state rival Georgia.
DULY NOTED
Louisiana-Monroe is the only FBS program that will play eight road games this season.  ULM is also just one of four teams that play three consecutive conference games on the road, the others being Arkansas, Arkansas State and Florida.  Finally, ULM is one of six teams, the others being FIU, Middle Tennessee State, San Diego State, UMass and Western Kentucky, that will not play back-to-back home games in 2015.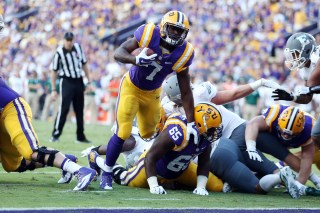 DID YOU KNOW THAT…
… Leonard Fournette has run for 200-plus yards in three straight games, the first time in the storied history of the SEC that's happened?  The LSU running back's 864 yards are the most in the first four games since at least the 2000 season, and likely the most since Barry Sanders' record-setting 1988 season.
… Boise State's Jeremy McNichols is only running backs in FBS with multiple rushing touchdowns in all five games this season?
… with four receptions, Cal's Bryce Treggs is now tied for fifth all-time in receptions with 167?  The individual he's tied with is his father, Brian Treggs, who played for the Bears from 1988-91.
… TCU's KaVontae Turpin had two career receiving touchdowns before catching four in the win over Texas?
… Boise State's Darian Thompson and Donte Deayon have 17 career INTs, one away from tying the Mountain West record held by Utah's Eric Weddle?  Both Thompson and Deayon had one pick each in Saturday night's dismantling of Hawaii.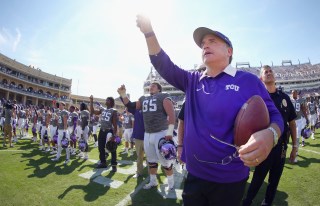 … TCU has defeated Texas in back-to-back seasons for the first time since 1958-59? Those back-to-back wins have come by 30 or more points; prior to last year, TCU had beaten Texas by that margin just once in the history of series that dates back nearly a century.
… Alabama's 28-point victory margin in the 38-10 win over Georgia is the largest winning margin ever by a Crimson Tide team against a Top-10 team at an opposing site?
… Memphis and Temple are both 3-0 on the road, serving as the only teams in the nation with 3-0 road records?
… with its late loss to Illinois, Nebraska becomes the first team since at least 1940 to lose three of its first five games in the last 10 seconds or less?
… Florida State has opened up a season without an offensive turnover in four straight games for the first time in the football program's history?
… North Carolina is the only team this season that has not had a punt returned against it?  Baylor and Navy had both entered Week 5 without having one returned against them.
… Air Force and Toledo are the only teams that have not allowed a sack this season?
… Iowa is the only team that has yet to allow a rushing touchdown?  Navy hadn't allowed one before Air Force got one in the fourth quarter of its 33-10 loss to the Midshipmen.
… Duke had not started 4-1 or better in consecutive years since 1962-65 prior to this season's 4-1 start?  The Blue Devils also recorded a win against ranked teams each of the last three years, a first for the Program since 1955-60.
… Navy is off to a 4-0 start for the first time since 2004?  The Midshipmen finished that season 10-2.
… Baylor is now 4-0 for the third-straight year, the first time that's happened since 1915-17?
… Indiana is now 0-16 all-time against top-ranked teams, including an 0-6 mark against Ohio State?
… Boise State, Bowling Green and Toledo, with two each, are the only Group of Five teams this season with more than one win against Power Five opponents?  The Falcons are the only one of that trio to win both of their P5 games on the road.
… Temple played three straight road games to start the 2015 season and won all three for the first time in the program's history?
… Boston College became the first ACC team and only the fifth FBS team this century to permit 225 or fewer yards in each of the first four games of a season?  BC allowed 228 in a 9-7 loss to Duke.
… San Jose State has allowed just nine passing touchdowns since the start of the 2014 season, a stretch that includes 17 games?  Penn State is next with 13, followed by Temple's 14, Clemson's 15 and Duke's 17.
… there are three schools at the FBS level that have three offensive lineman on their roster who are listed at least 6-7? That tall trio consists of Florida State, LSU and Penn State.
… Washington State has sold out five games since Mike Leach took over as head coach in 2012?  Prior to his arrival, Wazzu had sold out one game the previous five seasons.