A statistical snapshot of the week that was in college football…
.6 — Yards per carry, on 25 attempts, Washington State averaged in a 34-28 loss to unbeaten Cal, which averaged just 2.6 ypc on its 30 attempts itself.  The two teams did combine for 779 yards passing, 390 for Cal's Jared Goff and 389 for Wazzu's Luke Falk.
0 — Prior to Missouri (Drew Lock) and South Carolina (Lorenzo Nunez), the number of times an SEC game had featured two true freshman quarterbacks as the starters.
1 — Turnovers for Florida State, LSU and Navy this season, the fewest of any FBS teams in 2015.
1 — Pass attempts for Army in the service academy's loss to Penn State.  The Black Knights have now attempted 37 passes through five games.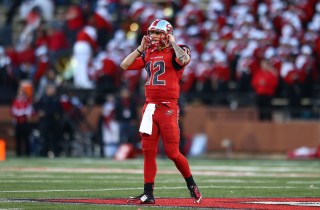 4 — Consecutive 400-yard passing games for Western Kentucky's Brandon Doughty.  The senior now has eight such games over the past 18, including two that were more than 500 yards.
10 — Consecutive games Baylor has scored 30 or more points, the longest current streak in the FBS.  Michigan State had a streak of 12 straight entering Week 5, but scored just 24 in a win over Purdue.
16 — Counting Georgia's Nick Chubb in Week 5, the number of players who have rushed for 100-plus yards since the beginning of the 2005 season. Chubb's 146-yard effort in the loss was his 13th straight of 100 or more yards, tying UGA great Herschel Walker for the all-time school record.
21 — Deficit North Carolina erased in its 38-21 win over Georgia Tech, the largest comeback in the football program's history.
22 — ACC wins under David Cutcliffe (2008-present) for Duke after winning just 18 conference games from 1990-2007.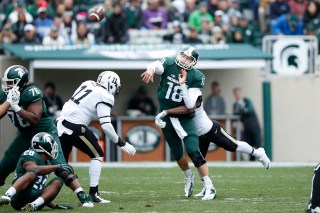 28 — Career wins for Connor Cook, the most-ever for a quarterback in Michigan State history.  The senior surpassed the record of 27 set by Kirk Cousins.
34 — ESPN College Gameday shows that have originated from a game featuring Alabama and Florida, the most of any FBS programs.  Others schools with the most Gameday appearances include Ohio State (33), Florida State (31), Oklahoma (29) and Notre Dame (26).  The latter's game at Clemson Saturday is included.
38 — Consecutive winning seasons for Florida State, the longest such streak in the country.
56 — Times Alabama has held its opponents to 20 points or less since the start of the 2010 season.  That number is tops in the nation, with Florida State and Stanford next at 54 and 48, respectively.
100 — Yards of total offense for Virginia Tech in a 17-13 loss to Pittsburgh.  That's the fewest yards for Tech since 60 yards in a 1987 loss to Clemson, which also happened to be Frank Beamer's first game as Hokies' head coach.
191 — Rushing yards for Utah State's Kent Meyers, setting a single-game school record for a quarterback.  The old record was 121, set most recently by Chuckie Keeton.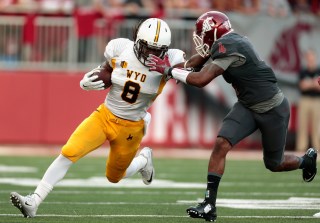 208 — Rushing yards for Wyoming's Brian Hill in the Cowboys' eighth straight loss, a 31-13 setback to Appalachian State.
221 — Career-high rushing yards for Michael Gordon in Arkansas State's win over Idaho
234 — Rushing yards for Ezekiel Elliott on his first eight carries of the second half in Ohio State's closer-than-expected win over Indiana.  195 of those yards came on three touchdown runs.  Elliott finished with a career-high 274 yards on 23 carries, and his 11.9 yards per carry were a school record.
260 — Career-high rushing yards for Larry Rose III in New Mexico State's loss to rival New Mexico.  The sophomore averaged 12.4 yards per carry and scored three touchdowns.
365 — School freshman record passing yards for BYU's Tanner Mangum in the Friday night win over UConn.
437 — Career-high passing yards for Oklahoma State's Mason Rudolph in the win over Kansas State.  It was Rudolph's second career 400-yard passing game, both of which have come this season.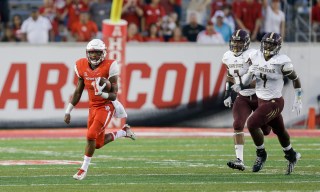 455 — Yards of offense for Greg Ward Jr., including 182 yards rushing that set a single-game Houston record for a quarterback.
1922 — The last time Penn State played five consecutive home games prior to starting the 2015 season with five in a row in Happy Valley.
1930 — The last time Temple played a non-conference game against an FBS opponent in the state of North Carolina before the Week 5 game against Charlotte.
1942 — The last time both Ohio State and Indiana were undefeated entering a game prior to the Week 5 matchup between the 4-0 Buckeyes and 4-0 Hoosiers.
1950 — Prior to this year, the last time Cal began a season 5-0.
1966 — The last time Michigan State was ranked second in the country in the Associated Press poll.
1977 — Both the year and number of days since Clemson last played host to Notre Dame before Saturday's clash of ranked teams.