Alabama's not really discussing a medical situation involving one of its football players, but the player himself certainly is, at least to some extent.
Blake Barnett has taken to social media the past couple of days to reveal that he had been hospitalized since Monday.  The nature of the stay was not detailed, although Barnett did mention "multiple blood transfusions" have been involved.
When asked for comment by al.com, university officials declined.  Nick Saban subsequently labeled Barnett as "ill" and that he didn't think it was anything serious.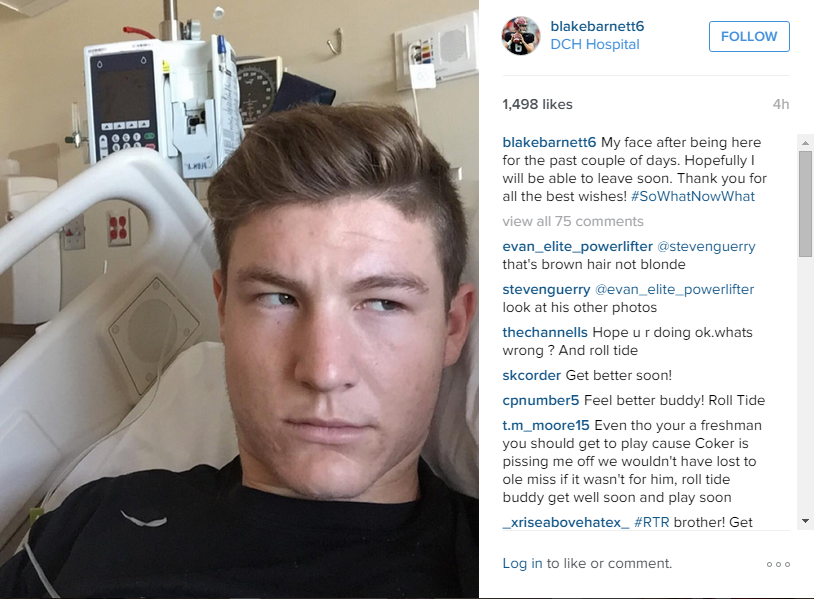 Late Wednesday afternoon, Barnett revealed on social media that he had been released from the hospital but has yet to return to practice.
Barnett was a four-star member of the Tide's most recent recruiting class, rated as the No. 2 dual-threat quarterback in the country; the No. 9 player at any position in the state of California; and the No. 41 player overall according to Rivals.com.  Barnett, an early enrollee who participated in spring practice,  was part of a five-man competition for the starting job that was ultimately won by Jake Coker.
Barnett has not played at all in 2015 and is very likely headed for a redshirt.