As is the case each and every season, each and every week, any omission below is not on purpose, it's merely intentional.
DID YOU SAY UTES?
Why yes, Judge Haller. When discussing the best team in the country, I did just that.  And I'll absolutely go there: the Utes are the No. 1 team in the nation.
Given the list of contenders for that midseason title, why not?  Every single one of them has their flaws, including the Utes.  It's been a handful of years since, as deep as we are into a season, we haven't been able to find any team even remotely resembling a consensus No. 1.  Or even two or three teams that are heads and shoulder above everyone else.
Instead, and depending on your point of view, there are at least seven teams that could make a valid case for the No. 1 ranking.  Or make a valid case for not being No. 1. Consider this slant on their respective résumés:
No.1 Ohio State: four wins over Power Five teams; three double-digit wins over P5 teams; one double-digit win over P5 team on the road; one other P5 road win.
No. 2 Baylor: three wins over Power Five teams; three double-digit wins over P5 teams; one double-digit win over P5 team on the road.
No. 3 TCU: five wins over Power Five teams; three double-digit wins over P5 teams; two double-digit wins over P5 teams on the road; one other P5 road win.
No. 4 Utah: four wins over Power Five teams; one double-digit win over P5 teams; one double-digit win P5 teams on the road.
No. 5 Clemson: four wins over Power Five teams; two double-digit wins over P5 teams.
No. 6 LSU: five wins over Power Five teams; three double-digit wins over P5 teams; one double-digit win over P5 teams on the road; one other P5 road win.
No. 7 Michigan State: four wins over Power Five teams.
Or, how about this, with the collective records of their opponents plus average margin of victory:
No. 1 Ohio State: 23-24 (.489 winning %), 20.7 points per game
No. 2 Baylor: 15-22 (.405, includes FCS team), 39.0 ppg
No. 3 TCU: 19-26 (.404, includes FCS), 23.6 ppg
No. 4 Utah: 24-15 (.615), 17.0 ppg
No. 5 Clemson: 21-19 (.525, includes FCS), 18.5 ppg
No. 6 LSU: 22-18 (.550), 12.7 ppg
No. 7 Michigan State (.478): 22-24, 9.1 ppg
Add it up, and what does it all mean?  Hell if I know, other than you can make Team X look better than Team Y depending on which data you use.  Which, of course, gets back to the central point: any one of at least seven teams could make a valid case for the No. 1 team and you'd have to respect the argument.
In that vein, I'm going with the Utes at No. 1 until further notice.  Why?  Because my eyeballs tell me they're the best team I've seen all season. And because their opponent winning percentage is pretty damn impressive, too.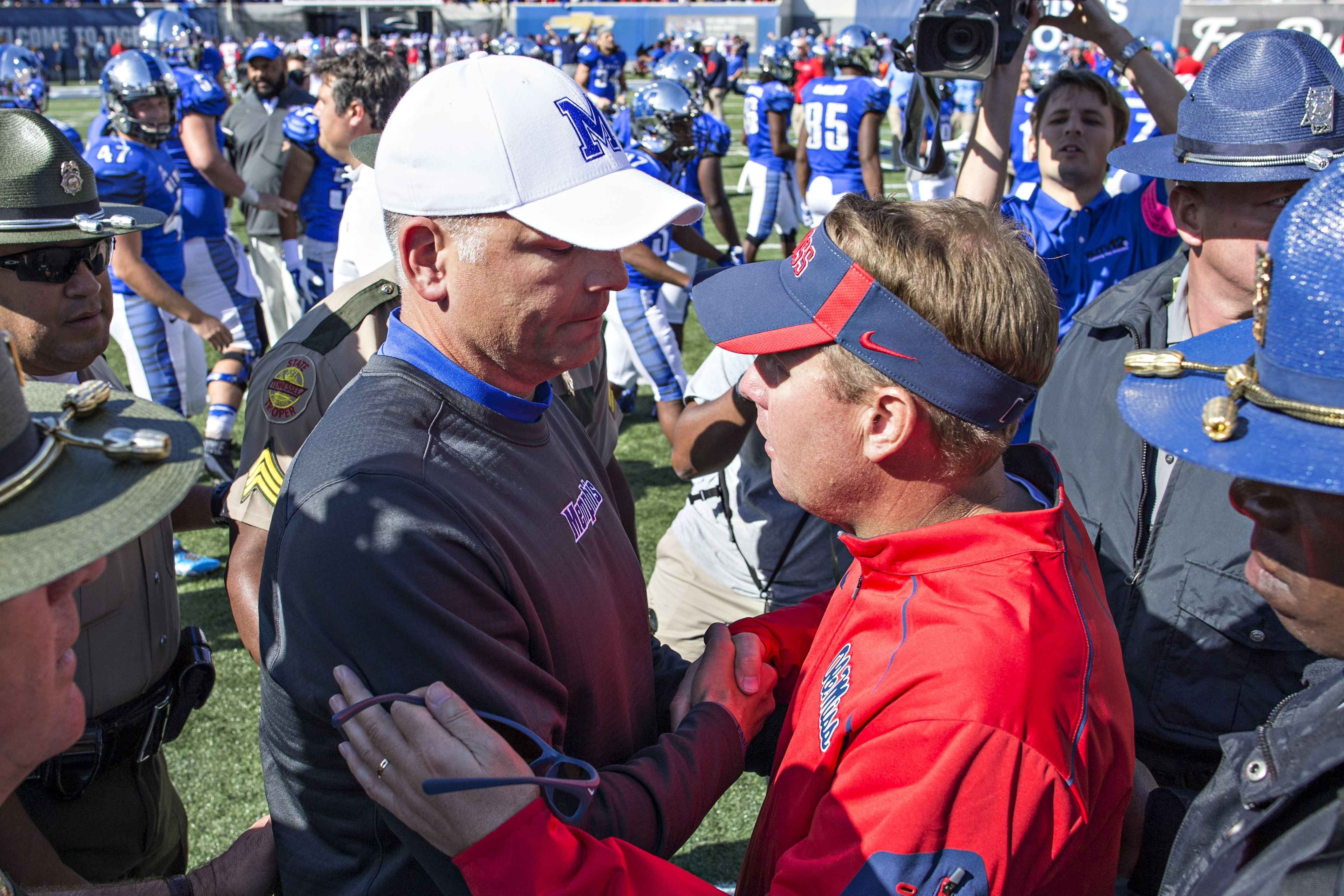 MUY CALI-FUENTE
Every year, there are a couple of Group of Five sideline bosses who become the "it" guy on the coaching carousel.  This year, there's no one hotter than Justin Fuente.
In the three seasons prior to Fuente's arrival in Memphis in 2012, the Tigers were 5-31.  In the three-plus seasons since, the U of M has gone 23-20.  That mark, though, is somewhat deceptive as, after a 7-17 start in his first two years, Fuente has gone 16-3 in the last 19 games.  Included in that run is a current 13-game winning streak that continued with the Week 7 upset of No. 13 Ole Miss, a program-defining win that has shined an even brighter national spotlight on what Fuente is doing in a state they share with another team from the SEC.
Even prior to the win over the Rebels, Fuente was viewed as a hot commodity for Power Five teams who would be looking for a new coach this year; after the impressive outing against the SEC program, Fuente's name is now at or near the top of many a list, especially, but certainly not limited to, the vacancy at USC.  In reality, Fuente will have his choice of schools if he so desires.
And that right there is the double-edged sword for those in and around the Tiger football program.  Yes, they want the Tigers to do well, but every win only serves to add to Fuente's burgeoning résumé — and the likelihood that he will leave before the calendar flips to 2016.
That may not be fair to fans and administrators alike, but that's the current state of the money-green game of college football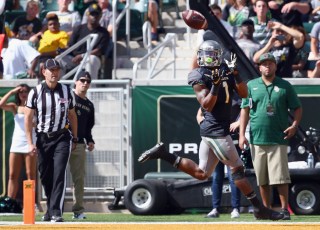 CATCHING HISTORY
There are many ways to wax poetically about the machine that is the Baylor offense.  Right now, there's no more eloquent way to state it than uttering the name Corey Coleman.
The Baylor wide receiver totaled three touchdowns in Saturday's win over West Virginia, giving him a whopping 16 on the season and already setting a school record in just six games.  The performance marks the fourth time this season he's had at least three receiving scores in a single game; in Week 2, he grabbed four.
It's the most after six games since Texas Tech's Michael Crabtree totaled 17 in 2007 (he finished with 22).  At his current pace, Coleman would finish the 12-game regular season with 32; the current FBS record is 27 set by Louisiana Tech's Troy Edwards in 2008.  Add in a couple of playoff games, and there's the possibility that Coleman could be closer to 40 on the year than 30.
And that may be the most astounding part, that such a number for a receiver is even remotely a possibility.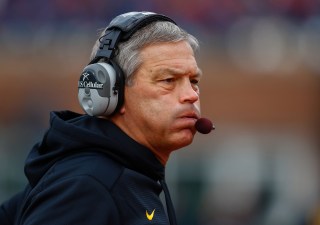 IO… WHAT?
Through seven weeks of the 2015 season, there are still 10 Power Five teams left that have yet to suffer a loss.  There are the teams you'd expect, like Ohio State and Baylor and TCU and LSU and Michigan State and Clemson and Florida State.  And there are the likes of Utah and Oklahoma State, teams many thought would be vastly improved from a year ago heading into the season.  And then there's… Iowa?
Yep, Iowa.  And the most mind-bending aspect of the whole situation?  The Hawkeyes actually have the best chance of any of the remaining P5 unbeatens to get to the end the regular season unblemished.  Think about it.
Ohio State and Michigan State will square off next month, while the former still has to face Michigan the game after that as well.  TCU and Baylor and Oklahoma State will all play each other, and all three still have to play a ranked Oklahoma as well.  LSU has November games left against Alabama and Texas A&M, with a road trip to Ole Miss thrown in for good measure.  USC, Arizona and UCLA still await Utah.  Clemson and Florida State remain on a collision course, with Florida still a tough out on the latter's schedule.  And 7-0 Iowa?
2-4 Maryland, 4-3 Indiana, 4-3 Minnesota, 1-6 Purdue, 3-4 Nebraska.
That's it.  That's all that stands between the Hawkeyes and a 12-0 record heading into a month of December that, with that mark, would include a spot in the Big Ten championship game.
There's a better-than-average chance that, when the dust settles on the regular season, there will be one undefeated P5 left standing — and that one team will be coached by Kirk Ferentz.  If that doesn't tell you all you need to know about the 2015 season, I don't know what would.
SATURDAY RESET
Below is a list of links for all of the Week 7 gamers posted by the CFT crew, placed in one handy and convenient space for you, our beloved and dear readers.
CFT TOP FIVE
A snapshot look at how my ballot would look Sunday if I, ya know, had a real vote.
1. Utah — If you're looking for a lengthy explanation, did you not read what I wrote in the lede?  Until further notice, impressed with opponent's winning percentage and so on and so on. (Last Fifth Quarter: No. 2)
Next up: at USC, Oct. 27
2. LSU — Even prior to Week 7, LSU's résumé was better than the one right below them.  Add in Saturday's win over a previously unbeaten Florida, and LSU inches closer to Utah and puts more distance between themselves and Baylor. (Last Fifth Quarter: No. 4)
Next up: vs. Western Kentucky, Oct. 24
3. Baylor — The offensive juggernaut that is BU is hard to ignore, even if it leaves a sour taste in the mouth of "traditionalist."  By any metric, though, even old school types have to admit that the Bears are one of the best teams in college football through seven weeks. (Last Fifth Quarter: No. 3)
Next up: vs. Iowa State, Oct. 24
4. TCU — Fun fact: three of TCU's seven wins have come by seven points or less, although all three have come against Power Five teams.  I don't know what that means, but just found it interesting and/or intriguing. (Last Fifth Quarter: No. 1)
Next up: vs. West Virginia, Thursday Oct. 29
5. Ohio State — Putting tOSU back into my Top Five is based solely on the assumption that Urban Meyer will permanently hand the keys to the offense to J.T. Barrett.  Well, that and they actually bore some resemblance to their 2014 selves the past two games.  And, on principle, I just can't put Michigan State here after the way they remained unbeaten. (Last Fifth Quarter: NR)
Next up: at Rutgers, Oct. 24
(Dropped out: No. 5 Northwestern)
(Others considered: Clemson, Michigan State)
A SCAR THAT WON'T BUFF OUT
There are losses that serve as punches to the gut.  Then there are losses that serve as punches to the gut, followed by a kick to the testicles, followed by a baseball bat upside the head.
The latter is the current state of Michigan fan, who as a collective lost in one of the cruelest ways possible.  Making it worse?  The loss came at the expense of bitter in-state rival Michigan State.
Yep, that sums it up on pretty much any and every level.
SAY IT'S SO?
Please tell me that, even if he's starring in it, this is a sign that "Punt, Grass & Kick Ass: The Les Miles Story" is coming to the big screen at some point in the future.
ANGER OR APATHY? MEH, WHO CARES
If I've said it once I've said it at least twice: The enemy of a head coach is not fan anger but rather apathy.  Speaking of which, let's go to a shot of Miami's home stadium shortly after the kickoff of today's game against Virginia Tech.
I can only assume the photo was taken by one of the vultures circling the rotting carcass of Al Golden's tenure at The U.
LOUD NOISES!!!
Shawn Elliott was making his debut as South Carolina's interim head coach following the resignation of Steve Spurrier last week.  Shawn Elliott was, by all appearances, very excited about making his debut as USC's interim head coach.
I love the smell of burst blood vessels in the morning.
HUMAN HANG-TIME
Normally when you're talking about a punter and his hang-time, you're referring to the ball.  In this case, you would be referring to the punter himself.
The landing could use some work, but he did drop himself dead inside the 20.
FAT GUY DROPS A DEUCE
Fat guy touchdowns are rare.  Even rarer?  A fat guy two-point conversion.  There was a sighting of one of those yesterday afternoon, though, as Texas Tech broke into Kliff Kingsbury's bag of tricks for this gem, one that also includes a sideways snap from the center.
For the record, that would be 6-5, 308-pound Red Raider offensive lineman Le'Raven Clarke doing the honors.
TWO-FER
Even with a huge matchup with "Little Brother" in the offing, The Game is never far from Michigan fans' minds.
That said, this was a really craptistic week for GameDay signs — "Connor Cook uses Internet Explorer" was OK, though.  You can tell it's been awhile since U-M has been on this kind of stage, so a little bit of rust should be expected.
Even so, the costume game was strong with this one…
WHAT THE WHAT?
This may have just about made up for the sign weakness.  Well, not really but still well done.
OH THE HUMANITY…
THE CATCH
Yes, this happened Thursday night, but holy hell does it deserve a nod.  And by it, of course, I'm referring to one of the best catches you'll ever see at any level of football.
THE REACTION
I don't know what's better, The Catch by Stanford's Francis Owusu or David Shaw's reaction to The Catch.
HE SAID IT
"Corey Coleman is the best player in college football. You can put me on record with that." — West Virginia head coach Dana Holgorsen, after watching his Mountaineers get torched by the record-setting Baylor wide receiver
HE SAID IT, THE SEQUEL
"This is probably the most significant and major challenge that any of us have ever met." — Kansas State's Bill Snyder, after Oklahoma laid a 55-0 shellacking on his squad.
HE SAID IT, THE THREEQUEL
"After he bobbled it, he still thought he could get the ball kicked. But it was a mistake, mistakes were made. It wasn't fielded cleanly, and once you bobble it a few times, he should've just fell on it. Mistakes were made. Very unfortunate." — Michigan head coach Jim Harbaugh, after, well, you know.
HE SAID IT, BONUS EDITION
"It just sucks." — Michigan defensive tackle Willie Henry after, well, you know.
HE SAID IT, THE FINAL ONE
"Holy —-!!! Are you ——- ——– me!!! No way that just ——- happened!!!" — Me, after, well, you know, because I couldn't believe what I had just seen and, mainly, because I had to scrap 99 percent of what I had already written and start from scratch.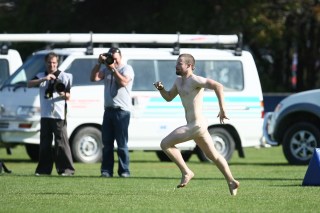 STREAKING
Seven wins to start the 2015 season have pushed Ohio State's nation's best winning streak to 20 straight.  Up next are TCU (15), Memphis (13), Clemson (nine) and Toledo (nine).
On the other side of the won-loss ledger, New Mexico State still owns the nation's longest losing streak, which now stands at 16 straight.  With Wyoming snapping its nine-game losing streak, the second-longest now falls to UCF at seven in a row and North Texas at seven in a row. Kansas deserves its own special sentence as the Jayhawks are the not-so-proud owners of the longest losing streak amongst Power Five conference members at nine straight.
GOING BOWLING
Entering Week 7, there were six teams that had secured bowl eligibility (Florida, Iowa, Michigan State, Oklahoma State, Ohio State, TCU).  Exiting the halfway point of the season, there are now 19 teams eligible for the postseason.  The newest additions totaled a baker's dozen: Alabama, Baylor, Clemson, Florida State, Houston, LSU, Marshall, Memphis, Notre Dame, Temple, Toledo, Utah and Western Kentucky.
There are 41 bowl games this season — counting the two College Football Playoff semifinals — meaning 82 teams will need to reach the six-win threshold in order for teams with sub-.500 records to remain where they belong: at home during the postseason.
MY ANNUAL REMINDER THAT…
… Art Briles has completely and totally revitalized the Baylor football program.  In his seven-plus seasons in Waco, Briles' Bears have won 36 Big 12 games; the previous 12 years, they won a combined 35 games in conference and non-conference action.
S.I.D NOTE OF THE WEEK
Nevada is the only FBS program with two players that have rushed for more than 600 yards. James Butler has run for 622 yards, while Don Jackson has 613 yards.
S.I.D. NOTE OF THE WEEK II
The overtime win at West Virginia in Week 6 moved Oklahoma State to 6-0, marking the fourth time under Mike Gundy that OSU has had a perfect record after six games. OSU had only two 6-0 starts (1945 and 1997) in 103 seasons before Gundy took over in 2005.
S.I.D. NOTE OF THE WEEK III
Dating back to the beginning of the 2004 season, ESPN's College GameDay has had the Washington State flag appear throughout the show. The streak is up to 170 after this week's appearance in Ann Arbor. Two flags – Ol' Crimson and Gray – have been flown in the background of the GameDay set by dozens of friends and alumni. The Gray flag was added last year after Whitey was retired in honor of Steve Gleason's "No White Flags." WSU recognized the GameDay flag wavers in a pregame ceremony prior to the Montana State game in 2010. In addition to the flags that fly, there is a traveling flag signed by the holders after each episode. The traveling flag is retired after each season, the first of which is hanging in WSU's Alumni Center.
S.I.D. NOTE OF THE WEEK IV
Just five FBS players handle both the punting and place-kicking duties for their teams: Alex Howell (Boston College), Lumi Kabia (Texas State), Dalton Parks (Tulsa), Austin Rehkow (Idaho) and Rigoberto Sanchez (Hawaii).
S.I.D NOTE OF THE WEEK V
Clemson became just the fifth current FBS school with a winning record over Notre Dame (given a minimum of three games). Clemson now has a 2-1 advantage in the series. The others with a series advantage over the Fighting Irish are Florida State (6-2), Michigan (24-17-1), Ohio State (3-2) and Nebraska (8-7-1).
S.I.D NOTE OF THE WEEK VI
Penn State played just its second road game this season after playing the last five consecutive games at home. It was the first five-game homestand at Beaver Stadium, the first overall since 1922 and the third in program history.
OFF THE CHARTS
Courtesy of the Oregon State sports information department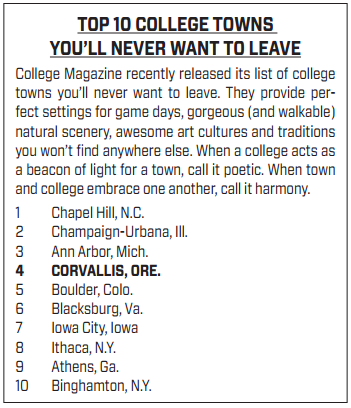 OFF THE CHARTS, PART II
Courtesy of the Wyoming sports information department
OFF THE CHARTS, PART III
Courtesy of the Louisiana-Monroe sports information department

SAY WHAT?
Boston College's defense had permitted only two touchdowns through its first six games. It was the first FBS defense to allow two or fewer TDs through six games since Wisconsin allowed two in 2004.  In the Week 7 loss to Clemson, BC allowed four offensive touchdowns.
YOU DON'T SAY
UCF has seen a whopping 30 players make their first career starts this season while Kansas has seen 27 do the same, the top two totals in the FBS.  Not surprisingly, both schools, as noted above, are riding lengthy losing streaks that include zero wins in 2015.  Then again, the team No. 3 in first-time starters, TCU with 19, is undefeated and came into Week 7 ranked No. 3 in the country.  The Horned Frogs have also played 29 freshmen (14 true, 15 redshirt) this season, the most of any team.
DULY NOTED
Hawaii had been shut out in its first three trips to the mainland this season, losing by a combined score of 121-0 to Ohio State, Wisconsin and Boise State.  UH scored 27 on the road in a loss to New Mexico in Week 7.
… Derrick Henry has rushed for at least one touchdown in 12 straight games, the best streak in Alabama history and the longest current streak in the FBS?
… with Stanford's Thursday night win over UCLA, Kevin Hogan became the first quarterback to go 5-0 against a single team in college football history?  Hogan was the starter in regular-season victories from 2012-15 as well as the starter in the 2012 Pac-12 championship game win over the Bruins.
… Houston quarterback Greg Ward Jr. is the only FBS Player averaging 200-plus yards passing and 100-plus yards rushing per game this season?  In a 42-7 Friday night win over Tulane, Ward Jr. had 222 yards passing and 77 yards rushing.
… LSU's Leonard Fournette became the quickest to 1,000 rushing yards in SEC history by reaching the mark in the fifth game of the season? The sophomore became the 11th player in FBS history and first since 2006 to reach the mark in 5 games.
… Oklahoma is now 32-0 coming off a regular-season loss during the Bob Stoops' era with the Sooners?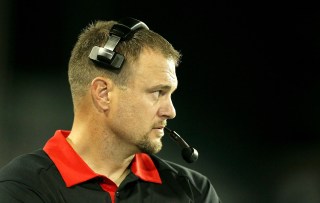 … Tom Herman is the second Houston coach to begin his career with six straight wins? He joined John Jenkins, who won his first eight in 1990.
…  this was the fourth straight USC-Notre Dame game in which the Trojans have had a different coach?  The last four, in order, were Lane Kiffin (2012), Ed Orgeron (2013), Steve Sarkisian (2014) and Clay Helton (2015).
… No. 22 Toledo is 6-0 for the first time since 1997, when head coach Gary Pinkel led the Rockets to an 8-0 mark before finishing the season 9-3?
… Air Force and Toledo are the only FBS teams that have yet to allow a sack this season?  Toledo has attempted 200 passes, the Falcons 66.
… only Iowa and TCU have five wins over Power Five teams this season?
… Florida State has zero offensive turnovers through the first six games for the first time in school history?  The Seminoles' lone turnover this season came on a muffed punt return in Week 1.
… Memphis' game with Ole Miss was the first in program history that saw the Tigers facing a ranked team while they themselves were ranked?
… Saturday's game in Columbus against Ohio State was Penn State's first game outside of Pennsylvania this season?  Their first six games of 2015 were played in the state, five at home and one at Temple in Philadelphia.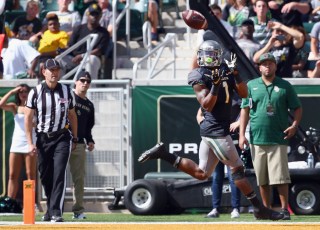 … TCU is the only team this season that is 4-0 in true road games?
… TCU's 15-game winning streak breaks a school record first set in 1937-38 and then matched in 2008-09?
… Baylor's 383 points through six games this season are the most by any school since major classification began in 1937?
… entering Week 7, Boise State had not turned the ball over in three straight games for the first time in the program's history?  Of course, the Broncos promptly coughed the ball over eight times in an embarrassing loss to Utah State Friday night.
… Kentucky's matchup with Auburn was the first Thursday night game in Commonwealth Stadium history and its first Thursday home game since 1939?
AND FINALLY
As a lot of y'all have mentioned in comments and via email, there was no Fifth Quarter last week, and I guess you deserve some sort of explanation.  Well, it's a relatively simple and straightforward one: my nine-year-old daughter had a cheerleading competition that kept me away from televisions and computers for the vast majority of the day — and it was well worth a one-week break even if it did freak some people out as her squad finished first.  So, there you have it.  Barring a medical emergency or something unforeseen, the Fifth Quarter will be back every Sunday morning for the stretch run to the end of the regular season.  Consider yourself warned.