As is the case each and every season, each and every week, any omission below is not on purpose, it's merely intentional.
BRINGING 2014 C-BUS TO THE FARM?
Ohio State showed last year, in the inaugural season of the College Football Playoff, that not only could a team qualify for one of the two semifinals but win a title as well with a "devastating" early loss.
OSU lost to Virginia Tech in Week two last season, then proceeded to win 13 in a row to capture the first-ever CFP championship.  After that 14-point loss to an unranked Virginia Tech, OSU won its next 13 by an average of 26 points per game.  Which brings us to Stanford.
Stanford began the 2015 season with a 10-point loss to unranked Northwestern.  Since then, they've ripped off six consecutive victories in impressive fashion, winning each one by an average of 22 points per game.
Over its last five regular season games, OSU faced two ranked teams; over the last five games, Stanford will face a pair of ranked teams.  The biggest difference?  Stanford gets both of those games at home while OSU went on the road for theirs.
Stanford will be favored in the next four regular season games for sure — at Washington State, at Colorado, Oregon and Cal — so the Pac-12 North will be there for the taking.  They'll very likely be favored at home in the regular-season finale against Notre Dame as well.
Once OSU got past Michigan State last year, it was smooth sailing to the Big Ten championship game and the "inferior" West representative Wisconsin.  The Pac-12 South's strength took a hit with Utah's double-digit loss to middle-of-the-road USC that exposed some potentially fatal flaws for the Utes.  If Stanford can "OSU" out, including the league title game, there won't be anything that can keep them out of the playoffs, even as a one-loss team.
Even as their styles are completely different, the path the Buckeyes took and the one the Cardinal is headed down are eerily similar.  The latter can only hope to see similar results to the former at the end of their journey.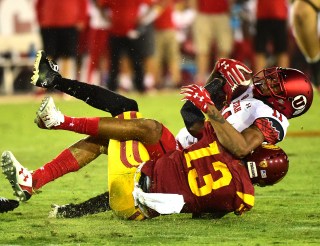 AND THEN THERE WERE 12
Entering Week 8, there were 14 undefeated teams spread out amongst six FBS conferences.  Exiting it, we're down to an even dozen.
The two to fall from the ranks of the unbeaten were Florida State and Utah, and they couldn't have been more disparate in the way they fell.  FSU lost in heartbreaking fashion on your standard blocked-FG-returned-for-a-TD-with-no-time-left.  Prior to that, Utah, which some people had inexplicably trumpeted as the best team in the country a week ago (sheepishly raises hand), was embarrassed by USC.
All of the sudden, two of the Power Five conferences have exactly half of the undefeated teams: the Big 12 (Baylor, Oklahoma State, TCU) and Big Ten (Iowa, Michigan State, Ohio State).  That number will change in the coming weeks as all of the Big 12 teams will face each other, meaning, at most, one team will be left standing unblemished from that league.  MSU and OSU will square off later last month, cutting the Big Ten's number by at least won, while Iowa has a remarkably easy path to an undefeated regular season.
The ACC and SEC are the other P5 leagues with an unbeaten team.  Clemson seemingly carries the ACC's playoff hopes on its shoulders.  The biggest obstacle on Clemson's road to perfection?  A Nov. 7 date with FSU, although they do get the Seminoles at home.  LSU, meanwhile, has arguably the toughest remaining slate of the current unbeatens: road trips to Alabama and Ole Miss, and a home game against Texas A&M.
Of the four remaining undefeateds, three belong to the AAC: Houston, Memphis and Temple.  That will change in the coming weeks, too, as Memphis plays both.  There could either be one undefeated from that conference (if Memphis wins both of those games and wins its other three remaining games as well; Memphis loses one to Houston/Temple, that winner wins out) or two (if Memphis loses both, and the other two win their other games).
The last undefeated comes form the MAC in the form of Toledo.  UT, though, has a rough row to hoe in getting to the end of the regular season without a loss as their remaining four games come against teams that are a combined 18-13 (Bowling Green, Central Michigan, Northern Illinois and Western Michigan).  As far as a spot in a New Year's Six bowl — there's almost no chance the Group of Five sniffs a playoff spot — Toledo has to hope that, in addition to winning all its remaining, Memphis beats both Houston and Temple and sees the U of M trip up in one of its other two games.  That would leave the Rockets as the lone remaining unbeaten G5 team.
NO DUCKING HEISMAN HANGOVER
In the first post-Marcus Mariota season, it would be an understatement to say that Oregon, 13-2 in 2014, has struggled in 2015.  At 4-3, the Ducks have already lost more games than they have in any season since 2009, and could end up challenging for the program's worst winning percentage in the last decade — .538 (7-6) in 2006.  Losing the Heisman winner has certainly played a role in the struggles, although, and even as it's not solely responsible, it should've been somewhat expected if recent precedent means anything.
Since 2000, six of the eight teams that have watched their Heisman Trophy winner move on to the next level the season after have seen their record worsen the following year.  Just once has the record actually improved — Carson Palmer won the 2002 Heisman for 11-2 USC; the following season, the Palmer-less Trojans were 12-1.
The 2006 Ohio State Buckeyes, 12-1 under Heisman winner Troy Smith, went 12-1 in 2007 the year after Smith left for the NFL.
Other than that, the records have dropped the first year after a Heisman winner has left.  And, in most cases, they've dropped precipitously:
2000 Florida State: 11-2, Chris Weinke; 8-4, 2001
2001 Nebraska: 11-2, Eric Crouch; 7-7, 2002
2003 Oklahoma: 12-2, Jason White; 8-4, 2004
2005 USC: 12-1, Reggie Bush*; 11-2, 2006
2010 Auburn: 14-0, Cam Newton; 8-5, 2011
2011 Baylor: 10-3, Robert Griffin III; 8-5, 2012
(*Vacated due to NCAA sanctions)
While the recent precedent may not assuage the Duck fans' anguish after so many years of success, there should be some strength found in the numbers that they are most certainly not alone in struggling to replace a program legend.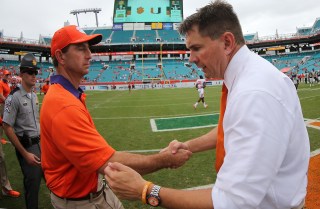 END OF THE GOLDEN YEARS
I won't debut the initial Fifth Quarter Coaching Hot Seat until Week 9, but here's a sneak peek: a certain South Beach coach will sit high atop the to-go list — if he makes it that long.
Al Golden came into the 2015 season with his seat absolutely scorching.  Seven games in, his Miami team has done nothing to cool down the talk that Golden will be out at season's end.  In fact, The U players drove another nail in his coaching coffin with a pitiful display in an embarrassing home loss to Clemson that was the worst in the team's history.
However you parse the numbers, it's not a pretty picture for Golden or his woebegone football program.
In his fifth season with the Hurricanes, Golden is 32-25 overall; take away games against FCS teams, and that record drops to 27-25. In ACC play, they're below .500 at 17-18.  After going 2-1 against ranked teams in his first season in 2011, Golden is 1-9 in games against Top 25 teams and has lost six straight such matchups.  Over the past two-plus seasons, 11 of the 13 losses have come by 10 or more points.
Add all the numbers together, and it's simply an unacceptable direction in which the program is headed.
And that's why it's no longer a matter of if; rather, it's when Golden's bosses decide to pull the plug on a tenure that's been on life support for more than a year.  Given the wealth of talent at its disposal in a recruiting-rich state, there's no excuse for Miami being this average — or this bad as evidenced by the Clemson debacle — for any length of time, let alone five years under one head coach.  And if Golden's bosses don't see that, it might be time for them to go as well.
As for a replacement?  If it's me, I'm starting my search in Memphis and not leaving until Justin Fuente puts his Herbie Hancock on a contract.
SATURDAY RESET
Below is a list of links for all of the Week 8 gamers posted by the CFT crew, placed in one handy and convenient space for you, our beloved and dear readers.
CFT TOP FIVE
A snapshot look at how my ballot would look Sunday if I, ya know, had a real vote.
1. LSU — Most people, perhaps some voters even, won't give LSU credit for the win over Western Kentucky, especially because it came by "just" 28 points in Death Valley.  Newsflash: WKU is a quality team, and I'm one who actually considers this a quality non-conference win for the Tigers.  With Utah's loss, I have no qualms putting Les Miles' charges at the top. (Last week: No. 2)
Next up: at No. 8 Alabama, Nov. 7
2. Baylor — After jumping out to a 35-0 lead midway through the second quarter, BU essentially set the cruise control to "meh" and sleepwalked its way to a 45-27 win over Iowa State.  I won't here, but some voters will likely ding the Bears for their lackluster closeout of a really bad Cyclones squad. (Last week: No. 3)
Next up: at Kansas State, Nov. 5
3. Ohio State — With J.T. Barrett (finally) reinserted under center, tOSU put together arguably its most solid performance in all three phases of the game this season in routing Rutgers.  It's perhaps the first time this year that the 2015 Buckeyes looked even remotely like the 2014 version that won the national championship. (Last week: No. 5)
Next up: vs. Minnesota, Nov. 7
4. TCU — Being on the bye coupled with the insertion of Barrett and what it will likely mean for OSU's future triggered a flip in spots between the Horned Frogs and Buckeyes. That's just how I roll, yo. (Last week: No. 4)
Next up: vs. West Virginia, Thursday Oct. 29
5. Stanford — I very nearly pulled the trigger on Clemson in trying to respect the unbeaten record, but simply couldn't.  Since its Week 1 loss to Northwestern, Stanford is playing like the best team in the country.  In fact, I could have them ranked too low. (Last week: NR)
Next up: at Washington State, Oct. 31
(Dropped out: No. 1 Utah)
(Others considered: Clemson, Michigan State)
CLASSY GESTURE
Alton Tenpenny, dismissed by Alabama earlier this year, died in a one-car accident earlier this week.  Despite the circumstances surrounding the split, AU decided to honor the fallen former player during their game against Tennessee.
SOUTHERN FIRE & BRIMSTONE
Dabo Swinney, as many know very well, is a very fiery and passionate head football coach, and known for his preacher-like speeches and postgame interviews.  As if his Clemson players needed a reminder, Pastor Swinney belted out a sermon at halftime of their drubbing of Miami.
STATE OF THE U
BILL SNYDER, HUMAN BLOCKING DUMMY
Bill Snyder is the 76-year-old head coach of the Kansas State Wildcats.  Bill Snyder is also a 76-year-old head coach who can still take a hit and keep on coaching.
Here's to guessing Snyder will send a handwritten note of apology to the player for getting in his way.
CATCH OF THE DAY
It's fair to say that former Ohio State quarterback Braxton Miller is getting the hang of this whole receiving thing.
HIT 'EM WHERE IT HURTS
That's just low, James Madison.  What'd Richmond ever do to deserve this level of vitriol?
THAT EXPLAINS IT
Everybody's favorite draft punching bag, Todd McShay, went to Richmond.  Carry on with the vitriol…
GEOGRAPHY-R-US
Not only are sports important to the Worldwide Leader, but so, apparently, is teaching geography to a whole new generation of fans.
HE SAID IT
"We got beat from top to bottom. They outplayed us, they outcoached us. I just told the team, that's completely my responsibility for not getting them ready to play. They just beat us soundly, in every facet of the game, period." — Miami head coach (for now) Al Golden following the worst loss in The U's history, a 56-0 pantsing at the hands of Clemson.
HE SAID IT, THE SEQUEL
"First of all I want to tip my hat to Mike Riley. He's a pro's pro, a coach's coach and a great friend. As I said to him after the game, I've got so much respect for Mike and the way he carries himself, and the way that he's always run his programs. We knew today was going to be a hard-fought battle. Those Cornhuskers have been through so many tough games this year, gut-wrenchers. They probably feel the same way today after the way today's went. So I tip my hat to Mike and his young men." — Northwestern's Pat Fitzgerald after Nebraska's fifth loss this season, all by five points or less.
HE SAID IT, THE THREEQUEL
"To be honest with you, it wouldn't have upset me if they said we're not playing today." — Oklahoma State defensive coordinator Glenn Spencer, referencing the Homecoming parade tragedy on the OSU campus earlier in the day.
HE SAID IT, BONUS EDITION
"This is just a football game. As upset as I am right now, it pales in comparison to what these families are going through. I can't imagine. This university is made up of some resilient folks, because they have been through some tragedy, and I'm amazed at their resilience. It's impressive." — Kansas head coach David Beaty, following the loss to OSU.
HE SAID IT, THE FINAL ONE
"I can't tell you how proud I am of how our guys competed in the game. They just found a way to win. We didn't play that great." — Alabama head coach Nick Saban, following UA's five-point win over Tennessee.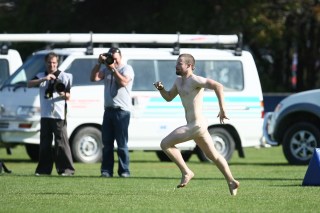 STREAKING
Eight wins to start the 2015 season have pushed Ohio State's nation's best winning streak to 21 straight.  Up next are TCU (15), Memphis (14), Michigan State (12), Clemson (10) and Toledo (10).
On the other side of the won-loss ledger, New Mexico State still owns the nation's longest losing streak, which now stands at 17 straight.  UCF is next at nine in a row, followed by North Texas and Miami of Ohio at seven and Eastern Michigan at six straight. Kansas deserves its own special sentence as the Jayhawks are the not-so-proud owners of the longest losing streak amongst Power Five conference members at 10 straight.
GOING BOWLING
Entering Week 8, there were 19 teams that had secured bowl eligibility.  Exiting the weekend, there are now 33 teams eligible for  the postseason with five weeks left in the regular season.  The newest additions totaled an even 14: Appalachian State, Boise State, Bowling Green, BYU, Duke, Mississippi State, Northwestern, North Carolina, Oklahoma, Ole Miss, Penn State, Pittsburgh, Stanford and Wisconsin.
There are 41 bowl games this season — counting the two College Football Playoff semifinals — meaning 82 teams will need to reach the six-win threshold in order for teams with sub-.500 records to remain where they belong: at home during the postseason.
MY ANNUAL REMINDER THAT…
… David Cutcliffe is doing the unimaginable at Duke. In the 13 seasons prior to Cutcliffe taking over in 2008, the Blue Devils never won more than five games in a single season; in the last eight years, including 2015, Cutcliffe has guided his team to at least five wins.
S.I.D NOTE OF THE WEEK
Urban Meyer is the only head coach in FBS history to have four 20-game winning streaks in his career, and he's accomplished that in a career that spans a mere 14 seasons. In fact, no other head coach in FBS history has more than two such streaks.
Urban Meyer
20 – Utah (2003-04) & Florida (2005)
22 – Florida (2008-09)
25 – Florida (2010) & Ohio State (2012-13)
20 – Ohio State (2014-present)
Walter Camp
28 – Yale (1888-89)
27 – Yale (1890-92)
Robert Neyland
22 – Tennessee (1937-39)
20 – Tennessee (1950-51)
Tom Osborne
26 –Nebraska (1994-96)
22 –Nebraska (1982-83)
Joe Paterno
23 – Penn State (1968-69)
20 – Penn State (1993-95)
Barry Switzer
28 – Oklahoma (1973-75)
20 – Oklahoma (1986-87)
Bud Wilkinson
47 – Oklahoma (1953-57)
31 – Oklahoma (1948-50)
George Woodruff
34 – Pennsylvania (1894-96)
31 – Pennsylvania (1896-98)
Fielding Yost
29 – Michigan (1901-03)
26 – Michigan (1903-05)
Other than Camp (eight seasons), every other individual listed had a head-coaching career that lasted at least 14 seasons.
S.I.D. NOTE OF THE WEEK II
Wisconsin has averaged 35.0 pass attempts per game in 2015, easily the Badgers' highest total in the last 20 seasons. UW averaged 27.4 passes per game in 2001 for the second-highest mark in that span. From 1996 to 2014, the Badgers averaged 23.7 pass attempts per game.
S.I.D. NOTE OF THE WEEK III
UCLA is the only school to produce six quarterbacks — Troy Aikman, Steve Bono, Billy Kilmer, Tommy Maddox, Tom Ramsey, Jay Schroeder — to have played that position on a Super Bowl team.
S.I.D. NOTE OF THE WEEK IV
Florida State's Dalvin Cook leads the nation in yards after contact/attempt by nearly a full yard at 4.50. Baylor's Shock Linwood (3.53) is second, Penn State's Saquon Barkley is third (3.50), LJ Scott (Michigan State) is fourth (3.42) and Rutgers' Robert Martin (3.30) is fifth. LSU's Leonard Fournette is at 3.05.
S.I.D NOTE OF THE WEEK V
In Week 8, Duke played a game as a ranked team for three consecutive years for the first time since 1952-57.
OFF THE CHARTS
Courtesy of the Hawaii sports information department, detailing the round-trip miles in the regular season that will be flown by the Rainbow Warriors in 2015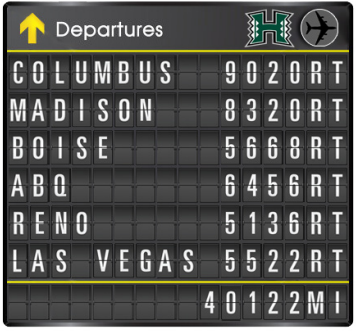 OFF THE CHARTS, PART II
Courtesy of the Nevada sports information department, teams that have played in at least nine bowl games the past 10 years

OFF THE CHARTS, PART III
Courtesy of the Duke sports information department, the best records over the last 26 games

OFF THE CHARTS, PART IV
Courtesy of the Florida State sports information department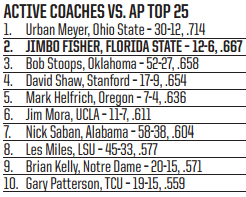 SAY WHAT?
The Week 8 game against Ole Miss in Oxford was Texas A&M's first true road game of the 2015 season.  The Aggies had previously played away from Kyle Field twice this season — both at neutral site venues in the state of Texas (NRG Stadium in Houston and AT&T Stadium in Arlington).  The school notes that the Oct. 24 date is the latest for a road opener in 87 years — Oct. 27, 1928 against Arkansas in Fayetteville.
YOU DON'T SAY
Virginia and North Carolina met for the 120th time Saturday in what's called the South's Oldest Rivalry, a series that was first played in 1892. Tied for the second-longest rivalry in FBS history — Minnesota-Wisconsin, 124 games — UVA and UNC first met in 1892 and, since 1919, the series has been played continuously every season following UVA's two-year football hiatus (1917-18) because of World War I. Cincinnati-Miami of Ohio and Kansas-Missouri (on hiatus) have also been played 120 times.
DULY NOTED
Baylor entered the weekend as the only school in the FBS to be Top-10 in both passing (sixth, 361.0 yards per game) and rushing offense (second, 348.7 ypg). Whether the Bears hold those positions are in doubt, however, as BU managed a season-low 209 yards passing and "just" 279 yards on the ground against Iowa State.
… with two today, Navy quarterback Keenan Reynolds now has 75 rushing touchdowns in his career, breaking a tie with Miami of Ohio's Travis Prentice for second all-time?  Wisconsin's Ron Dayne holds the record with 77.
… Gabe Marks' four touchdown catches in the win over Arizona is the first time that's been done in Washington State history?
… Deshaun Watson is the first Clemson quarterback to win 11 of his first 12 starts?  In less than two seasons, the true sophomore is already seventh on the school's all-time list with 28 touchdown passes.
… Stanford's Christian McCaffrey has put together back-to-back games of 300-plus all-purpose yards?
… after not having a 1,000-yard rusher the first 11 seasons of his coaching career, Ohio State's Urban Meyer has had one in each of the last three seasons?  Carlos Hyde topped the 1,000-yard plateau in 2013, while Ezekiel Elliott has done it each of the past two seasons.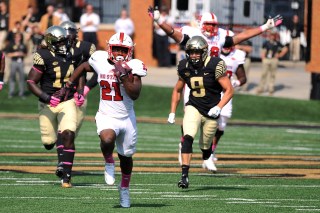 … Matthew Dayes is only the fourth North Carolina State running back since 1974 to rush for at least 500 yards in the first six games of the season?  With 205 yards in the game against Wake Forest, Dayes, with 793 yards on the season, is well on his way to becoming the first Wolfpack player since T.A. McLendon in 2002 to top the 1,000-yard mark.
… the six kick returns for touchdowns in the career of UTEP's Autrey Golden make him the active FBS leader in that category? Duke's DeVon Edwards is next with five. Interestingly, Golden entered Week 8 ranked 71st nationally in kick return average (21.0), while Edwards wasn't among the Top 100 — he averages 39.7 yards per return this season, but doesn't have enough returns to qualify.
… during his time at Ohio State, Urban Meyer is undefeated in the months of October (15-0) and November (12-0)?
… Michigan State is 8-0 for just the sixth time in school history and the first time since 2010? The Spartans also started 8-0 in 1951, 1952, 1965 and 1966.
… Alabama and Iowa are the only teams with two road wins over ranked opponents this season?
… the road team has won each of the last five Clemson-Miami games?
… Duke has a 6-1 record through seven games in consecutive seasons for the first time since 1952 (6-1) and 1953 (6-1)?
… Temple is 7-0 for the first time in the program's history?  The Owls had been 6-0 in 1935, 1945 and 1974.
… Charlotte and Southern Miss were original members of Conference USA back in 1995, but met in football Saturday for the first time ever?  The 49ers are in their first season as an FBS program.  The university was a non-football member of the league from 1995-2005.
… Marshall and North Texas faced each other in football for the first time since the Div. 1-AA (now FCS) playoffs in 1988?
… Louisiana-Monroe is the only FBS team that will play eight road games this season?