A statistical snapshot of the week that was in college football…
-14 — Rushing yards for Boston College in its loss to Louisville on 30 carries, an average of -.5 yards per carry.  The Eagles had just 79 yards of offense in the contest.
.560 — Winning percentage of Pac-12 road teams in conferences games this season (14-11).
1 — Number of ball carriers for Illinois in its loss to Wisconsin, with running back Ke'Shawn Vaughn (13) getting the only carries.
2 — Number of ball carriers for Florida State in its loss to Georgia Tech, and just one of those was a running back.  Dalvin Cook had 17 carries, while quarterback Everett Golson was credited with seven official carries.
12 — Different players who caught passes from three different quarterbacks in BYU's 70-6 woodshedding of FCS Wagner.
12.8 — Yards per carry Matthew Dayes averaged en route to a 205-yard day in North Carolina State's win over Wake Forest, the first time he's gone for 200-plus in his 30-game career.
13 — Combined number of points by which Nebraska has lost their five games this season.  The Cornhuskers have lost games by one (Illinois), two (Wisconsin, Northwestern), three (Miami) and five points (BYU).
13 — Consecutive games with a rushing touchdown for Alabama's Derrick Henry, the longest active streak in the country.
13 — Consecutive 100-yard rushing games for Ohio State's Ezekiel Elliott, the longest such streak in the FBS.
14 — True road wins for Northern Illinois since the start of the 2013 season, the most of any FBS team.  Duke has 12 such wins, while Ohio State and UCLA have 11.
26.9 — Points per game Kansas has lost by during its current 10-game losing streak.  The Jayhawks have lost eight of those 10 by double digits, including five by 30 or more and one each by 40 and 50 or more.
32 — First-time starters for UCF, the most of any FBS team.
40 — Number of true freshmen Tennessee has played in 2014 (23) and 2015 (17), the most of any program the last two years.  The 17 true freshmen played this season are second behind Georgia's 22 and Army's 21.
44 — Consecutive Big Seven/Eight games won by Oklahoma between 1952-59, the longest streak of any team in any conference.    Oklahoma (Big 8, 1984-88) and Boise State (WAC, 2001-05) are tied for the second-longest streak at 31 straight.  Florida State has the fourth-longest such streak at 29 straight from 1992-95 — they could've tied that mark yesterday except for, you know —  while Ohio State has won 28 Big Ten regular season games in a row.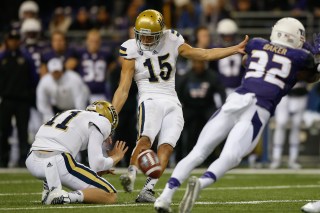 52 — Number of letters in the full name of UCLA's kicker Ka'imi Fairbairn. For the record, the full name is (deep breath) John Christian Ka'iminoeauloameka'ikeokekumupa'a Fairbairn.
199 — Number of minutes, in game time, it's been since Missouri scored a touchdown.  Their last trip to the end zone came with 3:36 remaining in the third quarter of the Oct. 3 win over South Carolina.  Since then the Tigers have lost three straight and scored a combined 12 points.
201 — Career-high rushing yards for Arkansas State quarterback Jalen Nixon in Tuesday's win over Louisiana-Lafayette.  That total, while impressive, is far away from the FBS single-game record for a quarterback — 321 yards by Northern Illinois' Jordan Lynch in November of 2013.  The all-division record is 342 by Matt Roe of Div. III Augustana (Ill.).
201 — School-record rushing yards for a quarterback by Quintin Flowers in USF's win over SMU.
211 — Yards under Georgia Southern's per-game rushing average Appalachian State held them in the Mountaineers' win Thursday night.  The Eagles came into the game averaging a nation's best 399 yards per game, and were held to a season-low 188; their previous low was 195 in the season opener vs. West Virginia.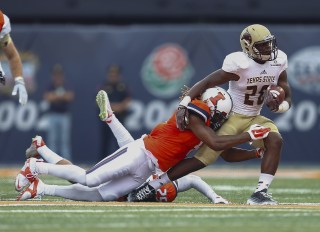 248 — Career-high rushing yards for Texas State's Robert Lowe in a win over South Alabama.  The senior came into the game with 290 yards on the season.
263 — Rushing yards for Tyler Ervin in San Jose State's win over New Mexico.  Ervin has now gone for 200 or more twice this season, with the other being a 300-yard effort late last month.
268 — AAC-record receiving yards for Keyarris Garrett in Tulsa's high-scoring loss to Memphis.
355 — Combined rushing yards for Samaje Perine (201) and Joe Mixon (154) in Oklahoma's win over Texas Tech.  That duo was part of the Sooners' 405-yard rushing effort as a team.
390 — Career-high passing yards for FIU's Alex McGough in a win over Old Dominion.  McGough's previous high was 263 earlier this year.
399 — Career-high passing yards by UCLA true freshman Josh Rosen in a 16-point win over Cal Thursday night.
430 — Passing yards for Bowling Green's Matt Johnson vs. Kent State, the sixth time in games he's gone over the 400-yard mark.  He's also thrown five touchdowns in each of the last three games and four times total this season.
447 — School-record passing yards for Paxton Lynch in Memphis' Friday night win over Tulsa.
465 — Yards of total offense for Mississippi State's Dak Prescott against Kentucky, 348 passing and 117 rushing.  Prescott also accounted for six touchdowns, three each passing and rushing.
514 — Passing yards for Luke Falk in Washington State's upset of Arizona.  That total isn't a career-high as Falk threw for 601 yards in a loss to Arizona State lasts season.
741 — Yards of total offense in BYU's 70-6 dismantling of FCS Wagner.
812 — Programs at every level of college football, only one of which, Florida State, entered Week 8 without committing an offensive turnover.  That stretch came to an end as Everett Golson tossed his first interception of the year against Georgia Tech.
1,638 — Weight, in pounds, of Arkansas' starting offensive line, which al.com writes is "the largest front five in all of football — college, NFL or elsewhere."
344,007 — Twitter followers as of 3 a.m. ET Sunday morning for Michigan football, the most of any FBS team.  Alabama is next at 285,547 followers.