A statistical snapshot of the week that was in college football…
.18 — Pass efficiency rating of Vanderbilt's Johnny McCrary.  The quarterback completed 2-of-9 passes for 24 yards, zero touchdowns and two interceptions.
.842 — Percentage of Air Force's offensive plays that have been runs (505-600).
1.000 — Notre Dame's winning percentage in 16 games played on Halloween following Saturday night's win over previously unbeaten Temple.
3 — Different players who rushed for 100 or more yards in Navy's 29-17 win over USF, the first time that's happened in the military academy's history. Chris Swain led the way with 131 yards, followed by Keenan Reynolds' 117 and Dishan Romine's 115.
10.5 — Yards per carry Corey Clement averaged (11-115) in his first game back from injury since the season opener in Wisconsin's 48-10 win over Rutgers.  Clement added three rushing touchdowns for good measure.
12 — Wins since 2005 for North Carolina State and Oregon State over ranked teams when both were unranked, the most of any FBS teams.
13 — Consecutive years Wisconsin has both qualified for a bowl game and earned a spot in the NCAA men's basketball tournament.  The next-longest such streak belongs to Michigan State (eight years), followed by Louisville and San Diego State (five each).
23 — Penalties called against Miami in its win over Duke, the second-most in FBS history behind San Jose State's 24 in against Fresno State in 1986.
32 — First-time starters for winless UCF, the most of any FBS team.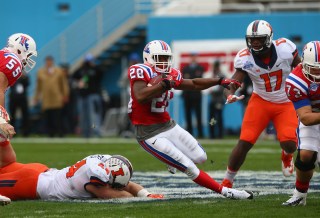 35 — Games in which Louisiana Tech's Kenneth Dixon has scored at least one touchdown, which is three off the FBS record of 38 held by Texas' Cedric Benson, Texas Tech's Tauren Henderson and Florida's Tim Tebow.
38.2 — Yards per reception, on five catches, Travis Rudolph averaged in Florida State's 45-21 win over Syracuse.
87 — Consecutive games UCLA has gone without having a punt blocked, dating back to 2008.  No. 2 nationally is Hawaii at 85 straight, followed by Auburn at 84.
143 — Career-high rushing yards for Notre Dame quarterback DeShone Kizer in the 24-20 win over Temple.  His previous high was 55 in the Week 5 loss to Clemson.
179 — Career-high rushing yards for Arkeel Newsome in UConn's 31-13 win over East Carolina.  His previous high was 84 yards three weeks ago.
200 — Receiving yards, on just four receptions, for James Washington in Oklahoma State's wild 70-53 win over Texas Tech.
205 — Rushing yards for Matt Breida in Georgia Southern's Thursday night win over Texas State.  The running back's performance was part of a 503-yard effort on the ground by the Eagles.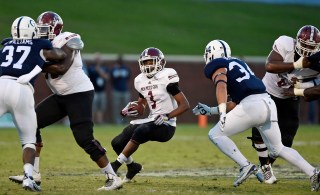 212 — Rushing yards for Larry Rose III as New Mexico State snapped its 17-game losing streak with an overtime win over Idaho.  He also scored four touchdowns, including the tying score with :51 left and the game-winner in the first extra session.  In fact, all four of his touchdowns came in the fourth quarter and overtime.
221 — Yards on six kick returns for Maryland's William Likely in the 31-15 loss to Penn State, including a 100-yarder for a touchdown.
232 — Career-high receiving yards for Marshall's Davonte Allen against Charlotte.  It was the senior's first 100-yard game of the season, and the fourth of his career.
296 — Number of yards Utah State gained both rushing and passing in the 58-27 rout of Wyoming Friday night. The 592 yards of offense are the Aggies most since gaining 646 yards against Louisiana Tech in 2012 and the 14th-most in school history.  The 58 points are the most in a conference game since a 63-17 win over Idaho in 1997.
301 — Pushups performed by Clemson's mascot in the 58-0 Week 8 blowout of Miami, breaking the old road record of 251 set at Wake Forest in 1978.
323 — All-purpose yards (178 receiving, 146 kick returns, minus-one rushing) for Texas Tech's Jakeem Grant in the loss to Oklahoma State.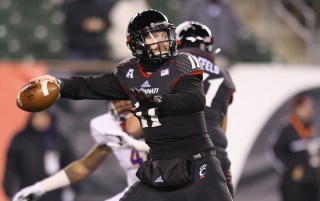 388.64 — Pass efficiency rating for Cincinnati's Gunner Kiel, the second-highest single-game rating ever for quarterbacks with at least 12 attempts (403.4 by Indiana's Tim Clifford vs. Colorado, Sept. 26, 1980). Kiel went 15-15 for 319 yards, five touchdowns and no interceptions. Clifford, incidentally, went 11-14 for 345 yards, five touchdowns and no interceptions.
407 — Passing yards for Nebraska's Ryker Fyfe in his first career start, a 55-45 loss to Purdue.  He came into the game with 33 career passing yards.
437 — Total offense for Deshaun Watson (383 passing, 54 rushing) in Clemson's 56-41 win over North Carolina State.  Watson also tied a career-high with six total touchdowns (five passing, one rushing).
469 — Career-high passing yards for true freshman Brett Rypien in Boise State's 55-27 win over Nevada.  It's the third 300-yard game of his seven-game career.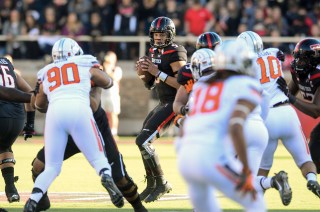 480 — Passing yards for Patrick Mahomes in Texas Tech's loss to Oklahoma State, the fourth time this season he's thrown for 400-plus.  The Red Raiders are now 2-2 in those games.
486 — Career-high passing yards for freshman Chase Litton in Marshall's 34-10 win over Charlotte.  His previous high was 270. Only Byron Leftwich (576, 2001 GMAC Bowl vs. East Carolina) and Michael Payton (496, vs. VMI, 1991) have thrown for more than Litton's 486 as members of the Herd.
1976 — The last time South Carolina had played a football game in the state of Texas prior to Saturday's game against Texas A&M.
3,534 — Announced attendance for the Western Michigan-Eastern Michigan game Thursday in Ypsilanti.