Stanford has just one Heisman Trophy winner in program history. Jim Plunkett took home the stiff-arm trophy in 1970. Plunkett didn't have a website dedicated to his Heisman Trophy campaign back then, but the Cardinal are pulling out all the stops for their latest Heisman hopeful, running back Christian McCaffrey. Today, Stanford unveiled WildCaff.com to showcase their young star running back for a late-season Heisman push.
A sophomore, McCaffrey has become a rising star in the Pac-12 and has started to gain some traction on a more national scale as Stanford continues to win games out on the west coast. Despite being in the top 10 in the nation in rushing yardage (1,207 rushing yards), he has just six rushing touchdowns, but he also has 325 receiving yards, two touchdown receptions and 605 kickoff return yards. For good measure, McCaffrey also has a touchdown pass. As noted on the campaign's website, McCaffrey's total yardage is comparable to past Heisman Trophy winners like Ohio State's Eddie George, Pittsburgh's Tony Dorsett and USC's Marcus Allen.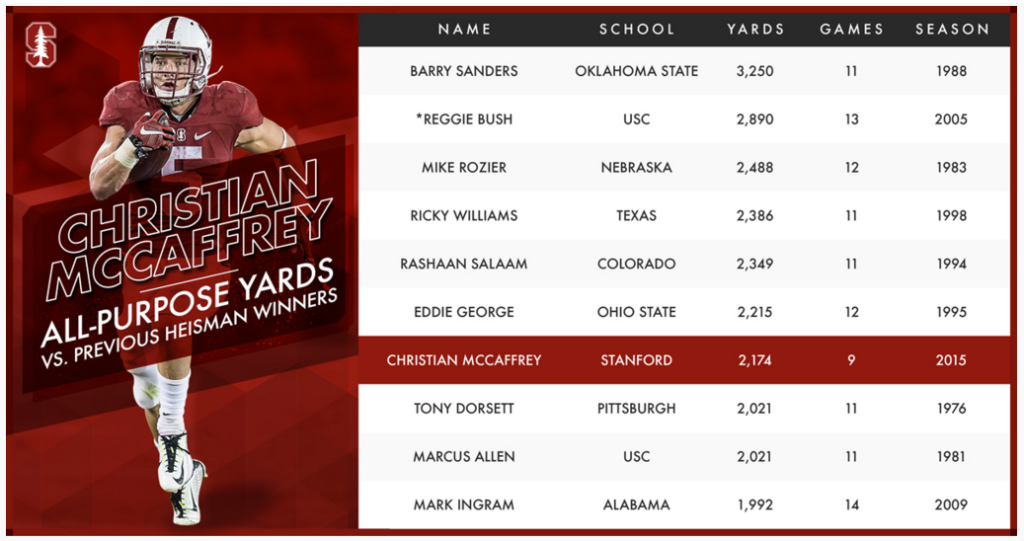 Winning a Heisman Trophy as a running back has become a difficult task over the last two decades. Only two players have managed to do it since 2000 (USC's Reggie Bush and Alabama's Mark Ingram). The award is become more of n award for a quarterback as the game has evolved, but this year seems like a stronger year for running back candidates. With players like LSU's Leonard Fournette, Alabama's Derrick Henry, Florida State's Dalvin Cook and Ohio State's Ezekiel Elliott, the odds have not looked so good for a running back in a long time. The Pac-12 has a couple of worthy candidates running the football as well, with McCaffrey and Utah's Devontae Booker.