How does one predict the truly unpredictable?
Unlike the BCS, the College Football Playoff isn't based on a statistical formula that one person with the right tools can mathematically project X result if events A, B, and C happen. The CFP rankings are formed entirely on the opinions of 12 oracles. The committee claims to look at some metrics, but it isn't entirely clear which metrics are utilized or how much weight they are given.
Still, that hasn't stopped the folks at FiveThirtyEight from trying.
Its latest projection model has been updated after last night's rankings release and, unlike the current state of the top 25, they paint a pretty picture for the Big 12.
As long as Baylor, Oklahoma State or, possibly, even Oklahoma win out, the conference should be fine. Allegedly.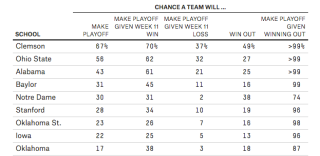 Baylor and Oklahoma State are given a virtual guarantee of reaching a semifinal as long as a they remain undefeated, and Oklahoma has nearly as good a chance as a Steph Curry free throw.
The problem, of course, is getting there.
Baylor must still defeat Oklahoma, then win at Oklahoma State and TCU. Oklahoma must defeat Baylor and Oklahoma State on the road and TCU at home.
Oklahoma State, at 9-0 with a win over TCU already under its belt, has by far the easiest path with both Baylor and Oklahoma visiting Boone Pickens Stadium after this week's visit to Iowa State. (And, certainly, no November trip to Ames has ever gone wrong for the Pokes before, has it?)
Of course, these projections are more a general forecast than an absolute truth. Treat the FiveThirtyEight model like you do weatherman: you may want to take an umbrella to work if rain is in the forecast, but don't be shocked if you come home dry.
Because, after all, this is the same site that said TCU had a 98 percent chance of making last year's Playoff as late as Conference Championship Saturday. And we all remember how that turned out.