If you thought college football had enough trophy games, Missouri and Arkansas have some bad news for you. The two SEC schools will introduce one new trophy game to the collection this week when they play for The Battle Line trophy, which is complete with an interchangeable nameplate to display the color of the most recent winner in the series.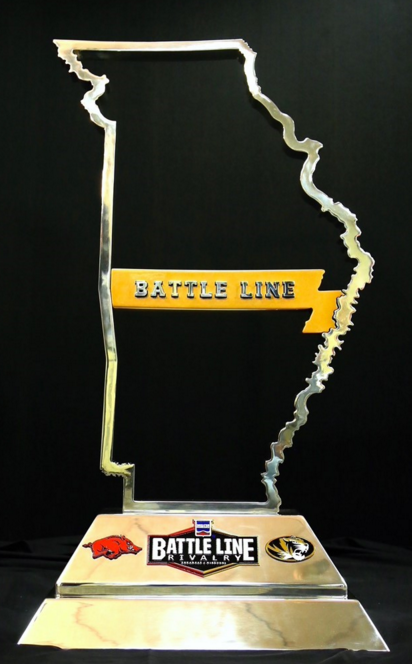 "We are excited to unveil a new trophy as part of the Battle Line Rivalry," said Mack Rhoades, University of Missouri Director of Athletics. "We appreciate Shelter Insurance's investment in the series and believe the annual Missouri-Arkansas game has the opportunity to grow into one of college football's great Thanksgiving weekend traditions."
The trophy is made of silver and measures over four feet tall and weighs in at 180 pounds. The design of the trophy is a hollow outline of the states of Missouri and Arkansas, which is similar in concept to another Arkansas trophy game with LSU. There is a reason for that. The new trophy was designed by former Arkansas football player David Bazzel, the creator of The Golden Boot. If only these trophies could be pieced together like a puzzle. Arkansas could potentially have a nice collection going. The Razorbacks just need to set up some additional trophy games with Ole Miss or Mississippi State, Tennessee, Texas A&M and Oklahoma (!). The name plate in the middle that represents the border between the two states is interchangeable with one colored yellow for when Missouri wins and one in red for when Arkansas wins.
"We are proud that one of the nation's newest rivalries now has one of the most stunning trophies in all of college football," said Jeff Long, University of Arkansas Vice Chancellor and Director of Athletics. "We are grateful to David for his vision and to all of those who worked to help create this beautiful silver work of art. With the support of Shelter Insurance, we are quickly turning the Battle Line Rivalry into a budding college football tradition."
Arkansas hosts Missouri this Friday.