As is the case each and every season, each and every week, any omission below is not on purpose, it's merely intentional.
PLAYOFF FIELD TAKING DEFINITIVE SHAPE… MAYBE
Maybe next week when it comes to the ever-looming unbridled playoff chaos?
For those looking for the type of maelstrom that created significant upheaval, you were likely disappointed in the, relatively speaking, utter serenity of Week 13.  Five teams were "officially" eliminated from playoff contention with losses this week — No. 6 Notre Dame, No. 7 Baylor, No. 10 Michigan, No. 11 Oklahoma State, No. 12 Florida, with UM and UF barely on the periphery of the discussion to begin with.
Conversely, two teams have punched their tickets for a seat at the four-chair playoff table — No. 1 Clemson, No. 2 Alabama — provided they win as double-digit favorites on championship weekend.  A third team — No. 3 Oklahoma — should've wrapped up a spot with a dominating win, even without a Big 12 championship game in which to further impress.
Add it all up, and it appears there could — stress "could" here and assuming chalk in the ACC/SEC title games — be just a single playoff spot open seven days ahead of the committee's final Top 25.  The clearest path would belong to the Big Ten, with the winner of the Iowa-Michigan State game seemingly in great shape to claim that fourth and final spot.  A win by unbeaten Iowa would lock the conference in for that fourth bid and lock every other "contender" out; an MSU win would almost secure it, although in theory it would leave the door open a crack for the likes of No. 8 Ohio State, No. 9 Stanford and No. 14 North Carolina, all of whom would need the aforementioned chaos to even get to the same library let alone the same page of the same postseason book.
Below are the scenarios for each remaining playoff contender and what they need, presumably, to claim one of the four spots in the College Football Playoff:
No. 1 Clemson — beat North Carolina in the ACC championship game; they need no outside help.
No. 2 Alabama — beat Florida in the SEC championship game; they need no outside help.
No. 3 Oklahoma — idle this coming weekend, sitting on couch hoping they don't get TCU'd; I'd like to think they don't need any outside help, so that's what I'll go with.
No. 4 Iowa — beat Michigan State in the Big Ten championship game; I'm going to assume that an undefeated Power Five conference champion would need no outside help.
No. 5 Michigan State — beat Iowa in the Big Ten championship game; I'd think that Michigan State would make it regardless, but having Alabama suffer its second loss wouldn't be an unwelcome development in East Lansing (or Columbus).
No. 8 Ohio State — idle this weekend; would need Alabama to lose for certain, and Clemson possibly.  It remains to be seen whether it'd be better for OSU if MSU or Iowa lost, although it's very likely the unbeaten latter.
No. 9 Stanford — soundly beat unranked USC in the Pac-12 championship; would need Clemson, Alabama and Iowa to lose, then hope their two losses can somehow be mitigated in the minds of the committee because of their standing as conference champions.
No. 14 North Carolina — beat Clemson in the ACC championship; would need Alabama and Iowa to lose, then hope the committee does what most observers think they won't and moves them up what will likely be five or more spots into the top four.
One final thought: the SEC has to be absolutely terrified of the upcoming conference championship game.  Even as it's unlikely that Florida could muster enough offense to keep it close let alone win, were 'Bama to lose, that conference would very likely be on the outside of the playoffs looking in.  Adding to that misery?  It would be the Big Ten likely swooping in and grabbing a pair of spots.
In light of the CFP's predecessor the BCS, chew on that potentially ironic development for a couple of minutes.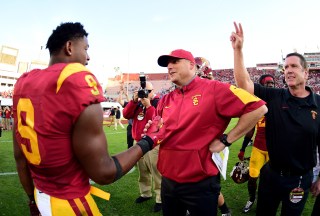 CONFERENCE CHASE CLARITY
Through 12 weeks of the 2015 season, five Power Five divisions had already been decided — ACC Atlantic (Clemson), ACC Coastal (North Carolina), Big Ten West (Iowa), Pac-12 North (Stanford), SEC East (Florida) — leaving the Big Ten East, Big 12, Pac-12 South and SEC West as the only divisions/conferences entering Week 13 still sans a champion.  With one week left in the regular season, the three remaining divisions were decided: Michigan State the B1G East, USC the Pac-12 South and Alabama the SEC West.
Additionally, the championship game-less Big 12 was decided in resounding fashion with Oklahoma's thumping of Bedlam rival Oklahoma State.
So, heading into next weekend, here are how the four Power Five conference championship games will play out:
ACC
No. 1 Clemson vs. No. 14 North Carolina, Dec. 5 at Bank of America Stadium in Charlotte, NC
Clemson will be playing in its first ACC title game since 2011, and its third overall.  This will be UNC's first appearance in the 11-year history of the event.
BIG TEN
No. 4 Iowa vs. No. 5 Michigan State, Dec. 5 at Lucas Oil Stadium in Indianapolis, Ind.
Iowa will be making its first B1G title game appearance.  Michigan State previously represented the Legends Division in 2011, the first year of the event, and 2013.
PAC-12
No. 9 Stanford vs. USC, Dec. 5 at Levi's Stadium in Santa Clara, Calif.
This will be the third time Stanford has played in the Pac-12 title game since its inception in 2011.  USC is making its inaugural appearance, and is the fourth West teams in the five years of the game to represent the division.
SEC
No. 2 Alabama vs. No. 12 Florida, Dec. 5 at the Georgia Dome in Atlanta, Ga.
Alabama will have appeared in 10 of the 24 SEC title games as the West representative.  This will be Florida's first appearance since 2009 and 11th overall.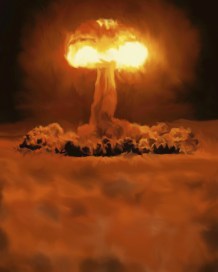 BOWLPOCALYPSE UPON US
Unfortunately, the worst postseason fears of many have been realized.
With the addition of a handful of bowls for the 2015-16 cycle, there was a very plausible school of thought that, with 80 spots available, there wouldn't be enough six-win teams to fill all 40 of this year's postseason games.  That officially came to fruition in a Week 13 that began with 71 bowl-eligible squads.
This weekend, just four teams — Indiana, Tulsa, Virginia Tech and Washington — reached the magic six-win mark.  Thus, with a lone weekend left before bowl bids are handed out, there are 75 teams that have reached the requisite six wins.  More to the point, just three teams remain — Georgia State, Kansas State, South Alabama, all at 5-6 — that could reach bowl eligibility with a win next weekend.  That means at least two and as many as five 5-7 teams will receive a bowl bid as a reward for a sub-.500 season.
It remains to be seen how the NCAA's Football Oversight Committee will go about selecting the process for 5-7 teams to fill the remaining bowl slots.  There's a possibility that a team's Academic Progress Report (APR) standing could be used, which could be good news for teams like Nebraska, Missouri and, potentially, K-State.  The question of which order the bowls that will have to use a 5-7 team to fill its slots will select is unknown, as is whether how large of a role, if any, geography will play in the decisions as well.
All in all, it's an absolute mess.  But, hey, more football is good football, right?
[/wanking motion]
LAST CALL FOR BEAMERBALL
Frank Beamer announced earlier this year that this would be his final season in Blacksburg.  Sitting one game away from bowl eligibility heading into Week 13, his Hokie team desperately wanted to send their beloved head coach out with a bowl appearance.
Thanks to a 17-point fourth quarter, Tech did just that as the 23-20 win over in-state rival Virginia pushed the Hokies to 6-6 on the season and into the postseason for the 23rd consecutive season.
Suffice to say, there were smiles — and liquid — all around afterwards.
Beamer, the winningest active FBS head coach, now has 279 career wins, 15th-most at any level of college football and sixth-best amongst FBS/Div. 1-A coaches.  While I'm not supposed to cheer for one team or another, I'll be rooting for the classy coach to notch No. 280 regardless of who he faces in the postseason — especially if this is part of the postgame locker-room scene: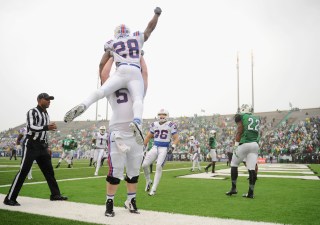 HISTORY IN THE MAKING
Very quietly, Navy quarterback Keenan Reynolds and Louisiana Tech running back Kenneth Dixon set themselves up to break a rather significant record in the coming weeks.
Reynolds, who earlier this season broke Wisconsin's Montee Ball's FBS record for career rushing touchdowns, tied Ball's record Friday for total touchdowns (non-throwing) with 83.  All of Reynolds' touchdowns as far as this record are concerned have come on the ground.
One day after Reynolds tied Ball's record, Dixon did the same as his two receiving touchdowns in a loss to Southern Miss gave him 83 for his career as well.  Unlike Reynolds, 13 of Dixon's touchdowns have been on receptions; the remaining 70 have been rushing touchdowns.
Reynolds will have two opportunities (Army game, bowl) to break Ball's mark, while Dixon will have a bowl game.
SATURDAY RESET
Below is a list of links for all of the Week 13 gamers/pertinent pieces posted by the CFT crew, placed in one handy and convenient space for you, our beloved and dear readers.
CFT TOP FIVE
A snapshot look at how my ballot would look Sunday if I, ya know, had a real vote.
1. Clemson — The wobbly legs late in a rivalry game means nothing as the Tigers continue to be the best unbeaten team in college football.  Don't sleep on the opponent in this weekend's conference championship game, though.  Should be a better game than most are willing to give it credit for at the moment. (Last week: No. 1)
Next up: ACC title game vs. No. 14 North Carolina, Dec. 5 in Charlotte
2. Alabama — I imagine there'll be a push to move the Tide up a spot — Paul Finebaum, if you can believe it, is already leading that charge — but 'Bama is right where they belong, and I suspect the committee will feel the same way. (Last week: No. 2)
Next up: SEC title game vs. No. 12 Florida, Dec. 5 in Atlanta
3. Oklahoma — It was ever so tempting to move the Sooners past the Tide, or even the Tigers, but it's the status quo for the time being.  I'll say this, though: there's not a team in college football that wants to see OU on the other side of the field right now.  And OU-'Bama would be one helluva game, I think. (Last week: No. 3)
Next up: idle
4. Iowa — All the Hawkeyes do is just keep wining and winning and winning., whether you're impressed or not.  If they can get past Sparty, they may get the respect they likely deserve.  Maybe.  Possibly. (Last week: No. 5)
Next up: Big Ten title game vs. No. 5 Michigan State, Dec. 5 in Indianapolis
5. Michigan State — Outside of the Sooners, the Spartans may be playing the best football in all of the FBS.  A win over a second unbeaten in three weeks would make them a hard, if not impossible team to keep out of the playoffs. (Last week: NR)
Next up: Big Ten title game vs. No. 4 Iowa, Dec. 5 in Indianapolis
(Dropped out: Notre Dame)
(Others considered: none)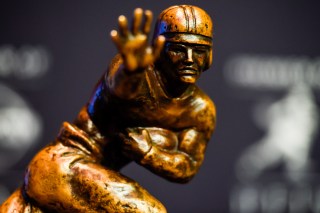 HEISMAN RACE, BY THE NUMBERS
A statistical look at how the top contenders for this year's stiff-armed trophy fared this past week.
Dalvin Cook, RB, Florida State (10-2, No. 13)
Saturday: 26 carries for 186 yards (7.0 ypc), two touchdowns; three receptions for 11 yards
Season: 211 carries for 1,661 yards (7.9 ypc), 18 touchdowns; 22 receptions for 218 yards, one touchdown
Derrick Henry, RB, Alabama (11-1, No. 2)
Saturday: 46 carries for 271 yards (5.9 ypc), one touchdown
Season: 295 carries for 1,797 yards (6.1 ypc), 22 touchdowns; 10 receptions for 97 yards
Baker Mayfield, QB, Oklahoma (11-1, No. 7)
Saturday: 17-25 (68%), 180 yards, two touchdowns; 11 carries for 77 yards (11.0 ypc), one touchdown
Season: 243-354 (68.6%), 3,389 yards, 35 touchdowns, five interceptions; 131 carries for 420 yards (3.2 ypc), seven touchdowns
Christian McCaffrey, RB, Stanford (10-2, No. 9)
Saturday: 27 carries for 94 yards (3.5 ypc); three receptions for 19 yards; five kick returns for 109 yards; one punt return for six yards
Season: 287 carries for 1,640 yards (5.7 ypc), seven touchdowns; 37 receptions for 435 yards, three touchdowns; 31 kick returns for 922 yards, one touchdown; 12 punt returns for 38 yards; 1-2 passing (50%), 28 yards, one touchdown
Deshaun Watson, QB, Clemson (12-0, No. 1)
Saturday: 20-27 (74.1%), 279 yards, one touchdown; 21 carries for 114 yards (5.4 ypc), three touchdowns
Season: 261-371 (70.4%), 3,223 yards, 27 touchdowns, 10 interceptions; 139 carries for 756 yards (5.4 ypc), nine touchdowns
(Dropped out: none)
(Added: none)
JT's Personal Top Fivesman
1. Henry — Auburn knew what was coming, and the human tractor came at them more than 40 times, and they just simply couldn't stop Henry.  The junior may not have sewn up the Heisman last night, but the needle & thread is most definitely out and the fat lady is sitting down in front of the Singer as we speak. (Last week: No. 1)
2. Cook — Certainly Cook was aided by an injury-ravaged Florida defensive line, but he nearly hung 200 on the SEC East champions.  I still say he's not getting the respect he deserves, and it wouldn't surprise me at all if he didn't get an invitation to the Big Apple.  (Last week: No. 2)
3. Watson — The true sophomore just quietly goes about his business, putting up solid/borderline spectacular stats on a weekly basis while helping his team to the top spot in the playoff rankings.  It'll be hard if not impossible for anyone to catch Henry, but I think Watson and Cook deserve to have their tickets punched to New York City in mid-December. (Last week: No. 3)
4. McCaffrey — On a huge stage against Notre Dame, the multi-purpose McCaffrey was, well, OK.  He had over 200 all-purpose yards, but didn't find the end zone and was decidedly overshadowed by his quarterback. (Last week: 4)
5. Mayfield — After being the driver of as dominating a performance any team has put on this season, I suppose I should move Mayfield up a bit.  I won't, though, because of the season-long brilliance of those ahead of him.  And that's no slight to Mayfield, either, just the recognition of what the others have done. (Last week: 5)
RUH-ROWE
Urban Meyer took a lot of heat for the play-calling in Ohio State's loss to Michigan State last week, particularly as it pertained to the use, or lack thereof, of star running back Ezekiel Elliott.  ESPN sideline reporter Holly Rowe, from completely out of left field, used a pregame interview with Meyer prior to The Game to remind the coach of Elliott's career-high in carries.  Welcome to one of the most awesomely awkward and uncomfortable moments of Week 13.
For the record, Elliott, one week after a 12-carry, 33-yard day led to the junior publicly dressing down the play-calling, carried 30 times for 214 yards.   Well played, Ms. Rowe.  Well played.
Speaking of well played, Mr. Elliott had a response to seeing that his counterpart at Alabama, Derrick Henry, carried the ball 46 times in a win over Auburn.
That, young people in the audience, is the Miles Davis of shade throwing.
FAT GUY STIFF-ARM
About the only thing better than a fat guy touchdown is a fat guy touchdown in which said fat guy breaks out the stiff-arm.  In that vein, meet Michigan State center Jake Allen, who added insult to scoreboard injury in the beatdown of Penn State with this hefty gem.
RIGHT TO SCARILY BEAR ARMS
Regardless of how many times it happens, Lee Corso in Pistol Pete headgear and firing assorted weaponry wildly into the air will never, ever get old.
TAKES BIG ONES TO ADMIT IT
I'm thinking one former Bedlam participant got a little bit too caught up in the atmosphere of this year's Oklahoma-Oklahoma State game.  Not that there's anything wrong with that, of course.
CATCH OF THE DAY
"Damn!" — Odell Beckham Jr., after seeing this highlight featuring Southern Miss' Mike Thomas.
GAMEDAY SIGN OF THE DAY
For the most part, every stop the ESPN College GameDay caravan makes further confirms that fans all across the country have run out of original sign ideas.  Of course, there are exceptions.  This, from the stop in Stillwater for Bedlam, is one of them.
HE SAID IT
"I don't want to go where you're headed, what if we didn't do that, because it would be dire straits right now. You can win a million games in a row and you lose two in a row and you're back to square one." — Ohio State's Urban Meyer, on what losing to rival Michigan would've meant coming on the heels of a loss to Michigan State.
HE SAID IT, THE SEQUEL
"Amazing. It was indescribable. I can't explain it. It's something I've always looked forward to, dreamed of and to be able to do it. It's awesome." — Alabama quarterback Jake Coker, on playing in his first Iron Bowl.
HE SAID IT, THE THREEQUEL
"I now know what it's like to ride an elephant." — LSU head coach Les Miles, after being carried off the field by his football team following the win over Texas A&M.
HE SAID IT, BONUS EDITION
"We're not very pleased with the way we finished again. I know the fans are not happy. And I'm not happy. It's disappointing. It's tough." — Kentucky head coach Mark Stoops, after watching his team blow a 21-point lead to Louisville and win five games for the second straight season.
HE SAID IT, THE FINAL ONE
"I don't really know what to say. I've never been around a team that is 12-0. I'm a little bit speechless on that. It is just an unbelievable accomplishment." — Iowa head coach Kirk Ferentz.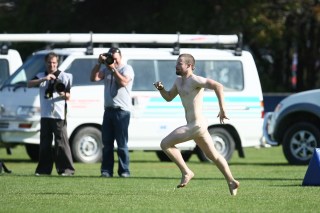 STREAKING
Clemson's 15-game winning streak is the longest in the country, while Iowa (12) and North Carolina (11) are the only others in double digits.  Alabama is on the verge of joining that select club with nine wins in a row, while San Diego State and Arkansas State have won eight and seven straight, respectively.  Oregon and Southern Miss have now won six consecutive games as well.
On the other side of the won-loss ledger, the "proud" owner of the nation's longest losing streak is Kansas at 15 straight, followed by UCF (13), Charlotte (10), Eastern Michigan (10), Louisiana-Monroe (10), Oregon State (eight) and Boston College (eight).
S.I.D. NOTE OF THE WEEK I
For the first time in its history, the ACC has two teams with double-digit winning streaks at the same time. Clemson has won 15 games in a row, the longest current winning streak in the FBS, while North Carolina has now won 11 straight games, which is the third-longest current winning streak.
S.I.D. NOTE OF THE WEEK II
Temple LB Tyler Matakevich became the seventh FBS player to register 100 tackles in four seasons He joins Rick Razzano, Virginia Tech (1974-77); Carl McGee, Duke (1975-78); Dan Bass, Michigan State (1976-79); Stephen Boyd, Boston College (1991-94); Dana Howard, Illinois (1991-94); and Marcus McGraw, Houston (2008-11).  Matakevich is also the only player in the nation to lead his team in tackles in every game this season.
S.I.D. NOTE OF THE WEEK III
With last Saturday's victory over Charleston Southern, Alabama reached the 10-win plateau for the eighth straight season. The eight consecutive years with 10 wins extends the school record that was set by the Tide last season. It is the third-longest streak in FBS since 1937, with only Florida State (14 10-win seasons from 1987-2000) and Texas (nine 10-win seasons from 2001-09) owning longer stretches.
S.I.D NOTE OF THE WEEK IV
Florida State has not allowed a kickoff return for a touchdown in 154 consecutive games, the best active streak among FBS schools (10/2/04 – 11/21/15).
S.I.D. NOTE OF THE WEEK V
Ohio State has won a school-record 18 consecutive true road games (games on an opponents home field), the longest such streak in the nation. The Buckeyes are undefeated, a perfect 18-0, in road games under head coach Urban Meyer, or since the start of the 2012 season.
OFF THE CHARTS
Courtesy of the Clemson sports information department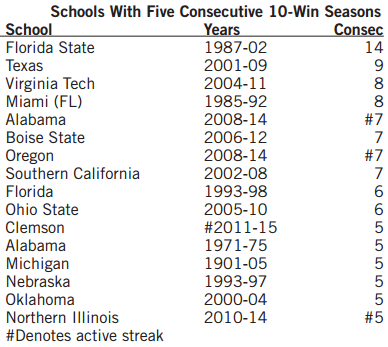 OFF THE CHARTS, PART II
Courtesy of the UT-San Antonio sports information department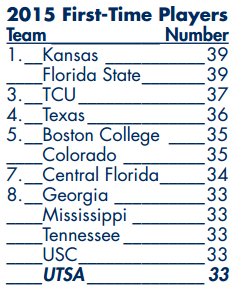 OFF THE CHARTS, PART III
Courtesy of the Louisville sports information department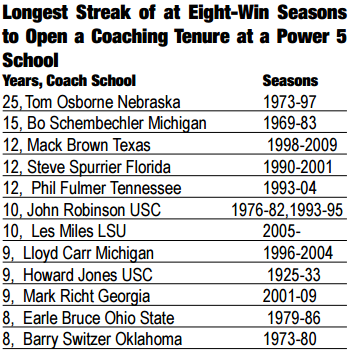 OFF THE CHARTS, PART IV
Courtesy of the Michigan sports information department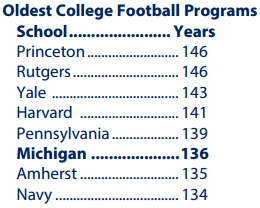 SAY WHAT?
Since the 2008 season, Alabama has played in only three regular season games without national championship implications. Following the Crimson Tide's 24-21 loss to LSU in 2010, UA was essentially eliminated from the national championship discussion. The final three games of that season mark the only three regular season contests without national championship implications for the Tide in the past eight years (96 of 99 games).
YOU DON'T SAY
At 109 straight, the Minnesota-Wisconsin rivalry has the longest active streak for consecutive years played at the FBS level.  Clemson-South Carolina is second-longest at 107 straight. The five most-played rivalry games are Minnesota vs. Wisconsin (125); Missouri vs. Kansas (120); Cincinnati vs. Miami of Ohio (120); North Carolina vs. Virginia (120); Oregon vs. Oregon State; Auburn vs. Georgia (119).
DULY NOTED
Kansas and UCF lead the FBS with 33 first-time starters each this season.  The two teams are also a combined 0-28 in 2015, and have the two longest losing streaks at this level of football.
DID YOU KNOW THAT
… Paxton Lynch's seven first-half touchdown passes in Memphis' rout of SMU tied an FBS record?  This is the fifth time this has been accomplished, with Lynch joining San Diego State's Dennis Shaw (1969), Florida's Terry Dean (1994), Florida's Doug Johnson (1997) and Hawaii's Bryant Munoz (2011).  Lynch didn't throw another touchdown pass in the game, falling short of Houston's David Klingler's single-game FBS record of 11 set in 1990.
… the first 300-yard passing game of Navy quarterback Keenan Reynolds' career came in the senior's 48th game?  The 312 yards in a Friday loss to Houston easily surpassed his previous career-high, a 233-yard performance in a September win over Delaware the second week of the 2013 season.  Reynolds has only surpassed 100 yards in a game 13 times, and has gone over 200 yards a mere three times.
… the 542 passing yards by Jared Goff in the 48-46 win over Arizona State set a Cal single-game record?  The previous record was the 527 put up by Goff in October of last year.
… Texas Tech had its first season in school history with a 1,000-yard rusher (DeAndre Washington), a 1,000-yard receiver (Jakeem Grant) and 4,000-yard passer (Patrick Mahomes)?
… with 159 yards rushing, Leonard Fournette broke Charles' Alexander's single-season LSU record of 1,686 set back in 1977?  The sophomore now has 1,741.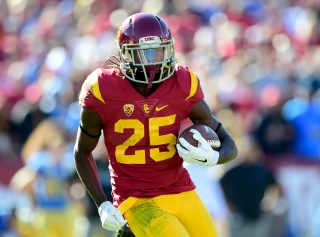 … with 63 yards rushing, Ronald Jones III bested Charles White's USC single-season freshman rushing record of 857 yards?  Jones now has 890 yards on the season with two games remaining.
… Iowa has won 10 or more games in a season seven times, and four of those have come during Kirk Ferentz's 17-year tenure in Iowa City?  The other three belong to the man Ferentz replaced in 1999, Hayden Fry.
… Clemson tied a school record with its 15th straight win?  The first 15-gamer happened from 1947-49; this 15-gamer began the week after a Nov. 15 loss to Georgia Tech last season.
… Iowa set a school record with its 12th win of the season Saturday?  The Hawkeyes had previously won 11 games in a season in 2002 and 2009.
… Saturday's Mississippi State-Ole Miss game marked the first time in the in-state rivalry's history that both teams have been nationally ranked in back-to-back Egg Bowls?  It also served as the sixth time in the 112-year history of the game that both teams have been ranked at the time of their meeting, with the others coming in 1999, 1992, 1957 and 1940.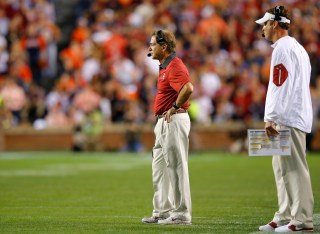 … Alabama and Baylor are the only FBS teams that have beaten Associated Press Top 10 teams each of the last five seasons?
… Texas Tech more than quadrupled the number of rushing touchdowns from 2014 to this season?  The Red Raiders had eight last season, and have 34 in 12 games in 2015.
… Boise State has 17 consecutive seasons with at least eight wins, the most in the country?  LSU is next with 16 straight.
… Western Michigan's win over No. 24 Toledo Friday was the program's first-ever over a ranked opponent?