In the end, the health issues just proved to be too much for Levi Peters.
Monday morning, Iowa State announced that the senior linebacker has decided to put an end to the playing portion of his football career.  The reason for Peters' decision is simple — injuries.
Prior to coming to the Cyclones, Peters underwent a pair of surgeries on his right knee.  After enrolling at ISU, Peters' left foot was operated on twice, and he also tore the Achilles tendon in his right foot.
Ironically, Peters' decision to step away from the game comes after one of his healthiest seasons in a Cyclones uniform.  In 2015, Peters started nine of the 12 games in which he played.
Below is a statement from Peters sent out by the school.
When the season ended in November I started to think I didn't have another year in me. I didn't open up to many people about it. There were many times where it was really hard to walk out of practice because my feet were hurting so bad. When the new coaching staff came in, it was in my head, 'Ok, I'm coming off of being a captain and I need to be here to help lead these guys through this transition.' I needed to do everything I could to get everybody through this. The first talks I had with Coach (Matt) Campbell and Coach (Tyson) Veidt were about my health. They knew about my injuries. It's been a constant battle my whole career. I was trying to get through workouts, but I was struggling. I talked a lot to our doctors and trainers and they were giving me advice. What they tell me is very important to me. I probably had this decision made a while ago, but we were just starting winter workouts, which is our hardest regimen. I didn't want to say I was in too much pain to be doing this stuff anymore. I love my teammates so much. I love this coaching staff. I love what they are doing to change the culture here. I wanted to try to be a leader during winter workouts and help guys get through it. I wanted to be there participating with them and not just cheering them on, so I finished winter workouts with them and decided it was time to hang up the cleats. I told the team this morning about my decision. They are very important to me and I wanted them to know the reason I am here is for them. I'm going to stick around and do whatever I can to help this team. I will do anything for them, and I wanted them to know that. I need to come to terms with my decision and make a positive out of it. Coach Campbell wants me to stay around and help. Coaching was something I never thought I would do, but I am so close to these guys and I will do anything I can to help them. You never know, maybe I will find a love for coaching. To the Iowa State fan base, thank you so much. Your love and support is amazing.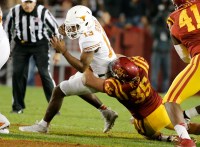 During his time in Ames, Peters played in a total of 26 games.  Prior to the 2015 season, he was voted as a team captain by his teammates.
Peters is slated to graduate this spring with a degree in agricultural business.
"I don't know if anybody epitomizes what it means to be a Cyclone more than Levi Peters," first-year head coach Matt Campbell said in his statement. "He gave everything he had for this program with a tenacity and work ethic matched by no one. He competed that way because he loved being a Cyclone. Levi is also a natural leader. That's why he was voted a captain last year, and I noticed his leadership abilities in the short time I had coaching him. There is no doubt that Levi will be missed in the locker room, on the playing field and in the community. He's a special kid who we want to maintain a part of our program."
@levipete pic.twitter.com/ttgqPh60Ao

— Josh Jahlas (@JwillJahlas) March 7, 2016