The Greatest is gone, but he's certainly not forgotten.
Diagnosed with Parkinson's in 1984, Muhammad Ali lost his fight against the debilitating disease late Friday night at the age of 74. From boxer to entertainer to human rights activist to so much more, the Louisville native is being remembered across all sports genres, all entertainment genres for transcending the boxing ring — and every other venue he graced, for that matter.
Among those pausing to remember the transcendent icon is the flagship university of his (eventually) beloved home city, of which Ali once said, "I'm the greatest fighter of all-time, and Louisville, Kentucky, is the greatest city of all-time."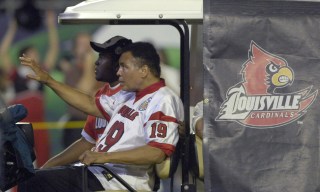 Long a very public and vocal supporter of the University of Louisville, Ali was especially linked to the Cardinals baseball — his son was a UofL baseball player a few years ago — and basketball programs — he was a looming public presence in supporting men's hoops coach Rick Pitino during the infamous scandal a couple of years ago. Ali, though, was also a supporter of Cardinals football, attending games as recently as 2014 and 2015 at Papa John's Stadium.
In death, The Greatest's life is being remembered by the UofL athletics and football community, both present and past.
"All of us in the Cardinal Athletics family are deeply, deeply saddened with the passing of an absolute worldwide legend in Muhammad," said athletic director Tom Jurich in a statement. "While he was undoubtedly one of the greatest athletes in history, the Champ made a difference in the lives of so many around the world. His generosity with his time for anything we asked of him — or things he offered to do without us asking — was incredible, as was the financial commitment he and Lonnie made to our baseball program at UofL. It was a true honor for me to know him and he will be greatly missed. Our deepest sympathies and prayers go out to Lonnie and the entire family."
Thanks Champ for what you meant to our football program. You are truly The Greatest #L1C4 pic.twitter.com/hruE0b15HF

— LouisvilleFootball (@UofLFootball) June 4, 2016
RIP Champ. Words can't describe what you mean to our city. #TheGreatest pic.twitter.com/oDs6RN5XRr

— Cards FB Recruiting (@ULFBRecruiting) June 4, 2016
Muhammad Ali was one of the most iconic athletes ever his impact on Louisville & the world will never be forgotten. pic.twitter.com/OwZQTslJbv

— Bobby Petrino (@CoachPetrinoUL) June 4, 2016
#RIPMuhammadAli His charisma and charm touched so many lives. He was an inspiration to us all. #GOAT pic.twitter.com/g9Ss1LL9b7

— Brian Brohm (@BrianBrohm) June 4, 2016
R.I.P Muhammad Ali (The GOAT)
You Gave Young Black Men Like Myself & Every Athlete In The World… https://t.co/y51kYIeBKr

— BrandonBADRADcliff (@BrandonRadcliff) June 4, 2016
RIP to the Great Muhammed Ali, I love everything you stood for.

— Shaquille Wiggins (@ShaqWiggins6) June 4, 2016
R.I.P to the Greatest #MuhammadAli

— Devontre Parnell (@trey_trigger) June 4, 2016
Muhammad Ali taught my dad how to talk smack. And I learned from my dad. So blame Muhammad Ali 😅

— GG Robinson (@GGRobinson) June 4, 2016
Today we pause to remember the world's greatest. #RIPMuhammadAli pic.twitter.com/wdPSY31g89

— Louisville Athletics (@GoCards) June 4, 2016
#RIPMuhammadAli pic.twitter.com/7AGCXd9EtV

— Louisville Athletics (@GoCards) June 4, 2016
Very sad to hear of the passing of Muhammad Ali. I was fortunate to spend some great times with The Greatest in Louisville. #RIPChamp

— Charlie Strong (@Strong_TexasFB) June 4, 2016
Statement from #Louisville basketball coach Rick Pitino on the death of @MuhammadAli pic.twitter.com/IgiiQNkCqd

— Eric Crawford (@ericcrawford) June 4, 2016