The odd odyssey of the most heralded signee in UCLA's most recent recent recruiting class has taken another couple of twists of late.
Back last month, Mique Juarez stopped showing up for practice a few days into summer camp because of what head coach Jim Mora described as an "excused" absence as the five-star recruit dealt with unspecified personal issues. The linebacker hasn't returned to the Bruins since he departed, but, despite the speculation, he does intend to return at some point, possibly even this season.
When asked about his departure, Juarez, who told the Orange County Register that he's seeing a psychiatrist set up by his head coach, said that "[i]t was just too much pressure."
Juarez didn't go any further into specifics.
While Juarez told the Register that he's bothered by the rumors circulating regarding his situation, it's a teammate who's caused him his latest bit of consternation.
Following Saturday's win over BYU, Juarez tweeted congratulations to his teammates.
Victory 💙💛 good job UCLA👏🏽👏🏽💯

— Meek (@miquejuarez3) September 18, 2016
For whatver reason, defensive end Takkarist McKinley decided to take a little job at his teammate in a tweet that has since been deleted but saved by The Big Lead.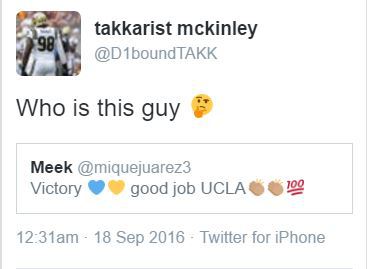 The two Bruins then got into a mini back and forth on the social media website. That exchange too has been deleted, although it was preserved for posterity as well.
👀👀👀👀 #Drama pic.twitter.com/zFcr7zptMx

— Thuc Nhi Nguyen (@thucnhi21) September 19, 2016
Juarez responded to that exchange with yet another tweet that he decided to leave up and available for public consumption.
Okay okay Takk was that supposed to hurt my feelings? Quit acting like a female & go on about your business. Not everyone gives a damn.

— Meek (@miquejuarez3) September 19, 2016
Regardless of when Juarez, the highest-rated Bruins recruit this latest cycle, returns to campus, it appears he'll have some fence mending to do in the locker room.