Certainly there are deceased defensive purists who are rolling over in their graves at the moment.  In fact, there are likely amongst-the-living defensive purists who are currently digging six feet down, jumping in and rolling over just to prove a point.
To what are we referring?  Oklahoma 66, Texas Tech 59 in a game that spanned just four quarters.  Didn't even go into a single overtime let alone multiple ones to at least buttress the video game-like numbers.  They say a picture is worth a thousand words, so screen snaps of the offensive carnage are just visually staggering in their breadth and scope: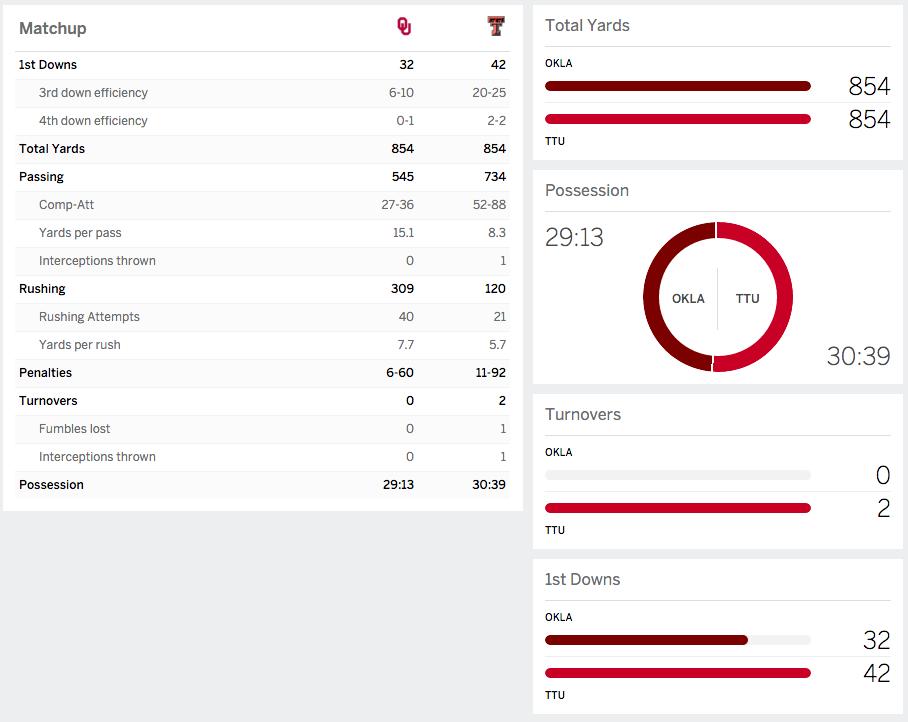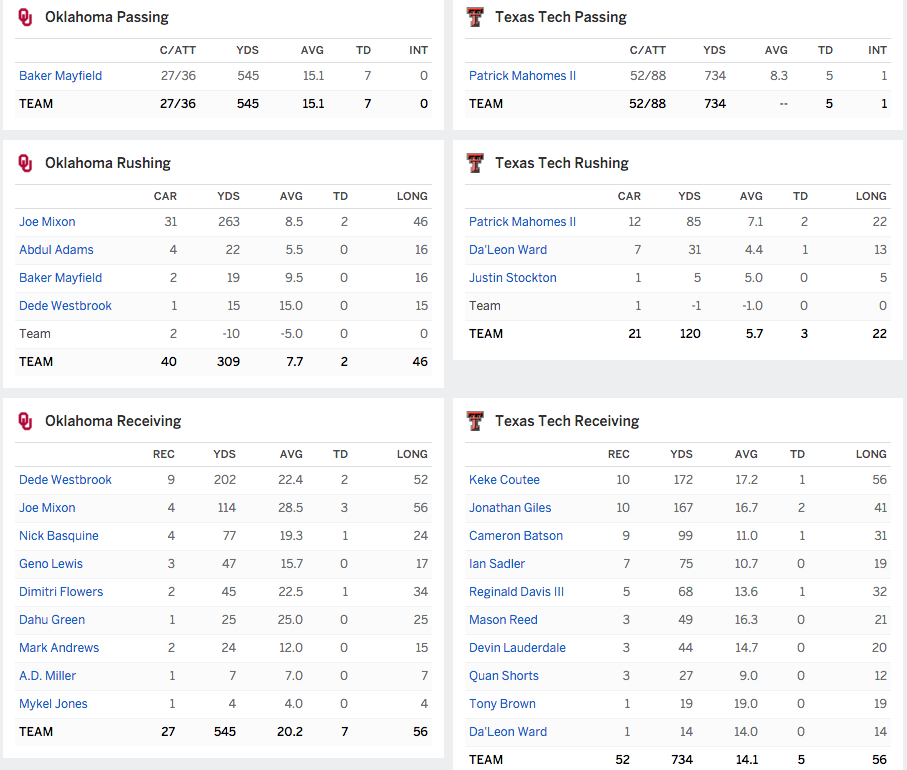 Where to start?
Well, the teams collectively broke the NCAA record for combined offensive yards in a single game, with their 1,708 yards — exactly 854 for each, incidentally — easily surpassing the 1,640 of San Jose State and Nevada in 2001.  The combined 1,279 yards passing also broke the record of 1,261 yards set during the 2014 Washington State-Cal game.
That Pac-12 game also produced the individual passing record, with Wazzu's Connor Halliday throwing for 734 yards; Tech's Patrick Mahomes matched that record in this wild affair.  Mahomes' 88 pass attempts were just one off the record of 89 set by Halliday in 2013.
Add in 85 yards rushing, and Mahomes became the first player in FBS history to account for more than 800 yards of offense in a single game. The previous record was Halliday's 751 two years ago.
On the OU side, quarterback Baker Mayfield, who transferred from Lubbock to Norman, set a Sooners record with his seven touchdown passes.  The 1,383 combined yards for Mayfield and Mahomes is an FBS record as well.
Additionally, running back Joe Mixon, with 262 yards rushing and 114 receiving, became just the third FBS player in at least 15 years to go for 250-plus in the former category and 100-plus in the latter.  Dede Westbrook also caught nine passes for 202 yards, making Oklahoma the fifth team in FBS history and first since Oklahoma State in 2008 to have a 300-yard-passer, 200-yard rusher and 200-yard receiver in the same game.
The Sooners also became the first FBS team with a 500-yard-passer, 200-yard rusher and 200-yard receiver in a single game.
I'm quite certain that there are myriad school and conference and national records that I missed, but, yeah, you get what was a very offensive point.  And, for that, there's just no defense.