We're nearly eight months from the start of the 2017 season, but it's never too early to peer into the crystal ball and see how the initial stages of the Heisman Trophy race may shake out.
Of the Top 10 (and ties) in the 2016 Heisman voting, just three will return for the 2016 season: Louisville quarterback and winner Lamar Jackson, Oklahoma quarterback Baker Mayfield and Washington quarterback Jake Browning.  It's fitting that all three of those returners play under center as, since 1986, 20 Heisman winners were quarterbacks.  Since 2000, it's 14 of 17 at the position.
At least at first blush, it doesn't appear 2017 will be much different from the previous three decades, although "just" five of our 11-man list play quarterback.  With that in mind, below is our initial Heisman favorites list, listed in order from the favorite on down.
(Writer's note: class designation is based on what the player will be in 2017.)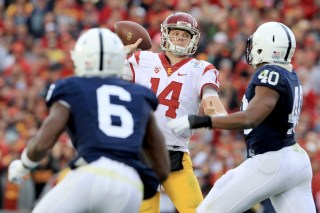 SAM DARNOLD, USC, QUARTERBACK, REDSHIRT SOPHOMORE
Yep, I'm buying in.  I'm buying into USC being the No. 1 team in the country heading into the offseason, and I'm buying into Darnold being the real deal.  Can you really blame me?  Taking over for the since-transferred Max Browne in Week 4, and after a loss in that first start on the road against Utah, Darnold and the Trojans won nine games in a row to close out the 2016 season, with the rising redshirt sophomore playing a pivotal role.  In those nine winning starts, Darnold passed for more than 300 yards four times and more than 400 in one (the virtuoso performance in the dramatic Rose Bowl win).  He threw at least two touchdowns in each of the wins — tossed five each in back-to-back wins vs. Arizona and Cal — and was only picked off eight times in 344 pass attempts in his 10 starts.  The stage never seemed too big for him; in fact, his performance throughout suggested he could be ready for a much bigger stage in 2017.
BAKER MAYFIELD, OKLAHOMA, QUARTERBACK, FIFTH-YEAR SENIOR
In 2015, Mayfield finished fourth in the Heisman voting but didn't get a trip to New York City as a finalist.  In 2016, Mayfield was third in the voting and made it the Big Apple as one of the five finalists.  The next progression, naturally, is to finish runner-up to (fill in the blank), right?  Or, possibly, become the first Sooner since Sam Bradford in 2008 to claim the trophy.  The bad news for Mayfield is the fact that OU's top two rushers from 2016, Joe Mixon and Samaje Perine, left early for the NFL, seemingly leaving a significant offensive burden on Mayfield's right arm.  That could also serve as good news for Mayfield as, potentially leaning more on the passing game, the stats that led him to being a finalist this season (3,965-40-8, 71% completion percentage) could be even gaudier next.  A road trip to Columbus for matchup with Ohio State in early September could portend just what direction Mayfield's 2017 Heisman campaign heads.
JAKE BROWNING, WASHINGTON, QUARTERBACK, JUNIOR
Who says nobody loves the Pac-12, what with two of the top three hailing from that conference?  It still baffles me as to how the Huskies sophomore didn't get more postseason love, though, be it from the Heisman voters or pretty much any other award.  As a true sophomore, all Browning did was finish second in the nation in touchdown passes with 43 in, along with the defense, leading UW to its first-ever College Football Playoff appearance.  All that led to was a pat-on-the-back sixth-place finish in the 2016 Heisman voting.  With a third offseason under Chris Petersen tucked neatly under his belt, I'm expecting a huge leap this season for the rising junior — and for this to be his last season as he makes the early leap into the 2018 draft as one of the top quarterbacks available.
LAMAR JACKSON, LOUISVILLE, QUARTERBACK, JUNIOR
If returning, the defending Heisman Trophy winner deserves to be on any and all preseason watch lists, especially one that comes out three-quarters of a year before the next season starts.  Thanks to history, though, they don't necessarily have to be high up on the list.  You all know the breakout stats from Jackson's breakout 2016, so there's no reason to rehash them here.  The pertinent numbers?  Zero, for the number of Heisman winners who have gone back-to-back since Ohio State's Archie Griffin in the mid-seventies became the first and only to win a pair of the trophies.  1979, representing the year Billy Sims of Oklahoma finished second in the voting one year after winning it, the only player to ever accomplish that.  Finally we come to the number (?) 3rd, which represents the fact that, outside of Sims, no other reigning Heisman winner finished better than that position the following year.  So, heading into the postseason, I'm going to slot Jackson into the No. 4 hole and see if he can prove me and others — and history — wrong.


Damien Harris/Bo Scarbrough, ALABAMA, RUNNING BACK, JUNIOR/REDSHIRT JUNIOR
The last running backs to win the Heisman Trophy were Mark Ingram and Derrick Henry, who both just happened to play their college football for the University of Alabama Crimson Tide.  When Henry won his award in 2015, he was a junior.  In 2017, Damien Harris and Bo Scarbrough will be junior running backs who play their college football for the University of Alabama and… wait a minute I'm sensing a pattern here.  Harris finished the season as the Tide's leading rusher, but it was Scarbrough that took on a larger role late in the season.  Coming off a knee injury that cost him two games, Scarbrough totaled 63 carries the last four games.  Harris, meanwhile, carried the ball 31 times in that same span.  If one can separate himself from the other — you'd have to say Scarbrough has the decided edge to be the bellcow heading into the offseason — either could find himself in the thick of the Heisman race deep into the upcoming season.
Saquon Barkley, PENN STATE, RUNNING BACK, JUNIOR
There might not have been a more underrated Power Five back in the country than Barkley.  His 1,496 yards on the ground were second in the Big Ten and 14th nationally, while his 18 rushing touchdowns were tied for seventh in the country.  The sophomore capped off his breakout season with 194 yards and a pair of touchdowns in the Rose Bowl loss to USC.  It was an odd season for Barkley, though, as he had just one 100-yard game in the first five (105 yards vs. Kent State), then in the next four ran for 200-plus twice and 167 in another one.  Between that stretch and the bowl game, however, he failed to run for more than 92 yards in any of the four games, which included a 14-yard game against Michigan State.  If Barkley can find some consistency this coming season, he should be on voters' radars throughout.  Surely Barkley's teammate, quarterback Trace McSorley, will get some Heisman run, but this back is more than deserving of some recognition.
Derrius Guice, LSU, RUNNING BACK, JUNIOR
I'm betting that, a little bit on down the road, you could win your fair share of bar bets by asking who was LSU's leading rusher during Leonard Fournette's final season in Baton Rouge.  Of course, it was Fournette… who, in large part because of a lingering ankle, finished second on the team with 843 yards before jumping early to the NFL.  Guice, naturally, finished first on the Tigers with 1,387 yards, and put up 15 rushing touchdowns for good measure.  For running backs with 150-plus carries, Guice's 7.6 yards per carry was second in the country.  With a new offensive coordinator in Matt Canada who rather enjoys the running game — Pittsburgh was 21st this past season, North Carolina State 31st the year before with him as coordinator — Guice could be poised to do something that much-hyped Fournette never did: make his way north to New York City as a Heisman finalist.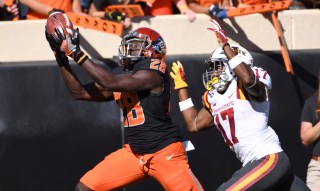 James Washington, OKLAHOMA STATE, WIDE RECEIVER, SENIOR
Yes, just three "wide receivers" — Nebraska's Johnny Rodgers (1972), Notre Dame's Tim Brown (1987), Michigan's Desmond Howard (1991) — have claimed this particular honor, and that was due in very large part to their prowess in the return game; Washington has returned five kickoffs (for 81 yards with a long of 27) the past three seasons, and there are no plans to turn him into a return specialist in 2017.  Yes, he returned for his senior season along with quarterback Mason Rudolph, whose name will most likely litter these types of lists because, well, he's a quarterback and a very productive one at that.  But, back-to-back 1,000-yard receiving seasons, 10 touchdowns and a per catch average of just a shade under 20 yards shows the type of explosiveness that could, if they broaden their horizons a bit, open the eyes of some voters.
JALEN HURTS, ALABAMA, QUARTERBACK, SOPHOMORE
Personally, I don't ever see a quarterback from a Nick Saban-coached Alabama team winning the Heisman, but Hurts deserves at, the very least, a nod.  As a true freshman, Hurts (and his defense and running backs) led the Crimson Tide to another SEC championship and an appearance in the national championship game.  He took relatively good care of the ball, tossing nine interceptions in his 382 pass attempts; just two of those came in the last five games, with four of those contests involving ranked teams.  The Texas native led the Tide with 13 rushing touchdowns, and was second in yardage to Damien Harris.  Again, a 'Bama quarterback with Saban as the coach will likely never put of the kind of numbers that catches the eyes of voters, but the dual-threat game he brings to the table plus the fact that his team is perpetual national title contenders will likely have him as part of the stiff-armed discussion for as long as he remains in Tuscaloosa.
ED OLIVER, HOUSTON, DEFENSIVE TACKLE, SOPHOMORE
A player from a Group of Five program hasn't won the Heisman in nearly three decades, since BYU quarterback Ty Detmer in 1990.  A defense-only player has never claimed the stiff-armed trophy.  So why even bother listing Oliver?
Yeah, he's good.  Here's to hoping the voters actually watch what's going on this upcoming season on both sides of the ball.