The last bit of confetti has barely settled onto the Raymond James Stadium turf and the carcass of the 2016 season isn't even cold yet, and we're already rolling out a way-too-early Top 25 for the 2017 season? Yep. Because that's how we roll. Or something.
In our role as preseason Nostradumbass, the first 10 of CFT's Top 25 consisted of No. 1 Oklahoma, No. 2 Alabama, No. 3 Florida State, No. 4 Clemson, No. 5 LSU, No. 6 Notre Dame (ouch), No. 7 Washington (yeah us!), No. 8 TCU, No. 9 Michigan State (whoops) and No. 10 Tennessee. A little over 4½ months later?
Three of the four playoff participants were in our Top 10; the fourth, Ohio State, was just outside at No. 11. While not No. 1, Oklahoma came into the postseason ranked seventh in the College Football Playoff Top 25, and will likely move up thanks to the 16-point Sugar Bowl win over No. 14 Auburn (not in our preseason Top 25). Florida State (No. 11), LSU (No. 20) and Tennessee (No. 21) were all ranked at least eight spots lower when the postseason began, but all three won their respective bowl games.
On the flip side, TCU, at 6-6, earned a bowl bid… and subsequently lost to finish under .500. And then there was Notre Dame and Michigan State, which combined to win a total of seven games so let's just forget about that and move on.
The point of this whole review-before-we-look-ahead exercise? Preseason polls are meaningless — but not nearly as meaningless as polls produced nearly eight months ahead of the start of a new season. With that in mind, enjoy this way-to-early Top 25 that will put the "mean" in meaningless. And the "less" in it, for that matter.
Oh, and as always, feel free to complain/whine/moan/bitch away in the comments section below.
NO. 1 USC
WHY? As a redshirt freshman, Sam Darnold emerged as one of the most electrifying playmakers at the quarterback position in college football, and should, to the chagrin of opponents, get even better with a full offseason as the man at the position.  Winning nine straight to close out the season doesn't hurt either.
WHY NOT? There's always at least one team that's way overhyped — hello 2016 Notre Dame — and the hoopla and attention proves to be too much for the young Trojans to bear.
NO. 2 ALABAMA
WHY? Nick Saban + top-ranked recruiting classes year-in, year-out + a burning desire to be the greatest there ever was at this level = a permanent spot inside the Top 10 as long as The Nicktator resides in Tuscaloosa.
WHY NOT? An NFL team (finally) entices Saban to go back and finish what he started — and abruptly ended — in the big boy league of football.  It's not going to happen, of course, but that's about the only thing that could derail the Crimson Tide juggernaut — well, that and a Tiger named Deshaun.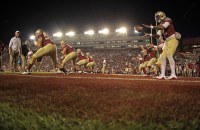 NO. 3 FLORIDA STATE
WHY? The Seminoles are once again loaded with top-flight talent on both sides of the ball and at every positional unit, with Deondre Francois showing flashes in his first season as the starter of being one of the best young quarterbacks in the sport.
WHY NOT? They face Alabama on a (ahem) neutral field to open the season, then travel to Gainesville to face Florida in the regular-season finale.  In between, there's a trip to Death Valley for their annual ACC Atlantic grudge match with Clemson.
NO. 4 OKLAHOMA
WHY? With Baker Mayfield returning, and the rest of the conference still trying to play catch-up, the Sooners are clearly the cream of the Big 12 crop.
WHY NOT? The twin backfield loses of Joe Mixon and Samaje Perine can't be overcome and Mayfield has to shoulder too much of the offensive burden. Plus, the road trips to Ohio State, Baylor and Oklahoma State for Bedlam.
NO. 5 WASHINGTON
WHY? They have a talented arm in quarterback Jake Browning, a very staunch defense and a schedule that's very favorable, with the toughest road game being the trip to Stanford.
WHY NOT? They are losing a significant amount of talent that helped get them to the College Football Playoffs.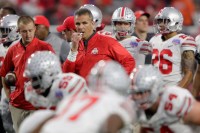 NO. 6 OHIO STATE
WHY? Given the personnel losses after the 2015 season, 2016 was thought to be a rebuilding year but turned into another playoff appearance.  The target was always the 2017 season for this young Buckeyes team, and a squad loaded with this much talent will be a factor throughout.
WHY NOT? J.T Barrett continues to regress as a quarterback despite Urban Meyer shaking up the top of his offensive coaching staff, and none of the other young quarterbacks are quite ready for prime time.
NO. 7 CLEMSON
WHY? Despite losing a couple of pieces, Brent Venables' defense will once again be one of the best in the nation.  The Tigers won 10 or more games in each of the three seasons prior to Deshaun Watson's arrival, so it's far from a one-man show that Dabo Swinney has built.
WHY NOT? Losing Watson, a three-year starter at quarterback, proves to be too much as his replacement simply can't handle the burden.
NO. 8 MICHIGAN
WHY? For all of his well-publicized off-field antics, Jim Harbaugh is simply one of the best head coaches in the sport and will settle for nothing less than getting his beloved Wolverines back into the national title discussion on an annual basis.  Wilton Speight was a breakout star in 2016 and should flourish despite the loss of his quarterbacks coach, while Don Brown continues to be one of the best defensive minds in the game.
WHY NOT? Too much talent was lost to the NFL, and Harbaugh simply hasn't gotten the requisite time to completely restock the cupboard in Ann Arbor to compete with the Ohio States of the college football world.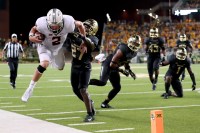 NO. 9 OKLAHOMA STATE
WHY? One of the best quarterback-wide receiver tandems in the country, Mason Rudolph and James Washington, eschewed an early shot at the NFL and returned for one more season in Stillwater.
WHY NOT? A defense that was 53rd in scoring as it was loses nearly half its starters, plus OSU will have to play at Pittsburgh, Texas and West Virginia.
NO. 10 PENN STATE
WHY? They return a bunch of talent from their Big Ten-winning squad, including Heisman contenders in quarterback Trace McSorley and Saquon Barkley, and get Michigan, Nebraska and Pittsburgh in Happy Valley.
WHY NOT? They lost a very talented wide receiver in Chris Godwin and have to play at Iowa, Michigan State and Ohio State.
NO. 11 STANFORD
NO. 12 AUBURN
NO. 13 TEXAS
NO. 14 LSU
NO. 15 WISCONSIN
NO. 16 LOUISVILLE
NO. 17 GEORGIA
NO. 18 WEST VIRGINIA
NO. 19 SOUTH FLORIDA
NO. 20 FLORIDA
NO. 21 KANSAS STATE
NO. 22 COLORADO
NO. 23 WASHINGTON STATE
NO. 24 SAN DIEGO STATE
NO. 25 OREGON