I didn't see this one coming.  Talk about being blindsided.
One day after putting the wraps on its annual media days shindig, the SEC released the media's picks for conference champion and predicted order of finish.  And, to the surprise of absolutely no one, the Alabama Crimson Tide, playoff participants in each of the first three years of the new system to determine a national champion, is the overwhelming favorite to claim yet another league championship.
'Bama earned 217 points from the media when polled as to this year's conference champ.  Next closest?  Auburn with 11, followed by Georgia's six points and three each for Florida and LSU.  Showing that the media has a sense of humor and doesn't take these preseason honors too seriously, even Vanderbilt was the recipient of a point.
Six times since 1992, the media has correctly picked the eventual champion in the preseason vote.  Two of those, though, came the last three years.
While 'Bama was an overwhelming title choice, they weren't a unanimous selection to win the West.  They did, however, reel in 225 first-place votes; Auburn (13), LSU (four) and Arkansas (one) were the only others to do so.
In the East Division, Georgia's 138 first-place votes topped Florida's 96.  South Carolina with five and Tennessee with three were the others to garner first-place votes in that division.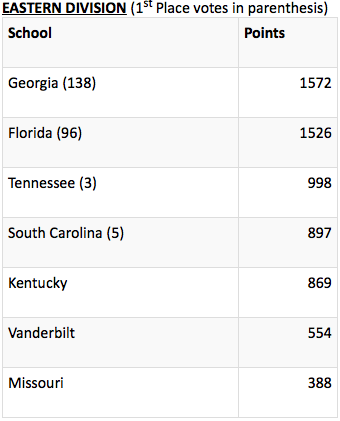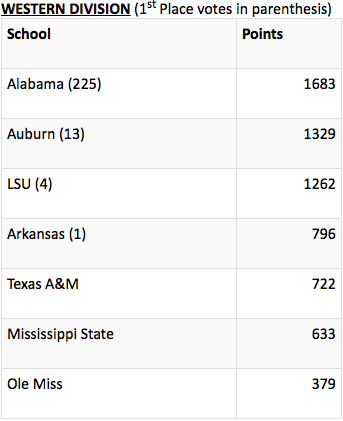 In addition to the predicted order of finish, the conference also released its Preseason Media Days All-SEC Teams. Alabama had the most first-team All-SEC selections with 10, which is a new record for this particular preseason squad.
Minkah Fitzpatrick (Alabama), Calvin Ridley (Alabama) and Derrius Guice (LSU) received the most votes amongst individual players.