The waning moments in a 30-3 blowout of last season's Outback Bowl — which, if you're scoring at home, is just about as inconsequential as it gets in college football — became a flashpoint of contention last week when Ed Cunningham revealed to the New York Times last week that he left his game analyst gig at ESPN because he could no longer support and promote the game's physical, violent nature. Cunningham used the waning moments of said Outback Bowl, the last game he called for ESPN, as part of his justification to leave.
The passage in question:
The last straw, he said, was working the Outback Bowl in December, when he saw the Iowa quarterback C.J. Beathard hobbled, taking hits and being left in the game until the final two minutes of a 30-3 blowout loss to Florida. Beathard went on to be taken in the third round of the N.F.L. draft by the San Francisco 49ers. The bowl game ("a game that means less than zero," Cunningham said) still rankles Cunningham.

"I know some of the coaches from that team, known them for years," he said. "And it was hard for me not to walk down after the game and just say: 'Dudes, what are you doing? Really? What are you doing?' These are just kids."

Cunningham teared up again. "I get emotional," he said.
Those quotes were in effect an accusation of coaching malpractice directed toward Kirk Ferentz and the Iowa program. Ferentz and the Hawkeyes responded in kind on Tuesday.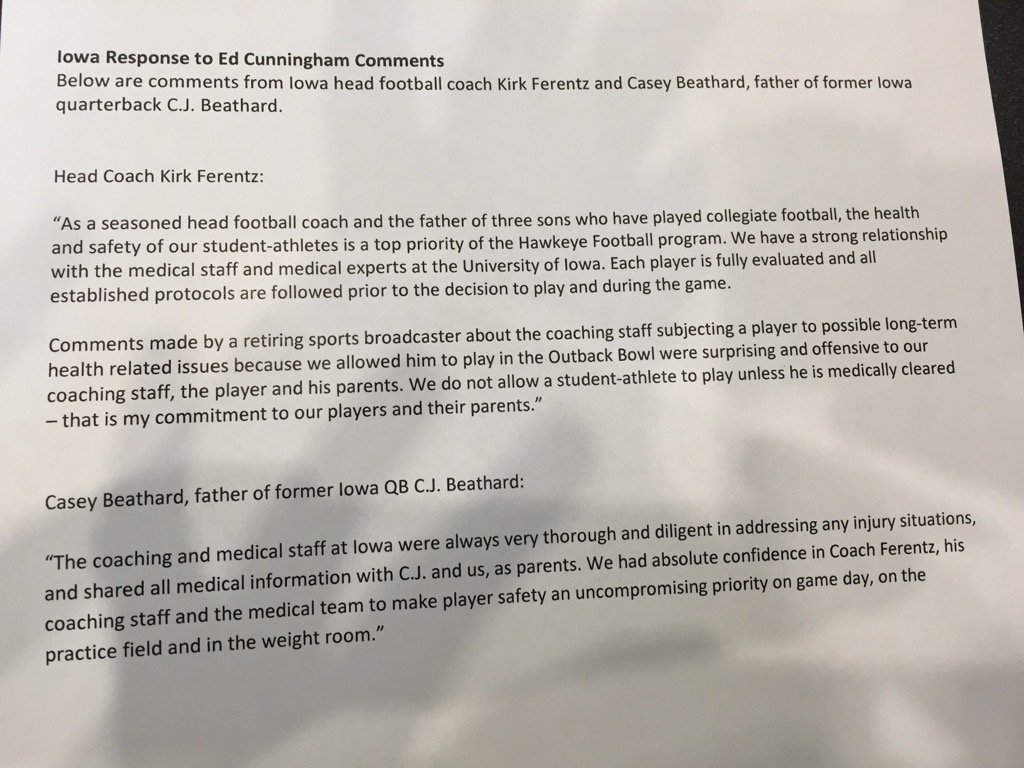 Especially in times such as these, accusing a coaching staff of leaving a player on the field to get hurt is as serious a charge you can point at a coach. It's not surprising to see Iowa take Cunningham's comments seriously.