Suffice to say, the LSU football community is a bit on edge these days.  Or on the ledge, as the case may be.
An embarrassing 30-point loss to Mississippi State in Week 3 gave way to an even more embarrassing loss to the Troy Trojans of the Sun Belt in Week 5 in Baton Rouge. Already, the calls are growing for first (full) year head coach Ed Orgeron to be fired; for his part, Orgeron said, "I don't listen to the news. I don't listen to none of that. That's out of my control."
Unfortunately for Orgeron, his players hear their critics on social media, with one, right tackle Toby Weathersby, inviting them to meet up with him at a local UFC gym and "box it out."  While Weathersby has since deleted the Sunday tweet, it's been saved for posterity's sake by SECCountry.com.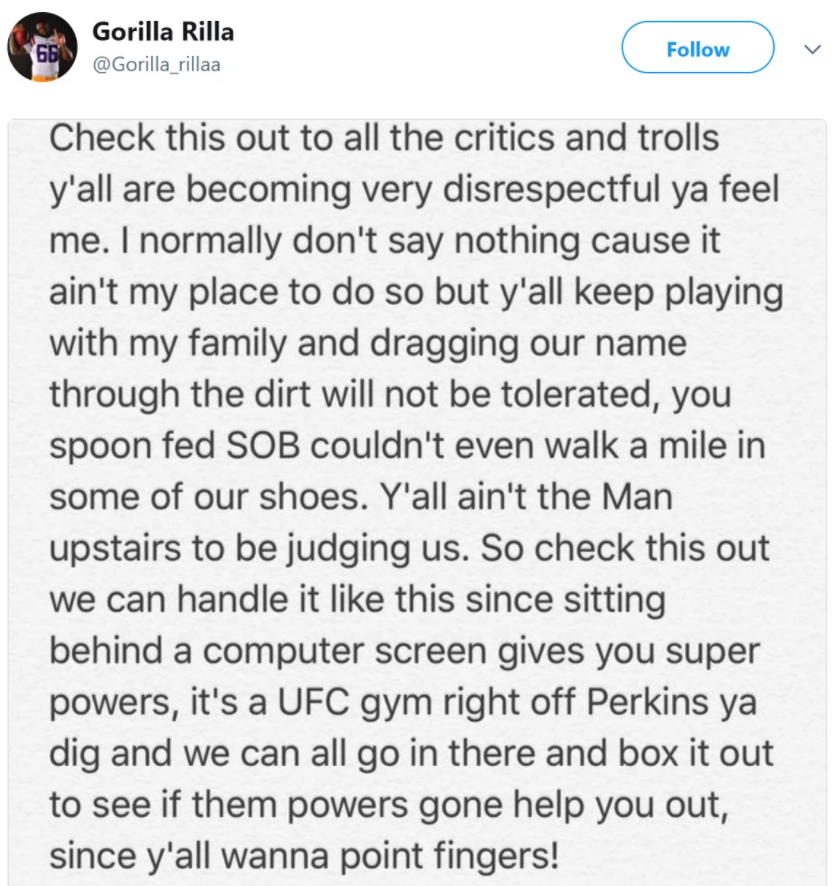 Yep, just what the reeling Tigers football program needs right now. On this front, Orgeron stated he "understands frustrations" at the moment, although it's unclear if he was referring to fans or his players — or both.
Orgeron said he hadn't been aware of Toby Weathersby's comments on social media but understands frustrations.

— Mike Gegenheimer (@Mike_Gegs) October 2, 2017