In a span of a few minutes Saturday evening, significant clarity was brought to the race in the East division of the Big Ten.
First, No. 6 Ohio State, which had trailed by 18 points twice, completed an improbable comeback in stunning No. 2 Penn State.  Then, not long after, Northwestern finished off a three-overtime upset of No. 18 Michigan State.
Coming into Week 9, OSU, PSU and MSU were tied atop the East standings at 4-0.  Exiting it…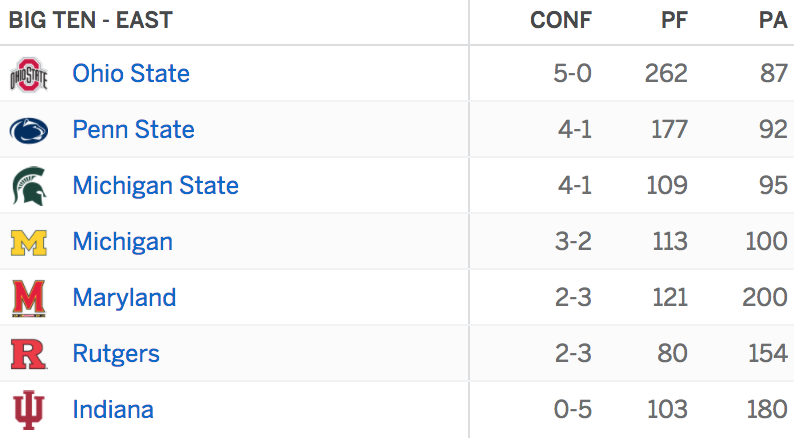 What it means is that, thanks to the Buckeyes' win Saturday, OSU would clinch the division with wins the next three weeks against Iowa on the road and Michigan State and Illinois at home.  Such a scenario would leave the annual regular-season finale against hated rival Michigan a non-factor when it comes to deciding the division* — again, because they own the head-to-head tiebreaker on the Nittany Lions.
Th division will be further clarified next weekend as Penn State faces Michigan State.  A PSU win would mean that OSU would have to lose two of its last four in order to be overtaken by the Nittany Lions in the division.  An MSU win, meanwhile, would make the Nov. 11 road trip to Columbus even more important for all involved.
More than likely, the winner of the East, regardless of who it ultimately is, will face Wisconsin in the conference championship game as the Badgers are 5-0 in league play and lead the West division by two full games over 3-2 Northwestern.
(*The hatred and want to win The Game will always be there regardless of the records of either teams and whether it means anything divisionally. Thanks in advance for not bitching and/or whining and/or moaning and/or bemoaning.)