Texas Tech and TCU are getting back in the saddle again. Literally.
The two Lone Star State rivals announced this week that they are reinstating and reviving the 'Saddle Trophy' for their annual meeting on the football field, with the winner taking home a newly crafted monument to victory that they'll have to find some place in the football facility to store.
The Red Raiders and Horned Frogs used to compete for the Saddle Trophy from 1961 until 1970 when the two were both in the Southwest Conference. Somewhere along the way the original trophy was lost and, because both schools have bigger rivals in the state and in the conference, they seemingly decided to do away with lugging the massive saddle between Forth Worth and Lubbock every year. Until now that is.
The newly inspired trophy was made special for the occasion by M.L. Leddy's Boots & Saddlery of Fort Worth according to a release and features both school logos as well as the scores of the 59 previous meetings between the two teams. It is a sight to behold — and perhaps that's a good thing only if you're an actual cowboy.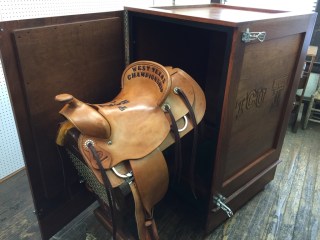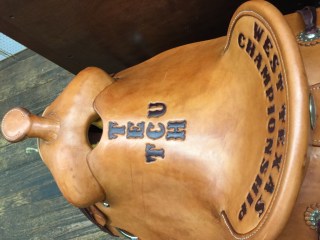 While the Big 12 isn't known for having the rivalry trophies like the Big Ten and others are, it is kind of cool to see schools try and juice up what are normally just another conference game into something a little more. And if this latest stunt leads to a 300 pound lineman taking the trophy and riding it off to the sunset? Well even better.