An award with pedigreed namesakes and growing in stature has whittled its list of players who could potentially claim this year's honor.
Thursday, the Manning Award, sponsored by the Allstate Sugar Bowl, announced that there will be 11 finalists for the 2017 trophy.  The award, named in honor of the quarterbacking Mannings — Archie, Peyton and Eli — is the only one to take into account a player's performance in the postseason.
Below are those 11 finalists: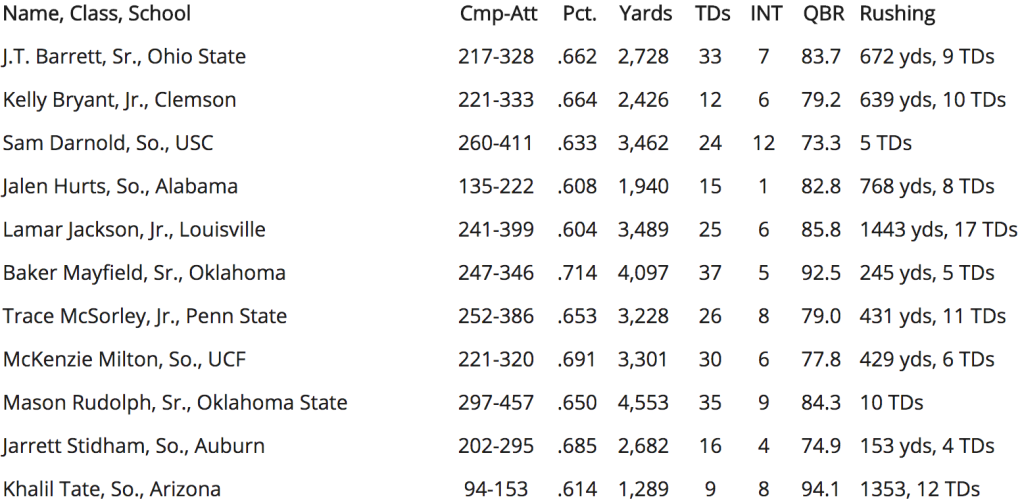 Barrett, Arnold, Hurts, Jackson and Mayfield were all finalists for the 2016 award won by Deshaun Watson of Clemson.  In fact, Watson also won the 2015 award, making him the first back-to-back winner in the hardware's history.
"We've had a great year of college football once again," said Archie Manning in a statement. "Quarterbacks all around the country had great performances week-in and week-out and I want to thank our voting panel for the time and effort they put into selecting the best in the country for this honor. Now we all have the opportunity to watch these outstanding players in the biggest games of the year – the conference championships, the bowl games and the playoff games. I'm looking forward to another exciting finish to the season."