We don't really know much when it comes to the chase for the 2018 Heisman Trophy, but we do know with utter and absolute certainty that Archie Griffin's claim as the only back-to-back winner will hold true for yet another year.
That's because fifth-year senior Baker Mayfield of Oklahoma claimed the 2017 version of the stiff-armed trophy and is off to the NFL.  As a matter of fact, of the Top 10 vote-getters in this year's voting, seven of them are headed to the show — Mayfield, San Diego State running back Rashaad Penny (5th in voting) and Oklahoma State quarterback Mason Rudolph (7th) because of expired eligibility, with Louisville quarterback and 2016 winner Lamar Jackson (3rd), Penn State running back Saquon Barkley (4th), Auburn running back Kerryon Johnson (9th) and Georgia linebacker Roquan Smith (10th) opting for early entry into the draft.  And an eighth, junior Stanford running back Bryce Love (runner-up to Mayfield), is widely expected to declare for the NFL draft ahead of the Jan. 15 deadline.
That leaves just two of the Top 10 Heisman finishers who will return for the 2018 season — UCF quarterback McKenzie Milton (8th) and Wisconsin running back Jonathan Taylor (6th).
That would seem to bode well for Milton as, since 1986, 21 Heisman winners played quarterback.  Since 2000, it's 15 of 18 at the position.  Working against Milton?  The fact that there hasn't been a winner from a non-Power Five program since BYU quarterback Ty Detmer won the Heisman in 1990.
With that as a backdrop, here's a look at a handful of players who should be contenders for the 2018 version of the trophy, listed in order from the favorite on down — we had Mayfield No. 2, behind USC quarterback Sam Darnold, last year at this time.  And Jackson No. 4.  Just saying, is all.
(Writer's note: class designation is based on what the player will be for the 2018 season.)
(Writer's note, the sequel: If Love doesn't declare, put him at the very top of the list of favorites.)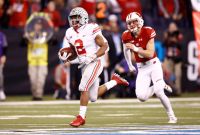 J.K. Dobbins, OHIO STATE, RUNNING BACK, SOPHOMORE
Going against Dobbins is, one, he doesn't play quarterback and, two, true sophomores winning the Heisman are a relative rarity — only Lamar Jackson (2016), Mark Ingram (2009) and Tim Tebow (2007) have done it.  Outweighing those disadvantages is the fact that, with J.T. Barrett gone, the Buckeyes will lean even more heavily on a player who ran for 1,403 yards (7.2 ypc) as a true freshman as they break in a new starter under center.  And, the fact that the Buckeyes will take part in a handful of high-profile games, starting with TCU in Arlington Week 3, and should be in the thick of the College Football Playoff hunt throughout won't hurt the Texas native either.
KHALIL TATE, ARIZONA, QUARTERBACK, JUNIOR
The dual-threat extraordinaire ran for 1,411 yards, passed for another 1,591 and accounted for 26 touchdowns (14 passing, 12 rushing) — and he wasn't named the starter until the first week of October.  He set the single-game FBS record for a quarterback with 327 yards rushing vs. Colorado, and ran for 200-plus yards on two other occasions.  While the abrupt firing of Rich Rodriguez would give some pause as to Tate's future, if Kevin Sumlin, he of Johnny Football Heisman fame, is hired as the replacement, all bets are off and Tate will be in the thick of the stiff-armed discussion throughout the season — provided voters on the East Coast can stay up to witness his greatness, that is.
JONATHAN TAYLOR, WISCONSIN, RUNNING BACK, SOPHOMORE
Breaking the great Adrian Peterson's all-time FBS freshman rushing record and finishing sixth in the Heisman voting your first year out of the box earns you a lofty spot on any way-too-early list of this type; hell, it arguably earns you the top spot.  As long as Bryce Love doesn't return to Stanford, Taylor will be the highest-returning vote-getter in 2018.  Add that to the Badgers being a run-first, run-in-the-middle, run-last offense, and Taylor being the bell-cow of that offense, expect the rising sophomore to be a part of the Heisman talk throughout.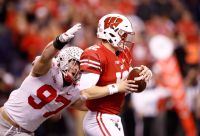 NICK BOSA, OHIO STATE, DEFENSIVE END, JUNIOR
Surprise!  Yes, this is likely way, way too high for any defensive player, but there is a confluence of events that could play out that would at least allow Bosa to earn a mid-December trip to the Big Apple.  One, he already had and still has name recognition thanks in part to big brother Joey Bosa, an OSU All-American taken third overall in the 2016 NFL draft, and is decidedly on the media's radar.  Two, he's highly disruptive and productive in his own right — 16 tackles for loss, 8½ sacks s a true sophomore this past season.  Three, the Buckeyes are one of the highest-profile programs in the country.  If any defense-only player is to finally claim the Heisman, Bosa could have the best shot of anyone given his situation — especially if he has big games in marquee matchups.
KELLY BRYANT, CLEMSON, QUARTERBACK, SENIOR
Fun fact: in the 83-year history of the Heisman Trophy, no player from Clemson has ever taken home the award.  If Deshaun Watson, the most decorated Tiger of all, couldn't win one, what chance does Bryant have to be the first?  That's a damn good question, one that doesn't have a ready answer.  In his first year as a starter, Bryant put up solid numbers, passing for just over 2,800 yards and rushing for another 665.  He added 24 total touchdowns for good measure — 13 passing, 11 rushing.  Maybe because he was still playing in Watson's immense shadow, there was just never that "wow!" moment, even in a season that ended with another playoff appearance.  Perhaps another year removed from Watson will allow Bryant to blossom in what is his last year at this level.
MCKENZIE MILTON, UCF, QUARTERBACK, JUNIOR
Subject A: 296.9 yards per game passing, 51.3 yards per game rushing, 3.9 touchdowns per game
Subject B: 310.5 yards per game passing, 47.2 yards per game rushing, 3.5 touchdowns per game
Subject B is Milton in 13 games this past season.  Subject A is Oregon's Marcus Mariota in 15 games, along with the stats he put up in winning the 2014 Heisman Trophy.  And Milton's team won the national championship while Mariota's squad fell short.  So there's that, too.
WILL GRIER, WEST VIRGINIA, QUARTERBACK, FIFTH-YEAR SENIOR
With Baker Mayfield and Mason Rudolph off to the NFL, Grier is the top returning quarterback in the pass-happy Big 12.  Despite missing nearly three full games because of injury, and in his first full season as the Mountaineers starter, Grier's 3,490 yards passing were fourth in the conference and 20th nationally; in passing yards per game, he was eighth (317.3).  His 34 passing touchdowns were eighth in the country as well, again, despite missing nearly a quarter of the season.  With his top target in the passing game returning as well, Grier is poised to put up big numbers yet again for Dana Holgorsen and WVU
JARRETT STIDHAM, AUBURN, QUARTERBACK, REDSHIRT JUNIOR
To the surprise of almost no one, Stidham announced last week that he's pushing off the NFL draft and would be returning to The Plains for at least one more season.  Like Grier in his first year as the starter at the school to which he transferred, Stidham put up solid numbers — 3,158 yards, 18 touchdowns, six interceptions and completed nearly 66 percent of his passes in finishing 20th nationally in efficiency rankings.  With two of the Tigers' most productive running backs the past two seasons leaving early for the draft, Stidham should see his numbers rise as he shoulders more of the offensive load.  As is the case with the vast majority of the players listed, though, how well his team performs will very likely determine how deep into the Heisman discussion Stidham gets.
NICK FITZGERALD, MISSISSIPPI STATE, QUARTERBACK, FIFTH-YEAR SENIOR
This is my darkhorse(ish) Heisman selection.  Fitzgerald is a lot like Hurts, although he will have an offensive system in which he'll be able to do more through the air now that new head coach Joe Moorehead, who turned Trace McSorley into a borderline Heisman threat at Penn State, is in Starkville.  Prior to injuring his leg in the Egg Bowl, Fitzgerald was well on his way to back-to-back 1,000-yard rushing seasons.  With Moorehead around, Fitzgerald is a near-lock to improve on the 4,205 yards passing and 36 touchdowns he's put up the past two seasons as the Bulldogs' starter under center.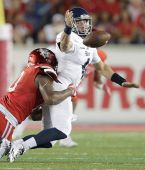 JUST MISSED THE CUT
Houston DT Ed Oliver: There's one defensive player listed above, which is already one too many based on Heisman precedent.
Alabama QB Tua Tagovailoa — A late entrant, the strong-armed Hawaiin could challenge the notion that a Nick Saban-coached QB can't win the Heisman.
Missouri QB Drew Lock: The Tigers' offensive coordinator was replaced by Derek Dooley.  Enough said.
Penn State QB Trace McSorley: Saquon Barkley's presence in the backfield will be McSorely missed by the entire Nittany Lions offense.
Georgia QB Jake Fromm: With the Bulldogs' two top running backs leaving, I almost pulled the trigger on Jake from State Fromm.
Oregon QB Justin Hebert: If Willie Taggart would've stayed instead of bolting for Florida State, he likely would've nudged his way in.
Florida State RB Cam Akers: The fact that Taggart is now at FSU almost led me to opt for the rising sophomore as the darkhorse pick.
Clemson RB Travis Etienne: He averaged 7.2 ypc as a true freshman on a playoff team, but there was just no room at the Heisman Inn.
West Virginia WR David Sills: The former quarterback tied for the FBS lead with 18 touchdown receptions and gets Will Grier back.
NC State QB Ryan Finley: Out of all of the ones that just missed the cut, I have a sneaking suspicion this one I might regret the most.