We usually don't get into the comings and goings of strength coaches in this space but, well, this isn't most strength moves. Longtime Oklahoma strength coach Jerry Schmidt is set to leave Norman and take the same post at Texas A&M, according to multiple reports Wednesday. (The news was first reported by ESPN analyst, Oklahoma City radio host and former Sooners defensive tackle Dusty Dvoracek.)
Schmidt has been at Oklahoma since the arrival of Bob Stoops and originally began working with Stoops when he arrived at Florida as defensive coordinator in 1996.
Schmidt has worked with six Heisman Trophy winners throughout his career: Notre Dame's Tim Brown, Oklahoma State's Barry Sanders, Florida's Danny Wuerffel and a trio of Oklahoma winners in Jason White, Sam Bradford and Baker Mayfield. And if you've never seen the man, well, let's just say he could step in front of the Aggies' Corps of Cadets and no one would bat an eye.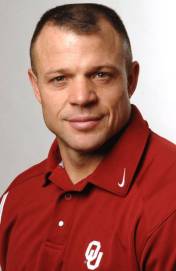 In addition to (possibly) seeking a fresh start, there is also reportedly another reason Schmidt is set to leave Norman for College Station, and it's the same reason that put Jimbo Fisher in maroon in the first place.
Doyle made $675,000 this year, according to USA Today, more than $100,000 ahead of the next-closest strength coach in Ohio State's Mickey Marotti.