While most folks are resigned to getting a new flat screen during the holidays or right around the Super Bowl, Oklahoma State is making their purchase this summer and upgrading the Cowboys' viewing experience significantly at Boone Pickens Stadium as a result.
In a statement released on Friday afternoon, the school confirmed that the team's already remodeled home is getting an upgraded Jumbotron that is the eighth-biggest video board at a college football stadium in the country. In addition to packing in the pixels in a full-high definition display, the new board is set to measure in at 56 feet tall by 110 feet wide and will be mounted just above the east end zone on the outside of the OSU Athletics Center that abuts the field.
"This board not only modernizes the game day experience in Boone Pickens Stadium, but it also brings Oklahoma State to the forefront in this area," said Athletic Director Mike Holder. "We have taken input from fans and I believe that adding a premium board like this is a game-changer for all of us who attend.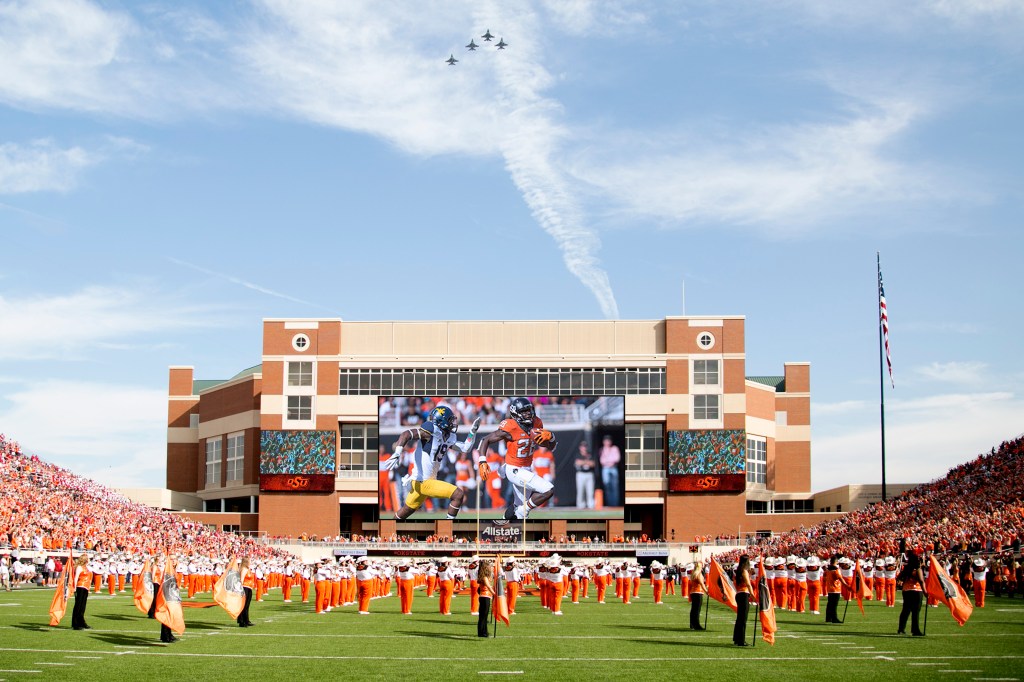 Installation will begin in July and should be finalized by well ahead of fall camp with a target of August 1st for completion. Veteran manufacturer Daktronics will build the board while a local Oklahoma City firm will design the supports. The program notes that this screen will be especially bright compared to other installations by several factors in order to account for the glare of the sun hitting the board.
The entire setup will check in at just a tad bit smaller than rival Texas 'Godzillatron' at Darrell K. Royal Memorial Stadium but will otherwise be one of the largest in the Big 12. Given how quickly the Cowboys tend to put up points in Mike Gundy's offense, chances are it will get a nice workout when games start to roll around this fall in Stillwater as well.