There are plenty of annoying trends on Twitter, but perhaps the worst is the "I'll do X if this gets retweeted X-thousand amount of times." I blame Wendy's.
But blanket policies are never a good way to go through life, and an exception was made on Tuesday when Toledo offered to change its mascot from a rocket to Shrek with 500,000 retweets.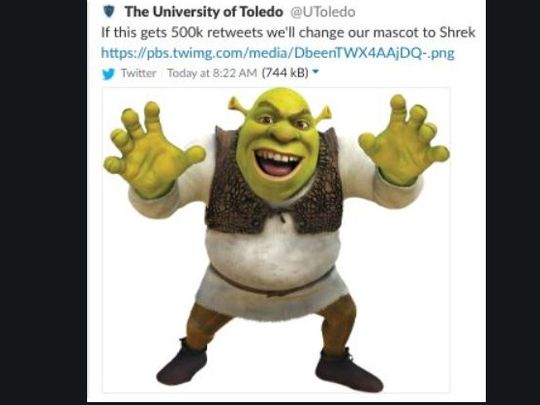 Sadly, some dreams are simply too beautiful to live in this fallen world, and the tweet was outed to be a hoax. "We are definitely not changing the school mascot to Shrek," Toledo media relations specialist Christine Billau told USA Today. "The tweet was meant to be fun, but it caused too much of a distraction."
Meanwhile, Bowling Green gleefully hopped on the dog pile with both elbows pointed out.