Thirty years ago, Barry Sanders authored perhaps the greatest individual season any college football player has ever had. The eventual Heisman winner racked up 344 carries for 2,628 yards and 37 touchdowns — in 11 games. Count it by today's standards and Sanders ripped off 2,850 yards and 42 touchdowns over the course of a single season.
Look at this work of art.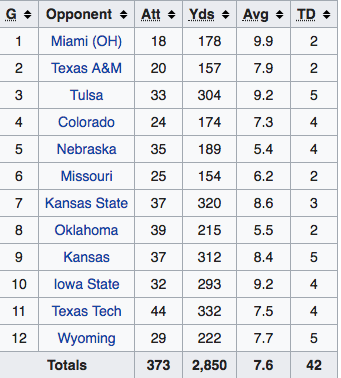 Voted in 2014 as the greatest individual season in college football history, Sanders's 1988 campaign has become more impressive now than it was 30 years ago. In the day and age of pass-first offenses, Sanders's record-breaking campaign may never be approached again, let alone duplicated. For instance, in 2014 Melvin Gordon rushed for 2,587 yards and 29 touchdowns, but needed 14 games to get there.
On Tuesday, Oklahoma State announced it is getting the band back together to celebrate the 30th anniversary of Sanders's Heisman campaign.
"Cowboy fans have very fond memories of watching Barry play," said Blaire Atkinson, interim president of the OSU Alumni Association. "Given the anniversary, we couldn't think of a better way to celebrate Homecoming than with the addition of our Heisman award winner and his teammates."
Added Sanders himself: "1988 was such a special year for OSU football. The fact that I get to celebrate the 30th anniversary at Homecoming with my coaches, teammates, and of course our fans, is very special to me."
Sanders and his offensive line — known as the War Pigs — will serve as grand marshals of Homecoming, which means leading the Sea of Orange parade on Saturday morning and appearing at the Cowboys' 98th Homecoming game later that day on Oct. 27 as Oklahoma State hosts Texas.