Ready for yet another meaningless and useless preseason poll? Too bad, you're getting one anyway.
As we have done each and every season around this time of the year, CFT has compiled its annual preseason Top 25 rankings. And, as has been the case each and every time, we've used the same tried and true formula: collect individual Top 25s from each of our esteemed staffers — this year it's Zach Barnett, Bryan Fischer, Kevin McGuire and myself — as well as a couple of other individuals who prefer to remain anonymous and mash them all together to form an initial Top 25, at which point I manipulate the numbers to ensure that I piss off as many fan bases as humanly possible.
Last year at this time, Ohio State sat at No. 1, followed by No. 2 USC, No. 3 Florida State, No. 4 Alabama and No. 5 Penn State.  Just one of those teams, the 2017 national champion Crimson Tide, qualified for the playoffs, while the others in our Top Five, the Buckeyes, Nittany Lions, Trojans and Seminoles, finished fifth, eighth, 12th and unranked, respectively.  And the other three teams that actually qualified for the playoffs?  National runner-up Georgia was No. 14 in our 2017 preseason Top 25, while Clemson was No. 9 and Oklahoma was right behind them at No. 10.
In 2016, we had Oklahoma as our preseason No. 1; the Sooners went on to finish 11-2 and third in the country, although they ended the regular season just shy of another berth in the College Football Playoff.  The four teams that did earn playoff berths, national champion Clemson, national runner-up Alabama and semifinalists Ohio State and Washington, began the 2016 season ranked fourth, second, 11th and seventh, respectively, in our preseason Top 25 two years ago.
The year before that, we had Ohio State, TCU, Oregon, Auburn and Michigan State Nos. 1-5; only playoff semifinalist MSU finished the regular season in the Top Five. 2015 national champion Alabama was No. 7 in our preseason rankings — just behind Arizona State, incidentally — while the team the Crimson Tide beat for the title, Clemson, was 14th. Oklahoma, the other of the four College Football Playoff semifinalists in 2015, came in at No. 16 in our friendly neighborhood poll.
All that said, below is CFT's 2018 preseason poll.  Below that is a poll in which you can vote as to which team you feel should start the season No. 1 — or if there should even be a preseason No. 1. Below that is where you may complain and/or whine and/or moan and/or bitch about how disrespected your team and/or conference is.
Enjoy. And complain/whine/moan/bitch away at your leisure.
NO. 1 CLEMSON
2017 RECORD/FINAL AP RANKING: 12-2/NO. 4
You could put Clemson or Alabama in the top spot and wouldn't get a real argument from the vast majority of the country, or at least you shouldn't.  The nod (barely) goes to the Tigers as not only do they return their starting quarterback — Kelly Bryant will have to hold off heralded five-star 2018 signee Trevor Lawrence — their top two running backs and a bevy of talent in the receiving corps, but also a defensive line that, at least on paper, could go down as one of the most dominant in the history of the sport.  While the schedule could prove at least a little worrisome — at Texas A&M, at rival Florida State and at an improved Boston College — Clemson seems very likely ticketed for a fourth straight College Football Playoff appearance at season's end.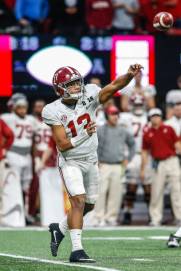 NO. 2 ALABAMA
2017 RECORD/FINAL AP RANKING: 13-1/NO. 1
The defending national champions return just two starters from a defense that finished in the Top Five in nearly every major statistical category.  Nick Saban, take it away. "Because you all don't, you just think we just, whatever happens, we just s**t another player and everything is going to be perfect," the head coach said earlier this month when it comes to replacing players on the defensive side of the ball.  The thing is, with the top-ranked recruiting class seven of the last eight years, and a player pool that has included 41 five-star recruits and another 146 who were four-stars in that span, Saban can indeed s**t talented players at his leisure.  The Crimson Tide, as has become an annual thing, will be national players all season long because of said talent, although whether it's two-year starter Jalen Hurts or title game hero Tua Tagovailoa directing the offense remains the biggest unanswered question for Saban & Company.
NO. 3 GEORGIA
2017 RECORD/FINAL AP RANKING: 13-2/NO. 2
In his second season in Athens, Kirby Smart guided Georgia to its first SEC championship since 2005 and its first-ever College Football Playoff appearance.  While the defense, which was arguably second to Alabama's in the SEC, brings back just four starters of its own, that inexperience could be balanced by the expected second-year jump from true sophomore quarterback Jake Fromm as well as a schedule — toughest road game: at LSU in mid-October — that is seemingly set up for a second straight run to the conference championship game.  A mid-November date with Auburn Between the Hedges, too, could determine UGA's league fate in the weaker of the two SEC divisions.
NO. 4 OHIO STATE
2017 RECORD/FINAL AP RANKING: 12-2/NO. 5
The obvious, overriding question facing Ohio State is how the Buckeyes, winners of 11 or more games each of the last six seasons, handle the tempest that was the Urban Meyer imbroglio, one that dominated headlines throughout the summer.  With Meyer suspended for the first three games this season, OSU will have to navigate a schedule that includes Oregon State, Rutgers and nationally-ranked TCU as their sideline leader serves out his punishment.  Almost forgotten amidst the Meyer mess is the fact that the Buckeyes will be replacing record-setting quarterback J.T. Barrett.  Dwayne Haskins will be tasked with filling Barrett's shoes, although Haskins' insertion into the lineup should automatically upgrade OSU's passing attack.  A defense that includes a line with talent just a notch below Clemson's will help headline a Buckeye squad that, even with all of the off-field coaching drama, will be expected to make a playoff push yet again.
NO. 5 WISCONSIN
2017 RECORD/FINAL AP RANKING: 13-1/NO. 7
If someone outside of Ohio State in the Big Ten is positioned for a legitimate run at a playoff berth, it's Wisconsin.  The offense is absolutely loaded, from returning its starting quarterback in Alex Hornibrook to a running back who ran for nearly 2,000 yards as a true freshman in Jonathan Taylor to its entire offensive line.  One negative, and a relatively big one, is that their wide receiving corps took a significant hit, with one starter, Quintez Cephus, out on an extended leave of absence and another, Danny Davis, suspended for the first two games.  Defensively, experience could be an issue as UW returns just four starters on that side of the ball.  And then there's this: road trips to Iowa, Michigan, Northwestern and Penn State.  It won't be easy, but the Badgers have the look of a team that will be a part of the playoff conversation throughout the season.
NO. 6 WASHINGTON
2017 RECORD/FINAL AP RANKING: 10-3/NO. 16
Washington will get a good feel for the type of team they'll field in 2018 as the Pac-12 favorites open the season with what's essentially a home game for Associated Press No. 9 Auburn in Atlanta.  The schedule doesn't get much easier from there as they have road games at Utah, UCLA, Oregon and Washington State as well as a home date with Stanford to navigate.  Jake Browning will conclude his illustrious career as UW's leader in nearly every major statistical passing category, while Myles Gaskin will, very early on, become the Huskies' all-time leading rusher.  While they lost the conference's Defensive Player of the Year in Vita Vea, they still return nine starters from a defense that was fifth in the country in points allowed.  Add it all up, and just like he did in 2016, Chris Petersen is seemingly poised to take the Huskies back to the playoffs
NO. 7 MIAMI
2017 RECORD/FINAL AP RANKING: 10-3/NO. 13
Turnover Chain Mania swept through South Florida last season, and Mark Richt hopes to continue riding that wave on into the 2018 season.  The waters got a little choppy for the Hurricanes at the end of last year, however, as, after starting 2017 10-0, they stumbled to three straight losses.  Included in that skein was a 35-point beatdown at the hands of Clemson in The U's first-ever ACC championship game appearance.  They return seven starters on each side of the ball, and the schedule appears to set up well — they get rival Florida State at home, but do have to travel to Blacksburg to face Virginia Tech in mid-November — for a run at a second consecutive conference title game appearance.
NO. 8 OKLAHOMA
2017 RECORD/FINAL AP RANKING: 12-2/NO. 3
Kyler Murray might have the most difficult job in college football.  Not only is he a one-and-done this year before heading off to commence a career in professional baseball, and whatever distraction that future brings, but he also has to at least attempt to fill the shoes of three-year starter and Heisman Trophy winner Baker Mayfield.  The bad news for OU is that Mayfield wasn't the only significant personnel loss as the Sooners are eighth in the Big 12 and 98th nationally in returning experience according to Phil Steele's formula.  The good news?  OU's schedule is only the 47th toughest according to the same preview magazine guru.  The Nov. 23 matchup with West Virginia in Morgantown could very well prove to be a play-in game for a spot in the Big 12 championship game.
NO. 9 MICHIGAN STATE
2017 RECORD/FINAL AP RANKING: 10-3/NO. 15
Michigan State has won 10 or more games eight times in its history, with six of those coming during Mark Dantonio's time in East Lansing.  One of those six came in 2017 as the Spartans bounced back from a three-win 2016 season to go 10-3 last year.  Even better, they return 19 starters — 10 on offense, nine on defense — which is the most of any team in the Big Ten.  That experienced team will also get to play host to two of its biggest hurdles in the Big Ten East — Michigan on Oct. 20, Ohio State Nov. 10.  A trip to Penn State in mid-October, however, looms large for a Spartans team that has won two of its last three games in Happy Valley.
NO. 10 STANFORD
2017 RECORD/FINAL AP RANKING: 9-5/NO. 20
Bryce Love, he of the 2,000-yard rushing season last year, surprised most observers by eschewing early entry into the 2018 NFL draft and returning to The Farm instead, setting the stage for a potential return to the Pac-12 championship game.   Of the five losses the Cardinal suffered last season, four were dropped by a combined total of 11 points.  Stanford returns the third-most experience in the Pac-12.  The first?  Preseason favorite Washington, which will play host to the Cardinal in an early November matchup that could very well determine the Pac-12 North champion.  Stanford will also have to travel Oregon, another squad that could be in the mix for a division title.
NO. 11: Penn State — Replacing Saquon Barkley could mean more reliance on the right arm of one of the preseason Heisman Trophy favorites, Trace McSorely.
NO. 12: Auburn — The last three times the Tigers began a year in the AP Top 10, they finished unranked (2015), 19th (2014) and unranked (2008). They head into 2018 ranked ninth.
NO. 13: West Virginia — Here you go, Mr. Jefferson Gregory.  Don't say I never did anything for you, even as the Mountaineers' defense frightens me — and not in a good way.
NO. 14: Michigan — Is this the year Jim Harbaugh gets out of the B1G East mid-pack rut the Wolverines have been mired in since he came back to Ann Arbor three seasons ago?
NO. 15: Notre Dame — The last five times the Irish had a chance for back-to-back 10-win seasons, they won four (2016), nine (2013), three (2007), five (2003) and six (1994) games.
NO. 16: Boise State — The highest-ranked Group of Five program could actually finish even higher by season's end as the odds-on favorite to land the G5's New Year's Six bid.
NO. 17: TCU — A Week 3 date with Ohio State in Arlington could offer a glimpse as to how much of a threat the Horned Frogs are to the Sooners in the Big 12.
NO. 18: USC — Replacing Sam Darnold won't be easy, but the Trojans have a defense that can help the school get through some offensive rough patches early on.
NO. 19: Oregon — With Justin Herbert healthy last season, the Ducks averaged nearly 50 points per game and went 6-2.  Without him, they barely averaged 15 ppg in going 1-4.
NO. 20: UCF — Coming off an undefeated season, the Knights' 2018 fate will be determined by how fast first-year coach Josh Heupel assimilates Scott Frost's players into his system.
NO. 21: Mississippi State — The esteemed Phil Steele has MSU returning the second-most experienced team in the SEC behind Florida. That's huge for first-year coach Joe Moorhead.
NO. 22: Texas — I have this sneaking suspicion that, when reviewing the 2018 season, we're going to regret having the Longhorns starting out this low.
NO. 23: Utah — Per Mr. Steele yet again, the Utes' 2018 schedule is the second-toughest in the Pac-12 (behind UCLA) and 10th in the nation overall.
NO. 24: Boston College — With their defense and running game, the Eagles could join the Longhorns as teams that should've started 2018 higher in the polls.
NO. 25: Virginia Tech — The Hokies' schedule is the 103rd-hardest (out of 130 schools) in the country, and the easiest any ACC team will face heading into the new season.