One of my absolute most favorite storylines of any college football offseason is about to become a reality.
Thursday, Furman head football coach Clay Hendrix announced that Harris Roberts will start at quarterback when the FCS school opens the 2018 season against No. 2 Clemson in Death Valley.  Roberts outlasted redshirt freshman JeMar Lincoln in a competition for the starting job that lasted throughout the offseason.
What makes the fifth-year senior's story so unique is that not only is he a Furman football player, but he's also a student at Clemson.
Roberts, elected as a team captain earlier this year, has already graduated from Furman with a bachelor's degree in pre-engineering.  The FCS school, however, does not offer the engineering degree the player wants, so Roberts is enrolled in what's described by the university as a cooperative educational exchange program at Clemson that allows students like Roberts to play a sport at one institution while pursuing their desired degree at another.
At Clemson, Roberts is pursuing a second undergraduate degree, this one in mechanical engineering.  Roberts, in his second year as a student at this year's season-opening football opponent, makes the almost-daily 30-mile commute between the two campuses so that he can attend classes at Clemson and football practices at Furman.
Last season as the primary backup to starter PJ Blazejowski, Roberts completed nine of 13 passes for 110 yards.  He also carried the ball 5 times for another 71 yards, with a long of 44.
The season opener will mark the first start of Roberts' collegiate playing career.  Even as he says he's often parked his vehicle outside of it, it will also mark the first time he's ever stepped foot inside of Memorial Stadium.
Against the second-ranked team in the country.  And facing a defensive line that swept all four first-team All-ACC preseason selections…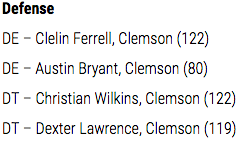 Godspeed, young man.  Godspeed.