The most disappointed fans in college football who didn't lose on Saturday were in Lincoln, Neb., where Huskers fans were sentenced to wait another week to see Scott Frost's long-awaited Big Red coaching debut.
Nebraska's scheduled opener with Akron was rained — or more like thundered — out with no make up scheduled.
On Sunday, Nebraska AD Bill Moos released a statement explaining why the game was canceled, why no Sunday re-do was possible and whether or not the Huskers could get a 12th game on the schedule on such short notice.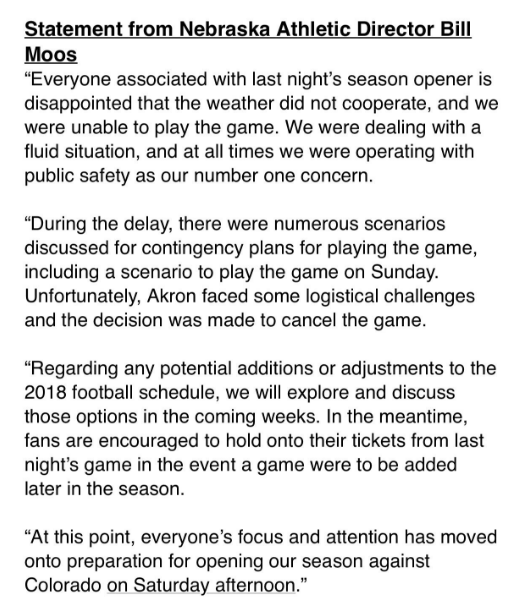 For what it's worth, Nebraska is off on Oct. 27; Akron plays Central Michigan that date. Akron is off Sept. 29; Nebraska hosts Purdue that day. Both teams are presumably free on Dec. 1, but that date figures to only be used if one side (cough, Nebraska) needs a sixth win to reach bowl eligibility.
Nebraska opens the Frost era against Colorado on Saturday (3:30 p.m. ET, ABC), while Akron hosts Morgan State (3:30 p.m. ET, ESPN+).