As is the case each and every season, each and every week, any omission below is not on purpose, it's merely intentional.
CHALK, NOT CHAOS REIGNS
When it comes to chaos, go with my beloved Cleveland Browns' motto: "Wait 'til next year."
With three playoff spots on the line — Oklahoma had already clinched one of the four semifinal berths — the likes of No. 6 Ohio State, No. 7 Stanford and No. 10 North Carolina needed a one-two punch of chaos, the latter which would've been self-created.  No. 1 Clemson needed to lose to UNC and No. 2 Alabama needed to be upset by Florida in order for those three to have any shot; neither happened, and we are thus left with nothing but chalk as far as the eye can see.
The certainty is that Clemson, Alabama, Oklahoma and Michigan State will be chosen by the College Football Playoff selection committee as their four semifinalists.  The great unknown is in which order they will be placed, although it may not be as great as some would like to think.
Starting in reverse, I think that MSU will be slotted in Ohio State's spot from a year ago, the No. 4 seed from which the Buckeyes went on to win the title.  At the top, I think the committee will keep the only 13-0 team in the country, Clemson, at No. 1, with their three wins over Top 10 teams swaying the dozen-member panel.   That would leave 'Bama and OU to fight over the Nos. 2 and 3 spots, although which one is higher-seeded than the other is of little importance.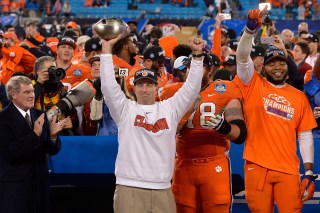 So, for the 2015 semifinals, I'm foreseeing…
ORANGE BOWL
No. 1 Clemson vs. No. 4 Michigan State
COTTON BOWL
No. 2 Alabama vs. No. 3 Oklahoma
I suppose there is the possibility, albeit extremely slight, that the Tide could leapfrog the Tigers and throw a wrench into the projected matchups, but I find it highly, highly unlikely.  You could also make the argument that the Spartans should be ranked higher than the Sooners, although, again and at first blush, I simply didn't see it as OU's résumé trumps MSU's — three wins over teams currently in the CFP Top 25 their last three games?  That's crazy… until you realize MSU can claim wins over four teams in the Top 16: OSU, Michigan, Iowa and Oregon.  And then you dig a little deeper.
The Sooners' lone loss?  To 5-7 Texas.  The Spartans'?  To 5-7 Nebraska on the road.  MSU played 10 bowl-eligible teams (one 5-7) in 13 games, OU nine in 12 games.  Sparty was 4-1 on the road, the Sooners 5-0.  Nine of the Sooners' wins came against Power Five teams; so did nine of the Spartans'.  Seven of those PF wins for OU came by 10 or more points, while three of MSU's were by double-digit margins.  So, which direction will the committee go?
One theory already making the rounds: The group flips the Sooners and Spartans so that OU wouldn't get the advantage of playing so close to home in the Cotton Bowl.  That's a very slippery slope that I hope the group doesn't even think about heading down.  Also potentially in play?  The Sooners with 12 games thanks to the Big 12's lack of a championship game vs. the Spartans and their 13 games.
In the end, perhaps the only real drama remaining is how the Sooners and Spartans are slotted.  While MSU jumping from No. 5 to No. 3 would surprise me, it wouldn't shock me.  With TCU, you just have to go back one year to remember that the committee is not afraid of shaking things up because of that "13th data point."
NEW YEAR'S SIX SELECTIONS
The four playoff slots aren't the only prime bids to be handed out later today as the remaining four New Year's Six bowls will be determined as well.  Much like their playoff counterparts, there might not be much work for the committee to do.
The four big bowls consist of the Sugar Bowl (Big 12 vs. SEC), Rose Bowl (Big Ten vs. Pac-12), and two featuring at-large teams (Fiesta Bowl, Peach Bowl).  The Sugar is pretty well set in cement with Oklahoma State, thanks to Baylor's loss, taking on Ole Miss.
For the Rose, I'm seeing an Iowa-Stanford slugfest, with Ohio State ticketed for the Fiesta.  It's certainly possible that the Hawkeyes and Buckeyes flip spots, although the initial rumblings have the former as a near-lock for Pasadena.
With OSU slotted, the Fiesta — and ESPN — would have to be salivating over pairing them with Notre Dame and the television ratings such a matchup would bring.  Placing OSU in the Fiesta against Houston would give you the mentor vs. protégé angle — UH head coach Tom Herman was Urban Meyer's offensive coordinator in the Buckeyes' title run — the national lure of a Buckeyes-Irish clash would be too much to pass up.
That would leave UH, as the Group of Five invite, in the Peach, very likely against Florida State.
While things are certainly subject to change, especially as it pertains to the Rose Bowl, it appears those will be your 2015-16 New Year's Six matchups.
SUB-.500 REWARDS
"You get a trophy and you get a trophy and you get a trophy…"
Well, not exactly but it's certainly a direction that the FBS is headed when it comes to bowl bids.
Coming into Week 14, there were 75 teams with at least the minimum of six wins to fill the 80 available bowl slots.  With just three teams capable of reaching that six-win threshold this weekend, we already knew there would be 5-7 teams going bowling; the only question was how many.
Kansas State, which would've gone regardless because of APR scores, upset West Virginia to reach six wins.  Georgia State won its fourth game in a row to become eligible.  South Alabama fell late to Appalachian State, meaning three 5-7 teams will qualify for the postseason.
Based on APR scores, which is how they will be selected, Nebraska, Minnesota and San Jose State should be gifted berths from still-to-be-determined bowls Sunday afternoon.  On the 5-7 front, there are some powerful people in the sport who are, rightly, concerned over the direction the postseason is headed.
"There's a proliferation of bowl games and probably a lot of reasons for that. I haven't unpacked them all," SEC commissioner Greg Sankey was quoted as saying. "It doesn't seem to me a healthy direction to continue to encourage 5-7 teams participating in bowl games. It's a reward. I think the phrase in the NCAA manual is 'a deserving winning team.' We were at 6-5. We added a game and went to 6-6. I think that's an appropriate level. I very much want to protect that access point at 6-6 as programs develop and have opportunities to continue their season.
"But I'm not an advocate that 5-7 is where we should end long-term. It was a fix this year. It was a potential for several years we might not be able to fill bowls, but I think we have to look at new strategies for managing the number of bowls."
Given the money involved, however, it may take a borderline miracle to cram the postseason toothpaste back into the tube.
FIRST LEAGUE CROWN SINCE…
Taking a look at the historical perspective of the 2015 conference champions from all 10 FBS leagues.
AAC
Houston was the winner of the inaugural American Athletic Conference championship game, dropping Temple 24-13.  It's the program's first league title since winning Conference USA in 2006.  The Cougars' 11 conference championship's have come in four different leagues: AAC (2015), Conference USA (1996, 2006), SWC (1976, 1978, 1979, 1984) and Missouri Valley (1952, 1956, 1957, 1959).
ACC
Dabo Swinney claimed his second conference championship and first since 2011 with the "controversial" win over North Carolina.  It's also the 15th ACC title won by the Tigers and, with two Southern and four Southern Intercollegiate Athletic Association, the football program claims 21 league crowns overall.
BIG TEN
Michigan State claimed its eighth Big Ten championship and second of the title-game era.  It was also the third won under head coach Mark Dantonio.  Add in two MIAA titles, and the Spartans can claim 10 league crowns overall.
BIG 12
Oklahoma wrapped up its 45th conference championship last weekend, second only to Nebraska's 46.  Of those, 42 have come in one iteration or another of today's Big 12, including 18 in the old Big Eight.  All nine of the titles won in the Big 12 have come under the guidance of Bob Stoops.
CONFERENCE USA
With the win over Southern Miss Saturday, Western Kentucky claimed its first-ever conference championship since becoming an FBS program in 2007 and becoming a Conference USA member in 2014.  It's the Hilltoppers' first title of any kind since winning the Gateway as an FCS school in 2002.
MAC
Bowling Green's win over Northern Illinois Friday night was BGSU's 12th MAC championship and its second the last three years.  The Falcons also claimed five Northwest Ohio Intercollegiate Athletic Association titles between 1921-29.
MOUNTAIN WEST
San Diego State earned its first conference championship since 2012 and its first undisputed title since way back 1986.  SDSU's portfolio is certainly diverse, with conference championships spanning five different leagues: Mountain West (two), WAC (one), Pacific Coast Athletic Conference (five), California Collegiate Athletic Conference (five), Southern California Intercollegiate Athletic Conference (two).
PAC-12
For the third time in the last four years, David Shaw's Stanford Cardinal can proclaim itself the undisputed kings of the Pac-12.  It's also the program's seventh Pac-8/10/12 title and 14th overall.
SEC
In its eighth SEC title game meeting with Florida, Alabama claimed the 25th SEC championship in its storied history, with the first coming in 1933.  The Tide has won six of those titles in the conference championship game, with four of those wins coming under Nick Saban (2009, 2012, 2014, 2015).  Those back-to-back championships are the first for an SEC school since Tennessee in 1997-98.  Add in four Southern Conference titles, and the Tide has claimed 29 league crowns overall.
SUN BELT
Arkansas State's perfect 8-0 mark in league play gave the Red Wolves their fourth conference championship since moving up to the FBS level in 2006.  Those four titles have all come in the past five years and, incredibly, under four different head coaches.  Including their time at the FCS level, ASU has won 10 league titles.
SATURDAY RESET
Below is a list of links for all of the Week 14 gamers/pertinent pieces posted by the CFT crew, placed in one handy and convenient space for you, our beloved and dear readers.
CFT TOP FIVE
A snapshot look at how my ballot would look Sunday if I, ya know, had a real vote.
1. Clemson — The controversy aside — holy hell that's a bad beat for North Carolina — I still think the Tigers are the best team in the country.  Now it's up to them to prove me right.  Or wrong, whatever the case may be. (Last week: No. 1)
Next up: TBD
2. Oklahoma — I said it last week and, with OU not playing this weekend, I'll say it again: there's not a team in the country playing better football than the Sooners right now.  In fact, I was closer to putting them in the top spot than I was seven days ago.  While being a two or three seed doesn't matter much, the committee would/will be doing OU a disservice by putting them anywhere but No. 2 in a few hours. (Last week: No. 3)
Next up: TBD
3. Alabama — The first three quarters or so of play had me contemplating dropping the Tide all the way down to No. 4… only for UA to come back and totally redeem themselves.  Well, not totally as I did drop them down one, but the upcoming Tide-Sooners playoff semifinal, should it go down that way, would be an utterly fascinating matchup of college football blue bloods. (Last week: No. 2)
Next up: TBD
4. Michigan State — Wins over Oregon, Iowa, Ohio State and Iowa are very impressive, perhaps impressive enough that Sparty should be placed higher in my rankings.  Only time will tell on that front, although I really don't think so. (Last week: No. 5)
Next up: TBD
5. Iowa — Some will say the Hawkeyes failed their first real test of the 2015 season, conveniently forgetting the wins over Northwestern and Pittsburgh.  The Hawkeyes may not be the most glamorous team in the country, but they are one of the five best — I will allow, though, that I very nearly put Ohio State here. (Last week: No. 4)
Next up: TBD
(Dropped out: None)
(Others considered: Ohio State)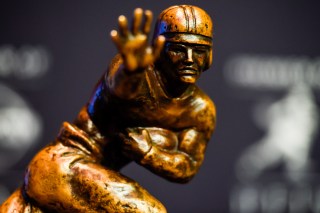 HEISMAN RACE, BY THE NUMBERS
A statistical look at how the top contenders for this year's stiff-armed trophy fared this past week.
Dalvin Cook, RB, Florida State (10-2, No. 9)
Saturday: Team did not play
Season: 211 carries for 1,658 yards (7.9 ypc), 18 touchdowns; 22 receptions for 218 yards, one touchdown
Derrick Henry, RB, Alabama (12-1, No. 2)
Saturday: 44 carries for 189 yards (4.3 ypc), one touchdown
Season: 339 carries for 1,986 yards (5.9 ypc), 23 touchdowns; 10 receptions for 97 yards
Baker Mayfield, QB, Oklahoma (11-1, No. 3)
Saturday: Team did not play
Season: 243-354 (68.6%), 3,389 yards, 35 touchdowns, five interceptions; 131 carries for 420 yards (3.2 ypc), seven touchdowns
Christian McCaffrey, RB, Stanford (11-2, No. 7)
Saturday: 32 carries for 207 yards (6.5 ypc), one touchdown; four receptions for 105 yards, one touchdown; five kick returns for 120 yards; two punt returns for 29 yards; 1-1 passing (100%), 11 yards, one touchdown
Season: 319 carries for 1,847 yards (5.8 ypc), eight touchdowns; 41 receptions for 540 yards, four touchdowns; 36 kick returns for 1,042 yards, one touchdown; 14 punt returns for 67 yards; 2-3 passing (66.7%), 39 yards, two touchdowns
Deshaun Watson, QB, Clemson (13-0, No. 1)
Saturday: 26-42 (61.9), 289 yards, three touchdowns; one interception; 24 carries for 131 yards (5.5 ypc), two touchdowns
Season: 287-413 (69.5%), 3,512 yards, 30 touchdowns, 11 interceptions; 163 carries for 887 yards (5.4 ypc), 11 touchdowns
(Dropped out: none)
(Added: none)
JT's Personal Top Fivesman
1. Henry — Just give him his damn hardware already as we all know that, in the minds of the people who matter anyway, he won it with his performance Saturday in Atlanta.   Probably.  Maybe.  Well, not really.  Coming into Week 14, Henry winning seemed to be a lock; exiting it, it seems like the duo of Watson and, especially, McCaffrey are closing fast and are very much making a race out of this. (Last week: No. 1)
2. McCaffrey — If someone were to put this all-around machine No. 1 on their ballot — and I'm guessing there will be multiple West Coast voters doing just that — I'd have no issue whatsoever with it.  In my book, you can put Nos. 1-4 in a hat and pull their names out and not be "wrong." (Last week: 4)
3. Cook — It was only begrudgingly, and because of that superhuman effort in the Pac-12 title game, that I dropped the sophomore from what had previously been his standard perch at No. 2.  It'd be a shame if Cook didn't get a trip to the Big Apple out of his season, although I get the feeling that will end up being the case.  (Last week: No. 2)
4. Watson — It's tough leaving this supremely-talented sophomore out of the top three, but only three spots are available so somebody's getting left out.  Watson, McCaffrey and Cook will all be entering 2016 as juniors, and all three will headline every Heisman watch list that's pushed out between now and September. (Last week: No. 3)
5. Mayfield — The OU junior came to the Heisman discussion late and it could very well have cost him mightily in the vote.  Still, he deserves to be in the discussion given the season he's had. (Last week: 5)
MARK, MIKE, WHAT'S THE DIFFERENCE?
In an unbelievably bold move, the administration at Michigan State allowed the identical twin brother of its head coach to lead the team in the Big Ten championship game against Iowa.  At least, that's what the FOX intro to the title game would have you believe.
C'mon man.  First ESPN gets the man's name wrong earlier this year, now FOX.  How hard is it to know that MSU's head coach's name is Marc Dantonio?
PUT 'EM UP, PUT 'EM UP
On a couple of occasions, things got a little chippy during the Texas-Baylor game, including one bench-clearing incident.  During that incident, Longhorns defensive back Jermaine Roberts was ready to roll — until the crowd started rolling in on him.
Which reminds me…
AIR FARCE
Mere words are not enough to describe the state of Florida's anemic passing "attack."  Thus, I'll allow a few video seconds from the SEC championship game loss to Alabama to explain it.
Yep, that just about sums it up.  Right, Coach McElwain?
TOTING FAT GUY!
An oversized gentleman carrying a pigskin in a real game of tackle football?  You're damn right I'll watch.
TWEET OF THE DAY
Unless you have no clue what one of the greatest movies of all-time, "Dumb and Dumber," is, this one is pretty self-explanatory.
ADELPHI PROUD
I picked this as the GameDay sign of the day…
… simply so I can showcase the worst. First.  Pitch.  Ever.
HE SAID IT
"That's nothing.  That was a fight in a mall.  I've been in a fight in an alley." — Baylor head coach Art Briles, on the bench-clearing tiff with Texas.
HE SAID IT, THE SEQUEL
"I can't say enough about our program, our young men. They are the ones out there battling. I'm so proud of them. They could have come in here and wilted under this." — Georgia State head coach Trent Miles, after watching his team become bowl-eligible at 6-6 after winning just one game combined the past two seasons.
HE SAID IT, THE THREEQUEL
"There's no team I've ever coaches that I wanted more to win a championship than this bunch." — Nick Saban, after watching Alabama take apart Florida in the SEC championship game and punch its ticket to the College Football Playoff.
HE SAID IT, BONUS EDITION
"Shoot guys, they won the line of scrimmage.  That's why we're getting on the road (to recruit) as soon as we leave here." — Florida head coach Jim McElwain, after watching his Gators get taken apart.
HE SAID IT, THE FINAL ONE
"Holy cow, that's just a young man making a really bad play." — Dabo Swinney, explaining his punter going rogue on a fake punt that failed miserably in the ACC championship game.
HE WENT THERE
"I had a chance to look at it, and they missed it. They were wrong. That's all I'm going to say about it. They were wrong. It isn't going to change. It doesn't matter one way or the other, so I'm going to have to swallow it like a man and just take it." — Larry Fedora, on the unbelievably bad offsides call on an onside kick that cost his North Carolina team the opportunity to tie Clemson late in the ACC championship game.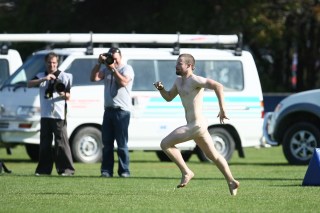 STREAKING
Clemson's 16-game winning streak is the longest in the country, the only FBS team currently with a streak in the double digits.  Alabama and San Diego State will get the chance to join that select club this postseason as they've now won nine in a row, while Arkansas State has won eight straight.  Oregon has now won six consecutive games as well.
On the other side of the won-loss ledger, the "proud" owner of the nation's longest losing streak is Kansas at 15 straight, followed by UCF (13), Charlotte (10), Eastern Michigan (10), Oregon State (eight) and Boston College (eight).
S.I.D. NOTE OF THE WEEK I
Texas is one of only seven schools nationally (Boise State, Bowling Green, Cincinnati, TCU, Toledo and Tulane) with both a rushing and passing play of at least 84 yards this season. The Horns and TCU are the only Power Five Conference programs that can make that claim.  Texas is the only Power Five team, and joins Toledo as the only FBS teams with three plays from scrimmage of 84 yards or longer.
S.I.D. NOTE OF THE WEEK II
Florida's Jim McElwain is the third first-year head coach in conference history, and first from the Eastern Division, to reach the SEC championship game, joining LSU's Les Miles (2005, lost to Georgia, 34-14) and Gus Malzhan (2013, defeated Missouri, 59-42).  McElwain is also the first head coach in Gator history to win 10 or more games in his first season with the program.
S.I.D. NOTE OF THE WEEK III
Jordan Canzeri (256), Akrum Wadley (204), and LeShun Daniels (195) have each rushed for at least 195 yards in a single game this season, making Iowa the first FBS team since LSU in 1997 to have at least three different players rush for 195-plus yards in a single game in the same season.
S.I.D NOTE OF THE WEEK IV
USC cornerback/wide receiver/return specialist Adoree' Jackson is the only player in the country with 300 yards receiving, 500 yards in kick returns, 200 punt return yards and 20 tackles.
S.I.D. NOTE OF THE WEEK V
With their sixth-straight West Division title, Northern Illinois has won more division crowns (seven) than any other current or former member of the Mid-American Conference. Trailing NIU are Toledo and Miami with five and four division titles, respectively. Bowling Green has won four division championships, Central Michigan and Ohio have each won three, while Akron, Ball State, Buffalo and Kent State each have one first-place finish to their credit.
OFF THE CHARTS
Courtesy of the Michigan State sports information department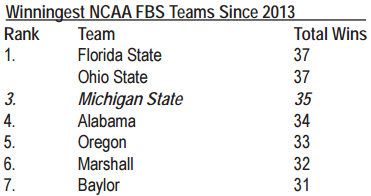 OFF THE CHARTS, PART II
Courtesy of the Mountain West Conference sports information department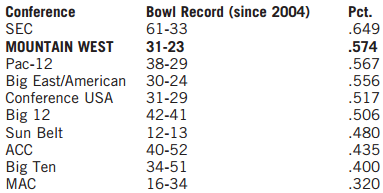 OFF THE CHARTS, PART III
Courtesy of the North Carolina sports information department

OFF THE CHARTS, PART IV
Courtesy of the Alabama sports information department
OFF THE CHARTS, PART V
Courtesy of the Houston sports information department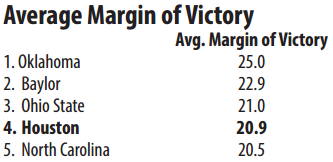 OFF THE CHARTS, PART VI
Courtesy of the Southern Miss sports information department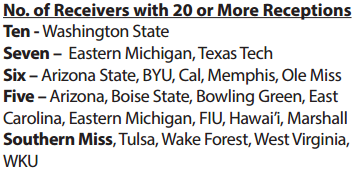 SAY WHAT?
Since 2009, only four times has a quarterback averaged over 300 yards per game passing and 50 rushing. TCU's Trevone Boykin has done it twice (2014, 2015). The only others to accomplish the feat were Heisman Trophy winners Robert Griffin III and Johnny Manziel. Boykin has a 22-2 record as a starting quarterback during that two-year stretch.
YOU DON'T SAY
With its 55-16 victory over Penn State in the home finale, Michigan State has posted at least 11 wins five times in the last six seasons (11 in 2010, 11 in 2011, 13 in 2013, 11 in 2014). Prior to Mark Dantonio's arrival, the Spartans had just two 10-win seasons in school history (1965, 1999).
DULY NOTED
Entering Week 14, North Carolina was averaging 7.46 yards per play, which ranked second in the country behind only Baylor at 7.47. The Tar Heels' running game was averaging 6.0 yards per carry, which is third nationally.
NOTE OF NOTE
Below are the percentages of teams in each conference that qualified for a bowl game.  The list includes the projected two 5-7 teams from the Big Ten and one from the MWC.
Pac-12 (10 of 12) ………………83.3%
Big Ten (10 of 14)………………..71.4%
SEC (10 of 14) …………………..71.4%
Big 12 (7 of 10) …………………70.0%
American (8 of 12)……………..66.7%
Mountain West (8 of 12)………66.7%
ACC (9 of 14)…………………….64.3%
MAC (7 of 13)……………………53.8%
C-USA (5 of 13) ………………….38.5%
Sunbelt (4 of 11)………………..36.4%
DID YOU KNOW THAT…
… with exactly 4,700 passing yards, Bowling Green's Matt Johnson broke Ben Roethlisberger's single-season MAC record of 4,486 yards for Miami (OH) in 2003?  Johnson also has 43 touchdown passes this season, breaking the conference's single-season record of 41 he previously shared with former BGSU quarterback Omar Jacobs.
… Southern Miss this weekend became just the second FBS team to have a 4,000-yard passer (Nick Mullens) and two 1,000-yard rushers (Jalen Richard, Ito Smith) in the same season?  The only other team to accomplish that feat was Oklahoma, with quarterback Sam Bradford and running backs Chris Brown and DeMarco Murray.
… with 3,496 all-purpose yards in 2015, Stanford's Christian McCaffrey is just the third player in FBS history to post 3,000 or more yards in a single season, joining Oklahoma State's Barry Sanders (3,250 yards in 1988) and Western Kentucky's Antonio Andrews (3,161 yards in 2012)?  The numbers for McCaffrey and Andrews were accumulated in 13 games — McCaffrey still has one more game remaining — while Sanders amazingly put up his yardage in just 11 games in one of the greatest single seasons in college football history.
… Derrick Henry's 1,986 yards rushing breaks the SEC single-season record of 1,891 set by Georgia's Herschel Walker in 1981?  It should be noted that Walker reached his total in two fewer games than Henry.  Then again, Walker had 385 carries, Henry has 339.
… Oregon running back Royce Freeman finished the regular season as the only FBS player to eclipse 100 scrimmage yards in every one of his team's games this year?
… Baylor wide receiver Lynx Hawthorne, pressed into service as the Bears' fourth quarterback, has an older brother named Brixx?  And, yes, the I'm taking full advantage of this factoid because I get to type the name "Brixx" and not have it involve an adult film star.
… Houston's Tom Herman is just the fifth coach in NCAA history to start a career with wins in each of his first 10 games, joining Boise State's Chris Petersen (2006), Miami's Larry Coker (2001), Penn's George Woodruff (1892) and Yale's Walter Camp (1888)?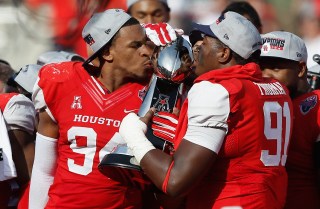 … Houston and Temple played in the first-ever American Athletic Conference football game in September of 2013 and also played each other in the first-ever league championship game Saturday?  The Cougars won both of those games by a combined score of 46-26.
… Memphis has won nine games or more in back-to-back seasons for the first time since 1949 and 1950?
… the 23 combined victories by Clemson (12-0) and North Carolina (11-1) entering the weekend is the highest total of wins for the participating teams in the 11 year history of the ACC championship game? The 23 combined wins betters the 22 in 2013 (Florida State and Duke) and matched in 2014 (Florida State and Georgia Tech).
… Friday Northern Illinois played in its sixth straight MAC championship game, tying Marshall (1997-2002) for most consecutive appearances in the game?  Florida appeared in five straight SEC title tilts from 1992-96, the only other FBS team with a similar streak.  The NIU-Bowling Green title game was also the third straight time the two have played each other in the contest, the first time that's ever happened.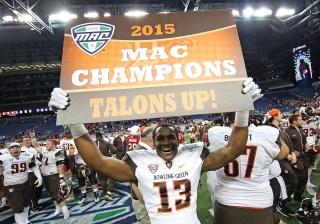 … Bowling Green is the only team in the country to have six road wins this season? BGSU was one of just 10 FBS teams that didn't lose a true road game in 2015, with the others being Alabama, Clemson, Iowa, North Carolina, Ohio State, Oklahoma, Oklahoma State, Toledo and Wisconsin. BGSU's game against Tennessee was considered a neutral-site affair, as was the MAC championship game.
… the finishes to the 2015 season for Georgia State and Kansas State marked just the sixth and seventh times in the 12-game schedule era (2006) that a team advanced to a bowl after staving off elimination (2-6 or 3-6 records) in at least three straight games?  The Panthers started the season 2-6 before ripping out off four straight wins to close out the year and become bowl-eligible.  The Wildcats, meanwhile, won three straight after starting the year 3-6.
… Appalachian State has won 10 games this season, becoming the fourth Sun Belt Conference team to reach double-digit wins in a single season?  The other three were Middle Tennessee State in 2009 and Arkansas State in 2011 and 2013.  Those squads finished 10-3; with a bowl game remaining, the Mountaineers can set a league record for wins in a season.
IN CLOSING…
I just wanted to extend a hearty and heartfelt thank you to all of our readers for making this the highest-trafficked season during my seven years at CFT.  Specifically, though, I'd like to thank the readers of the Fifth Quarter.  This is easily the most rewarding feature I work on here, and the fact that so many of you enjoy it makes it that much more enjoyable.  This, unfortunately, will serve as the last Fifth Quarter of the 2015 season, so, at least when it comes to this space, I'll see y'all next September after Week 1 of the 2016 season.