As is the case each and every season, each and every week, any omission below is not on purpose, it's merely intentional.
PLAYOFF TIMES, THEY ARE A CHANGIN'?
It wasn't the earth-shattering, landscape-shifting tumult that it could've been, but it was enough to, once again, shake the playoff picture up all over — especially at the latter half of the Top 10.
Stanford, No. 7 in the most recent College Football Playoff rankings, suffered its second loss of the season while No. 10 Utah did the same, effectively putting the Pac-12 on a precarious playoff precipice if not outright pushing the Power Five league over the ledge.  No. 9 LSU, coming off the loss to Alabama, saw its playoff hopes go up in smoke with an embarrassing loss to Arkansas.
Even more impactful, No. 6 Baylor fell from the ranks of the unbeatens to a No. 12 Oklahoma squad that will now be very much in the thick of the playoff chase.
That said, the remaining teams in the most recent Top 10 held serve, including the first five.  To varying degrees,  No. 1 Clemson, No. 3 Ohio State, No. 4 Notre Dame, No. 5 Iowa and No. 8 Oklahoma State struggled in closer-than-expected wins.  The key word there, of course, is "wins."
Conversely, No. 2 'Bama put together the most impressive performance of Week 11, a 31-7 shellacking of No. 17 Mississippi State in Starkville.  Along with the Sooners, the Tide may have gained the most tonight in the eyes of the committee.
Will it be enough, though, to leapfrog an unbeaten Clemson into the No. 1 hole?  I think it will, but it wouldn't shock me either way.  That said, and armed with the knowledge that (pats self on back) I nailed the committee's top four last week (pulls muscle patting self on back), here are the four teams I believe will occupy the first four slots when the newest rankings, the third of the year, are released this Tuesday.
Alabama
Clemson
Ohio State
Notre Dame
For some perspective, here is how the top four looked after the third release of last year's CFP Top 25:
Mississippi State
Oregon
Florida State
TCU
Neither Mississippi State nor TCU would end up qualifying for one of the four playoff spots.  The two that did, Alabama and Ohio State, were No. 5 and No,. 8, respectively, with four releases remaining.  With three releases remaining last year, which is what's left this year, Alabama, Oregon and Florida State were Nos. 1-3, while Ohio State was No. 6 (Mississippi State was No. 4).
Looking ahead to next weekend, the sport could be in for yet another significant shakeup as Ohio State will host No. 13 Michigan State; Oklahoma State will see Baylor invade Stillwater; Oklahoma will square off with a wounded and 15th-ranked TCU in Norman; and No. 14 Michigan will take a dangerous road trip to Penn State.
CONFERENCE CHASE CLARITY
With Clemson (ACC Atlantic) and Florida (SEC East) clinching in Week 10, we entered Week 11 with seven Power Five divisions/conference up for grabs.  Exiting Week 11, no divisions were decided, but more than a couple came closer to being claimed.
Below are the remaining scenarios for each P5 conference.
ACC
Coastal
Thanks to 6-0 North Carolina's win over 5-1 Pittsburgh earlier this year, the Tar Heels have total control of the division.  In order to claim its first-ever spot in the ACC championship game, all UNC needs to do is either beat Virginia Tech next weekend or North Carolina State in the regular-season finale the following weekend. For Pitt, they need UNC to lose both of those games and beat Louisville in Week 12 and Miami in Week 13.
BIG TEN
East
Ohio State (6-0), Michigan State (5-1) and Michigan (5-1) all held serve with conference wins in Week 11.  If OSU wins both, they're back in the Big Ten championship game.  An MSU win over OSU this Saturday and over Penn State in the final game of the regular season gives the division to the Spartans.  UM, because of its loss to MSU earlier in the season, needs their in-state rivals to lose to OSU and then beat the Buckeyes themselves the week after.
West
At 6-0, and with a win already over 5-1 Wisconsin, Iowa needs to simply win one of its two remaining games — vs. Purdue, at Nebraska — to claim its first-ever West title.  UW can still win the West, provided it wins out (at Maryland, vs. Northwestern) while the undefeated Hawkeyes lose out.  A three-way tie between Iowa, Wisconsin and Northwestern (4-2) is possible, but the tiebreaker would go to the Hawkeyes based on their 2-0 record against the other two.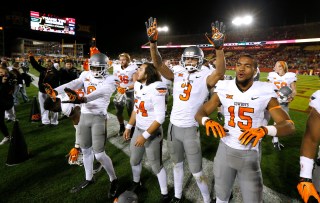 BIG 12
You'd be lying if you said you thought before the season began that the road to the Big 12 title would run through Stillwater, yet that's exactly where we stand with three weeks left in the regular season.  All that stands between Oklahoma State and a conference championship — and a likely punched playoff ticket — are two rather sizable obstacles: Baylor in Week 12, Oklahoma in Week 13.  An OSU loss in either of those, however, would send the conference plummeting into chaos.  Or, it'd clear things up if it's the Sooners, more respected by the committee, who win out.  As has been the case throughout the first 11 weeks of the season, this conference won't be decided until the end of November — unless OU loses to TCU and OSU drops BU in Week 12, of course, which would hand the Big 12 to the Cowboys.
PAC-12
North
Stanford claims the North if it beats Cal in the Big Game.  Oregon can claim the division with a Stanford loss and wins over USC and Oregon State — in Eugene — the next two weeks.
South
With 4-3 UCLA's stunning last-second loss to Washington State and 5-2 Utah's double-overtime loss to Arizona, it's 5-2 USC that suddenly controls its own destiny in the South thanks to the Trojans' Oct. 24 win over the Utes.  Wins over Oregon and UCLA the next two Saturdays would give USC its first berth in the Pac-12 title game.  Utah will need to win out against UCLA and Colorado and have USC lose at least once to win the division.  UCLA would need to win out against Utah and USC and have both of those teams lose out in order to claim the South outright.  A three-way tie is also a possibility as USC, Utah and UCLA could all finish 6-3.  In that scenario, UCLA would win the North based on a 2-0 record vs. the other two.
SEC
West
For 6-1 Alabama, it's simple: Beat Auburn, and 'Bama is headed back to the SEC title game as West champs.  A loss in the Iron Bowl, though?  Ole Miss could claim the West with wins over LSU in Week 12 and Mississippi State in the Egg Bowl in Week 13.  Arkansas can still claim a share of the division, but can't earn a spot in the conference title game as they would lose out on a three-way tiebreaker with Ole Miss and Alabama and a two-way tiebreaker with 'Bama.
SATURDAY RESET
Below is a list of links for all of the Week 11 gamers/pertinent pieces posted by the CFT crew, placed in one handy and convenient space for you, our beloved and dear readers.
CFT TOP FIVE
A snapshot look at how my ballot would look Sunday if I, ya know, had a real vote.
1. Clemson — After the big win over Florida State, Clemson might've been due for a letdown against Syracuse.  They were, but they still managed to take care of business and chugged along its unbeaten way. (Last week: No. 1)
Next up: vs. Wake Forest, Nov. 21
2. Alabama — The ass-whoopin' 'Bama put on Mississippi State, coupled with the struggles of the team that was right above them in my eyes, was enough for me to get in lock-step with the College Football Playoff committee.  As was the case with the Buckeyes around this time last season, I don't know if there's any team in the country that wants to face the Tide right now. (Last week: No. 3)
Next up: vs. Charleston Southern, Nov. 21
3. Ohio State — With games coming up against Michigan State and Michigan that will go a long way in determining their postseason fate, you can't really blame OSU if they were peeking ahead.  Based on how they played, for the most part, against Illinois, that peek was actually a full-blown stare. (Last week: No. 2)
Next up: vs. No. 13 Michigan State, Nov. 21
4. Notre Dame — Much like with Clemson the week before, I'm relenting on the Golden Domers and tossing them into my top-five mix.  The Irish doesn't do anything that really stands out, yet they do almost everything very well.  They're a fascinating team, and one that you should root for to succeed if you want to see the playoff field expand sooner rather than later. (Last week: NR)
Next up: vs. Boston College, Nov. 28
5. Oklahoma State — The Big 12 OSU didn't look good against a very below-average Iowa State squad, although, in fairness, there's something about Ames that makes the Cowboys go off the rails.  They won in the dictionary trap game on the road, though, and that's all that really matters.  Given all of the tumult above them, OSU should rise in the CFP rankings this Tuesday.  Here, not so much. (Last week: No. 5)
Next up: vs. No. 6 Baylor, Nov. 21
(Dropped out: No. 4 Baylor)
(Others considered: Iowa, Oklahoma)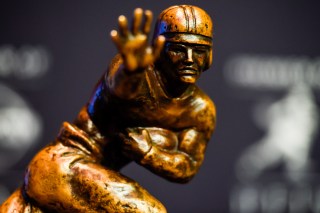 HEISMAN RACE, BY THE NUMBERS
A statistical look at how the top contenders for this year's stiff-armed trophy fared this past week.
Dalvin Cook, RB, Florida State (8-2, No. 16)
Saturday: 22 carries for 138 yards, two touchdowns; two receptions for 17 yards
Season: 170 carries for 1,369 yards (8.1 ypc), 14 touchdowns; 18 receptions for 202 yards, one touchdown
Ezekiel Elliott, RB, Ohio State (10-0, No. 3)
Saturday: 27 carries for 181 yards, two touchdowns
Season: 220 carries for 1,425 yards (6.5 ypc), 16 touchdowns; 24 receptions for 169 yards
Leonard Fournette, RB, LSU (7-2, No. 9)
Saturday: 19 carries for 91 yards (4.8 ypc), one touchdown; three receptions for 36 yards
Season: 214 carries for 1,474 yards (6.9 ypc), 17 touchdowns; 10 receptions for 94 yards
Derrick Henry, RB, Alabama (9-1, No. 2)
Saturday: 22 carries for 204 yards (9.3 ypc), two touchdowns; one reception for zero yards
Season: 240 carries for 1,458 yards (6.1 ypc), 19 touchdowns; nine receptions for 69 yards
Matt Johnson, QB, Bowling Green (8-2, NR)
Wednesday: 23-41 (56.1), 269 yards, three touchdowns, one interception; 10 carries for zero yards
Season: 291-421 (69.1%), 3,955 yards, 36 touchdowns, four interceptions; 87 carries for 147 yards, three touchdowns
Baker Mayfield, QB, Oklahoma (9-1, No. 12)
Saturday: 24-34 (70.6%), three touchdowns, one interception; 15 carries for 76 yards, one touchdown
Season: 217-309 (70.2%), 31, five interceptions; 110 carries for 301 yards, six touchdowns
Christian McCaffrey, RB, Stanford (8-2, No. 7)
Saturday: 33 carries for 147 yards (4.5 ypc), one touchdown; five receptions for 42 yards; two kick returns for 60 yards; one punt return for minus-five yards; 0-1 passing (0%)
Season: 231 carries for 1,354 yards (6.1 ypc), seven touchdowns; 33 receptions for 367 yards, two touchdowns; 23 kick returns for 665 yards; 11 punt returns for 32 yards; 1-2 passing (50%), 28 yards, one touchdown
Deshaun Watson, QB, Clemson (10-0, No. 1)
Saturday: 34-47 (72.3%), 360 yards, two touchdowns, one interception; 14 carries for 105 yards, one touchdown
Season: 216-308 (70.1%), 2,593 yards, 23 touchdowns, eight interceptions; 108 carries for 598 yards (5.5 ypc), five touchdowns
(Dropped out: TCU QB Trevone Boykin, Baylor WR Corey Coleman)
(Added: Mayfield, Watson)
JT's Personal Top Fivesman
1. Henry — Going from darkhorse to two straight dominant performances against ranked teams puts the talented running back in the stiff-arm driver's seat. (Last week: No. 3)
2. Cook — If Cook reads this, he'll think I have him rated way too low.  Don't believe me?  Scroll down to this week's "he said its." (Last week: No. 2)
3. Watson — When you're the quarterback of the No. 1 team in the country, and you put up a career-high of 461 yards of total offense, you have earned yourself a spot. (Last week: NR)
4. Elliott — Were it not for Elliott, the Buckeyes could very well be a two-loss team.  That said, it's hard justifying placing him over anyone else currently above him. Games against Michigan State and Michigan, though, could change that. (Last week: NR)
5. Fournette — The exact opposite of Henry as Fournette was the hands-down Heisman front-runner before back-to-back games that saw him run for a total of 121 yards puts him on the verge of missing out on an invitation to New York City altogether.  I still say he's the best player in the country, but the stat line doesn't lie. (Last week: No. 1)
PERSPECTIVE
Normally, the ESPN College GameDay Twitter feed is all about the on-location signs that litter the crowd, tweeting out the best and the funniest and wittiest throughout Saturday morning.  After the horror in Paris Friday night, signage seemed a little too trivial, save for one.
#PRAYFORPARIS
If the Army football players running out onto the field prior to its game against Tulane with both the American and French flags flying doesn't give you chills and/or goosebumps, you have no soul.
HELMET OF THE DAY
These are almost too bad-ass for words, with "these" being UCLA's "Frog Men" helmets worn this weekend to honor the Navy SEALs around Veteran's Day.
HOCKEY ASSIST OF THE YEAR
LSU pulled out your standard no-look-touch-pass-for-a-score play against Arkansas.  In fact, the only thing missing was a stick.  And a net.  And a goalie.  And some ice.  Never mind the hockey analogy; just watch the clip.
AWWW, SNAP
You ever have that feeling where there's a pair of hands between your legs when in reality there isn't?  Welcome to Texas center Taylor Doyle's world.
THE ROUND MOUND OF TOUCHDOWNS
I'm a fan of big-boned touchdowns, thus I'm a huge fan, so to speak, of Baylor's LaQuan McGowan.  This is sheer poetry — and size — in motion as the, ahem, tight end notched his third career touchdown.
STATE OF KANSAS FOOTBALL
Kansas has lost an FBS-worst 13 straight games.  They've also lost 38 straight games played away from Lawrence and 31 consecutive conference road games.  As if that's not bad enough, and just to add visual insult to on-field misery, KU's equipment personnel can't even get their Big 12 helmet stickers correct.  Either that or it was a bassackwards tribute to the old Big 8.
SORRY, CHARLIE
Following Texas' win over West Virginia last season, Charlie Strong, and with the aid of his players, did some crowd surfing in the postgame locker room.  A year later, following the Mountaineers' win over the Longhorns, his counterpart, Dana Holgorsen, responded in kind.
GRIDIRON GRAPPLIN'
On most fall weekend afternoons with the Iowa football team not in action, Kinnick Stadium sits empty.  As this is Iowa, and they're really into their grappling, they decided to hold a wrestling match on the football field and in one of the stadium's red zones.  And it actually looks pretty damn cool.
It was a quick turnaround for the stadium crew as the unbeaten Hawkeyes took the field a few hours later for an 8 p.m. ET kickoff against Minnesota.
GROUND CREW SMACK
North Texas was paid $1 million for its trip to Knoxville to Tennessee.  Suffice to say, the Mean Green wasn't fond of the playing conditions inside Neyland Stadium, and perhaps thought UT should've put some of that guarantee toward field repairs.
https://twitter.com/MeanGreenFB/status/665589896854249472/photo/1
HE SAID IT
"It felt amazing. It felt better than it does in here right now. It's too hot in here right now. I was sweating out there. It was a beautiful day out. Thank God for that. I've never had a November in Iowa, from what I can remember, that has been this nice." — Iowa wrestler Thomas Gilman, on what it was like to wrestle outside at Kinnick Stadium.
HE SAID IT, THE SEQUEL
"Once again, I'm sure television loves us." — Oklahoma State head coach Mike Gundy, following a comeback win over Iowa State that was fueled by a pair of fourth-quarter touchdowns.
HE SAID IT, THE THREEQUEL
"I know that if I had any choice at tailback in the country, I got mine. I think I speak on behalf of the team. He's a tough guy." — Ohio State head coach Urban Meyer, after watching Ezekiel Elliott rush for 100-plus yards for the 15th straight game.
HE SAID IT, BONUS EDITION
"I just feel like I run the ball how I run the ball. If I keep doing me, because I'm Dalvin. I am one of them great running backs that are in college football." — Florida State running back Dalvin Cook, humbly stating his Heisman case.
HE SAID IT, THE FINAL ONE
"Just want to comment about the environment. The fans were fantastic. Sold out, black-out crowd, and the energy was present from the time we came up pregame. Just an electric atmosphere. To be involved in this program 26 years now, these are the things our players will remember their entire lives. So just want to compliment our fans and thank them." — Iowa head coach Kirk Ferentz, following a five-point win over Minnesota at Kinnick Stadium.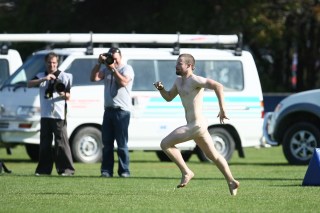 STREAKING
With 10 wins to start the 2015 season, Ohio State has pushed its nation's best winning streak to 23 straight.  Clemson (13), Oklahoma State (12), Houston (10) and Iowa (10) are the only other FBS teams with double-digit win streaks, while North Carolina has won nine straight.
On the other side of the won-loss ledger, the "proud" owner of the nation's longest losing streak is Kansas at 13 straight, followed by UCF (11), Eastern Michigan (nine), Louisiana-Monroe (eight), SMU (eight), Charlotte (eight), Hawaii (eight), Maryland (seven), Boston College (six) and Oregon State (seven).
GOING BOWLING
Entering Week 11, there were 51 teams that had secured bowl eligibility.  Exiting the weekend, there are now 62 teams eligible for the postseason with three weeks left in the regular season.  The newest additions this week total 11: Arizona, Arkansas, Cal, Cincinnati, Louisville, Nevada, New Mexico, Ohio, Tennessee, Texas Tech and USF.
There are 40 bowl games this season — counting the two College Football Playoff semifinals — meaning 80 teams will need to reach the six-win threshold in order for teams with sub-.500 records to remain where they belong: at home during the postseason.
MY FIRST (AND LAST) ANNUAL REMINDER THAT…
UMass football will be leaving the MAC following the conclusion of the 2015 season.  The Minutemen will play as football independents in 2016 and 2017 and then reassess their situation, deciding whether to remain independent, move to another conference (AAC, Conference USA, Sun Belt are possibilities) or drop back down to the FCS level.
S.I.D. NOTE OF THE WEEK I
Alabama has played more games against Mississippi State than any other opponent. The two border rivals met for the 100th time on the gridiron Saturday. Tennessee (98) and Vanderbilt (82) are the only other opponents 'Bama has played at least 80 times.
S.I.D. NOTE OF THE WEEK II
Virginia Tech head coach Frank Beamer has 278 career wins, the most of any active FBS head coach and sixth on the NCAA's FBS all-time list. Beamer trails only the icons of the game in career wins in Joe Paterno (409), Bobby Bowden (377), Paul "Bear" Bryant (323), Glenn "Pop" Warner (319) and Amos Alonzo Stagg (314). To give some perspective, Florida State's Jimbo Fisher has averaged 11.6 wins a year in his first five years as a head coach, the best mark in league history. Fisher would have to average 11.6 wins a year for the next 19 years, or until 2034, to pass Beamer on the all-time wins list.
S.I.D. NOTE OF THE WEEK III
Of the 128 FBS teams, just eight players with junior eligibility have received their undergraduate degree and are now pursuing their Master's:

S.I.D NOTE OF THE WEEK IV
Baylor (8-1), Oklahoma (9-1), Oklahoma State (10-0) and TCU (9-1) of the Big 12 are a combined 36-3. No other Power Five conference has four teams with one-or-fewer losses.
S.I.D. NOTE OF THE WEEK V
Since 2012, Trevone Boykin tops all players nationally in percentage (56.8) of his team's total offense (12,613/22,199). No one else is above 50 percent.
S.I.D. NOTE OF THE WEEK VI
Ohio State has won 17 consecutive true road games (games on an opponent's home field), the longest such streak in the nation and extending the school record. The Buckeyes are undefeated, a perfect 17-0, in road games under head coach Urban Meyer, or since the start of the 2012 season.
OFF THE CHARTS
Courtesy of the Alabama sports information department

OFF THE CHARTS, PART II
Courtesy of the UT-San Antonio sports information department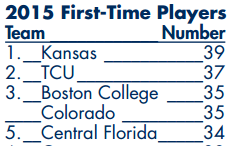 OFF THE CHARTS, PART III
Courtesy of the Ohio State sports information department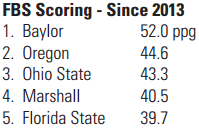 OFF THE CHARTS, PART IV
Courtesy of the Temple sports information department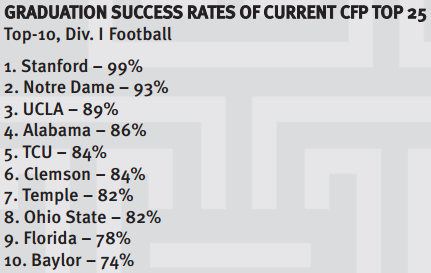 OFF THE CHARTS, PART V
Courtesy of the Louisiana Tech sports information department

SAY WHAT?
Baylor can join BYU (1983-85) and Houston (1966-68) as the only FBS teams in history to lead the country in total offense in three consecutive years.  The Bears led in that category in 2013 and 2014, and came into Week 11 leading with 665.6 yards per game (TCU was No. 2 at 621.4 ypg).  BU put up 416 yards in the loss to Oklahoma Saturday, although that shouldn't jeopardize their standing entering Week 12 as TCU was held over 200 yards under their average.
YOU DON'T SAY
During Frank Beamer's 28 previous years at Virginia Tech, 20 different power conference schools have had six or more head coaches, including five schools in the ACC: Pittsburgh (8), Boston College (7), Louisville (7), North Carolina (7) and Miami (6). Three schools — Pitt, Stanford and Vanderbilt — have had eight different coaches during the time Beamer has been the head coach at Tech.
DULY NOTED
Utah's Devontae Booker has handled the football on 305 plays this season, the most of any FBS player.  Stanford running back Christian McCaffrey and San Jose State's Tyler Ervin are next with 300 and 292, respectively.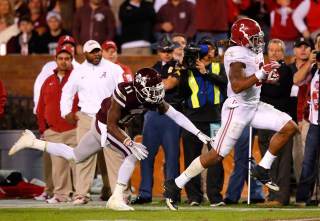 DID YOU KNOW THAT
… with 204 yards against Mississippi State and 210 against LSU last week, Derrick Henry became the first player in Alabama history to rush for 200-plus yards in back-to-back games?  He also became just the second Tide back to rush for 200 or more yards three times in a single season, joining Bobby Humphrey in 1986.
… Navy quarterback Keenan Reynolds, in addition to breaking the all-time FBS record for rushing touchdowns, now has 81 total touchdowns in his career to tie him with Louisiana Tech's Kenneth Dixon for second all-time?  The twosome trail the 83 of Wisconsin's Montee Ball.
… Mississippi State quarterback Dak Prescott became just the 12th player in FBS history to pass for 8,000 yards and run for another 2,000 in his career?  The others are Central Michigan's Dan LeFevour, TCU's Trevone Boykin, Baylor's Robert Griffith III, Nevada's Colin Kaepernick, Florida's Tim Tebow, Northern Illinois' Chandler Harnish, Missouri's Brad Smith, USF's Matt Grothe, Illinois' Nathan Scheelhaase, USF's B.J. Daniels and Illinois' Juice Williams.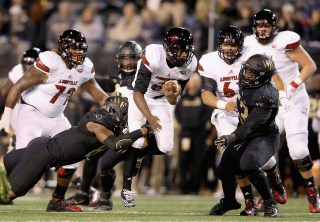 … six Power Five quarterbacks lead their team in both passing and rushing?  That sextet includes Prescott, Oregon State's Seth Collins, Texas' Jerrod Heard, Kansas State's Joe Hubener, Louisville's Lamar Jackson and Duke's Thomas Sirk.
… Matt Johnson was held under 300 yards passing (269) for the first time since December of 2013 in Bowling Green's 41-27 win over Western Michigan Thursday night?  Johnson had thrown for 300-plus in all nine games this season plus one last season — the opener, in which he sustained a season-ending injury — after being held to 272 in the 2013 Little Caesars Bowl loss to Pittsburgh the day after Christmas.
… Florida State's Dalvin Cook is averaging 189.4 rushing yards per game (947 in five games) against FBS teams with a winning record, the most in the nation? Second is Alabama's Derrick Henry at 163.7 (1,310 in eight games).
… Christian McCaffrey has now rushed for 100-plus yards in eight straight games, breaking Toby Gerhart's Stanford record of seven straight?
… Ralph Webb has set school rushing records for freshmen and now sophomores in the first two seasons he's seen the playing field at Vanderbilt?  Webb is already ninth on the school's all-time rushing list.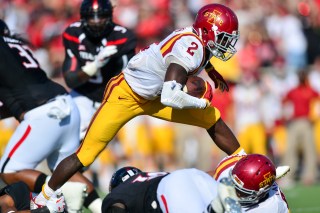 … Iowa State's Mike Warren is the first freshman in Cyclones history to rush for over 1,000 yards?  He's also only the seventh Big 12 freshman ever to top 1,000 yards.
… Temple linebacker Tyler Matakevich is the only FBS player to lead his team in tackles every game this season?  Matakevich currently leads all FBS players in career tackles.
… Tulane linebacker Nico Marley is the son of former Miami Hurricane linebacker Rohan Marley and the  grandson of music legend Bob Marley?  The junior is the Green Wave's leading tackler and is third in tackles for loss.
… the Laufasa brothers at UTEP, tailback Jeremiah and fullback Darrin, are the only brothers on an FBS program starting in the backfield?
… Florida's Jim McElwain is the third first-year head coach in conference history to reach the SEC Championship Game, joining LSU's Les Miles (2005, lost to Georgia, 34-14) and Gus Malzhan (2013, beat Missouri, 59-42)?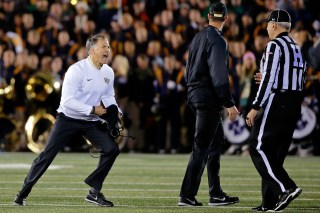 … Wake Forest's Dave Clawson replaced Al Golden as a voter in the coaches' poll following Golden's firing as Miami's head coach?
… since 2010, the winner of the Oregon-Stanford game has also claimed the Pac-10/12 conference title? The Ducks beat the Cardinal Saturday night, so we'll see if this streak continues in 2015.
… Nebraska is only the second FBS team since 2006 to lose four games in which the opponent scored the winning points in the final 10 seconds or overtime? The other was SMU in 2007.
… Memphis is just the third FBS team since 1996 to overcome double-digit deficits in five or more games in a single season?  UofM's five such comebacks this season are tied with 2005 UCLA, and one behind 2000 North Carolina State's six.
… Clemson's 13-game winning streak ties the school record set from 1980-81?
… North Carolina's nine consecutive wins is the longest one-season winning streak at UNC since 1914 when the Tar Heels won 10 straight?
… Iowa is 10-0 for the first time in school history?  C.J. Beathard is the first Hawkeye quarterback to ever win his first 11 starts (10 this season, one in 2014).
… Washington State has eight players with at least 20 receptions this season, the most of any FBS team?  Texas Tech is next with seven.
… Arkansas State has put together five consecutive winning seasons for the first time since 1949-53?
… BYU, Fresno State, Georgia State, Louisiana-Monroe, San Diego State, San Jose State and UNLV are the only FBS teams to play road games in four different time zones this season?
… with two each, Nevada, Pittsburgh and Wake Forest have the fewest senior offensive players on their respective two-deep depth charts?
… Minnesota, Navy and Northwestern are the only three schools in the country that have had the same offensive staff (all coaches) for the last five seasons?