As is the case each and every season, each and every week, any omission below is not on purpose, it's merely intentional.
SHAKEUP SATURDAY AS CHAOS COMMENCES
At one point in the early evening hours Saturday, three undefeated teams (Clemson, Iowa, TCU) were all losing, while another (Houston) was tied.  While the week ended up not being as chaotic as it could've been, it was more than chaotic enough where we should see a rather sizable shakeup when the College Football Playoff Top 25 is released Tuesday.
Entering the weekend with 11 undefeated teams, those unblemished ranks were sliced to six as No. 2 LSU, No. 7 Michigan State, No. 8 TCU, No. 13 Memphis and No. 24 Toledo all suffered their first losses of the season.  That leaves No. 1 Clemson, No. 3 Ohio State,  No. 6 Baylor, No. 9 Iowa, No. 14 Oklahoma State and No. 25 Houston as the lone remaining unbeatens with a month left in the regular season/championship weekend.
Following Week 9, the first CFP Top 25 looked as follows:
No. 1 Clemson
No. 2 LSU
No. 3 Ohio State
No. 4 Alabama
Clemson added an impressive win over No. 16 Florida State to its win over No. 5 Notre Dame; the Tigers would seem to be a lock to remain at No. 1.  LSU was woodshedded by Alabama, so the Tigers will very likely drop out of the top four.  The Tide, meanwhile, will move on up as the highest-rated one-loss team.
Ohio State, on the other hand, was cruising right along with a 21-point fourth-quarter lead on Minnesota before allowing the Gophers back into the game with a pair of touchdowns before settling for a 28-14 win.  The Buckeyes will likely maintain a top-four slotting, although it wouldn't be surprising to see them fall out.
And what of Oklahoma State?  No. 14 entering the weekend, the Big 12 OSU put a thumping on No. 8 TCU; could the committee vault the Cowboys up at least 10 spots and into the first four?  I'd say it's unlikely, but they should be well within earshot heading into an ongoing stretch that, after a road trip to Ames, includes a pair of games to close out the season against No. 6 Baylor and No. 15 Oklahoma.
So, how will the CFP's top four look when the newest rankings are released Tuesday night?  My best guess is…
No. 1 Clemson
No. 2 Alabama
No. 3 Ohio State
No. 4 Notre Dame
I think those first three spots are fairly well set with the committee, provided the group sees the Buckeyes of J.T. Barrett and not necessarily that of Cardale Jones.  That fourth spot, it wouldn't surprise me in the least to see Oklahoma State or Baylor there instead of the one-loss Golden Domers.  The only thing that would surprise me at No. 4, in fact, would be Iowa.
Still, remember that this will be just the second of six CFP Top 25s released, so there will be plenty of time for those in and around the Top 10 to find a seat at the playoff table.  Last year, after the second release, eventual national champion Ohio State was sitting at No. 14.  Just sayin'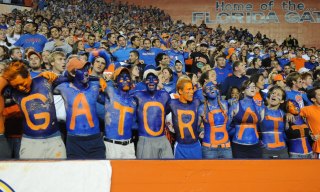 CONFERENCE CHASE CLARITY
With three weeks still remaining in the regular season — four if you're the Big 12 — there's a surprisingly large amount of clarity in the Power Five conferences.  There's also, of course, some uncertainty remaining.
The ACC Atlantic and SEC East were decided this weekend, while the ACC Coastal, Big Ten West and Pac-12 North are all but decided.  Conversely, the Big 12 is a muddled mess, while the SEC West has five teams that are still technically alive in the division.  The Big Ten East and Pac-12 South both have three teams each that could still win it.
With that in mind, below are the updates as to where each of the Power Five divisional races stand.
ACC
Atlantic
Thanks to the impressive double-digit win over Florida State, Clemson clinched its first division title since  2011.  The Tigers also snapped the Seminoles' three-year stranglehold on not only the division but on the conference as well as FSU came into the season having won back-to-back-to-back ACC titles.
Coastal
This one's not over yet, but a rather large woman is in the latter stages of warming up her throat.  With an impressive and dominating win over Duke, North Carolina, at 5-0 in ACC play, has complete and total control of the division.  UNC already owns the head-to-head tiebreaker over Pittsburgh (4-1) and now owns the same over Duke (3-2).  For the Tar Heels it's very simple: win two of their next three games (vs. Miami, at Virginia Tech and North Carolina State) and they'll claim the Coastal regardless of what anyone else does.  UNC could also clinch next weekend with a win vs. Miami and a Pitt loss to Duke.  Pitt has to hope UNC stumbles twice as they are winning out (at Duke, vs. Louisville and Miami), while Duke needs to win out and have UNC lose out.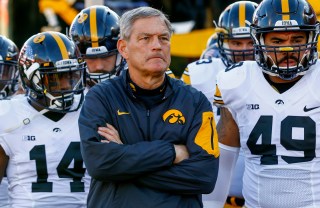 BIG TEN
East
Ohio State stands at 5-0 in conference play, with Michigan and Michigan State tied at 4-1.  The Buckeyes host the Spartans week after next, then travel to the Wolverines to close out the regular season.  The only way this division is settled next weekend is if OSU handles Illinois and UM and MSU fall to Indiana and Maryland, respectively.
West
At 5-0, Iowa holds a half-game lead on 5-1 Wisconsin.  However, the Hawkeyes own the head-to-head tiebreaker with the Badgers, which means Iowa would need to lose two of its last three games (Minnesota, Purdue, at Nebraska) while Wisconsin wins out (Northwestern, at Minnesota) in order for the latter to win the West.
BIG 12
Two teams are unbeaten after Week 10: Baylor (5-0) and Oklahoma State (6-0).  Oklahoma and TCU are both 5-1.  In the last four weeks of the regular season, those four teams will play each other in a total of five games.  In other words, we're still (probably) a ways away from a conference bereft of a championship game deciding its one true champion.
PAC-12
North
At 7-0, all Stanford needs to do is either beat Oregon (4-2) in Week 11 or Cal in Week 12 to clinch a spot in its third Pac-12 championship game in five years.  The Ducks would need to win their last three and have the Cardinal lose out in league play in order to get back to the title game.
South
Utah (5-1) currently holds a one-game lead on UCLA (4-2) and USC (4-2).  The Utes, though, lost to the Trojans in the only game played between the three. With Utah still having to face UCLA, and the two Los Angeles schools set to meet in three weeks, this division likely won't be decided until well into the month of November.
SEC
East
Just one weekend into November, and Florida, thanks to its win over Vanderbilt, has already clinched the division title and a spot in the conference championship game opposite the West winner.  The Gators will play in their first league title game since 2009 early next month.
West
Hello, Alabama. Welcome back to the driver's seat.  As we headed into the weekend, LSU and Ole Miss controlled their own destinies in the West, with Alabama at the mercy of others.  Heading out, the combination of 'Bama's win over LSU and Ole Miss' overtime loss to Arkansas leaves the Tide, at 5-1, in control of their own destiny.  They're far from clinching, however, as LSU is still in the mix at 4-1, while there are three other teams in the division with just two conference losses: Ole Miss (4-2), Arkansas (3-2) and Mississippi State (3-2).
SATURDAY RESET
Below is a list of links for all of the Week 10 gamers posted by the CFT crew, placed in one handy and convenient space for you, our beloved and dear readers.
CFT TOP FIVE
A snapshot look at how my ballot would look Sunday if I, ya know, had a real vote.
1. Clemson — OK, OK, I relent.  Clemson's wins over Notre Dame and now Florida State are more impressive than anything any other team in the country can offer up for an argument to be No. 1.  The mission moving forward for the Tigers is simple: don't trip up against Syracuse, Wake Forest or South Carolina to close out the regular season, then handle North Carolina (probably) in the conference championship game to punch your playoff ticket.  Simple, right? (Last week: No. 5)
Next up: at Syracuse, Nov. 14
2. Ohio State — This ranking is based solely on the assumption that J.T. Barrett will return as the starting quarterback.  If not, the Buckeyes wouldn't even be in my Top Five.  Allow me to repeat: With Barrett as the starter, OSU is a national title contender; with Cardale Jones, they are an upset waiting to happen. (Last week: No. 3)
Next up: at Illinois, Nov. 14
3. Alabama — Yes, the woodshedding of LSU was an impressive performance.  'Bama still has the one loss, to Ole Miss, and that's looking worse and worse with each passing week.  The Rebels suffered their third loss of the year this weekend, and one of the teams they lost to, Memphis, lost to a service academy. (Last week: NR)
Next up: vs. No. 20 Mississippi State, Nov. 14
4. Baylor — Jarrett Stidham passed his first quiz.  Whether the true freshman quarterback can pass his remaining tests, which includes a home date with No. 15 Oklahoma and road trips to No. 14 Oklahoma State and No. 8 TCU, will go a long way in determining what if any chair the Bears will have at the playoff table. (Last week: No. 2)
Next up: vs. No. 15 Oklahoma, Nov. 14
5. Oklahoma State — It's not just the fact that OSU "upset" TCU; it's the fact that they dominated a team that had won 16 straight in every phase of the game.  It was as impressive a performance as any team has put up all season, although the flimsy résumé the first eight games of the year won't allow the Cowboys to move past those ahead of them.  Yet.  With the meat of their schedule coming up, though, they'll have ample opportunity to show their playoff worthiness. (Last week: NR)
Next up: at Iowa State, Nov. 14
(Dropped out: No. 1 LSU, No. 4 TCU)
(Others considered: Notre Dame, Stanford)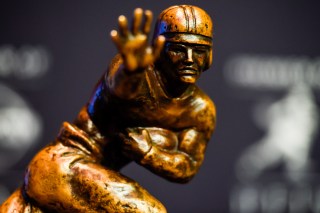 HEISMAN RACE, BY THE NUMBERS
A statistical look at how the top contenders for this year's stiff-armed trophy fared this past week.
Trevone Boykin, QB, TCU (8-1, No. 8)
Saturday: 35-57 (61.4%), 445 yards, one touchdown, four interceptions; 19 carries for 73 yards, two touchdowns
Season: 233-354 (65.8%), 3,372 yards, 29 touchdowns, nine interceptions; 107 carries for 597 yards (5.6 ypc), seven touchdowns
Corey Coleman, WR, Baylor (8-0, No. 6)
Thursday: 11 receptions for 216 yards, two touchdowns; two carries for two rushing yards
Season: 58 receptions for 1,178 yards, 20 touchdowns; 13 carries for 51 rushing yards
Dalvin Cook, RB, Florida State (7-2, No. 16)
Saturday: 21 carries for 194 yards (9.2 ypc), one touchdown; one reception for four yards
Season: 148 carries for 1,231 yards (8.3 ypc), 12 touchdowns; 16 receptions for 185 yards, one touchdown
Ezekiel Elliott, RB, Ohio State (8-0, No. 3)
Saturday:
Season: 167 carries for 1,130 yards (6.8 ypc), 13 touchdowns; 23 receptions for 160 yards
Leonard Fournette, RB, LSU (7-0, No. 2)
Saturday: 19 carries for 31 yards (1.6 ypc), one touchdown
Season: 195 carries for 1,383 yards (7.1 ypc), 16 touchdowns; seven receptions for 58 yards
Derrick Henry, RB, Alabama (8-1, No. 4)
Saturday: 38 carries for 210 yards (5.5 ypc), three touchdowns
Season: 218 carries for 1,254 yards (5.7 ypc), 17 touchdowns; eight receptions for 69 yards
Matt Johnson, QB, Bowling Green (7-2, NR)
Wednesday: 26-35 (74.3%), 365 yards, four touchdowns, zero interceptions; three carries for minus-five yards
Season: 268-380 (70.5%), 3,686 yards, 33 touchdowns, three interceptions; 77 carries for 147 yards, three touchdowns
Christian McCaffrey, RB, Stanford (8-1, No. 11)
Saturday: 23 carries for 147 yards (6.4 ypc); three receptions for 15 yards; two kick returns for 46 yards; 1-1 (100%), 28 yards, one touchdown
Season: 198 carries for 1,207 yards (6.1 ypc), six touchdowns; 28 receptions for 325 yards, two touchdowns; 21 kick returns for 605 yards; nine punt returns for 25 yards; 1-1 (100%), 28 yards, one touchdown
(Dropped out: TCU wide receiver Josh Doctson)
(Added: Henry)
JT's Personal Top Fivesman
1. Fournette — That sound you may have heard was the star LSU running back's Heisman stock plummeting back to earth.  Fournette remains the stiff-armed front-runner, but the gap between himself and the rest of the field closed considerably even as his closest competitor coming in stumbled mightily.
2. Cook — Even in a loss, nobody likely raised their Heisman stock more than the FSU back.  Going up against a defense that came into the game 10th in rushing defense, Cook put up nearly 200 yards (194) in the loss to Clemson.  The fact that the Tigers keyed on Cook and he still put nearly a 200-spot on the ACC Atlantic winners tells you all you need to know about the kind of player Cook is.
3. Henry — Henry was on the periphery of the Heisman discussion prior to Week 10; that 200 yards he put on LSU, in a personal matchup with a struggling Fournette no less, puts him squarely in the mix.
4. McCaffrey — The Stanford running back's stat sheet added a fourth dimension this weekend as the sophomore threw his first career touchdown pass.  He also tied a school record with his seventh consecutive 100-yard game.  I'll point out again that McCaffrey is the only player west of the Rockies who's in the Heisman discussion, which still bodes well for a mid-December trip to New York City.
5. Boykin — Entering Week 10, Boykin was viewed by many, or even most, as the only legitimate threat to Fournette's Heisman candidacy.  Following a four-pick performance in a 20-point loss to Oklahoma State, the senior has a significant mountain to climb just to get back into the race.
DAMN YOU & YOUR EYE DUST, RINALDI
Say what you want about Les Miles, the coach, but Les Miles, the man, is someone the LSU community can be proud of.  If you haven't seen the latest Tom Rinaldi tear-jerker, click "play" below.  And if you click "play" below, make sure you have a fistful of tissues nearby, just in case.
SEXY BERT
At least a portion of Bret Bielema's press conference following the overtime win over Ole Miss was decidedly PG-13.
WHEN YOU GOTTA GEAUX, YOU GOTTA GEAUX
Perhaps because ESPN's College GameDay traveling road show has stopped there so much, it appears that, based on the quality — or lack thereof — Tuscaloosa has pretty much run out of innovative sign ideas.  Well, save for one.  Or is that No. 2?
MOST RANDOM GAMEDAY SIGN EVER?
Deep in Alabama territory, we find the following:
Spectacular.
CATCH OF THE DAY
Winless UCF hasn't had much to cheer about this season, but Tre'Quan Smith at least gave the fans of the program something to hang their hats on on yet another lost day.
UNINTENTIONAL HEADER OF THE DAY
Sometime you're in the wrong place at the wrong time.  And sometimes when you find yourself in such a spot you also find yourself hurting, as one official in the Penn State-Northwestern game discovered.
POLICE TWEET OF THE DAY
With Brandon Allen carving up their defense, some Ole Miss fans apparently looked for some help from the men in blue in slowing down the Arkansas quarterback.
HE SAID IT
"Those were Madden numbers. Set to rookie." — North Carolina wide receiver Mack Collins, describing quarterback Marquise Williams passing for 404 yards in the first half of the blowout win over Duke.
HE SAID IT, THE SEQUEL
"Overall, the coaches and the players did a wonderful job of focusing on what's important." — Georgia head coach Mark Richt, following a dominating win over Kentucky that came on the heels of a week rife with rumors and speculation regarding the state of his program.
HE SAID IT, THE THREEQUEL
"He's a natural at everything he does." — Stanford quarterback Kevin Hogan, after watching teammate and running back Christian McCaffrey run the ball 23 times, catch three passes, return a pair of kickoffs and toss his first career touchdown pass.
HE SAID IT, BONUS EDITION
"I'm pretty offended by it, that it was called unsportsmanlike conduct penalty. There was really … everything was to not deceive." — Michigan head coach Jim Harbaugh, addressing the fact that his Wolverines were penalized for "intent to deceive."
HE SAID IT, THE FINAL ONE
"I got an explanation. They said that the receiver was pushed out of bounds… everybody saw the replay. I'm not qualified for that job. My job is to coach and I'm going to do the very best I can. That's somebody else's job." — Michigan State head coach Mark Dantonio, biting his tongue following the controversial ending in the loss to Nebraska.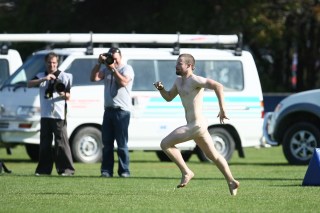 STREAKING
10 wins to start the 2015 season have pushed Ohio State's nation's best winning streak to 22 straight.  With TCU's 16-game winning streak snapped… and Memphis' 15-game streak snapped… and Michigan State's 12-game streak snapped, Clemson is next up at 12 in a row.
On the other side of the won-loss ledger, the "proud" owner of the nation's longest losing streak is Kansas at 12 straight, followed by UCF (11) and Eastern Michigan (eight).
GOING BOWLING
Entering Week 9, there were 41 teams that had secured bowl eligibility.  Exiting the weekend, there are now 51 teams eligible for the postseason with four weeks left in the regular season.  The newest additions hit double digits at 10: Air Force, Arkansas State, Georgia, Miami, North Carolina State, Northern Illinois, Oregon, USC, Washington State and Western Michigan.
There are 41 bowl games this season — counting the two College Football Playoff semifinals — meaning 82 teams will need to reach the six-win threshold in order for teams with sub-.500 records to remain where they belong: at home during the postseason.
S.I.D. NOTE OF THE WEEK I
There are five FBS head coaches who serve as their own offensive coordinator and two as their own defensive coordinator:
Dana Holgorsen (West Virginia, OC)
Mike Leach (Washington State, OC)
Paul Johnson (Georgia Tech, OC)
Doug Martin (NM State, OC)
Mark Whipple (UMass, OC)
Rocky Long (San Diego State, DC)
Derek Mason (Vanderbilt, DC)
S.I.D. NOTE OF THE WEEK II
Urban Meyer is a perfect 26-0 in games played in October (14-0) and November (13-0) at Ohio State and is 42-3 in his career in games in which he has more than one week to prepare for an opponent. That latter record includes bowl games and season openers as well as bye weeks.
S.I.D. NOTE OF THE WEEK III
Running back Jacques Patrick had three rushing touchdowns, while Travis Rudolph caught three touchdown passes against Syracuse, marking the first time in Florida State history a Seminole rushed for three touchdowns in a single game and another caught three touchdowns in the same game.
S.I.D NOTE OF THE WEEK IV
Oregon is the only team in the nation to score at least 80 touchdowns in each of the last five seasons. The Ducks led the nation in touchdowns scored in 2014 (90), 2012 (89) and 2010 (81), while ranking second in 2011 (88) and fourth  in 2013 (81). Only Baylor has scored 80-plus TDs at least three times in the last five years.  The Ducks have scored 48 in nine games this season and are in danger of seeing that 80-plus streak come to an end, while the Bears have scored an FBS-best 63 in eight contests.
S.I.D. NOTE OF THE WEEK V
Duke has posted a combined record of 25-7 during the first eight games of the last four seasons. From 2004-07, the last four seasons before David Cutcliffe took over the program, Duke was 3-29 in its first eight games of those years.
OFF THE CHARTS
Courtesy of the Wisconsin sports information department, a graphic showing the top five teams, percentage-wise, in holding their opponents below their seasonal points-per-game average.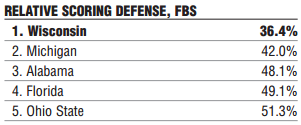 OFF THE CHARTS, PART II
Courtesy of the Wisconsin sports information department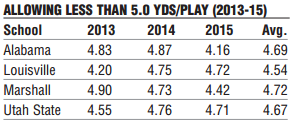 OFF THE CHARTS, PART III
Courtesy of the Oregon sports information department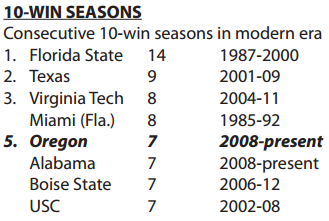 OFF THE CHARTS, PART IV
Courtesy of the North Carolina State sports information department, the most balanced FBS offenses entering Week 10

(Writer's note: obviously, the passing yards for NC State should be 1,721.  Deal with it, and move on.)
SAY WHAT?
There are nine current FBS head coaches who did not play college football: Todd Berry (Louisiana-Monroe), Tracy Claeys (Minnesota), David Cutcliffe (Duke), Sonny Dykes (California), Dennis Franchione (Texas State), Hugh Freeze (Ole Miss), Paul Johnson (Georgia Tech), Mike Leach (Washington State) and Chad Morris (SMU).
YOU DON'T SAY
Since giving up 35 points to Alabama in their season opener, Wisconsin has surrendered an average of just 9.8 points per game.  In those nine games, the Badgers have allowed 10 points or less six times.  The most they've given up in a single game in this stretch is 24 in a win over Maryland this weekend.
DULY NOTED
In 2015, more than 75 FBS quarterbacks have attempted at least 200 passes, and just two have thrown one interception: Mississippi State's Dak Prescott (300) and Florida State's Everett Golson (207).  No quarterbacks who have attempted at least 200 passes have gone pick-less.  The player with the most attempts without an interception this year had been LSU's Brandon Harris with 128, but he threw his first pick in the loss to Alabama.  That honor now goes to Navy's Keenan Reynolds, who has no interceptions in his 56 attempts this season.  Texas' Tyrone Swoopes has 55 pick-less throws.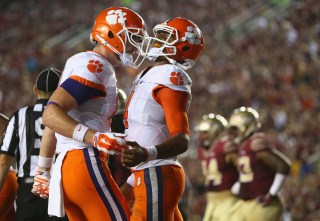 DID YOU KNOW THAT
… Clemson is now 11-0 when quarterback Deshaun Watson starts and finishes games?  They are 12-1 overall in games in which the sophomore starts.
… Arkansas running back Alex Collins became the third player in SEC history with three consecutive 1,000-yard rushing seasons, joining former Georgia great Herschel Walker and former Razorback Darren McFadden?
… Baylor wide receiver Corey Coleman's 20 receiving touchdowns in nine games this season were more than 108 FBS teams entering Week 10?  Georgia Southern has thrown eight touchdown passes in the last 20 games over the past two seasons.
… DeAndre Washington now has 1,036 yards rushing on the season, becoming the first Texas Tech player to crack the 1,000-yard barrier since Byron Hanspard rushed for 2,000 in 1996?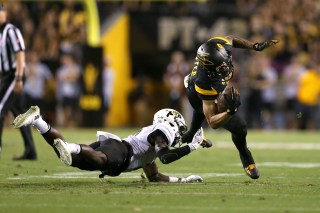 … Arizona State's D.J. Foster has now caught a pass in 49 consecutive games, breaking the Pac-12 record of 48 set by USC's Kareem Kelly (1999-2002)?  Central Michigan's Bryan Anderson (2006-09) holds the FBS record at 54 in a row.
… Ohio State's Urban Meyer is the only coach in FBS history with four seasons of 13 or more wins?  Alabama's Nick Saban has three such seasons, while Washington's Chris Petersen and Nebraska's Tom Osborne have two each.
… Tom Herman became the first head coach in Houston history to win the first nine games of his career with the Cougars? Back in 1990, John Jenkins won his first eight.
… Iowa's 9-0 start matches the best start in school history, accomplished the first and only time back in 2009?  The Hawkeyes have never started a season 10-0.
… Kansas has lost 34 consecutive true road games and, overall, 37 consecutive played away from Lawrence? The Jayhawks have also lost 30 consecutive Big 12 road games.

… Baylor (No. 14 Oklahoma, No. 12 Oklahoma State, No. 5 TCU) and Minnesota (No. 15 Michigan, No. 1 Ohio State, No. 10 Iowa) are the only teams currently scheduled to play three straight games against teams that were either in the Associated Press Top 15 when they played them or are currently in that Top 15?
… Florida and Michigan are the only teams to hold three FBS opponents without a touchdown this season?
… UCLA is 31-0 when leading at halftime under Jim Mora?
… the Border War between Colorado State and Wyoming is the longest continuous rivalry west of the Mississippi, played every season since 1946?