As is the case each and every season, each and every week, any omission below is not on purpose, it's merely intentional.
PLAYOFF PICTURE CLEARS… A LITTLE
Thanks to losses by a pair of previously-unbeaten OSUs — Ohio State and Oklahoma State — it appears the potential playoff field has been whittled down to seven, possibly eight.
It's a near-certainty that, if Clemson and Alabama win out, they will be the top two seeds; on that, you won't get much if any argument from anyone. Notre Dame, with Stanford remaining, could nearly lock up a spot with a win in Week 13, although the lack of a conference title game, as the Big 12 can attest, could prove to complicate the Irish's standing at least on some level.  Again, though, their résumé appears strong enough in the committee's eyes that the lack of a championship game will be of little or no import.
Thus, there's a very real possibility that four, possibly five, teams will be fighting for one seat at the table the next two weeks: Iowa, Oklahoma, Michigan State and Baylor.  Florida would be only a possible at the moment, thanks in large part to the embarrassing win over Florida Atlantic in The Swamp.
So, with that as a quick backdrop, how did the eight teams mentioned above help themselves or not this weekend?  Let's take a look.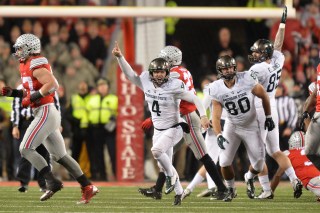 STOCK UP
No. 9 Michigan State — You beat the No. 3 team in the country, on the road, you can bet you'll see yourself rise in the rankings when they are released Tuesday.
No. 10 Baylor — The Bears went into Stillwater and hung a double-digit loss on an undefeated and sixth-ranked team, and did so using their Nos. 2 and 3 quarterbacks.  Again, the committee will look favorably upon a visiting team taking it to a higher-ranked opponent.
STOCK DOWN
No. 8 Florida — Allowing a two-win Conference USA team take you to overtime at home?  Embarrassing.  Then again, beat up on No. 14 Florida State and No. 2 Alabama and all will likely be forgotten.
STOCK NEUTRAL
No. 1 Clemson — A methodical 20-point win over three-win Wake Forest will do nothing to hurt or help the Tigers in the eyes of the committee.
No. 2 Alabama — They played an FCS team in a glorified scrimmage; do the math.
No. 4 Notre Dame — Almost everyone looks ugly playing Boston College, and the Domers were no exception.  The committee really likes the Irish, though, so no harm no foul (probably) in a three-point win at Fenway Park.
No. 5 Iowa — Jumped out to a 20-0 lead on two-win Purdue, then watched the Boilermakers cut the deficit to 20-13 in the third quarter.  A 20-7 run closed the game out, and left the unbeaten Hawkeyes in neutral.
No. 7 Oklahoma — OU looked like they were going to be in the "Up" category until the starting quarterback was knocked out and they ended up a missed two-point conversion away from their second loss of the season.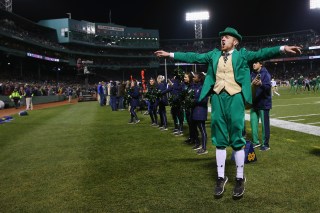 So, when looking at how the committee will slot the Top Four this week, I think it's a fairly safe bet that Clemson, Alabama and Notre Dame will occupy Nos. 1-3, in that order.  There's no way Florida moves up four into that No. 4 spot, and Baylor's win over Oklahoma State was its first quality win of the year.  That then leaves three teams this week — this week — for one spot: Iowa, Oklahoma and Michigan State.
In the end, I see the committee valuing Iowa's road wins over two currently ranked teams, Northwestern and Wisconsin, slightly — very slightly — more than what either of the other two teams have done thus far.  The injury to Baker Mayfield helped TCU get back into the game Saturday, so that home win, even with last week's road win over Baylor, might not help OU as much as it could've if the quarterback had stayed healthy.  Michigan State also has impressive road wins over currently ranked teams, OSU and Michigan, but they have that one loss, to 5-6 Nebraska, that will hold them back at least another week.
One final note: while significant, Ohio State's loss wasn't a fatal blow to the Buckeyes' playoff chances.  Yes, the odds are long, but if OSU can get into the Big Ten championship game — they'd need to beat Michigan in Ann Arbor and have Michigan State lose to Penn State — and drop an unbeaten Iowa, OSU would be right back in the discussion.  Again, it's a longshot, and they'll need some help outside the conference in addition to taking care of their own business, but it's just something to keep in mind as these last two weeks play out.
The other OSU, on the other hand, very likely saw their playoff chance disappear completely, even if they bounce back and drop their bitter rivals in Bedlam.  Why would the Midwest OSU still have shot, however, long it may be, while the Southwest OSU doesn't?  One has a conference championship game it could play in, the other doesn't.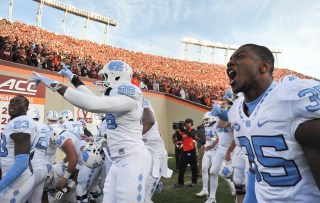 CONFERENCE CHASE CLARITY
As was the case entering Week 11, there were just two Power Five divisions/conferences — ACC Atlantic, SEC East — that had already been decided entering Week 12.  North Carolina (ACC Coastal), Ohio State (Big Ten East), Iowa (Big Ten West), Stanford (Pac-12 North) and Alabama (SEC West) all came into this weekend with a chance to clinch their respective divisions by either winning or having another team lose — or both.
In the end, three teams managed to clinch in Week 12: UNC, with its overtime win over Virginia Tech; Iowa, with its win over Purdue; and Stanford, with its win over Cal in the Big Game.  Thus, there are still three divisions left to be decided with one weekend left in the regular season and one conference to be determined with their two weekends remaining, although that one could be decided next weekend as well.
So, below are the current clinching scenarios for all remaining divisions/conferences:
BIG TEN
East
Michigan State's win over Ohio State simplified this division: if MSU beats Penn State, the Spartans are in the Big Ten championship game.  If MSU loses, the winner of the OSU-Michigan game gets the early-December trip to Indianapolis.
BIG 12
The only certainty in this conference is that 6-2 TCU was eliminated with its loss to Oklahoma.  7-1 OU can win the league if it beats Oklahoma State in Bedlam.  6-1 Baylor can claim it if OU loses to OSU and it beats TCU and Texas (would own tiebreaker over 8-1 OSU).  7-1 OSU would be crowned champs if they beat OU and BU loses one of its last two.
PAC-12
South
Thanks to 5-3 Utah's loss to 5-3 UCLA Saturday and their loss earlier this season to 5-3 USC, the winner of the USC-UCLA game will win the division and face Stanford in the conference championship game.
SEC
West
An Alabama win over Auburn in the Iron Bowl will clinch the division and a spot in the SEC championship game against Florida.  A 'Bama loss coupled with an Ole Miss win in the Egg Bowl against Mississippi State would send the Rebels to Atlanta to face the Gators — and knock the conference out of the playoffs in the process.
SATURDAY RESET
Below is a list of links for all of the Week 12 gamers/pertinent pieces posted by the CFT crew, placed in one handy and convenient space for you, our beloved and dear readers.
CFT TOP FIVE
A snapshot look at how my ballot would look Sunday if I, ya know, had a real vote.
1. Clemson — After 12 weeks, one thing this season is clear: Clemson and Alabama have separated themselves from the pack as the two best teams in college football.  Clemson just needs to avoid tripping up against a really bad South Carolina team to set up a tougher-than-most-people-are-giving-it-credit-for ACC title game matchup with North Carolina a week later. (Last week: No. 1)
Next up: at South Carolina, Nov. 28
2. Alabama — Since the Sept. 19 loss to Ole Miss, 'Bama has outscored the opposition by a combined score of 276-89 during their eight-game winning streak.  It's safe to say that the Saban dynasty is far from dead; the exact opposite, actually. (Last week: No. 2)
Next up: at Auburn, Nov. 28
3. Oklahoma — OU had been just as impressive as 'Bama following their only loss a month ago, but the head injury sustained by Baker Mayfield bears watching.  With Mayfield, the Sooners were closing the gap on the top two teams.  Without him, they barely survived injury-ravaged TCU, and could find themselves in a heap of trouble if they have to play Bedlam without him. (Last week: NR)
Next up: at No. 6 Oklahoma State, Nov. 28
4. Notre Dame — I won't gig them for the uninspiring win over Boston College as nearly every team looks dingy coming out of its games with the rough and ragged Eagles. I won't move them up either; whether the playoff committee does remains to be seen. (Last week: No. 4)
Next up: at No. 11 Stanford, Nov. 28
5. Iowa — I very nearly put Baylor here, and maybe I should've given how BU dominated previously-unbeaten Oklahoma State, but opted for one of the two remaining unbeatens.  The good thing for the Hawkeyes is what I think of them doesn't matter; all they need to do is win their last two games and they will likely punch a ticket to one of the playoff semifinals. (Last week: NR)
Next up: at Nebraska, Nov. 27
(Dropped out: No. 3 Ohio State, No. 5 Oklahoma State)
(Others considered: Baylor, Michigan State)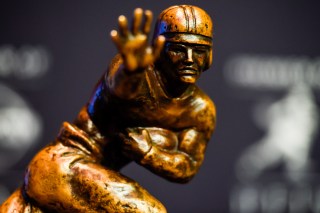 HEISMAN RACE, BY THE NUMBERS
A statistical look at how the top contenders for this year's stiff-armed trophy fared this past week.
Dalvin Cook, RB, Florida State (9-2, No. 14)
Saturday: 15 carries for 106 yards (7.1 ypc), two touchdowns; one reception for five yards
Season: 185 carries for 1,475 yards (8.0 ypc), 16 touchdowns; 19 receptions for 207 yards, one touchdown
Derrick Henry, RB, Alabama (10-1, No. 2)
Saturday: nine carries for 68 yards (7.6 ypc), two touchdowns; one reception for 28 yards
Season: 249 carries for 1,526 yards (6.1 ypc), 21 touchdowns; 10 receptions for 97 yards
Baker Mayfield, QB, Oklahoma (10-1, No. 7)
Saturday: 9-20 (45%), 127 yards, two touchdowns; 10 carries for 42 yards
Season: 226-329 (70.2%), 3,209 yards, 33 touchdowns, five interceptions; 120 carries for 343 yards (2.9 ypc), six touchdowns
Christian McCaffrey, RB, Stanford (9-2, No. 11)
Saturday:
Season: 231 carries for 1,354 yards (5.9 ypc), seven touchdowns; 33 receptions for 367 yards, two touchdowns; 23 kick returns for 665 yards; 11 punt returns for 32 yards; 1-2 passing (50%), 28 yards, one touchdown
Deshaun Watson, QB, Clemson (11-0, No. 1)
Saturday: 24-35 (68.6%), 343 yards, three touchdowns, two interceptions; 10 carries for 44 yards, one touchdown
Season: 241-344 (68.7%), 2,944 yards, 26 touchdowns, 10 interceptions; 118 carries for 642 yards (5.4 ypc), six touchdowns
(Dropped out: Ohio State running back Ezekiel Elliott, LSU running back Leonard Fournette)
(Added: none)
JT's Personal Top Fivesman
1. Henry — The worst statistical output of the season did nothing to hurt Henry's Heisman stock as he played relatively little in the scrimmage against an FCS team.  In fact, he might have seen his stranglehold on the front-runner status grow stronger as a pair of challengers seemingly fell by the wayside this weekend. (Last week: No. 1)
2. Cook — Cook was in much the same boat as Henry, with FSU playing an FCS team as well.  The sophomore's biggest issue is that his Seminoles aren't a part of the playoff chase, and his profile has been somewhat pushed to the side to make room for the quarterbacks whose teams are.  That's a shame, because Cook should be recognized for the kind of season he's having.  (Last week: No. 2)
3. Watson — The sophomore just keeps plugging along, putting up numbers rather quietly for someone who is the quarterback of the No. 1 team in the nation.  Might need, or even probably needs, a signature performance in the ACC championship game to truly challenge Henry for the Trophy. (Last week: No. 3)
4. McCaffrey — Just give the man his ticket to New York City already.  And give the man his due, sleepy East Coast voters.  Oh, and give him the Hornung Award while you're at it. (Last week: NR)
5. Mayfield — This candidacy could be hurt by the fact that Oklahoma will be sitting at home the first weekend in December while the four players above him, will be playing in conference championship games.  Mayfield needs a very impressive performance in Bedlam next weekend — if the head injury allows him to take the field, of course — to leave an impression with voters that'll linger longer than a couple of days. (Last week: NR)
STAY CLASSY, WISCONSIN
It appears that Philadelphia Eagles fans aren't the only idiot football fans when snow is within reach.  With a winter storm whipping through the Midwest, Madison was hit with a significant amount of snow ahead of Wisconsin's game against Northwestern.  Speaking of hit, some of those in attendance decided it would be cute and/or cool to pelt their own cheerleaders with snowballs, forcing them to take shelter in a tunnel.
As if that weren't enough, the fans decided to show their disgust with a controversial ending by doing the same thing to the officiating crew.
Well done, Wisky Nation.  Well done.  You should all be proud.
YOU MAD, 'BRAUGH?
Jim Harbaugh is, to be kind, animated on sidelines most Saturdays.  Week 12 was no exception as the Michigan head coach took exception to a pass interference call that went against his Wolverines and decided to initiate a sideline striptease.
That would be the last of the clothes shedding for Harbaugh as the Wolverines held on to beat the Nittany Lions.
DADI'S PIMP HAND IS STRONG
There are a few things you never, ever do on a football field, one of which is put your hands on an official.  In Virginia Tech's loss to North Carolina, Dadi Nicolas not only crossed that line, but shattered it on the way by.
Here's to guessing the fifth-year senior will be receiving, at bare minimum, a stern call from the ACC at some point in the not-too-distant future.
STATE OF THE U
This is Miami's crowd about 20 minutes prior to its Senior Day kickoff against Georgia Tech at Sun Life Stadium…
… and this is the crowd shortly before halftime:
The Hurricanes desperately need a coaching hire that excites the fan base as that's an embarrassment for a Power Five program with the pedigree The U possesses.
STATE OF KANSAS
Halftime score: West Virginia 42, Kansas 0
Halftime yards: WVU 402, KU 59
Halftime rushing: WVU 295, KU minus-one
In the end, the Jayhawks stiffened in the second half in dropping a 49-0 heartbreaker to the Mountaineers in Lawrence, the program's nation's worst 14th straight loss.  KU hasn't won a game in 379 days (Nov. 8 vs. Iowa State); hasn't won a game away from Lawrence since 2009 (UTEP); hasn't won a Big 12 road game since 2007 (Oklahoma State); hasn't beaten a non-conference Power Five team on the road since 2009 (Duke); and hasn't beaten a non-conference Power Five team, period, since September of 2010 (Georgia Tech).
In other words, Kansas football remains your prototypical…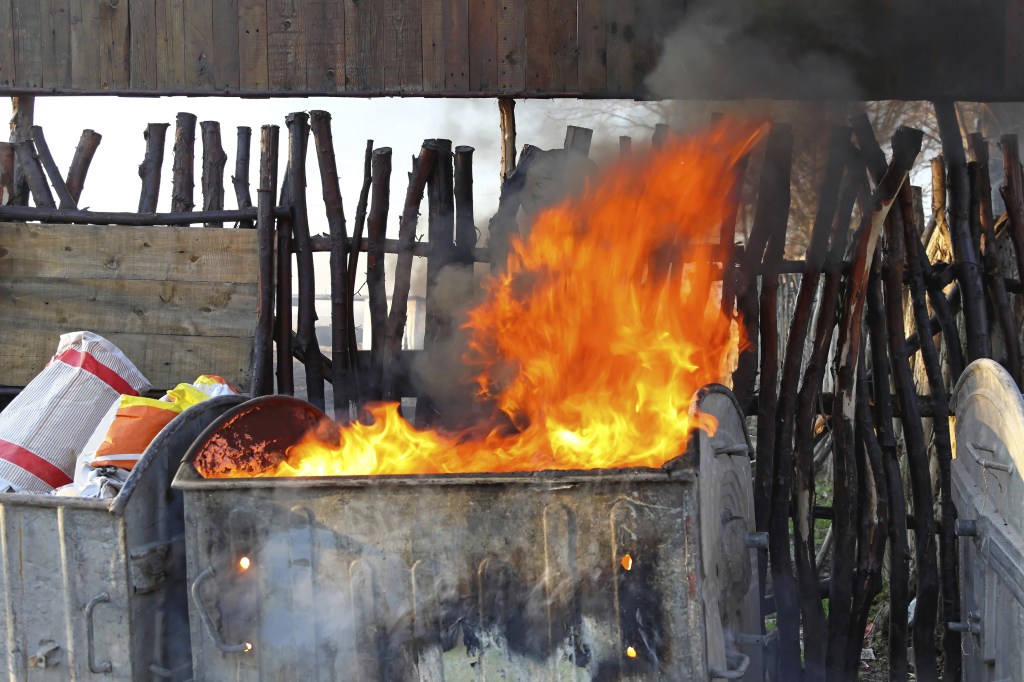 CATCH OF THE DAY
If you haven't heard of Mississippi State's Fred Ross, you have now as the Bulldog wide receiver made one of the best catches of the season against Arkansas.  Oh, and the run after catch wasn't bad either.
THANKS, FRANK
Saturday marked Frank Beamer's final game at Lane Stadium in Blacksburg.  While Virginia Tech was unable to come away with a win over North Carolina for the retiring head coach, the fans in attendance couldn't help but thank the man for what so far has been a 278-win career.
Tech will need to beat in-state rival Virginia next Saturday to reach six wins and send Beamer out with a bowl thank you.
5,000 CANDLES IN THE WIND
Dammit if I don't still miss "Parks and Recreation."
HE SAID IT
"They just out-coached us.  They outclassed us." — interim head coach Shawn Elliott, following South Carolina's embarrassing loss to FCS Citadel.
HE SAID IT, THE SEQUEL
"That analogy doesn't resonate with me. I don't like comparing humans to chickens or any other kind of animal." — Jim Harbaugh, when asked why his Michigan team never laid an egg.
HE SAID IT, THE THREEQUEL
"We can't seem to get out of our own way. … We don't value the ball very much. … It's like a broken record — same old, same old." — Paul Johnson, after watching his Georgia Tech team lose the turnover battle 4-0 and the game to Miami in falling to 3-8 on the season.
HE SAID IT, BONUS EDITION
"I call a lot of plays anyways. So fingers will be pointed right here. And I have to do better. We didn't — very conservative." — Ohio State head coach Urban Meyer, on the play-calling in the loss to Michigan State that was publicly eviscerated by one of his own players.
HE SAID IT, THE FINAL ONE
"I honestly do not. I'm definitely in danger of feeling badly. I feel that right now." — LSU's Les Miles, when asked if he feels he's in danger of losing his job following a third straight loss.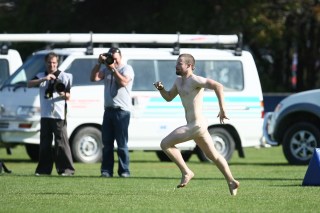 STREAKING
Thanks to Ohio State's 23-game winning streak crashing into a heap,  Clemson's 14-game streak is now tops in the country. Iowa (11) and North Carolina (10) are the only others in double digits as, in addition to OSU, Oklahoma State's 12-game streak ended while Houston saw its own 10-game winning streak come to an end this weekend as well.
On the other side of the won-loss ledger, the "proud" owner of the nation's longest losing streak is Kansas at 14 straight, followed by UCF (12), Charlotte (nine), Eastern Michigan (nine), Louisiana-Monroe (nine), Hawaii (nine), Maryland (eight), Oregon State (eight) and Boston College (seven).
GOING BOWLING
Entering Week 12, there were 62 teams that had secured bowl eligibility.  Exiting the weekend, there are now 71 teams eligible for the postseason with three weeks left in the regular season.  The newest additions this week total nine: Akron, Arizona State, Auburn, Central Michigan, Colorado State, Middle Tennessee State, UConn, Utah State and West Virginia.
There are still 18 teams that can become bowl-eligible with two weeks remaining: Buffalo, East Carolina, Georgia State, Illinois, Indiana, Kansas State, Kentucky, Louisiana-Lafayette, Minnesota, Missouri, Nebraska, Old Dominion, San Jose State, South Alabama, Texas, Tulsa, Virginia Tech and Washington
There are 40 bowl games this season — counting the two College Football Playoff semifinals — meaning 80 teams will need to reach the six-win threshold in order for teams with sub-.500 records to remain where they belong: at home during the postseason.
S.I.D. NOTE OF THE WEEK I
Wisconsin has averaged 33.9 passing attempts through its first 11 games this season, the highest average in program history. Only twice in the modern era (since 1946) have the Badgers averaged more than 30 passes per game: in 1983 (30.6) and 1995 (30.2). From 1996 to 2014, UW averaged 23.7 passing attempts per game.
S.I.D. NOTE OF THE WEEK II
The meeting between Notre Dame and Boston College was the first football game at Fenway Park since December 1, 1968, when — after five years of calling it home — the Boston Patriots played their last AFL game at the ballpark.  The last college football game played in the venerable park came in 1956, the final season BC used Fenway Park as its home stadium.  That game was played Dec. 1 against Holy Cross.
S.I.D. NOTE OF THE WEEK III
For the past five weeks, Oregon State has used a quarterback-center battery of brothers Nick Mitchell and Josh Mitchell. According to a recent survey of college football sports information departments, the Mitchells are the only brothers to snap to each other in recent memory. Minnesota has a brother combination at center and quarterback, but the duo has never played at the same time.
S.I.D NOTE OF THE WEEK IV
Ole Miss has scored 50-plus points in four games for the first time in school history; the Rebels had never done it three times in a season prior to this year. Additionally, for the first time in school history, Ole Miss has eclipsed 600 total yards three times in a season; the Rebels had never done it more than once in any of the 120 prior seasons.
S.I.D. NOTE OF THE WEEK V
Notre Dame is 5-1 this year against ACC teams. The Irish had never beaten five teams from the same league in the same season prior to 2015. On six occasions, the Irish have beat four Big Ten teams in one season, most recently in 1993.
OFF THE CHARTS
Courtesy of the Wisconsin sports information department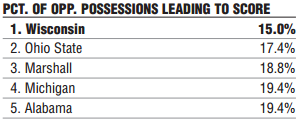 OFF THE CHARTS, PART II
Courtesy of the Clemson sports information department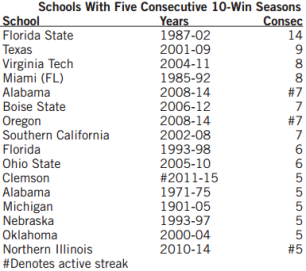 OFF THE CHARTS, PART III
Courtesy of the UT-San Antonio sports information department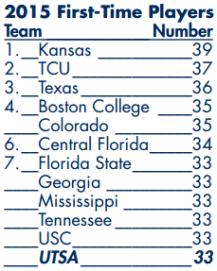 OFF THE CHARTS, PART IV
Courtesy of the Louisiana-Monroe sports information department

OFF THE CHARTS, PART V
Courtesy of the Louisiana Tech sports information department, featuring the winningest father/son coaching combinations in Div. 1 entering Week 12

SAY WHAT?
Colorado quarterback Sefo Liufau, who wears jersey No. 13, sustained a season-ending injury on Friday the 13th last week, just 13 yards shy of becoming the school's all-time passing yards leader.
YOU DON'T SAY
The top three defenses coming into Week 12 in points per possession came from the Big Ten: Wisconsin (.82 points per possession), Michigan (.87 ppp) and Ohio State (.89 ppp).
DULY NOTED
Saturday's game against Wake Forest was the 1,200th in the history of the Clemson program, and the win over the Demon Deacons was the 700th for the Tigers.  It took Clemson 11 years, one day to go from 600 to 700 wins; the previous quickest 100 wins was 11 years, one month, five days in going from 400 to 500 wins from September of 1979 to October of 1990.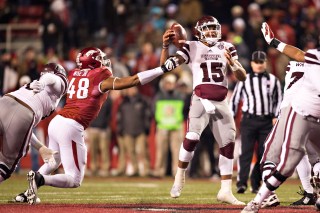 DID YOU KNOW THAT
… with five touchdown passes and two rushing touchdowns in the wild win over Arkansas, Mississippi State's Dak Prescott became the fourth player in FBS history to throw for at least 60 touchdowns in a career and run for at least 40?  The other three in the 60/40 club are Florida's Tim Tebow, Central Michigan's Dan LeFevour and Nevada's Colin Kaepernick.
… Brandon Allen's six touchdown passes in Arkansas' loss Mississippi State tied a single-game SEC record?  Four others have accomplished that feat: Tennessee's Erik Ainge, Kentucky's Tim Couch (twice), Florida's Doug Johnson and Florida's Terry Dean.
… with one rushing touchdown in Navy's win over Tulsa, quarterback Keenan Reynolds is one score away from tying and two from breaking Wisconsin running back Montee Ball's record of 83 total touchdowns?  In Week 11, Reynolds broke Ball's record for career rushing touchdowns.  Louisiana Tech's Kenneth Dixon has 81 career touchdowns, although he was kept out of the end zone in Week 12.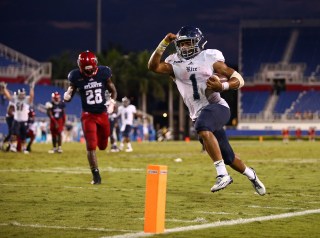 … with Rice running back Darik Dillard's third-quarter touchdown, he and his brother, former Rice wide receiver Jarett Dillard, surpassed the FBS record for most touchdowns by siblings, breaking the record of 81 previously held by Jacquizz (51) and James Rodgers (30) of Oregon State?  Jarett Dillard still hold the FBS record for most career receiving touchdowns with 60 from 2005-08.
… Washington running back Deontae Cooper was previously granted a seventh season of eligibility by the NCAA?  Cooper sustained knee injuries — ACL tears in each knee — in 2010, 2011 and 2012 that caused him to miss the entirety of all three of what would've been his true freshman, sophomore and junior years, leading the NCAA to take the extremely rare step of essentially resetting his eligibility clock, minus a redshirt, beginning with the 2013 season.  Cooper, relatively speaking, has been healthy each of the past three seasons, and will be eligible to play in 2016 as a former 2010 signee.
… Connor Cook (Michigan State), Brad Kaaya (Miami), Paxton Lynch (Memphis), and Dak Prescott (Mississippi State) are the only FBS quarterbacks to have thrown for 2,400-plus yards this season with 10 or more touchdowns and four or fewer interceptions?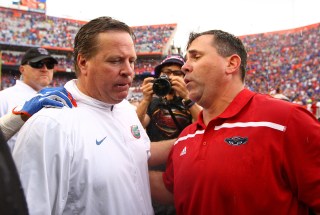 … Jim McElwain is the first head coach in Florida history to win 10 games in his first season with the Gators? Urban Meyer (2005), Steve Spurrier (1990), Galen Hall (1985) and Ray Graves (1960) all won nine games in their first seasons in Gainesville.
… Todd Graham became the first Arizona State head coach to reach bowl eligibility in each of his first four years with the Sun Devils?  This is also only the second time in program history ASU's qualified for a bowl four straight seasons, with the first coming under Frank Kush from 1970-73.
… Baylor beat Oklahoma State in back-to-back games for the first time since 1939-1942?
… Florida State, LSU, Oklahoma, Oregon, Penn State, USC, and Wisconsin are the only Power Five teams that have posted a winning record each of the past 11 seasons?
… Clemson is 8-0 in ACC play for the first time in the football program's history?  The Tigers went 7-0 in 1983 and 6-0 in 1967, 1978, 1981 and 1982.
… Iowa tied a school record for wins in a season with 11?  It's been accomplished two other times, 2002 and 2009.  The Hawkeyes have their regular-season finale plus at least two postseason games to shatter the record and set a new standard.
… at 9-1, Navy is off to its best start since Roger Staubach's Heisman season in 1961?  The service academy has also won 14 of its last 16 contests, with the only losses coming to rival Notre Dame.
… Kansas State's six-game losing streak entering Week 12 was the Wildcats' longest since 1989?  K-State's win over Iowa State ensured the streak didn't reach seven in a row.
… Florida State and Ohio State are the only teams that have yet to allow an opponent to score 30 or more points this season?  The most FSU has allowed was 24 in an Oct. 10 win over Miami, with OSU allowing 28 in an Oct. 10 win over Maryland serving as its high-water mark.
… Colorado and Hawaii are the only two teams without a bye in 2015?  After next weekend, they will have played for 13 consecutive weeks.