Just what the college football world needs, another meaningless preseason poll, right?
Be that as it may, here we are. And where we were last year right around this time was Oklahoma sitting in our preseason catbird seat. The Sooners went on to finish 11-2 and third in the country, although they ended the regular season just shy of another berth in the College Football Playoff.  The four teams that did earn playoff berths, national champion Clemson, national runner-up Alabama and semifinalists Ohio State and Washington began the 2016 season ranked fourth, second, 11th and seventh, respectively, in our preseason Top 25.
The year before, we had Ohio State, TCU, Oregon, Auburn and Michigan State Nos. 1-5; only MSU finished the regular season in the Top Five. 2015 national champion Alabama was No. 7 in our preseason rankings — just behind Arizona State, incidentally — while the team the Tide beat for the title, Clemson, was 14th. Oklahoma, the other of the four College Football Playoff semifinalists, came in at No. 16.
On a completely unrelated note, it's at this point in the program where I annually introduce the word "Nostradumbass" into the discussion, then quickly move on. It's also at this point where I state, once again and very emphatically, polls of any import should not be released until at least the first week of October. But I digress, realizing that it's merely urinating directly into a very stiff breeze.
In what will likely come as a surprise and/or shock to many, or even most, the Big 12 leads all conferences with a whopping six teams in our latest preseason Top 25.  For perspective, just three teams from that conference — Oklahoma (No. 3), Oklahoma State (No. 11), West Virginia (No. 17) — finished in the Top 25 of the final coaches' poll last season.
Beyond the Big 12, the ACC and SEC were next with five each, while the Big Ten and Pac-12 were right behind with four apiece.  Just one Group of Five program made the cut this time around — South Florida.  USF (No. 19) was one of three G5 teams, No. 18 Western Michigan and No. 25 San Diego State being the others, to finish 2016 ranked by the coaches.
Below is this year's entire Top 25, which was a consensus of polls cobbled together by myself with the help of five other individuals, three of whom go by the names Zach Barnett, Bryan Fischer and Kevin McGuire. Below that is a poll in which you can vote as to which team you feel should start the season No. 1 — or if there should even be a preseason No. 1. Below that is where you may complain and/or whine and/or moan and/or bitch about how disrespected your team and/or conference is.
Enjoy. And complain/whine/moan/bitch away.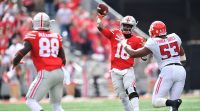 NO. 1 OHIO STATE
2016 RECORD/RANKING: 11-2/NO. 6
Urban Meyer adding Kevin Wilson (HERE) and Ryan Day (HERE) to his coaching staff as offensive coordinator and quarterbacks coach, respectively, may have been the biggest non-player, non-head coach additions of any team in the country this offseason.  Eighth-year senior quarterback J.T. Barrett, a preseason Heisman favorite last year, finished the 2016 season 58th nationally in passing yards and 55th in pass efficiency; with Wilson and Day on board, that won't happen again.  After losing more than one game in a season for just the second time during Meyer's five years in Columbus, the schedule sets up rather nicely for yet another playoff run as OSU gets Oklahoma, Penn State and Michigan State at home while what's ostensibly their toughest road test, Michigan, falls on the final day of the regular season.  Given the returning talent (15 starters, more than 30 others with playing experience) and Meyer continually reloading on the recruiting trail, anything less than a third College Football Playoff appearance in four years would be considered an unmitigated disappointment for Buckeye Nation.
NO. 2 USC
2016 RECORD/RANKING: 10-3/NO. 5
Easily the "it" team for the 2017 season, the Trojans finished the 2016 season on a nine-game winning streak that has led to the highest offseason hopes the denizens of the Land of Troy have held for a handful of years.  Leading that Trojans charge was Sam Darnold, the quarterback who went 9-1 after taking over as the starter in Week 4 and will enter 2017 as arguably the Heisman favorite as well as the odds-on favorite to be the No. 1 overall pick of the 2018 NFL draft if he opts to leave USC early.  Seven of those nine wins were by double-digits, including a 13-point road win over playoff qualifier Washington.  A defense that was 38th nationally and fifth in the Pac-12 returns eight starters and should improve significantly, which, when combined with Darnold as well as the return of leading rusher Ronald Jones, makes the Trojans the clear class of the conference and one of a handful of teams that hold realistic national title hopes.  One concern?  Replacing wide receivers JuJu Smith-Schuster and Darreus Rogers, who combined for 126 catches, 1,610 yards and 14 touchdowns.  Deontay Burnett (56-622-7) will have no choice but to shoulder a larger load in the passing game.
NO. 3 FLORIDA STATE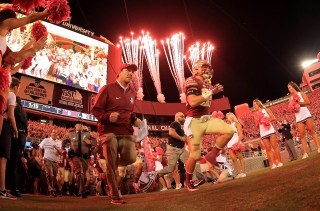 2016 RECORD/RANKING: 10-3/NO. 8
Aside from the absolutely loaded roster talent-wise, the thing that jumps out at you the most when it comes to projecting FSU's 2017 prospects is the schedule.  Specifically, they'll open the season in a neutral-site test against Alabama, then they'll have to travel to reigning national champion Clemson in mid-November as well the regular season finale against Florida in Gainesville.  That demanding road slate notwithstanding, the Seminoles are as talented a team as there is in college football, led by a defense that will not only return nine starters — one of which isn't DeMarcus Walker, unfortunately — but will be bolstered by the "addition" of Derwin James.  One of the top players in the country at any position on either side of the ball, the star safety played just three games in 2016 before going down with what ultimately turned out to be a season-ending injury, a loss that was a game-changer defensively as the 'Noles finished tied for 44th in points per game after finishing three of the last four seasons first, fifth and sixth in that category.  While quarterback Deondre Francois should be improved simply based on this being his second season as the starter, FSU will need to replenish his weapons.  Gone is leading rusher Dalvin Cook and his 1,845 yards, as well as the team's top four pass-catchers from a year ago.  Those losses and that road slate make FSU the definitive boom-or-bust team, capable of finishing anywhere from national champion to outside of the Top 10.
NO. 4 ALABAMA
2016 RECORD/RANKING: 14-1/NO. 2
Once again, let's delve into this fun fact: Nick Saban has never won a national championship when he entered the season as the Associated Press' No. 1 team in the country.  So, what did the AP go and do earlier this week?  Make 'Bama its No. 1 team in the country heading into the 2017 season, of course.  On the other hand, recent precedent suggests there is one absolute certainty as the Crimson Tide hasn't finished ranked outside of the Top 10 in any final AP poll since Saban's first season in 2007 and has only finished outside of the Top Five in three of those nine seasons — 2008 (sixth), 2013 (seventh) and 2010 (10th).  This season could be somewhat of a challenge for Saban as he returns six offensive starters and just five on the defensive side.  Then again, the future Hall of Fame coach will simply plug-in backups who were four- and five-star recruits and, for the ninth year in a row, find his team in the national title picture clear through the end of the regular season and, more than likely, beyond.  While the Tide lost some talent in the passing game, they do return their top five rushers from a year ago.  And, like they always do, the Tide's gonna do defense with the best of them regardless of how many or few starters return.  The opener against FSU will be a particularly precise gauge for both teams as to where they stand nationally moving forward as 'Bama is, once again, easily the best the SEC has to offer.
NO. 5 PENN STATE
2016 RECORD/RANKING: 11-3/NO. 7
All the Nittany Lions did last year was knock off the mighty Buckeyes and claim its first Big Ten title in a decade.  And what did James Franklin's team have to show for it?  Not a playoff berth as that went to OSU, with PSU having to settle for the Granddaddy of Them All.  Nine wins to close out the regular season, plus a dramatic loss to national title contender USC in the Rose Bowl, has some offering up PSU as this season's "it" team; with quarterback Trace McSorley and running back Saquon Barkley two of the nine returning offensive starters, it's easy to see why most have the Nittany Lions just on the perimeter of national title contender absolutes.  This season, however, the Nittany Lions will go from being in-the-brush hunters to out-in-the-open hunted.  The target on their backs will be even larger and more magnified than normal when they square off against Ohio State and Iowa, with those teams looking to exact revenge for stinging losses last season, and at their respective homes no less.  As long as injuries don't crop up, PSU should at least be in the Big Ten East discussion all the way up until, at minimum, the Oct. 28 trip to Columbus.
NO. 6 OKLAHOMA STATE
2016 RECORD/RANKING: 10-3/NO. 11
When star quarterback Mason Rudolph and equally starry wide receiver James Washington decided to eschew the 2017 NFL draft and return to Stillwater for another season, expectations in Stillwater were raised exponentially.  And rightly so.  That one-two combination is a prolific tandem that, with leading rusher Justice Hill returning as well, gives the Cowboys one of the most explosive offenses in the country.  Five of their nine Big 12 games will be played in the friendly confines of The House That Boone Built, including the annual Bedlam matchup with Oklahoma, although they will have to travel to West Virginia and Texas, teams that should be inside the Top 25 when those are played, in conference play.  Bedlam, though, could very well serve as the precursor to a rematch in the conference championship game now that the Big 12 has again added a title tilt to determine one.  True.  Champion.
NO. 7 WASHINGTON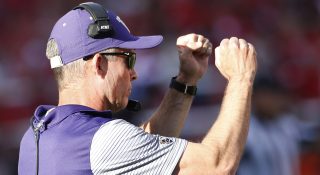 2016 RECORD/RANKING: 12-2/NO. 4
Last year around this time, I had Washington as the "it" team to "be back" after UW had toiled in the mid-pack — or lower — for X number of years prior.  Four months later, the Huskies represented the Pac-12 in the College Football Playoff, a tribute to the relatively rapid reclamation project Chris Petersen has successfully undertaken in the Emerald City.  So, what's next for the Petersen-built Huskies?  They return one of the top quarterbacks in the Pac-12, if not the country, in Jake Browning, while their four leading rushers from last year's 12-win squad are back as well.  While the defense returns several starters, the secondary was hit so hard by attrition that that unit and the dearth of returning experience in it makes it a legitimate concern and/or worry for the Huskies heading into the 2017 season.  Just where UW stands in Petersen v4.0 might not be known until a November trip to Stanford as the schedule sets up relatively well, at least on paper, until then.  And, speaking of the Cardinal…
NO. 8 STANFORD
2016 RECORD/RANKING: 10-3/NO. 12
David Shaw has essentially assembled an utterly-reliable and brutally-efficient football machine down on The Farm.  Aside from an eight-win 2014 season, Shaw's Cardinal has won 11, 12, 11, 12 and 10 during his six years since taking over for Jim Harbaugh, who laid the foundation on which Shaw has built.  Will 2017 be any different?  Likely not.  Yes, Shaw will have to replace Christian McCaffrey offensively and Solomon Thomas defensively, but with 16 total returning starters from last year's 10-win team it's a safe bet to assume that yet another double-digit season in wins is in the cards, so to speak.  After opening the 2017 season Down Under against Rice this weekend, Stanford will have the following weekend off to prepare for the ultimate litmus test as to where it stands both in the conference and nationally: Sept. 9. on the road against USC.  If that test is passed, though, road trips to Utah in October and Washington State in November loom large — as does the regular season finale against a Notre Dame team that could very well be ranked when the Fighting Irish again invade California.
NO. 9 CLEMSON
2016 RECORD/RANKING: 14-1/NO. 1
It's a testament to what Dabo Swinney has built at Clemson that, despite losing the greatest quarterback in the program's history in Deshaun Watson, fans are likely to be extremely pissed off that the Tigers are on the low-end of the Top 10 in this particular Top 25.  And, coming off its first national championship in more than three decades, no less, those feelings could very well be warranted.  Still, losing Watson is a significant and noteworthy blow, one that Swinney hopes Kelly Bryant, he of the 18 career pass attempts, can help soften.  On top of that, though, the Tigers lost their leading rusher in Wayne Gallman — Watson was second — as well as their top three pass-catchers.  Losing Carlos Watkins and Ben Boulware defensively won't help either.  That said, Clemson returns arguably the best offensive and defensive lines in the conference, and gets Florida State at home in mid-November.  Back-to-back weeks the first month of the season, though — Auburn Sept. 9, at Louisville the next weekend — could very well determine how big of a matchup that FSU game will be when it comes to both the conference and playoff picture.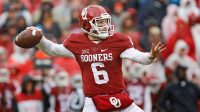 NO. 10 OKLAHOMA
2016 RECORD/RANKING: 11-2/NO. 3
For the first time since the middle of Bill Clinton's second term in the Oval Office, someone other than Bob Stoops will be charged with leading the Sooners onto the field for an opener.  Leading that charge will be young Lincoln Riley, with the Sooners representing the 33-year-old's first-ever head-coaching opportunity at any level.  The good news for the virgin head coach is that his offense is in very capable and veteran hands, with 2016 Heisman Trophy finalist Baker Mayfield sitting in the cockpit yet again.  Mayfield will have to find some new wingmen as OU will be forced to replace its top two rushers as well three of its top four pass-catchers.  That said, they return their entire starting offensive line amongst the nine returning starters on that side of the ball.  Even without Stoops, the Sooners expect to be the class of the Big 12 — at least until an early-November trip to Stillwater says otherwise — as they have won 16 consecutive games in conference play.  Just where they stand nationally will come in Week 2 when they make the trek to Columbus to take on Ohio State.  Maybe by then, Mike Stoops will have a defense that was average, at very best, the last half of last season turned around and headed back toward its customary level.
NO. 11 WISCONSIN
2016 RECORD/RANKING: 11-3/NO. 9
You're likely not to believe this, but the 2017 Wisconsin Badgers will feature a stout defense that returns six starters, an extremely large offensive line — lightest player in the 310 range — with four returning starters, a game-manager quarterback and talented albeit relatively inexperienced running backs.  Stunning revelation, eh?  Throw in the fact that the head coach and both coordinators all played their college football for the Badgers, and this team just screams "WISCONSIN" if any ever has.  Technically, UW returns seven defensive starters, but star linebacker Jack Cichy went down with an ACL tear earlier this month and won't play at all in 2017, a significant blow that will impact that side of the ball throughout the year.  Arguably the best news is the schedule, with just one team, Michigan, currently ranked inside the AP Top 25 — and the Badgers get the Wolverines at home.  Additionally, they get Northwestern at home, and avoid both Ohio State and Penn State altogether.  At least when it comes to the Big Ten West, UW is in a class by itself and should probably begin booking early-December plans for Indianapolis sooner rather than later.
NO. 12 LSU
2016 RECORD/RANKING: 8-4/NO. 14
Lose Leonard Fournette?  No problem, just plug-in Derrius Guice.  Lose six starters on defense?  No problem, plug-in four- and five-star backups to Dave Aranda's annually dominant defensive scheme and watch them suffocate opposing offenses.  A tradition unlike any other, the quarterback position is an annual question mark on the bayou, although Danny Etling helped stabilize the position somewhat last season and the addition of offensive coordinator Matt Canada, he of prolific offenses at Pitt and North Carolina State, should help further steady the most worrisome spot on what is otherwise an uber-talented depth chart.  Potentially the biggest issue facing Ed Orgeron in his first full season as LSU's head coach?  Because of a hurricane-related hullabaloo last year, the Tigers will be forced to play five of their eight SEC games on the road.  Those five conference road games include trips to Florida, Alabama and Tennessee.
NO. 13 LOUISVILLE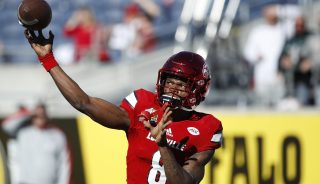 2016 RECORD/RANKING: 9-4/NO. 20
Entering Week 12 last season, the Cardinals were flying high at 9-1 and ranked third in the country thanks in very large part to eventual Heisman winner Lamar Jackson.  The bottom then proceeded to drop out of the playoff hopes they were entertaining as they lost to Houston (by 26) and Kentucky (at home) to close out the regular season, then dropped a 20-point decision to LSU in the Citrus Bowl. On the plus side, the U of L returns Jackson as well as seven defensive starters.  On the negative side of the ledger, they have to replace their leading rusher among running backs as well as their top three receivers.  Plus, there's the likes of Florida State (away) and Clemson (home) with which to deal in their pursuit of what some would deem an unlikely ACC Atlantic crown as the Seminoles and Tigers have combined to win the last eight division titles.
NO. 14 GEORGIA
2016 RECORD/RANKING: 8-5/NR
This team just feels like one in which it would come as no surprise whatsoever if they won 10-plus games or won just six or so.   If running backs Nick Chubb and Sony Michel can stay healthy… if quarterback Jacob Eason takes the next-level step after starting as a true freshman… if a defense that was fifth in the SEC and returns 10 starters just stays at that level or even improves slightly with experience… if those all come together, 10 wins and an SEC East title are well within reach.  Oh, and they avoid Alabama and LSU in cross-divisional games for good measure.  There are concerns, though, as all three interior offensive line positions will feature new starters, while someone will need to step up and fill the void after losing leading receiver Isaiah McKenzie.  So, on what side of the 8-5 Kirby Smart put up in his first season in Athens will his second team fall?  Here's to guessing double-digit wins is the closer of the two possibilities.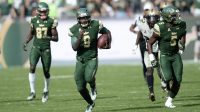 NO. 15 SOUTH FLORIDA
2016 RECORD/RANKING: 11-2/NO. 19
Finally, 15 teams in, we come to one from the group of Five.  And deservedly so.  A school-record 11 wins in a 2016 season that saw a five-game winning streak to close out a year that ended on a very high note, an overtime win over South Carolina in the Birmingham Bowl.  The Bulls return 16 starters (nine on defense), including one of the most electrifying players in the country in quarterback Quinton Flowers.  They play just five of their 12 regular season games on the road, the toughest of which, at the moment, is likely UCF in the regular season finale.  They get Illinois at home in non-conference play, then play host to Temple, Cincinnati and Houston in AAC action.  Heading into the 2017 season and without a single game being played, there's little question that, even with Charlie Strong being in his first season with the program, the Bulls are the overwhelming favorite to grab the G5's New Year's Six bowl berth.
NO. 16 WASHINGTON STATE
2016 RECORD/RANKING: 8-5/NR
This one might raise some eyebrows, but maybe it shouldn't.   Wazzu will enter the 2017 season unranked by the coaches, and just barely inside the AP Top 25 at No. 24.  After beginning the 2016 season 0-2, including a loss to FCS power Eastern Washington, WSU went 8-3 the rest of the way, with home wins over Oregon and UCLA as well as a 26-point win at Stanford.  The end of the regular season showed they have some ground to make up on conference heavyweights, though, as they lost to Colorado and Washington by a combined 42 points.  With quarterback  Luke Falk returning, Wazzu is set to again be prolific in the passing game while a revamped running game returns its three leading rushers.  Add in a surprisingly stout defense that was sixth in the conference in scoring, and Wazzu should be able to, again, challenge rival Washington and Stanford for North supremacy.  This may ultimately prove to be too high of an initial ranking for Mike Leach's squad, but I'd wager they'll be closer to this than unranked.
NO. 17 MICHIGAN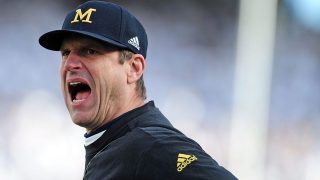 2016 RECORD/RANKING: 10-3/NO. 10
Let the Ann Arbor howling begin.  The AP has the Wolverines at No. 11, and the coaches are even higher on them at No. 9.  So why so low here?  Just one starter returns on defense, to begin with.  Their leading rusher is gone as well, as are their top three receivers and a trio of starting offensive linemen.  Although they get archrival Ohio State at home, they have to travel to Penn State, Wisconsin and what should be a much-improved Indiana squad.  And then there's the season opener against Florida in Arlington.  All signs point to a slight downturn in 2017 — think eight or nine wins coming off back-to-back 10-win seasons — before a huge uptick in 2018, fueled by Jim Harbaugh and his staff's successes on the recruiting trail, that should have Big Blue in the thick of the national title conversation throughout next season.
NO. 18 MIAMI
2016 RECORD/RANKING: 9-4/NO. 23
It was a tale of three seasons in Mark Richt's first season at the helm at his alma mater as the Hurricanes won their first four games… then lost their next four — three of which were by a combined 11 points — then won the final five games to finish 9-4 and just outside of a berth in the ACC championship game.  So, what will Richt & Company do for an encore?  First and foremost, and despite having to replace starting quarterback Brad Kaaya, they'll enter the 2017 season as a prohibitive favorite in the Coastal.  There are conference scheduling traps galore, though, as trips to Florida State, North Carolina and Pittsburgh loom large for any league title hopes the improved Hurricanes hold for this season.
NO. 19 TCU
2016 RECORD/RANKING: 6-7/NR
In 2013, TCU finished 4-8.  A year later, they were on the cusp of qualifying for the first College Football Playoff before just missing out and finishing the 2014 season 12-1. After reaching double digits in wins again in 2015, the Horned Frogs fell back to 6-7 last season.  Is another 2014-style rebound in the offing?  One of my CFT colleagues thinks so, with Zach Barnett writing that "[i]t seems every time we forget Gary Patterson is one of the very best coaches in the game, he reminds us in a big way." Buoying that confidence is the return of a conference-high 17 starters.  The counterweight to that are road trips to Arkansas, Oklahoma State, Kansas State and Oklahoma.  With that brutal road slate, K-State will have earned it if — and it's still a sizable if — they get back amongst the league's elite and lurk around the national stage once again.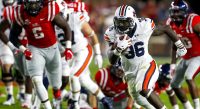 NO. 20 AUBURN
2016 RECORD/RANKING: 8-5/NO. 22
Perhaps thanks in part to the 2015 season, call me suspect on the Auburn hype train that has them 12th and 13th in the AP and coaches' polls, respectively, to begin the season.  All the signs, though, seemingly point to AU being the biggest threat to Alabama in the SEC West.  Not only do the Tigers return 15 starters, they've added talented Baylor transfer Jarrett Stidham at quarterback, which at least on paper serves as a significant upgrade at the position.  Kamryn Pettway and Kerryon Johnson, who combined for nearly 2,200 yards rushing last season, are back, as are four of the five leading receivers from a year ago.  At Clemson, at LSU, at Texas A&M and the annual Iron Bowl matchup with Alabama, this year on The Plains, will go a long way in determining which of the preseason polls were correct — and whether it's 2015 all over again
NO. 21 TEXAS
2016 RECORD/RANKING: 5-7/NR
Charlie Strong may have left the won-loss cupboard bare for Tom Herman, but the same can't be said for the returning talent in the recruiting cabinet.  Strong's first recruiting class at UT was ranked second in the Big 12; his final two were the best in the conference.  Herman followed that up with the second-best class in the league this year (and his 2018 class is currently second in the country, for future reference).  An even 10 defensive starters return, albeit from a unit that was tied for 90th nationally in points allowed.  On the one hand, Herman will have the monumental task of replacing 2,000-yard rusher D'Onta Foreman; on the other hand, the quarterback guru is expected to work his magic with sophomore Shane Buechele, who will have his top three receivers back for Year 2 as the starter.  This is another team I may look back on at the end of the year and say, "damn, why'd we have them so low?"
NO. 22 KANSAS STATE
2016 RECORD/RANKING: 9-4/NR
Bill Snyder returns 15 starters from last year's nine-win squad, including a quarterback in Jesse Ertz who also doubled as the Wildcats' leading rusher.  In fact, Ertz ran for more touchdowns (12) than he threw (nine).  While there were a couple of key losses on the other side of the ball, notably Big 12 Defensive Player of the Year Jordan Willis and first-team all-conference 12 linebacker Elijah Lee, they still return six starters from a defense that led the league in scoring.  If Oklahoma and Oklahoma State are the class of the conference, K-State, along with Texas, West Virginia and TCU, would be considered part of the next tier.
NO. 23 FLORIDA

2016 RECORD/RANKING: 9-4/NO. 13
The last of the five SEC teams in our Top 25, Jim McElwain's Gators have claimed each of the past two East division titles.  Given the seemingly never-ending uncertainty at the quarterback position — would they really use three of them in the opener against Michigan? — they have been surpassed as the preseason divisional favorite by Cocktail Party rival Georgia.  The good news for a team that returns 14 starters as well as top three rushers and top seven pass-catchers?  Their road games this year consist of extremely winnable trips to Kentucky, Missouri and South Carolina.  They do, though, play host to Tennessee, LSU, Texas A&M and Florida State to go along with neutral-field matchups with UM and UGA.  That's a rough scheduling row to hoe for a team looking to capture its third consecutive division title.
NO. 24 WEST VIRGINIA
2016 RECORD/RANKING: 10-3/NO. 17
Gut feeling, but I have a sneaking suspicion that I will regret having WVU as low as they are right now by season's end.  Or I'm waaay too high on them.  One of the two.  Yes, the Mountaineers return just eight starters, total, from a 10-win team a year ago that finished tied for second in the Big 12. Florida transfer Will Grier, though, gives Dana Holgorsen his most physically-gifted quarterback with which to work entering his seventh season in Morgantown, while 1,200-yard rusher Justin Crawford is back to shoulder the running game load.  Schedule-wise, Texas and Oklahoma State at home are offset by road trips to TCU and Oklahoma.  We could get a glimpse of which direction WVU's season may be headed in the neutral-field opener against Virginia Tech.  Speaking of which…
NO. 25 VIRGINIA TECH
2016 RECORD/RANKING: 10-4/NO. 16
The reigning ACC Coastal champion, Tech will head into 2017 coming off a 10-win season in Justin Fuente's first year with the Hokies and the first Frank Beamer-less season for the program since Ronald Reagan was in his second term as the POTUS.  With Jerod Evans inexplicably declaring for the 2017 NFL draft — he wasn't drafted — Fuente will be forced to break in a new quarterback in redshirt freshman Josh Jackson, who will be one of six new starters on the offensive side of the ball.  Just one time in the last baker's dozen years (47th, 2015) has a Bud Foster-led defense finished worse than 30th in scoring defense; with seven starters returning, don't expect that to change.  The Nov. 4 game at Miami could very well decide the division title and whether Tech will earn a second consecutive trip to the conference championship game.