A statistical snapshot of the week that was in college football…
.540 — Winning percentage (20-17) of road teams in Pac-12 conference games this season.
.966 — Winning percentage of Ohio State (28-1) in the last 29 regular season games.  Baylor and Florida State (27-2 each) are next at .931.
5 — Blocked kicks (punts, point afters, field goals) for both Illinois and Temple this season, the most of any FBS team.
6 — Rushing touchdowns for Kenneth Dixon in Louisiana Tech's 56-13 thumping of North Texas
10 — Number of players who both caught passes and had at least one carry in Michigan's romp over Rutgers.
11.2 — Yards per carry Ke'Shawn Vaughn (16-180) and Josh Ferguson (12-133) averaged during Illinois' 34-point blowout of Purdue.
12 — Different players who caught passes in UCLA's shutout win over Oregon State and North Carolina's 35-point win over Duke.
25 — With Frank Beamer retiring at Virginia Tech, and provided he doesn't do the same, Kansas State's Bill Snyder will be the longest-tenured FBS head coach at the same school at a quarter of a century next season.  Iowa's Kirk Ferentz and Oklahoma's Bob Stoops would be next at 18 years, followed by TCU's Gary Patterson at 16.
29 — Consecutive Big Ten regular season wins for Ohio State, tying Florida State (ACC, 1992-95) for the fourth-longest conference winning streak of all-time.  Oklahoma won 44 straight Big 7/8 games from 1952-59, while OU (Big 8, 1984-88) and Boise State (WAC, 2001-05) are tied for the second-longest streak at 31 straight.
32.5 — Yards per catch Oklahoma State's James Washington has averaged the past three games (15 catches, 487 yards).
39 — Consecutive winning seasons for Florida State, the nation's longest active streak.
77 — Consecutive games for Oregon in which they've thrown a touchdown pass, extending their own FBS record.  Texas Tech (2006-11) had held the previous record at 69 straight before it was broken by the Ducks earlier this year.
207 — Rushing yards for New Mexico State's Larry Rose III in a win over Texas State, giving him back-to-back 200-yard games and three on the season.
212.7 — Pass efficiency rating for Bowling Green's Matt Johnson over the last four games (111-144, 1,602 yards, 19 touchdowns, one interception).  Baylor's Seth Russell currently leads the country at 189.7; Johnson is third at 179.1.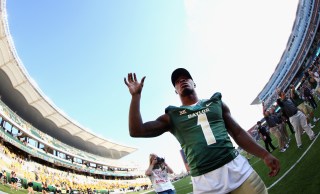 216 — Receiving yards for Corey Coleman, the second time in the Baylor receiver's career is topped 200 yards.  The nation's leading receiver in yardage, Coleman has topped 100 yards in seven of eight games this season.  He's also caught two or more touchdowns in seven straight games.
268 — Yards rushing and passing Temple accumulated in rolling up 536 yards of offense in a 60-40 win over SMU Friday night.
404 — Yards passing for North Carolina's Marquis Williams against Duke in the first half.  Williams would finish with a school-record 494 yards, and set another program standard with 524 yards of total offense.
419 — Yards passing for Jarrett Stidham in his first career start in Baylor's win over Kansas State Thursday night.
442 — Career-high passing yards for Brandon Allen in Arkansas' overtime win over Ole Miss.  Is was the second 400-yard game of Allen's career, both of which have come this season.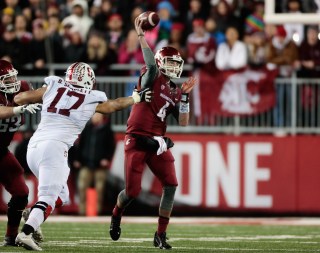 497 — Yards passing for Washington State's Luke Falk in the win over Arizona State.  It's Falk's eighth straight game with 300 or more yards, and fifth time this season he's gone over 400 yards.
518 — Yards of total offense (445 passing, 73 rushing) for Trevone Boykin in TCU's loss to Oklahoma State.
523 — Career-high passing yards for Gunner Kiel in Cincinnati's loss to undefeated Houston.
711 — Yards of total offense for Western Michigan in Thursday's 54-7 win over Ball State, breaking the school single-game record.  The total is the most by a MAC team this season and the seventh-most in conference history.
777 — Yards of total offense (300 passing, 477 rushing) for Oregon in the win over Cal.
1937 — Last year North Carolina State had beaten Boston College in Chestnut Hill prior to Saturday's 24-8 road win.  NCSU had previously lost six in a row at BC.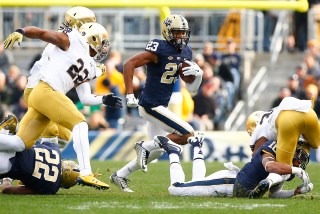 3,097 — Career receiving yards for Pittsburgh's Tyler Boyd, breaking the record of 3,061 yards previously held by Antonio Bryant.
9,200 — Number of songs downloaded onto TCU head coach Gary Patterson's iPod, at least according to that school's sports information department.
35,050 — Amount, in dollars, of the highest current bid in an auction for a Leonard Fournette game-used jersey and a pair of game-used helmets signed by Les Miles and Steve Spurrier.  The opening bid, incidentally, was $7,000.  All of the money raised in the auction will go toward the South Carolina flood relief effort.
One final statistical note, in list form, courtesy of the Ohio State sports information department:
Best 50-Game Starts at FBS School
1. 47-3-0 – Urban Meyer, Ohio State (2012-15)
T2. 46-4-0 – Chris Petersen, Boise State (2006-09)
T2. 46-4-0 – Dennis Erickson, Miami (1989-92)
T4. 45-2-3 – Robert Neyland, Tennessee (1926-31)
T4. 45-3-2 – Barry Switzer, Oklahoma (1973-77)
T6. 44-3-3 – Knute Rockne, Notre Dame (1918-23)
T6. 44-6-0 – Dan Hawkins, Boise State (2001-04)
T6. 44-6-0 – Larry Coker, Miami (2001-04)
T6. 44-6-0 – Bob Devaney, Nebraska (1962-66)
T10. 43-6-1 – John Robinson, USC (1976-80)
T10. 43-6-1 – Bud Wilkinson, Oklahoma (1947-51)