As is the case each and every season, each and every week, any omission below is not on purpose, it's merely intentional.
CRYSTAL BALLING INITIAL CFP TOP FOUR
With nine weeks of the 2015 season tucked neatly into bed, we're on the cusp of the initial set of rankings that will ultimately produce the four teams that will play for a national championship.
On Tuesday, the College Football Playoff committee will release its first Top 25 of the new football year.  After Tuesday, four more sets of rankings will be released before the final one in early December that seats the four semifinalists at the playoff table.
So, how will the initial top four look a couple of days from now?  Before getting to that, let's take a look back at the first year of the CFP and its inaugural set of rankings — and the major polls that came out around that time as well.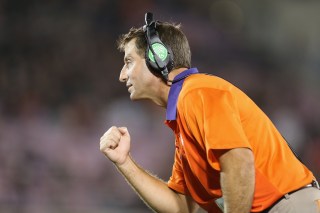 For the Week 10 polls in 2014, the Associated Press and coaches had the exact same first four in the same order: Mississippi State, Florida State, Alabama, Auburn.  The CFP had the same top two as the polls, with Auburn initially slotted at No. 3.  The committee's fourth?  Ole Miss.  The Rebels were No. 7 according to the AP, No. 9 per the coaches.  While it doesn't mean the committee will follow a similar pattern this year, it should mean there will be little deviation from the polls to the first CFP rankings this year or any other.
As it stands now, the AP and coaches' poll have the same teams at No. 1 (Ohio State), No. 2 (Baylor) and No. 4 (LSU).  The media has Clemson, TCU and Michigan State at Nos. 3, 5 and 6, respectively, while the coaches have it TCU, Michigan State and Clemson at the same spots.  CFP translation?  Ohio State, Baylor and LSU will be in the initial first four, and many would probably get to that same conclusion without the aid of inconsequential polls.
For the final spot, and realizing that more than three may/will be considered by the actual committee, let's go to the résumés:
Clemson
— six wins vs. Power Five teams
— one win vs. currently ranked teams
— three P5 road wins
— current record of P5 opponents: 27-23 (.540)
— average margin of victory vs. P5 opponents: 17.5 ppg (skewed significantly by 58-0 win over Miami)
Michigan State
— five wins vs. P5 teams
— one win vs. currently ranked teams
— two P5 road wins
— current record of P5 opponents: 20-20 (.500)
— average margin of victory vs. P5 opponents: 8.6 ppg
TCU
— six wins vs. P5 teams
— zero wins vs. currently ranked teams
— four P5 road wins
— current record of P5 opponents: 21-26 (.447)
— average margin of victory vs. P5 opponents: 18.8 ppg
The verdict?  It's close between all three of those listed, but I think, maybe, the committee would go with the Tigers in this scenario.  The first four order?  I'm going to go with LSU, Clemson, Ohio State, Baylor.  Again, that's my guesstimation as to the committee's order, not my personal opinion.
At this time last year, there were two undefeated Power Five teams.  This year, there are a whopping eight from the P5s, and another three from the Group of Five for good measure.  That sheer number is one reason I believe, right or wrong, one-loss teams like Alabama and Stanford won't yet be considered by the committee for one of the top four spots.  The nature of the schedule will naturally whittle the list of unbeatens down to a half dozen or less in the coming weeks, though, allowing teams like the Tide and Cardinal to make their way into playoff consideration — especially if it's a team like the Tide that can help whittle down the list of undefeated teams beginning this coming weekend.
One final note: the eventual national champion, the Ohio State Buckeyes, was 16th in the first CFP rankings.  Just remember that when the initial rankings this year are released.
SATURDAY RESET
Below is a list of links for all of the Week 9 gamers posted by the CFT crew, placed in one handy and convenient space for you, our beloved and dear readers.
CFT TOP FIVE
A snapshot look at how my ballot would look Sunday if I, ya know, had a real vote.
1. LSU — I think this is the best team in the country, but even I can't say exactly how good the Tigers truly are.  After a Week 10 trip to Tuscaloosa, we all will be able to tell a whole hell of a lot more about the Bayou Bengals — and their opponents, for that matter. (Last week: No. 1)
Next up: at No. 8 Alabama, Nov. 7
2. Baylor — Even as they've steamrolled the competition, the Bears are still looking for a signature win against a quality opponent.  After this Thursday, they'll get the opportunity to rectify that as they'll face No. 14 Oklahoma, No. 12 Oklahoma State and No. 5 TCU in back-to-back-to-back weeks. (Last week: No. 2)
Next up: at Kansas State, Nov. 5
3. Ohio State — Were it not for J.T. Barrett's off-field situation, I would've moved the Buckeyes above the Bears and behind the Tigers.  Now, I almost dropped them out of the Top Five.  The Barrett-led Buckeyes are a national title contender; the Cardale Jones-led Buckeyes are an upset loss waiting to happen. (Last week: No. 3)
Next up: vs. Minnesota, Nov. 7
4. TCU — The Horned Frogs are getting healthier, especially on defense, which is bad news for the rest of the playoff contenders.  The Thursday night win over West Virginia may have been their most solid all-around performance since Week 1. (Last week: No. 4)
Next up: at Oklahoma State, Nov. 7
5. Clemson — I spent waaayyy too much time trying to decide on the fifth team in a meaningless Top Five, vacillating endlessly between undefeated Clemson and one-loss Stanford.  I ultimately went with the Tigers because the résumés were close enough that the Cardinal's loss tipped the scales toward the team from the ACC. (Last week: No. NR)
Next up: at Colorado, Nov. 7
(Dropped out: Stanford)
(Others considered: Stanford)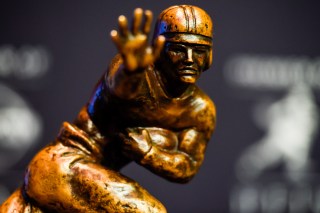 HEISMAN RACE, BY THE NUMBERS
A statistical look at how the top contenders for this year's stiff-armed trophy fared this past week.
Trevone Boykin, QB, TCU (8-0, No. 5)
Thursday: 32-47 (68.1%), 388 yards, three touchdowns; 11 carries for 84 yards (7.7 ypc), one touchdown
Season: 198-297 (66.7%), 2,927 yards, 28 touchdowns, five interceptions; 88 carries for 524 yards (5.9 ypc), five touchdowns
Corey Coleman, WR, Baylor (7-0, No. 1)
Saturday: did not play (bye)
Season: 47 receptions for 962 yards, 18 touchdowns; 11 carries for 49 rushing yards
Dalvin Cook, RB, Florida State (7-1, No. 17)
Saturday: did not play (injured)
Season: 127 carries for 1,037 yards (8.2 ypc), 11 touchdowns; 15 receptions for 181 yards, one touchdown
Josh Doctson, WR, TCU (8-0, No. 5)
Thursday: 11 receptions for 183 yards, one touchdown; one carry for one yard
Season: 71 receptions for 1,250 yards, 14 touchdowns; two carries for seven yards
Ezekiel Elliott, RB, Ohio State (8-0, No. 1)
Saturday: did not play (bye)
Season: 167 carries for 1,130 yards (6.8 ypc), 13 touchdowns; 23 receptions for 160 yards
Leonard Fournette, RB, LSU (7-0, No. 4)
Saturday: did not play (bye)
Season: 176 carries for 1,352 yards (7.7 ypc), 15 touchdowns; seven receptions for 58 yards
Matt Johnson, QB, Bowling Green (7-2, NR)
Saturday: did not play (bye)
Season: 242-345 (70.1%), 3,321 yards, 29 touchdowns, three interceptions; 74 carries for 152 yards, three touchdowns
Christian McCaffrey, RB, Stanford (7-1, No. 8)
Saturday: 22 carries for 107 yards (5.7 ypc); four receptions for 26 yards; one punt return for three yards
Season: 175 carries for 1,060 yards (6.1 ypc), six touchdowns; 25 receptions for 310 yards, two touchdowns; 19 kick returns for 559 yards; nine punt returns for 25 yards
(Dropped out: None)
(Added: None)
JT's Personal Top Fivesman
1. Fournette — The sophomore back has been the front-runner for most of the season, and for good reason: he's the best player in college football playing for one of the best teams in the game.  It'll take a superhuman effort over the next month to unseat him as the favorite.
2. Boykin — As an individual who plays the preferred position of voters, the only senior in the group has what it takes to put up a superhuman effort over the next month to "catch" Fournette.  The fact that he still has three high-profile games left (unbeaten Baylor and Oklahoma State, plus Oklahoma) leaves him with the best chance of overtaking the front-runner.
3. Elliott — The lone junior on my list, Elliott has rushed for 100 or more yards in a nation's best 13 straight games.  There may be uncertainty at the quarterback position in Columbus, but Elliott's the one constant, sure thing on that side of the ball.
4. Cook — Entering Week 9, the sophomore was responsible for 85 percent of FSU's rushing yards and rushing touchdowns even as he's accounted for just 55 percent of the Seminoles' carries.  That screams MVP if not Heisman.
5. McCaffrey — If you haven't noticed, the sophomore is the only player west of the Rockies on most if not all of these types of Heisman lists.  That could greatly aid the multi-purpose star's efforts to at least get a mid-December trip to New York City.
STATE OF NEBRASKA FOOTBALL
There was much joy in Lincoln when Bo Pelini and his volatility — and his nine-win seasons — were replaced by nice-guy Mike Riley.  After losing five of the first seven games of the Riley era by a total of 15 points, NU was embarrassed by a woeful Purdue football team that came into the game at 1-6 — and that lone win came against FCS Indiana State.
The final score?  Purdue 55, Nebraska 45.  The current record?  3-6, and in danger of going bowl-less for the first time since Bill Callahan's last season in 2007.  The current state of Husker Nation?  This pretty much sums it up.
POOP HAPPENS
Kentucky's Cory Johnson is a 300-pound defensive lineman who is nicknamed "Poop" as he has an issue keeping his weight up because (warning! medical jargon ahead!) he poops too much.  Gastrointestinal issues or not, Johnson proved Saturday night that he can still run a sizable distance to earn himself a fat-man touchdown.
BTW, the loss to Tennessee still leaves Kentucky two wins away from going boweling errrrrr bowling this postseason.  Sorry, had to go there, so to speak.
ARE YOU SPITTIN' ME?
This will serve as one of the greatest non-scoring run-after-catches you'll ever see in college football.  And one of the longest, too.
DON'T BELIEVE THE HYPE
After Kenny Hill tore up South Carolina's defense to start the 2014 season, the hype machine went into overdrive for the Texas A&M quarterback before ultimately dropping its transmission and blowing up before the end of the year.  Fast-forward a year, and A&M's Kyler Murray carved up the defense from the same team in his first career start.  As the hype machine knows no bounds…
AIN'T NO HURDLE HIGH ENOUGH
Apparently, Penn State's super freshman, Saquon Barkley, decided to dress up for Halloween as Edwin Moses.  Or Ezekiel Elliott.  One of the two.
PICK UP YOUR JOCKS, MANHOOD ON THE WAY OUT, PLEASE
What Florida State wide receiver Travis Rudolph did to the hapless Syracuse defense on this play is borderline criminal.
AN ALL-TIMER
With his 260th career catch, Colorado's Nelson Spruce surpassed Arizona's Mike Thomas as the all-time leader in Pac-12 history in receptions.  Below is Catch No. 260.
HELMET OF THE DAY
I'm not a huge fan, at all, of the alternate uniform craze that's swept through college football the past few years, but these Halloween-themed helmets Boise State wore Saturday are pretty damn spectacular.
JUMPING THE LANDSHARK
From the soon-to-be-released movie "White Men Can't Dance"…
TOMMY BOY SIGNAGE
You incorporate one of the greatest movies ever in your College GameDay sign, you will always merit a mention in ye olde Fifth Quarter.
I PICKED A BAD WEEK TO QUIT…
In the same vein as above, you reference "Airplane!", you get mentioned.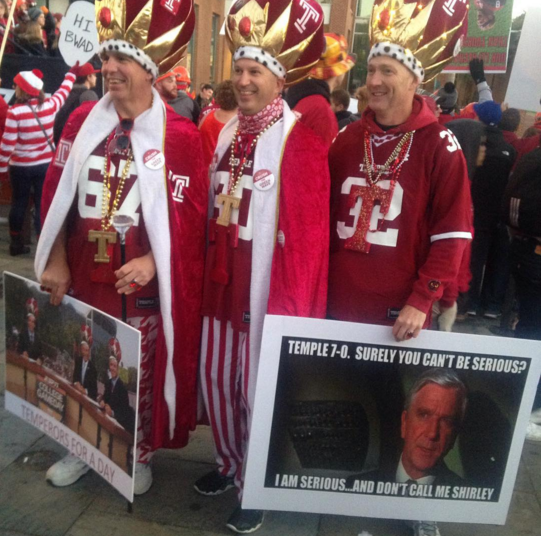 HALLOWEEN COSTUME OF THE DAY
This really needs no explanation whatsoever.  Well done, young man, dressing as an ACC official.
HE SAID IT
"I don't mean this in a disingenuous — I really don't care. I'm not worried about the playoffs. We're still four games from the end of the Big Ten season. We're going to enjoy this one. We'll worry about our next opponent starting tomorrow afternoon." — Kirk Ferentz, when asked about his 8-0 Iowa team's standing in the eyes of the College Football Playoff committee.
HE SAID IT, THE SEQUEL
"Well guys, that was painful to say the least. I apologize for that but the end result was awesome." — Jim McElwain, following Florida's ugly 27-3 shredding of rival Georgia.
HE SAID IT, THE THREEQUEL
"Not good. We lost, and all that counts are wins and losses. It's not a good feeling. It is something you wish you never have to experience." — Georgia quarterback Faton Bauta, when was asked how he felt he played following a four-pick performance in his first collegiate start.
HE SAID IT, BONUS EDITION
"I think we are all frustrated. We should be playing better, and there's no question about it, we've got to get it figured out and play better. There's no doubt about that." — Cal head coach Sonny Dykes, whose Bears have lost three straight after opening 2015 with five straight wins.
HE SAID IT, THE FINAL ONE
"There were all sorts of issues that the conference has to resolve. That's not my job. Call the ACC, they should have answers." — David Cutcliffe, on the shoddy officiating (on both sides) in Duke's wild last-second loss to Miami.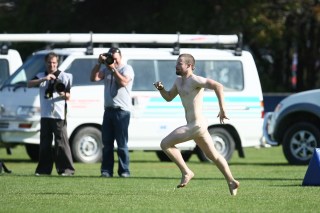 STREAKING
Eight wins to start the 2015 season pushed on-a-bye Ohio State's nation's best winning streak to 21 straight last Saturday.  Up next are TCU (16), Memphis (15), Michigan State (12), Clemson (11) and Toledo (10).
On the other side of the won-loss ledger, New Mexico State's win in overtime over Idaho ended the nation's longest losing streak at 17 in a row.  With that, Kansas is now the not-so-proud owners of the country's longest at 11 straight, followed by UCF (10), Miami of Ohio (eight) and Eastern Michigan (seven).
GOING BOWLING
Entering Week 9, there were 33 teams that had secured bowl eligibility.  Exiting the weekend, there are now 40 teams eligible for the postseason with five weeks left in the regular season.  The newest additions totaled seven: Georgia Southern, Louisiana Tech, Navy, San Diego State, Southern Miss, Texas A&M and UCLA.
There are 41 bowl games this season — counting the two College Football Playoff semifinals — meaning 82 teams will need to reach the six-win threshold in order for teams with sub-.500 records to remain where they belong: at home during the postseason.
S.I.D. NOTE OF THE WEEK I
Daniel Carlson has five 50-yard-plus field goals in his last eight games, exceeding the total of 50-yard field goals by all Auburn kickers in the previous 150 games combined (four), dating back to 2003.
S.I.D. NOTE OF THE WEEK II
Of Wake Forest's 168 points scored this season, 160 have been by true freshmen, redshirt freshmen or sophomores.
S.I.D. NOTE OF THE WEEK III
Wisconsin has attempted 35 or more passes six times this season, posting a 4-2 record in those games. From 1990 to 2014, the Badgers were 0-23-1 in games in which they passed the ball 35 or more times.
S.I.D NOTE OF THE WEEK IV
The win over then-No. 3 Utah was the first time an Associated Press unranked USC team beat an AP Top-Three-ranked team since the Trojans defeated No. 2 Texas A&M, 20-0, in the Liberty Bowl on Dec. 22, 1975.
S.I.D. NOTE OF THE WEEK V
No program in the nation has a higher graduation rate over the past four years than Stanford (99%). Furthermore, no Pac-12 Conference team has had more draftees over the past four years than Stanford (19).
OFF THE CHARTS
Courtesy of the Toledo sports information department, and entering Week 9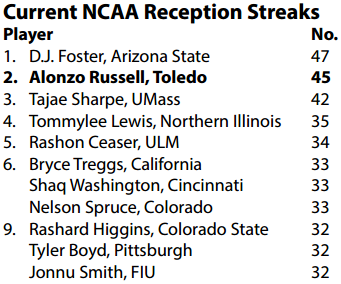 OFF THE CHARTS, PART II
Courtesy of the Duke sports information department, and entering Week 9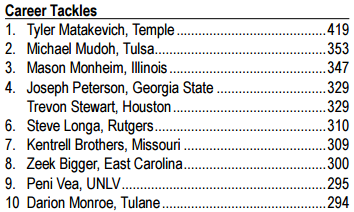 OFF THE CHARTS, PART III
Courtesy of the Air Force sports information department, and entering Week 9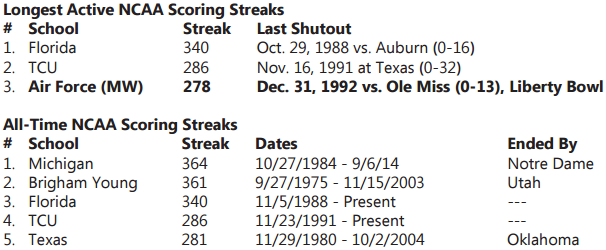 SAY WHAT?
With two more today, Navy quarterback Keenan Reynolds now has 77 rushing touchdowns in his career, tying him with Wisconsin's Montee Ball for the all-time FBS record.  Ball gathered his in 924 career rushes, Reynolds in 863.
YOU DON'T SAY
There are only eight females in the 128-team FBS in charge of the athletic training function of their football programs. Jennifer Brodeur (UMass), Ariko Iso (Oregon State), Sally Nogle (Michigan State) and Kelli Pugh (Virginia) are head football athletic trainers while Jennifer Brown (Eastern Michigan), Brandy Clouse (Georgia Southern), Mary Vander Heiden (UCF) and Dawn Hearn (UTEP) are sports medicine department heads.
DULY NOTED
In Week 8, Duke and Virginia Tech played the longest game in ACC history with a four-overtime affair. Prior to the Blue Devils' 45-43 win over the Hokies, the longest game involving at least one ACC team was three overtimes (six occasions).
A DAY IN THE LIFE
Have you ever wondered what a typical in-season day is like for a football player at the Air Force Academy?  If so, today's your lucky day.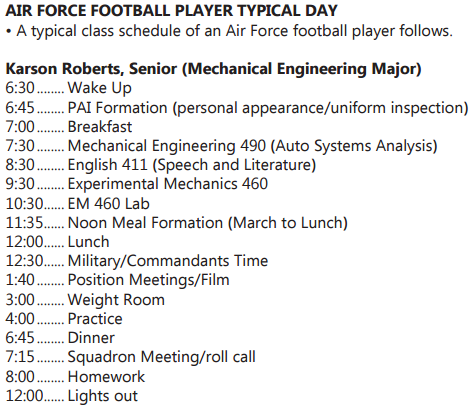 … Boise State's Darian Thompson now has 19 career interceptions, breaking Utah's Eric Weddle's Mountain West record of 18?  Thompson's teammate, Donte Deayon, has 17 career picks.
… Arizona State's D.J. Foster's streak of 48 straight games with a reception ties the Pac-12 record held by USC's Kareem Kelly (1999-2002)?  Central Michigan's Bryan Anderson (2006-09) holds the FBS record at 54 in a row.  Foster could actually tie that mark should 4-4 ASU reach the Pac-12 title game, although that seems unlikely.
… with 472 yards Thursday night, TCU's Trevone Boykin became the 40th player in FBS history to top 12,000 yards of total offense?  The Horned Frogs quarterback now has 12,041 in his career.
… Minnesota quarterback Mitch Leidner has thrown for 300-plus yards in back-to-back games after not having a 300-yard game in the first 28 games of his career?  The Gophers, incidentally, are 0-2 these last two games.
… Blake Anderson became the first head coach in Arkansas State history with 12 or more wins in his first two seasons?  Gene Harlow (1955-56) and Steve Roberts (2002-03) won 11 each in their first two seasons.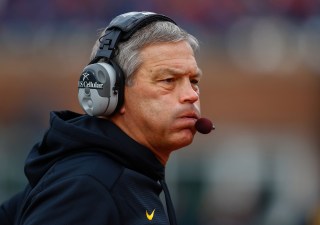 … Iowa is 8-0 for just the second time in the program's history?  The first came in 2009, when the Hawkeyes started out 9-0 before losing in their 10th game.
… Clemson has won 17 of 18 games for the first time since the 1938-40 era?
… Temple's game against Notre Dame Saturday was the Owls' first playing a ranked team while they too were ranked?
… Washington State is the only team in the country with seven players who have caught 20 or more passes this season? They have nine players with at least 15 receptions.
… Air Force and Toledo are the only teams through nine weeks that have not given up a sack this season.  The Falcons have attempted 85 passes, the Rockets 253.
… UCF running backs did not have a rushing touchdown this season until its Week 9 loss to Cincinnati Saturday?  The Knights now have three touchdowns on the ground in 2015, the first two of which were scored by wide receiver Nick Patti.
… Georgia Tech's Bobby Dodd Stadium is the oldest on-campus football facility in the FBS, having opened in 1913?  Mississippi State's Davis Wade Stadium (1914) is a year younger.