The last bit of confetti has barely settled onto the Mercedes-Benz Stadium turf and the carcass of the 2017 season isn't even cold yet, and we're already rolling out a way-too-early Top 25 for the 2018 season? Yep. Because that's how we roll. Or were told by our bosses to roll.  Or something.
In our role as preseason Nostradumbass, the first 10 of CFT's Top 25 consisted of No. 1 Ohio State, No. 2 USC, No. 3 Florida State, No. 4 Alabama, No. 5 Penn State, No. 6 Oklahoma State, No. 7 Washington, No. 8 Stanford, No. 9 Clemson and No. 10 Oklahoma. A little over 4½ months later?
Three of the four playoff participants, Alabama, Clemson and Oklahoma, were in our Top 10; the fourth, Georgia, stood at No. 14.  Ohio State (No. 5), USC (No. 8) and Penn State (No. 9) all currently sit inside of the Top 10 of the College Football Playoff rankings heading into the postseason, while Washington (No. 11), Stanford (No. 13) and Oklahoma State (No. 19) are all in the Top 25.
The biggest swing and a miss was the one that everyone whiffed on: Florida State.  After beginning the year No. 3 in the country in both major polls as well as our little Top 25 contribution, FSU tied for its worst record (7-6 in 2006, 2007, 2009) since 1976, going 5-6 in the second season under Bobby Bowden.
The point of this whole review-before-we-look-ahead exercise? Preseason polls are meaningless — but not nearly as meaningless as polls produced nearly eight months ahead of the start of a new season. With that in mind, enjoy this way-too-early Top 25 that will put the "mean" in meaningless. And the "less" in it, for that matter.
Oh, and as always, feel free to complain/whine/moan/bitch away in the comments section below.  Not that you need permission to do that, of course.
NO. 1 ALABAMA
WHY? Nick Saban + top-ranked recruiting classes year-in, year-out + a burning desire to be the greatest there ever was at this level = a permanent spot inside the Top 10 as long as The Nicktator resides in Tuscaloosa.
WHY NOT? An NFL team (finally) entices Saban to go back and finish what he started — and abruptly ended — in the big boy league of football.  Or he gets bored with winning and abruptly up and quits.  Neither of those are going to happen, of course, but those are about the only things that could derail the Crimson Tide juggernaut — unless the looming quarterback "controversy" gets away from him.
NO. 2 OHIO STATE
WHY? 12, 12, 14, 12, 11, 12.  Those are the win totals for the Buckeyes since Urban Renewal came to Columbus.  With a No. 2 recruiting class (thus far) this year added to Top Five groups each of the past four years that have added running back J.K. Dobbins, defensive end Nick Bosa and many others, OSU, like 'Bama, is a perennial playoff contender.
WHY NOT? With eighth-year senior J.T. Barrett's departure, it leaves OSU inexperienced under center since Barrett's first season as the starter back in 1986 (or 2014 if you want to get technical).  Some Buckeye fans, though, despite Barrett's record-setting production, will view the departure as a positive.  Road trips to Michigan State, Penn State and what's close to a home game against TCU aren't exactly optimal.
NO. 3 GEORGIA
WHY? Kirby Smart is Nick Saban Jr., and has taken The Process from Tuscaloosa and brought it to Athens.  Jake Fromm was in his first season as a starter and helped lead the Bulldogs to the national championship game as a true freshman.  And that upcoming schedule?  Middle Tennessee State, UMass and an FCS school along with the annual in-state rivalry game with Georgia Tech make up the nonconference slate, while they get Auburn at home as one of the two crossover conference games (travel to LSU as well).
WHY NOT? In Nick Chubb and Sony Michel, they lose running backs who have combined to rush for nearly 8,300 yards and 77 touchdowns the past four seasons, including over 2,400 yards and 31 touchdowns this season.  Losing the best defensive player in the country, linebacker Roquan Smith, to the NFL draft early won't help either.
NO. 4 MIAMI
WHY? The Hurricanes seemed poised for a breakout 2018 campaign, then returned to the national stage ahead of projections before crashing and burning in losing its last three games.  With 2018 on the horizon, a significant amount of talent returns to a Mark Richt-led squad that played in its first-ever ACC championship game.
WHY NOT? Richt brought with him to South Beach what pushed him out of Athens: a penchant for building good teams, but teams not quite good enough to contend with the best the conference has to offer.  A neutral-field game against LSU in the opener should be a good gauge for where The U stands moving forward.
NO. 5 WISCONSIN
WHY? The Badgers are the absolute class of the Big Ten West, with no one in that division even in UW's zip code quite yet.  Jonathan Taylor broke Adrian Peterson's single-season FBS freshman rushing record, and will obviously return for another run at feeding the beast that is UW's running game.
WHY NOT? Unless Scott Frost very quickly turns around his alma mater Nebraska — and don't count that out given his work at UCF — seemingly the only thing that can prevent the Badgers from a third straight Big Ten championship game appearance and fifth in seven years is myriad injuries.  They do, though, have to travel to Iowa, Michigan, Northwestern and Penn State, so there's that as well.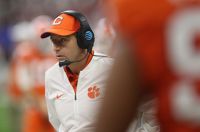 NO. 6 CLEMSON
WHY? If Kirby Smart is Nick Saban Jr., Dabo Swinney is Saban's twin brother from another mother.  In the makeup and building of Clemson into a veritable college football powerhouse, and especially defensively, Swinney's teams are eerily reminiscent of what Saban has done in Tuscaloosa — albeit with a different offensive lean.  As long as Swinney is in Death Valley, you can go ahead and consider the Tigers a year-in, year-out Top-10 lock.
WHY NOT? Saban leaves for the NFL and Swinney takes over at his alma mater.  That's about all that will keep Clemson from being a factor on the national stage yet again.
NO. 7 WASHINGTON
WHY? We've had Washington at No. 7 in each of the last two Way-Too-Early Top 25 rankings; they ended the 2016 season fourth and are currently ranked 11th.  Chris Petersen has taken a Huskies football program and turned it into one that should be a 10-win team for the foreseeable future.
WHY NOT? Jake Browning's mini regression bleeds into another his true senior season.  After throwing for 43 touchdowns and finishing with a 167.5 efficiency rating in 2016, those numbers tumbled to 19 and 152.1 this past season.
NO. 8 MICHIGAN STATE
WHY? The Spartans return a ton of starting talent on both sides of the ball, including quarterback Brian Lewerke, running back LJ Scott — he's led MSU in rushing each of the past three seasons – and 4/5ths of the offensive line.  MSU also gets Ohio State and Michigan at home, and doesn't have to face Wisconsin as a crossover divisional opponent.
WHY NOT? 2017's 10-win season was an aberration after a three-win 2016 season.  Then again, aside from that drop-off-the-cliff record, Mark Dantonio has won 11 or more games in five of six seasons, so 2016 was likely the aberration when it's all said and done.
NO. 9 STANFORD
WHY? Bryce Love, the 2017 Heisman Trophy runner-up, defies all odds and returns to The Farm for one more year.  After the first month of the season, the Cardinal's schedule sets up very favorably as well.
WHY NOT? After myriad wooings over the past few years, David Shaw final succumbs and gives in to the NFL's advances.  Aside from that, Stanford's September schedule isn't exactly a walk in pastry park: San Diego State (10-3), USC (11-3), at Oregon (7-6), at Notre Dame (10-3).  In early November, they'll also have to travel to Washington.
NO. 10 WEST VIRGINIA
WHY? Baker Mayfield gone from Oklahoma and Mason Rudolph out at Oklahoma State leaves Will Grier as the top returning quarterback in the pass-happy Big 12.  Tony Gibson won't allow a defense that finished second in the conference in total defense in 2016 but slipped to seventh in 2017 to slip again; in fact, they'll be closer to the season before last than this past one.
WHY NOT? They get what will likely be preseason Big 12 favorite TCU at home, but have tough road tests in Iowa State, Oklahoma State and Texas.
NO. 11 UCF
NO. 12 OKLAHOMA
NO. 13 TEXAS
NO. 14 PENN STATE
NO. 15 VIRGINIA TECH
NO. 16 AUBURN
NO. 17 TCU
NO. 18 USC
NO. 19 BOISE STATE
NO. 20 MICHIGAN
NO. 21 FLORIDA STATE
NO. 22 MEMPHIS
NO. 23 OKLAHOMA STATE
NO. 24 LSU
NO. 25 OREGON