Yes, I know — another meaningless preseason poll tossed atop the overflowing pile of myriad other meaningless preseason polls. Just take a deep breath, come to grips with it and move on.
Last year at this time, I had Ohio State, TCU, Auburn and Michigan State Nos. 1-5; only MSU finished the regular season in the Top Five. 2015 national champion Alabama was No. 7 in my preseason rankings — just behind Arizona State, incidentally — while the team the Tide beat for the title, Clemson, was 14th. Oklahoma, the other of the four College Football Playoff semifinalists, came in at No. 16.
It's at this point in the program where I introduce the word "Nostradumbass," and quickly move on. It's also at this point where I state, once again, polls should not come until at least the first week of October. But I digress.
The Big Ten, believe it or not, leads all conferences with six teams in my Top 25, including three of the first eleven. The ACC, Pac-12 and SEC are next with four teams each, with the Mountain West and Big 12 coming in at two teams apiece. The AAC and a football independent account for the other two teams.
Below is the entire Top 25, which was a consensus of polls cobbled together by myself and five other individuals who would prefer to remain nameless. Below that is a poll in which you can vote as to who you feel should start the season No. 1. Below that is where you may complain and/or whine and/or moan and/or bitch about how disrespected your team and/or conference is.
Enjoy. And complain/whine/moan/bitch away.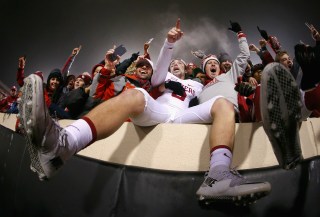 1. OKLAHOMA
Quarterback Baker Mayfield, who should've been a Heisman finalist a year ago, returns from last year's College Football Playoff semifinal squad. So too does leading rusher Samaje Perine, as does 13 other starters. The Sooners will likely be favored heading into all 12 games this season, with three of their toughest tests, Ohio State, Baylor and Oklahoma State, all being played in Norman. At least on paper, the Sooners have one of the most talented and experienced teams in the country. Beware, however, as Bob Stoops' squad have, more times than not in recent years, failed to live up to lofty preseason rankings and fallen miserably short of high expectations.
2. ALABAMA
Fun fact: 'Bama has never started the preseason No. 1 and then gone on to win a national championship under Nick Saban. Unfortunately for the Tide, that's exactly where the Associated Press has placed them entering 2016. To break that "jinx" and go back-to-back, the Tide will need to lean heavily on a once-again dominant defense as their backfield will be the most inexperienced one Saban has fielded, with presumptive starter Cooper Bateman raw while the two running backs who are expected to carry the load, Damien Harris and Bo Scarbrough, have combined for 264 career rushing yards.
3. FLORIDA STATE
Last year was a quote-unquote "rebuilding year" at FSU, and the Seminoles still managed a 10-win season and a spot in one of the New Year's Six bowl games. They return nine starters on offense — one of those starters, quarterback Sean Maguire, will begin the season on the sidelines due to injury, replaced by redshirt freshman Deondre Francois — and six on the defensive side of the ball. Since winning the national championship in 2013, Jimbo Fisher has pulled in recruiting classes ranked second (2016), third (2015) and fourth (2014). So yes, there's plenty of talent. And, perhaps most importantly, they get national runner-up Clemson at home in Tallahassee.
4. CLEMSON
You could easily make the case for Clemson to sit atop this list, and for good reason. They have the best quarterback in the country returning in Deshaun Watson for what should be his final season of college football. Watson is one of eight starters on offense who are back for another run at the playoffs, but it's the other side of the ball where there's the most concern. The defense brings back just three starters, and it's that inexperience that's keeping them behind the three schools in front of them. If Brent Venables can quicken the learning curve — after opening at what should be a subpar Auburn team, they get Troy and South Carolina State before opening ACC play at Georgia Tech — the Tigers will be in great shape both in the conference and nationally.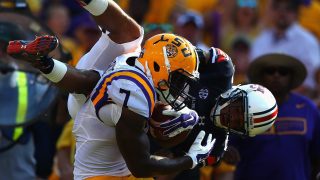 5. LSU
A whopping 18 starters return for the Tigers this season from last year's nine-win team, including arguably the best football player in the country in Leonard Fournette. They get Alabama and Ole Mis in Death Valley, and none of their four true road games — they play Wisconsin at Lambeau Field in the opener — feature teams currently in the Top 25. The path is there for a run to the postseason… if, as seemingly is always the case, they can merely get consistent play at the quarterback position. They don't need their signal-caller to be a modern-day Dan Marino; rather, they just need Brandon Harris to not throw up all over himself or trip over his own junk. If they get just average play at the most important position in sports, the Tigers are primed to be players in the postseason once again.
6. NOTRE DAME
And here comes the first screams of "you're an idiot, Taylor!" Or "JT!" as the case may be. The offense will be in good hands whether its DeShone Kizer or Malik Zaire pulling the trigger, and whichever one emerges as the starter will have skill players who are talented but raw surrounding him. More than likely, it'll be a suspect defense that determines whether this ranking is way too high. The Irish do play 10 teams who played in bowl games last season, although they'll have just three true road tests. They open up and close out the season with a pair of those, at Texas and at USC, that could go a long way in determining where the Golden Domers stand nationally. Well, those and a mid-October game against Stanford in South Bend.
7. WASHINGTON
And here's the second. As I wrote in the Six-Pack of Storylines preview, I'm buying into the Huskies hype. Jake Browning is ready to take the next step and become one of the elite quarterbacks in the country. Additionally, UW will, once again, have one of the top defenses in not only the Pac-12 but in the country, period. Then there's the 17 returning starters. How far UW goes conference-wise, and perhaps nationally, could very well likely come down a two-game stretch in Weeks 5 and 6: hosting Stanford Sept. 30, then traveling to Oregon a week later. Those two teams have had a stranglehold on the Pac-12 North since the conference went to divisions in 2011, with one of those two teams representing the division in the league championship game every season; if UW wants to break their collective hold, they'll have to drop one of those teams, and possibly both, in that two-game stretch.
8. TCU
Here's one thing I can state with a fair degree of certainty: the Horned Frogs will play defense at a championship-caliber level this year, as it's done almost every year under Gary Patterson. The biggest question marks are on the other side of the ball, with just three starters returning. The hope is that either Texas A&M transfer Kenny Hill or Foster Sawyer can stabilize the quarterback position in replacing Trevone Boykin. That said, whichever of those two players emerge as the starter won't have All-American Josh Doctson to throw the ball to, which leaves the receiving corps very thin when it comes to experience and past production.
9. MICHIGAN STATE
Mark Dantonio will only see 10 starters from last year playoff semifinal team take the field in 2016. Connor Cook, the most decorated quarterback in the program's history, will be the most difficult starter to replace, and arguably the most important. Playing in place of the injured Cook, projected starter Tyler O'Connor helped lead — and by "helped lead" I mean "didn't throw a pick" — MSU to its upset of Ohio State that helped pave the way to the playoffs. Last year, MSU beat both OSU and Michigan on the road; this year, they get to host both of those rivals in East Lansing. Before then, however, is a stiff early-season test: a Sept.17 date with Notre Dame in South Bend Week 3.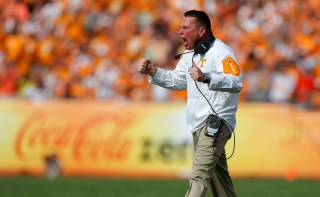 10. TENNESSEE
Year Four for Butch Jones is supposed to be the year all of the recruiting efforts under the head coach are supposed to begin paying dividends. His first class finished 24th nationally, but classes that were ranked seventh, fourth and 14th have led to high hopes, and even higher expectations, for Volunteer Nation. In fact, anything less than an SEC East championship will be considered an abject failure by most of the fan base. The Vols have 17 returning starters from a team that managed a 5-3 record in SEC play, it's best record in the conference since going 5-3 in 2006. UT ended the 2015 season on a six-game winning streak, punctuating that strong stretch run with a 39-point bowl blowout of a 10-win Northwestern team. Add in the fact that their four losses last season (Oklahoma, Florida, Arkansas, Alabama) came by a combined 17 points, and, again, nothing less than a title will sate the masses.
11. OHIO STATE
Urban Meyer calls this 2016 Ohio State squad probably his most talented team ever. Unfortunately for his Buckeyes, it's probably his most inexperienced as OSU returns just six starters, the fewest of any Power Five team. Whether the 2016 team can repeat what the 2014 team did — peak a year earlier than expected and win a national championship — remains to be seen. The combination of J.T. Barrett starting at quarterback all season long like he should've last year along with the talent Top-Seven recruiting classes each of the past four years has added should leave tOSU in good enough shape to contend with Michigan and Michigan State in the Big Ten East. And, depending on the rate of the youngster's growth, compete once again on the national stage.
12. HOUSTON
Coming off a 13-1 season, Houston is the media's darling to crash the playoffs as a Group of Five member even as they return a mere 11 starters. One of those, though, is Greg Ward Jr., one of the most underrated quarterbacks in the country and arguably the Cougar who's gained the most from Tom Herman being the head football coach of the program. Just where the Cougars stand nationally will be known right out of the gate as UH will square off with national power Oklahoma in a neutral-field opener. They also play two of their main competitors in the AAC West, Navy and Memphis, on the road, while also traveling to face an annual challenger in the East, Cincinnati. If an inexperienced secondary can improve faster than expected, the Cougars are again poised to make some noise nationally.
13. MICHIGAN
As I wrote in the previous preview, Jim Harbaugh has spent his first 19 months as the head coach at his alma mater Michigan making headlines off the field. In Year 2 with the Wolverines, is Harbaugh's bunch ready to make a leap back to the national stage on the field? The Wolverines find themselves comfortably inside the Top 10 of most preseason polls, so the hype os certainly there. The schedule sets up well for a strong start, with their toughest games in that stretch, vs. Penn State and Wisconsin, coming in the Big House. What will decide UM's fate are three games in October and November: at 2015 East champion Michigan State (Oct. 29), at 2015 West champion Iowa (Nov. 12) and at hated rival Ohio State (Nov. 26). Those three games will show the whole of college football whether or not Big Blue is really back.
14. UCLA
Coming off a superb true freshman season, Josh Rosen is already considered one of the top young quarterbacks in the country. In fact, some have pegged him as the first-overall pick of the 2018 draft. While just three other starters return on his side of the ball, and the Bruins are shifting to a new pro-style offense — his coaches say Rosen had already mastered it to the point he was playing tutor to his teammates in camp — recruiting successes under Jim Mora leaves the Bruins stocked with on-paper talent to replenish those lost. The defense, meanwhile will return nine starters from an injury-ravaged unit. At the very least, the Bruins will be in contention all season long for a Pac-12 South title.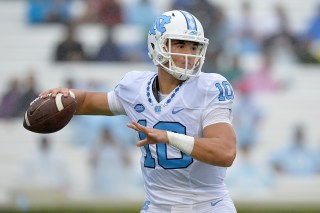 15. NORTH CAROLINA
The Tar Heels allowed two touchdowns fewer per game last season than the year before, and they return six defensive starters from that much-improved squad. While they return seven starters on the other side of the ball, one of those that has to be replaced is record-setting quarterback Marquise Williams. The good news is that Williams' replacement, Mitch Trubisky, has plenty of experience, having thrown for 1,014 career yards. Last season, he completed 85% of his 47 passes, throwing six touchdowns for good measure. The schedule could prove problematic in getting back to double-digit wins as UNC opens the season on a neutral field against Georgia, then travel to Florida State, Miami and Duke the rest of the year. Still, the Tar Heels should be a factor in the ACC Coastal race throughout the year.
16. STANFORD
This is the first of a couple of teams who I think I'll end up regretting putting too low to start. Christian McCaffrey is one of the top all-around talents in the history of the game, and is poised to improve on a spectacular season that saw him in New York City as a Heisman finalist. The schedule, however, could prove problematic. They play USC at home in Week 3, then face three tough road games in a span of four weeks: at UCLA (Sept. 24), at Washington (Sept. 30) and at Notre Dame (Oct. 15). Then, later in the year, they travel to Eugene to face Oregon. It's certainly not an insurmountable slate, but it doesn't bode well for a team needing to replace 13 starters.
17. BOISE STATE
The second of three Group of Five teams in my Top 25, Boise is set to bounce back from a four-loss season in their second year under Bryan Harsin. The offense is in fine shape as it returns eight starters from a year ago, including true sophomore quarterback Brett Rypien. The defense is a concern, especially the defensive line as all four starters need replaced. The schedule, though, sets up well as the Broncos will face just a single team on the road that had a winning record a year ago.
18. LOUISVILLE
After winning six of their last seven games last season, Louisville is seemingly poised to provide Clemson and Florida State with a challenge in the ACC Atlantic. The Cardinals nearly derailed the Tigers' early-season title hopes but came up three points shy of the upset. That was followed a month later by a 20-point loss to the Seminoles. With 16 returning starters, including superb dual-threat quarterback Lamar Jackson, the talent is certainly there for the U of L to, potentially, compete with the big boys of the division.
19. SAN DIEGO STATE
This is the second one I think I may have too low. Coming off a school-record-tying 11-win season, the Aztecs return 13 starters from a team that wiped the Hawaiian Islands' floor with Cincinnati in their 42-7 bowl win. Seemingly the only thing standing between SDSU and a 9-0 start to this season is a road trip to Cal in Week 2. Another road trip, to Nevada Nov. 12, could very well determine the West Division's representative in the MWC title game.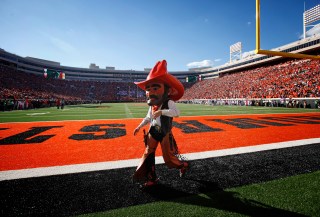 20. OKLAHOMA STATE
If Jimi Hendrix were alive and asked the Cowboys the question, "are you experienced," the answer would be a resounding yes. Not only does OSU return 16 of their starters from the team that won 10 games a year ago, nearly 40 players from the two-deep depth chart are back as well. After winning their first 10 games in 2015, they ended the season on a down note as the Cowboys lost their last three games by a combined 73 points. That skid notwithstanding, the Cowboys have the kind of depth, talent and experience that can help them compete with Oklahoma and TCU in the Big 12. The schedule doesn't do them any favors, though, as they face both of those teams on the road, as well as Baylor.
21. IOWA
Back-to-back undefeated regular seasons likely won't be in the cards for Iowa, but the Hawkeyes should still be the class of the Big Ten West. There's good news on the scheduling front, though, as they again avoid both Ohio State and Michigan while they get Michigan and West rival Nebraska at home. They will, though, have to travel to Evanston to face Northwestern. The way things are set up, Iowa would have to be considered a decided favorite to come out of the West and face the surviving beast of the East.
22. OLE MISS
Ole Miss finished the 2016 season on a high, beating LSU by 21, knocking off rival Mississippi State in the Egg Bowl and trouncing Oklahoma State in the Sugar Bowl. The Rebels have the most talented quarterback in the SEC, Chad Kelly, and get Alabama — who they've beat each of the last two seasons — Georgia and MSU at home. Just where Ole Miss stands in the big picture will be clear immediately as they will square off against Florida State in the opener.
23. NEBRASKA
Mike Riley's first season in Lincoln was a miserable one as the Cornhuskers' dropped seven games, the most losses since the 2007 season. That could be considered deceiving, however, as five of those losses were by five points or less — including two last-second losses and one in overtime — while the other two losses were by a combined 18 points. Th road schedule is tough this season, with games at Ohio State, Wisconsin and Northwestern on tap; there's a home game against Oregon thrown in for good measure.
24. OREGON
Before the year is over, I have a sneaking suspicion that this positioning will be way too low. The Ducks have won at least nine games in each of the last nine seasons, and they have the kind of schedule that points to making it an even 10. Two newcomers will likely determine whether the Ducks make it to double digits in that category: Dakota Prukop and Brady Hoke. The former is the second straight FCS-to-FBS quarterback transfer for the Ducks, and he will be surrounded by the most talented skill players in the Pac-12 as he makes the transition up the college football ladder. The latter will take over a Ducks defense that was 115th in the country in points per game and 116th in red zone efficiency. Anything the former Michigan head coach provides will be considered an upgrade.
25. NORTHWESTERN
A 39-point loss to Tennessee in the bowl game put a damper on a season that saw the Wildcats win 10 games for just the fourth time in the program's history. The schedule will make a double-digit repeat extremely difficult as Northwestern will be forced to take road trips to Iowa, Michigan State and Ohio State. Pat Fitzgerald, with six returning starters on each side of the ball, will have his work cut out for him this season.