A statistical snapshot of the week that was in college football…
-9 — Rushing yards for Northwestern in the one-point loss to Michigan.  Quarterback Trevor Siemian totaled minus-37 yards rushing, while the Wildcats' leading rusher, Justin Jackson, had plus-35.
.844 — Overall career winning percentage (54-10, fifth season) for Florida State's Jimbo Fisher, the best for any ACC head coach with three or more seasons.  His winning percentage of .842 in ACC games is best of all-time, ahead of the legend he replaced at FSU, Bobby Bowden (.814).
1.3 — Interceptions for Louisville's Gerod Holliman after a three-pick performance against Boston College.  Holliman now has 12 interceptions with two regular season games and a bowl game remaining; the all-time FBS record for interceptions in a season is 14 by Washington's Al Worley in 1968.  Incidentally, there are only 17 FBS teams with more interceptions this season than Holliman.
2 — FBS players and who have accounted for more than 9,000 yards passing and 3,000 yards rushing in a career, and both played at Nevada: Cody Fajardo (9,084 and 3,025, 2011-present) and Colin Kaepernick (10,098 and 4,112, 2007-10). Kaepernick's 14,210 yard of total offense is No. 1 in FBS history, while Fajardo's (12,109) is currently 16th.
2 — Rushing touchdowns allowed by Alabama's defense this season, the fewest in the FBS.  Next lowest?  Utah's allowed five.
2-7 — Record of teams the game after playing Navy this season.  That includes Notre Dame's second loss of the season, a 55-31 decision to Arizona State this weekend.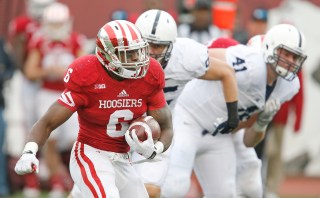 3 — Weeks in a row a player from Rutgers' opponent has been named as the Big Ten's Player of the Week.  That streak temporarily came to an end this week as the Scarlet Knights are on a bye, although Indiana — and the nation's second-leading rusher Tevin Coleman — await next week and could easily extend the streak to four straight.
4-3 — Touchdowns vs. incompletions for Hutson Mason in Georgia's blowout win over Kentucky.
5 — FBS players who have ever totaled 200-plus yards rushing and 100-plus yards receiving in a single game: Brian Hill, Wyoming vs. Fresno State, Nov. 1, 2014 (281 rushing, 106 receiving); Donald Buckram, UTEP vs. Tulane, Nov. 7, 2009 (234, 109); Steve Slaton, West Virginia vs. Pittsburgh, Nov. 16, 2006 (215, 130); Emmett White, Utah St. vs. New Mexico St., Nov. 4, 2000 (322, 134); and Thomas Jones, Virginia vs. Buffalo, Nov. 13, 1999 (221, 110).
10.1 — Ohio State's J.T. Barrett leads the FBS in passing touchdown percentage (26 TDs on 233 attempts; 11.1 percent).
11 — Games in a row Oregon's Marcus Mariota has thrown two or more touchdown passes, the longest such streak for an FBS quarterback.
13.1 — Nick Chubb's yards per carry average as he ran for 170 yards on just 13 rushes in Georgia's blowout win over Kentucky.
14 — 300-yard passing games for Baylor's Bryce Petty, breaking the school record of 13 previously held by Heisman winner Robert Griffin III.