While we went 6-1 overall last week, we pulled a Houston when it comes to the pocketbook. It was bad, but no one "got resigned" … yet. Maybe we just need to add a "few bad citizens" around here to find more success.
The fear this week is that our team will get caught peeking ahead past this week's task at hand — an uninspiring quintet rescued only by SEC expansion — to next week's far more attractive board that includes: Alabama at Arkansas, Florida at Tennessee, USC at Stanford, Notre Dame at Michigan State and BYU at Utah.
Week 2 doesn't contain a single game pitting ranked foes against each other. We really had to scrounge around to fill out our Top 5 this week. It's such a sad Saturday that Thursday's Pitt-Cincy pillow fight made it.
Oh well, still way better than baseball.
TOP 5 GAMES OF THE WEEK (Thursday, Sept. 6 thru Saturday, Sept. 8)
1) No. 7 Georgia at Missouri
Sat., Sept. 8 — 7:45 p.m. ET, ESPN2
With nearly half of its starting defense out of uniform (four suspensions and one injury), Georgia was underwhelming in a 45-23 victory over Buffalo last Saturday. Mark Richt will need more hands on deck in Columbia to slow down the Tigers' slippery spread led by dual-threat quarterback James Franklin.
Missouri, which is making its SEC debut, also deserves your attention in the other phases of the game, after reaching the end zone four times while the offense wasn't on the field in its 62-10 smackdown over Southeastern Louisiana. Punt returner Marcus Murphy accounted for half of those non-offensive scores in the opener.
Even with all that firepower on the opposite sideline, the Bulldogs still figure to set the pace. Junior quarterback Aaron Murray has a pair of senior wideouts to target and freshman running back Todd Gurley had an impressive debut last week with a TD hat-trick that included a 100-yard kickoff return.
They'll put the Bulldogs out in front and Jarvis Jones & Co. will make sure they stay there.
Missouri defensive end Sheldon Richardson disagrees, but "old man football" still wins the games in this league.
Opening point spread: Georgia by 3 1/2
The pick: Georgia 27-20
2) No. 24 Florida at Texas A&M
Sat., Sept. 8 — 3:30 p.m. ET, ESPN
As the Gators' 27-14 victory over Bowling Green last Saturday illustrates, it's good to open versus an opponent that you can work out the kinks against without a heavy threat of getting tagged with a loss.
The Aggies had their version of that sort of runout all set up against Louisiana Tech, but Hurricane Isaac forced a postponement, leaving this visit by Florida as their lidlifter. Yowza.
No pressure, Kevin Sumlin. Your first game in charge at College Station is just Texas A&M's debut in the SEC. Don't worry, no one will remember that billboard. And Herbie, Desmond and Coach Corso will be there with you to break the matchups down.
It's a tough spot for redshirt freshman quarterback Johnny Manziel. He has  wideouts Ryan Swope and Uzoma Nwachukwu, and rebuilt running back Christine Michael to lean on, but Florida's ultra experienced defense will swallow up most of what the Aggies have to offer from their new attack.
On the other side, Gator sophomore quarterback Jeff Driskel has emerged from a competition with Jacoby Brissett, but it's still a shaky situation, which isn't helped much by inexperienced receivers. But they'll be going against an Aggie secondary that is similarly young and senior running back Mike Gillislee seems capable of shouldering a significant share of the offensive burden.
Opening point spread: Texas A&M by 2 1/2
The pick: Florida 23-17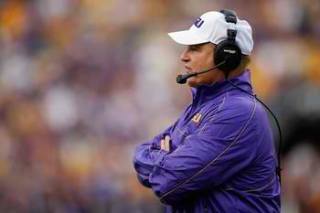 3) Washington at No. 3 LSU
Sat., Sept. 8 — 7 p.m. ET, ESPN
This prediction comes courtesy of Shane Hedani from the P101 satellite office in Maunawili, Hawai'i.
Keith Price is back to trigger a Husky offense that's expected to be explosive. Early in the opener versus San Diego State, the attack appeared as advertised, but when tackle Ben Riva went down, the offense went with him for the final three quarters.
Against a far-from-dominant defense, the Washington offense showed that it will struggle in the post-Chris Polk era. Without a take-charge running back, the play-action game will struggle and Price won't be able to take advantage of an unsettled LSU defensive backfield.
Tigers in Seattle are nothing like Tigers in Death Valley. It'll be a long night for the Dawg offense.
We've been hearing that new coordinator Josh Wilcox will work with a much improved Husky defense. Well, giving up 199 rushing yards to the Ronnie Hillman-less Aztecs doesn't bode well when Alfred Blue, Kenny Hilliard and a bigger, meaner offensive front brings it in the trenches. Both Tiger backs will go over the century mark for the second week in a row.
The Huskies are still a few years away from approaching college football's elite.
Opening point spread: LSU by 22
The pick: LSU 38-10
4) No. 13 Wisconsin at Oregon State
Sat., Sept. 8 — 4 p.m. ET, FX
We don't know what to expect from the Beavers, who had their opener versus Nicholls State postponed due to Hurricane Isaac. But, really, what would we have learned? Perhaps it serves them well that the Badgers didn't get a peek and they'll be better rested.
Wisconsin wasn't impressive against Northern Iowa, needing to bat down a pass on fourth-and-1 to preserve a 26-21 victory in Madison.
The Badger offense led by new quarterback Danny O'Brien (a "Russell Wilson rule" graduate of Maryland), new coordinator Matt Canada and good ol' Montee Ball was vanilla as usual and generally effective versus the FCS squad.
The Wisconsin defense, however, could be a concern in Corvallis as the Panthers seemed to figure out coverage schemes and took advantage in the second half.
Oregon State's young backfield of Sean Mannion (sophomore) and running backs Storm Woods (redshirt freshman) and Malcolm Agnew (sophomore) could be just balanced enough to topple the visitors.
The Beavers are usually good for at least one of these a season, having beaten nine ranked teams since 2005.
Opening point spread: Wisconsin by 11
The pick: Oregon State 28-24
5) Pittsburgh at Cincinnati

Thurs., Sept. 6 — 8 p.m. ET, ESPN
Last week wasn't a good one for teams from Pennsylvania with new coaches at the helm, hosting teams from Ohio.
Road games after wakeup calls have a way of bringing clear focus to a squad, at least that's what Paul Chryst is hoping happens for his Panthers.
Except for the fact that Pitt has a short week to rest and retool before this Thursday tilt, this all puts Cincinnati head coach Butch Jones in a difficult spot. Not only would he have preferred the Panthers take care of Youngstown State as expected, but to have a played a game prior to this conference opener would have been nice too.
Pitt, which also might be bolstered by players coming off suspensions, has several wicked weapons. They just weren't sharp right out of the box.
The Bearcats will go down that same road.
Opening point spread: Pittsburgh by 2
The pick: Pittsburgh 23-21
UPSET SPECIAL OF THE WEEK
Penn State at Virginia
Sat., Sept. 8 — noon ET, ABC
This prediction comes courtesy of Marc Doche (@MDoche) from the P101 satellite office in Burbank, Calif.
Maybe a home game against a team they were supposed to beat wasn't the best recipe for the Nittany Lions to begin their new regime and get the attention back to business on the field.
Often times a road trip does a squad in turmoil some good. And while there's no escaping the past and the emotional rollercoaster that comes along with it, Penn State players now have the experience of dealing with the distractions.
The Lions seemed in control of their opener versus Ohio, but the bubble burst after halftime when they surrendered 301 yards of total offense and allowed the Bobcats to convert on 11-of-12 third-down attempts.
Virginia junior triggerman Michael Rocco was 25-of-37 for 311 yards and a touchdown in last Saturday's 43-19 victory over Richmond, spoiling the Spider coaching debut of his uncle, Danny Rocco.
Penn State might be drained and shorthanded, but it ain't no FCS squad. If Nittany Lion running back Bill Belton can overcome an ankle injury and help control the ball on offense, the defense can regroup to avoid a repeat of the sloppy second half effort against Ohio that saw them outscored 21-0.
Smiling faces in Happy Valley are long over due.
Opening point spread: Virginia by 5
The pick: Penn State 24-20
RIVALRY GAME OF THE WEEK
Iowa State at Iowa
Sat., Sept. 8 — 3:30 p.m. ET, Big Ten Network
It's the 60th renewal of the Cy-Hawk Series, which dates back to 1894.
This isn't the most balance rivalry around as Iowa owns a 39-20 advantage. Last year, however, Iowa State broke a three-game losing streak with a 44-41 triple-overtime win in Ames. The last time the Cyclones won on the road in Kinnick Stadium was in 2002, but that 36-16 upset was a doozy (the Hawkeyes' only setback of the regular season).
Judging from their respective openers, this one is a tossup, especially since our friends in the desert tend to underestimate the Cyclones.
Iowa waited until 2:15 remained in the fourth quarter to score its only touchdown in an 18-17 come-from-behind victory over Northern Illinois at Solider Field last Saturday. Four field goals normally won't get the job done against anybody, but the Hawkeyes escaped. Credit the Iowa defense, which held the Huskies to just 201 total yards, only 54 of which came through the air.
Iowa State, on the other hand, overcame a horrific start and scored 24 unanswered to beat a decent Tulsa squad, 38-23, last week in Ames. Quarterback Steele Jantz was 32-of-45 for 281 yards. He sprayed his aerials around to nine different receivers and accounted for three touchdowns.
The Cyclones, who displayed a sturdy defense in the final three quarters versus the Golden Hurricane, will be tested by Hawkeye sophomore tailback Damon Bullock, who rushed for 150 yards and that lone touchdown (a 23-yarder on third-and-9). However, Iowa quarterback James Vandenberg passed for only 129 yards and was sacked six times, giving something new offensive coordinator Greg Davis to work on.
Opening point spread: Iowa by 4
The pick: Iowa 26-24
Week 1 record: 6-1