This topic might cause some differences of opinion.
To honor its founding back in 1941, the Football Writers Association of America (FWAA) Thursday announced its 75th Anniversary All-America Team.  A total of 41 schools and 75 players are represented on the first, second and third teams, with 56 of the 75 already inducted into the College Football Hall of Fame.
Nebraska, with six, placed the most players on the three teams, followed by Ohio State and Pittsburgh with five each.  Alabama, Oklahoma and Texas were next with five apiece, while Georgia, Michigan and USC netted three each.  The only other schools with more than one player were Florida, Miami (Fla.), Notre Dame and UCLA, all with two.
Based on where the schools currently reside, the Big Ten leads all conferences with 19 players.  That does include Nebraska's six, even as all six of those came from the Cornhuskers' time in the Big Eight/12.  The ACC was next with 15, although it should be mentioned that Pittsburgh's five players all played prior to the Panthers' move into that conference.  The SEC, Big 12 were next with 13, 10 and seven, respectively.  The most for a Group of Five league was Conference USA's three.
One of the biggest points of contention that I've seen on Twitter when it comes to this team has been the running back position, specifically with the inclusion of Archie Griffin on the first team.  While the former Ohio State star is the only two-time winner of the Heisman Trophy, and whom I'm in no way dismissing as he was a tremendous talent, I, personally, would take Pittsburgh's Tony Dorsett (second team), Oklahoma State's Barry Sanders (second team) or Auburn's Bo Jackson (third team) over Griffin any day of the week and twice on Saturday.  In fact, there's no way I could whittle my first-team running back down to just two out of these four: Jackson, Dorsett, Sanders and Georgia's Herschel Walker (first-team along with Griffin).
Another point of contention?  The quarterback position, of course.
From first to third team it went Roger Staubach (Navy), Tim Tebow (Florida) and Tommie Frazier (Nebraska).  How Frazier is behind anyone, let alone those two — again, no disrespect to either — is the great unknown.  Not only that, but one could also question how the likes of, among others, Tennessee's Peyton Manning, Stanford's John Elway, Florida State's Charlie Ward, Ole Miss' Archie Manning, Stanford's Andrew Luck, BYU's Steve Young and, despite playing just one season, Auburn's Cam Newton couldn't find inclusion.
A couple of other things: Ohio State's Chris Spielman would be a lock as a second-teamer on my team, although I do think the FWAA absolutely nailed all four spots in the secondary.
One final quibble on my part: Florida State's Sebastian Janikowski should've found a spot on one of the three teams.  Case closed, end of discussion.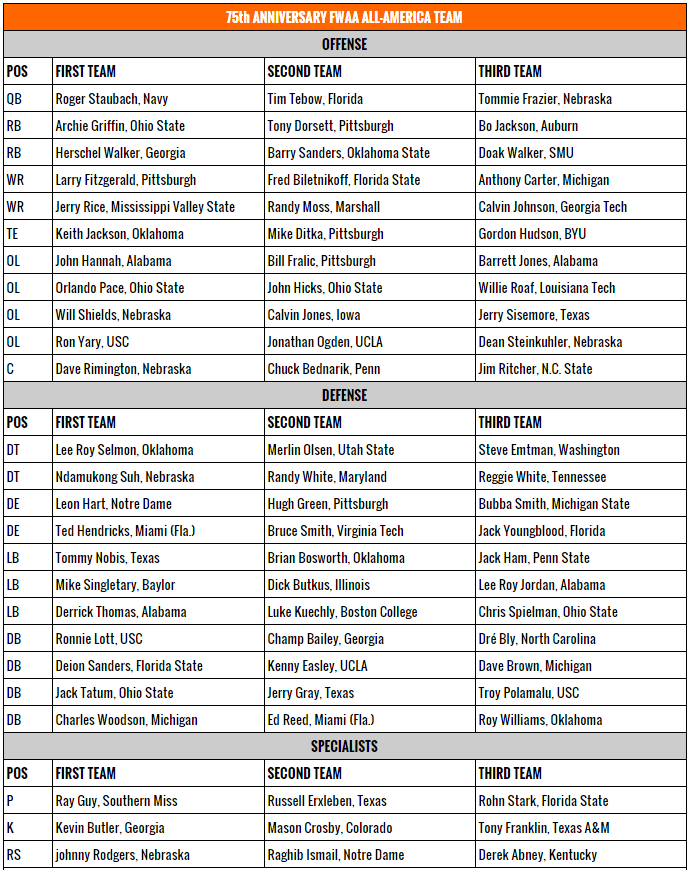 Finally, if you were wondering how the teams were compiled, the FWAA explained it in its release:
A nomination ballot with selected players from all FWAA All-America teams was sent to the entire membership this spring. The popular vote was then taken into consideration by a Blue Ribbon Committee of FWAA past presidents, current board members and officers. That committee put the finishing touches on selecting the 75-man team. In order for a player to be considered for the FWAA's 75th team, he had to be on a previous FWAA All-America team.