A numerical snapshot of the week that was in college football…
-26 — Washington State's rushing total against Stanford Friday night, the first time the Cardinal has allowed negative rushing yards in a game since Nov. 3, 2012, at Colorado (-21). It was Wazzu's lowest rushing total since Oct. 10, 2009, at Arizona State (-54).
.676 — Winning percentage of both Urban Meyer (25-12) and Bob Stoops (50-24) in their head-coaching careers vs. Associated Press Top 25 teams, currently the best at the FBS level. Stoops' wins all came at Oklahoma, while Meyer spread his out over tenures at Utah, Florida and Ohio State. Nick Saban, incidentally, is third in this category at .581 (50-36 during his time at Michigan State, LSU and Alabama).
0 — Times Georgia had shut out a ranked opponent in a true road-game victory prior to its 34-0 whitewashing of No. 23 Missouri in Columbia Saturday afternoon.
4 — Through six games, the combined number of interceptions (zero) and sacks (four) for which the Wyoming defense has been credited.  The Cowboys are the only team in the country without a pick, and their eight turnovers, all fumble recoveries, are tied for 83rd in the nation.
4 — Iowa's offense and defense officially touched the ball that many times in a span of just under four minutes late in the first quarter against Illinois; the Hawkeyes scored a touchdown on all four of those touches — Jake Rudock 12-yard pass to Jake Duzey; Desmond King 35-yard interception return; Rudock 72-yard pass to Damond Powell; and a Jonathan Parker 60-yard run.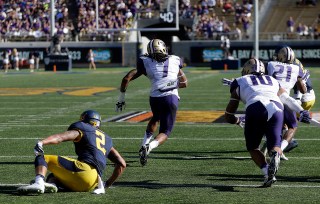 5 — Number of touchdowns Washington linebacker Shaq Thompson has scored this season.  Thompson has returned three fumbles for scores, including a school-record 99-yarder in the win over Cal, along with one interception return and one rushing touchdown.
5 — Number of touchdowns Justin Worley accounted for (three passing, two rushing) in Tennessee's 45-10 win over Chattanooga.
7 — Number of teams that, through Week 6, had fewer passing yards for the entire season than Washington State's Connor Halliday had in a single game in Week 6 (FBS-record 734). Those teams were Navy (595), Georgia Tech (663), Boston College (666), Air Force (683), UTEP (702), North Texas (705) and UCF (714). Halliday's record-setting performance was very near the season total for USF (740), Georgia Southern (748) and Wisconsin (749) as well.  Speaking of Halliday, the senior was held to under 300 yards passing (292) in the loss to Stanford Friday night for the first time this season and the first time since the regular-season finale against Washington (282), a streak of seven straight games.
7 — Including this year, the number of times Kentucky has started a season 5-1 since 1950, with the others being 1950, 1976, 1977, 1983, 1984, 2007.
7.1 — Average yards per touch for Buck Allen in USC's upset of previously-unbeaten Arizona Saturday night.  The running back carried the ball 26 times for 205 yards (7.9 yards per carry) and totaled four receptions for 28 yards (7.0 yards per catch) for good measure.
9 — Teams remaining that have either won all of its games or lost all of them.  There are still six of the former — Baylor, Florida State, Marshall, Mississippi State, Notre Dame, Ole Miss.  There were 10 entering Week 7, with Arizona, Auburn, Georgia Tech and TCU falling from the ranks of the unbeatens.  The three remaining winless teams are Idaho, Kent State and SMU.  UMass, against Kent State, picked up its first win of the year Saturday.