Finally, after (nearly) seven long, agonizing months filled with seemingly nothing but arrests, suspensions, transfers, lawsuits and yet another Sharknado, the dawn of a new season is nearly upon us.
In just 17 days, we'll all be hunkered down in front of the television taking in the glory (?) that is the South Carolina Gamecocks and North Carolina Tar Heels throwing down at a neutral site in Charlotte, and chase that FBS opener down later that night with the return of a certain high-profile coach as Michigan travels to Utah for a significant early test of the new era in Ann Arbor.
In between now and then? Previews. Glorious, illuminating, voluminous previews as far as the eye can see.
We'll kick off the look at the upcoming season the same way we have the past six years: storylines that you should pay attention to or could be in play in the coming months.
Proceed, and enjoy.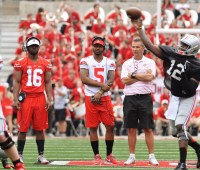 WHO'LL ORCHESTRATE OSU'S BUCK-TO-BUCK BID?
The riches Ohio State possesses at the quarterback position borderlines on the embarrassing, so much so that two-time Big Ten Offensive Player of the Year Braxton Miller, still not fully recovered from a second shoulder surgery that knocked him out for all of 2014, has moved to another position as he looks to get on the field in some fashion his senior season.  That leaves regular-season hero J.T. Barrett and postseason whirlwind Cardale Jones to vie for the opportunity to line up under center and guide the Buckeyes' offense in their attempt to go back-to-back in the College Football Playoff.
It seems that most view Jones, perhaps in part because of his outgoing personality vs. Barrett's naturally reserved, quiet nature, as the favorite to win the job; the question is, should they?  Or better yet, have they forgotten?
After getting off to a rough start last season in place of Miller — three touchdowns and four interceptions in the first two games, which included the lone loss to Virginia Tech — Barrett bounced back to have a season for the OSU ages, finishing the last 10 games with 31 touchdowns and just six interceptions before going down with a season-ending leg injury in the regular-season finale against Michigan.  His 45 total touchdowns set a Big Ten record, breaking the standard previously held by Purdue's Drew Brees, and he rushed for nearly 1,000 yards as a redshirt freshman.  And all of that production, people seem to forget as well, came after he beat out Jones in summer camp for the No. 2 spot behind Miller, just prior to the reemergence of the senior's shoulder issue.
It's not like Jones is chipped chopped ham, though; in his first three starts, all in the postseason, the rifle-armed 12-Gauge passed for 742 yards, five touchdowns and two interceptions as OSU dropped Wisconsin 59-0 in the Big Ten title game and topped No. 1 Alabama and No. 2 Oregon in the playoffs.  The fact that Ezekiel Elliott ran for nearly 700 hundreds in those starts certainly didn't hurt… or was it Jones and his arm's ability to stretch the field and add another element to the passing attack that Barrett — or most any other quarterback for that matter — couldn't that opened things up for Eazy-E?
Decisions, decisions, decisions this OSU coaching staff will have to make, decisions that make them the envy of nearly every other coaching staff in the country.  Really, how can they go wrong with whomever they choose?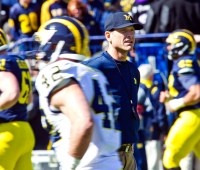 HOW MANY B1G CALLERS AHEAD OF US, JIMMY?
Even considering the once-in-a-lifetime quarterback situation for the defending national champions, there wasn't a bigger storyline this college football offseason than Jim Harbaugh's self-imposed NFL exile ending and his return to this level of the sport — and at his stumbling, struggling alma mater Michigan no less.  The former Stanford head coach had made headlines on a seemingly daily basis since his hiring, from his Twitter posts to forays into baseball to shirts-and-skins to epically awkward interviews to satellite camps to "Attacking this day with Enthusiasm Unknown to Mankind" to just about anything, really, that the coach did.
With the clock ticking down on the start of a new season, though, the attention shifts from Harbaugh, the off-field character, to Harbaugh, the on-field coach.  Or, more precisely, how fast can he get the Wolverines back to national prominence?  To be blunt, Harbaugh's timing couldn't have been "worse" divisionally, with hated rival Ohio State at the top of the college football world and poised to be there for years to come with a recruiting cupboard continually restocked on an annual basis with top-shelf talent, and hated in-state rival Michigan State playing — and recruiting — at a level unseen in East Lansing.  Harbaugh & Company are already playing from behind when it comes to those two East rivals, but Harbaugh's not exactly coming to the fight empty-handed.
For all of the on-field angst that Brady Hoke inspired — after an initial 11-2 record with RichRod-recruited players, UM proceeded to go 8-5/7-6/5-7 — the fired head coach recruited well. In 2013 and 2012, UM's recruiting classes were ranked fifth and seventh nationally and second in the Big Ten, respectively, according to Rivals.com. Even in 2014, amidst much speculation that Hoke was as good as done, he still pulled in a class that ranked 31st in the country and fourth in the conference.